5G Services Market - Size, Industry Trends, Competitive Landscape, and Opportunities and Forecast 2022 - 2030
Category by-
ICT and Media
, No. of Pages - 250, Published By - Ameco Research
The Global 5G Services Market Size accounted for USD 54 Billion in 2021 and is anticipated to reach USD 558 Billion by 2030 with a CAGR of 29.7% from 2022 to 2030.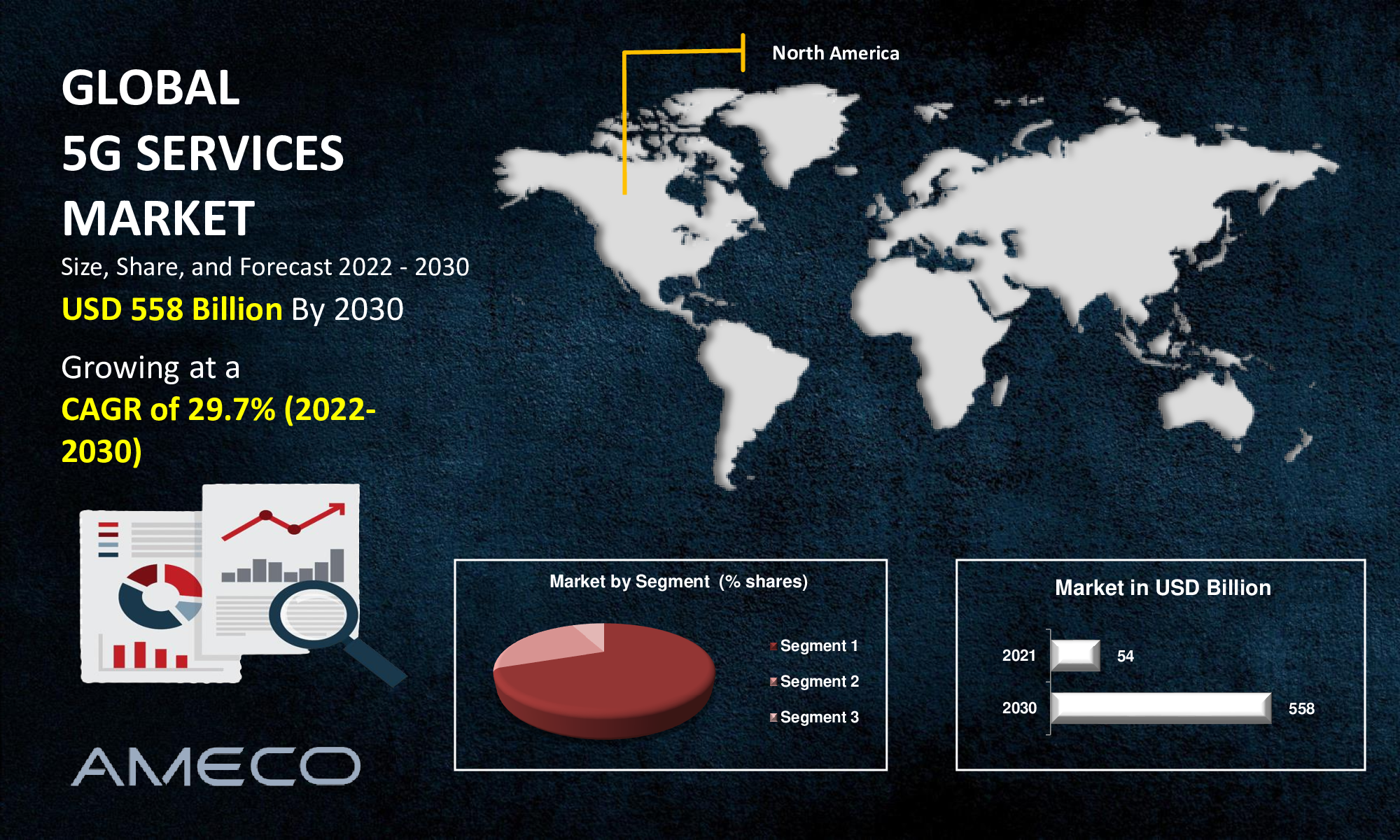 The fifth generation of cellular networks is known as 5G. 5G, which is up to 100 times faster than 4G, is opening up previously unseen possibilities for people and businesses. Faster connectivity, ultra-low latency, and increased bandwidth are advancing societies, transforming industries, and significantly improving day-to-day experiences. Services that were once thought to be futuristic, such as e-health, connected vehicles and traffic systems, and advanced mobile cloud gaming, have now become a reality. We can use 5G technology to help build a smarter, safer, and more sustainable future. Increasing demand for high-speed transmission, low network latency, and connected device trends are a few of the factors anticipated to boost demand for 5G services over the course of the forecasted period.
| | |
| --- | --- |
| Parameter | 5G Services Market |
| 5G Services Market Size in 2021 | US$ 54 Billion |
| 5G Services Market Forecast By 2030 | US$ 558 Billion |
| 5G Services Market CAGR During 2022 – 2030 | 29.7% |
| 5G Services Market Analysis Period | 2018 - 2030 |
| 5G Services Market Base Year | 2021 |
| 5G Services Market Forecast Data | 2022 - 2030 |
| Segments Covered | By Communication Type, By Enterprises, By End-Users, and By Region |
| Regional Scope | North America, Europe, Asia Pacific, Latin America, and Middle East & Africa |
| Key Companies Profiled | AT&T Inc., Bell Canada, BT Group plc, China Mobile Limited, China United Network Communications Group Co., Deutsche Telekom AG, Orange S.A., Rogers Communications Inc, T-Mobile, Telstra Corporation Limited, Telefónica, S.A., and Verizon Communications Inc. |
| Report Coverage | Market Trends, Drivers, Restraints, Competitive Analysis, Player Profiling, Regulation Analysis |
Market Dynamics
The 5G services network uses cloud technologies and is virtualized and software-driven. With open and transparent roaming capabilities between cellular access and Wi-Fi, 5G services also facilitate mobility. Additionally, users will be able to enable faster data processing through the new 5G services' densely distributed access architecture.
It is anticipated that efforts to develop smart cities across many nations will highlight the 5G network's implementation capabilities. The deployment of smart cities faces challenges from the constraints of connections and speed, which can be overcome by 5G.
Reliable internet connections are necessary for innovative infrastructure projects like smart cities, smart power networks, intelligent buildings, and others. Additionally, the spread of cloud-based applications has increased the need for advanced network technology, which will propel market expansion.
Huge investments would be required to make the switch from 4G to 5G technology. The base station price, periodic interest rate, and required throughput density all have a significant impact on the cost of the 5G infrastructure. For effective and ultra-dense small cell deployments, these costs must be reduced.
Due to lockdowns at the country level around the world, COVID-19 has a significant impact on small, medium, and large businesses as well as on a variety of industries including textiles, automotive, manufacturing, travel, hospitality, and transportation.
Market Insights
The three categories of the global 5G services market are communication type, enterprises, end-users, and region. The segmentation based on the communication type includes URLLC, FWA, MMTC, and eMBB. Based on enterprises, the market is categorized into government, media and entertainment, energy and utilities, manufacturing, transportation and logistics, healthcare, and others. Furthermore, enterprises and consumers are among the end-users segments included in the segmentation.
Global 5G Services Market Geographical Competition
The North American, European, Latin American, Asian-Pacific, and Middle Eastern & African regions make up the five geographical segments of the global 5G Services market. One of the main drivers of global growth is North America, which is home to notable telecom industry players like AT&T, Verizon, Ericsson, and others. Significant regional telecom players are based in North America, and they are constantly investing in expanding and modernizing their infrastructure. During the forecast period, this is anticipated to increase the adoption of 5G services.
In terms of growth, the Asia-Pacific region is anticipated to expand at the fastest rate between 2022 and 2030. The demand for these services has grown as a result of the quick development of infrastructure in nations like India, China, Japan, and others, which has improved connectivity. One of the key elements advancing the market for 5G services in the Asia-Pacific region is the deployment of new and improved technologies.
Global 5G Services Industry Segment Analysis
Market By Communication Type
· URLLC
· FWA
· MMTC
· EMBB
Market By Enterprises
· Government
· Energy and Utilities
· Manufacturing
· Media and Entertainment
· Transportation and Logistics
· Healthcare
· Others
Market By End-Users
· Enterprises
· Consumers
5G Services Market Leading Companies
This section of the study honors the market's top vendors AT&T Inc., Bell Canada, BT Group plc, China Mobile Limited, China United Network Communications Group Co., Deutsche Telekom AG, Orange S.A., Rogers Communications Inc, T-Mobile, Telstra Corporation Limited, Telefónica, S.A., and Verizon Communications Inc.
5G Services Market Regions
North America
· U.S.
· Canada
Europe
· U.K.
· Germany
· France
· Spain
· Rest of Europe
Latin America
· Brazil
· Mexico
· Rest of Latin America
Asia-Pacific
· China
· Japan
· India
· Australia
· South Korea
· Rest of Asia-Pacific
Middle East & Africa
· GCC
· South Africa
· Rest of Middle East & Africa