Advanced Analytics Market - Global Market Size, Industry Trends, Competitive Landscape, and Opportunities and Forecast 2022 - 2030
The Global Market for Advanced Analytics accounted for US$ 5,516 Million in 2021 and is anticipated to reach US$ 72,997 Million by 2030 with a CAGR of 33.5% from 2022 to 2030.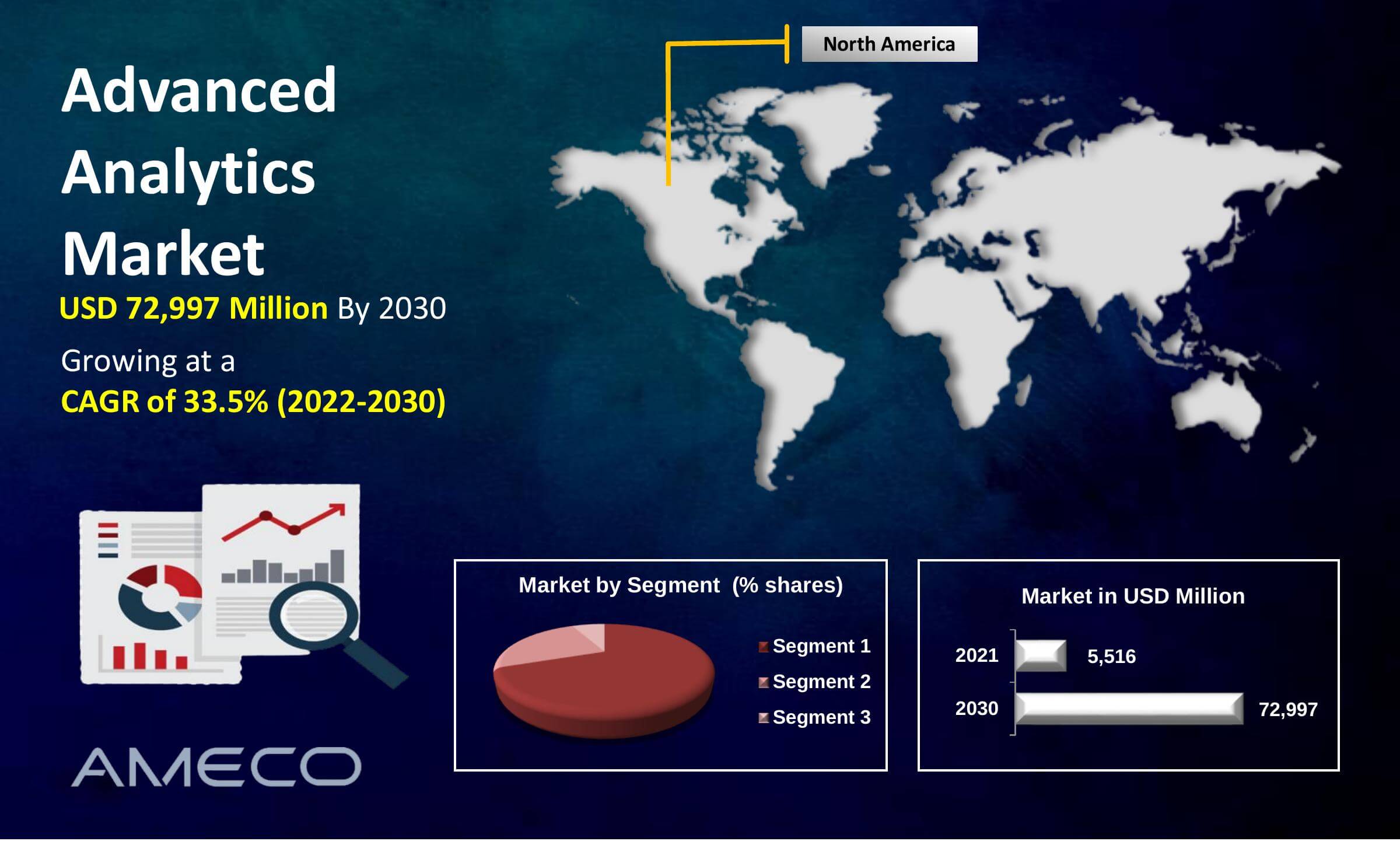 Advanced analytics, business intelligence, data science, machine learning, data analytics, predictive analytics, and data mining all of these phrases are used interchangeably in the field of big data and analytics. It's very understandable. These practices are all connected, yet they are not the same. The idea is to find trends and gain deeper insights that go beyond typical business intelligence. Sophisticated analytics encompasses descriptive, diagnostic, predictive, and prescriptive analytics, as well as data mining and other advanced, high-level data science methodologies. Companies employ advanced analytics to produce predictive insights and make better, more informed decisions faster in order to drive innovation and outsmart the competition. Advanced analytics are used to improve and optimize corporate processes, lower risks, and personalize customer experiences. Advanced analytics can solve problems that traditional BI reporting can't, and it can be used in a variety of situations, including monitoring and evaluating social media, predicting machine failures, forecasting supply and demand, dynamically adjusting prices, detecting fraud, and customer attrition, among others.
| | |
| --- | --- |
| Parameter | Advanced Analytics Market |
| Advanced Analytics Market Size in 2021 | US$ 5,516 Million |
| Advanced Analytics Market Forecast By 2030 | US$ 72,997 Million |
| Advanced Analytics Market CAGR During 2022 – 2030 | 33.5% |
| Advanced Analytics Market Analysis Period | 2018 - 2030 |
| Advanced Analytics Market Base Year | 2021 |
| Advanced Analytics Market Forecast Data | 2022 - 2030 |
| Segments Covered | By Type, By Deployment, By Enterprise Size, By End-Use, and By Region |
| Advanced Analytics Market Regional Scope | North America, Europe, Asia Pacific, Latin America, and Middle East & Africa |
| Key Companies Profiled | Altair Engineering, Inc., Bain & Company, International Business Machines Corporation, Microsoft Corporation, FICO (Fair, Isaac, and Company), Oracle, and Trianz |
| Report Coverage | Market Trends, Drivers, Restraints, Competitive Analysis, Player Profiling, Regulation Analysis |
Market Dynamics
The advent of artificial intelligence (AI) and machine learning to offer personalized customer experiences is one of the major aspect that is driving the global advanced analytics market. Artificial intelligence (AI) and machine learning have become ingrained in human's daily lives. Predictive analytics, AI, and machine learning when combined open up significant - and in some cases, amazing - potential for businesses across industries. Personalization is the process through which brands communicate with customers in order to ignite, create, and evolve a relationship that is not only more enjoyable but also more profitable. Customers are 80 percent more inclined to buy from a brand that provides individualized experiences. Customers will spend 77 percent more for a brand that provides them with individualized experiences. Furthermore, 72% of customers will only engage with firms that provide tailored experiences.
Because of the massive amount of data generated by video streaming platforms like Hulu, Amazon Prime, and Netflix, data management systems have seen significant expansion in recent years. Advanced analytics are critical for extracting useful insights from such a large volume of data. Because of the growing use of social media, data is being generated that has hidden patterns that standard analytics systems are unable to detect. Advanced analytics solutions, when applied correctly, can help businesses unearth important hidden information that can subsequently be used to adapt their offerings to their customers. Furthermore, due to their low cost, an increase in the usage of advanced analytics solutions is likely to positively impact the market's growth. Furthermore, rising desire to address Big Data issues is favorably driving market growth.
Market Insights
Type, deployment, enterprise size, end-use, and region are the five categories of the global advanced analytics industry. Based on the type sector, the segmentation includes big data analytics, customer analytics, risk analytics, statistical analysis, business analytics, and others. Based on our analysis, the big data analytics segment is expected to dominate the advanced analytics market during the predicted years. The deployment segment is divided into on-premise and cloud. Based on deployment model, the on-premise segment achieved a significant market share in 2021. The enterprise size segment is further categorized into large enterprises, and small & medium enterprises (SMEs). The large enterprise segment is one of the significant segments in the enterprise size market. Furthermore, BFSI, healthcare, government, military & defense, IT & telecom, and others are covered under the end-use category
Global Advanced Analytics Market Geographical Competition
North America, Europe, Latin America, Asia-Pacific, and the Middle East & Africa are the segmentation of the worldwide Advanced Analytics industry. North America has the greatest market share among all regions due to the presence of sufficient infrastructure, as well as the use of artificial intelligence and big data analytics, which is expected to be a major factor contributing to demand in the region. Furthermore, the increasing use of social media in North America is assisting the region's industry expansion. Because of the rising number of fraudulent operations in the region, the Asia Pacific is expected to increase at a large rate. Furthermore, need for predictive analytics and demand forecasting has increased as the e-commerce business in Singapore, India, and China has grown.
Global Advanced Analytics Industry Segment Analysis
Market By Type
· Business Analytics
· Big Data Analytics
· Customer Analytics
· Risk Analytics
· Statistical Analysis
· Others
Market By Deployment
· On-Premise
· Cloud
Market By Enterprise Size
· Large Enterprises
· Small & Medium Enterprises (SMEs)
Market By End-Use
· BFSI
· IT & Telecom
· Government
· Military & Defense
· Healthcare
· Others
Advanced Analytics Market Leading Companies
This section of the study honors the market's top vendors Altair Engineering, Inc., Bain & Company, International Business Machines Corporation, Microsoft Corporation, FICO (Fair, Isaac, and Company), Oracle, and Trianz are the key companies mentioned in the research.
Advanced Analytics Market Regions
North America
· U.S.
· Canada
Europe
· U.K.
· Germany
· France
· Spain
· Rest of Europe
Latin America
· Brazil
· Mexico
· Rest of Latin America
Asia-Pacific
· China
· Japan
· India
· Australia
· South Korea
· Rest of Asia-Pacific
Middle East & Africa
· GCC
· South Africa
· Rest of Middle East & Africa