Air Filters Market Growth Opportunities and Forecast till 2030
Category by-
Consumer Goods
, No. of Pages - 250, Published By - Ameco Research
The Global Air Filters Market is valued at USD 12.1 Billion in 2021 and is anticipated to reach USD 22.6 Billion by 2030 with a CAGR of 7.2% from 2022 to 2030.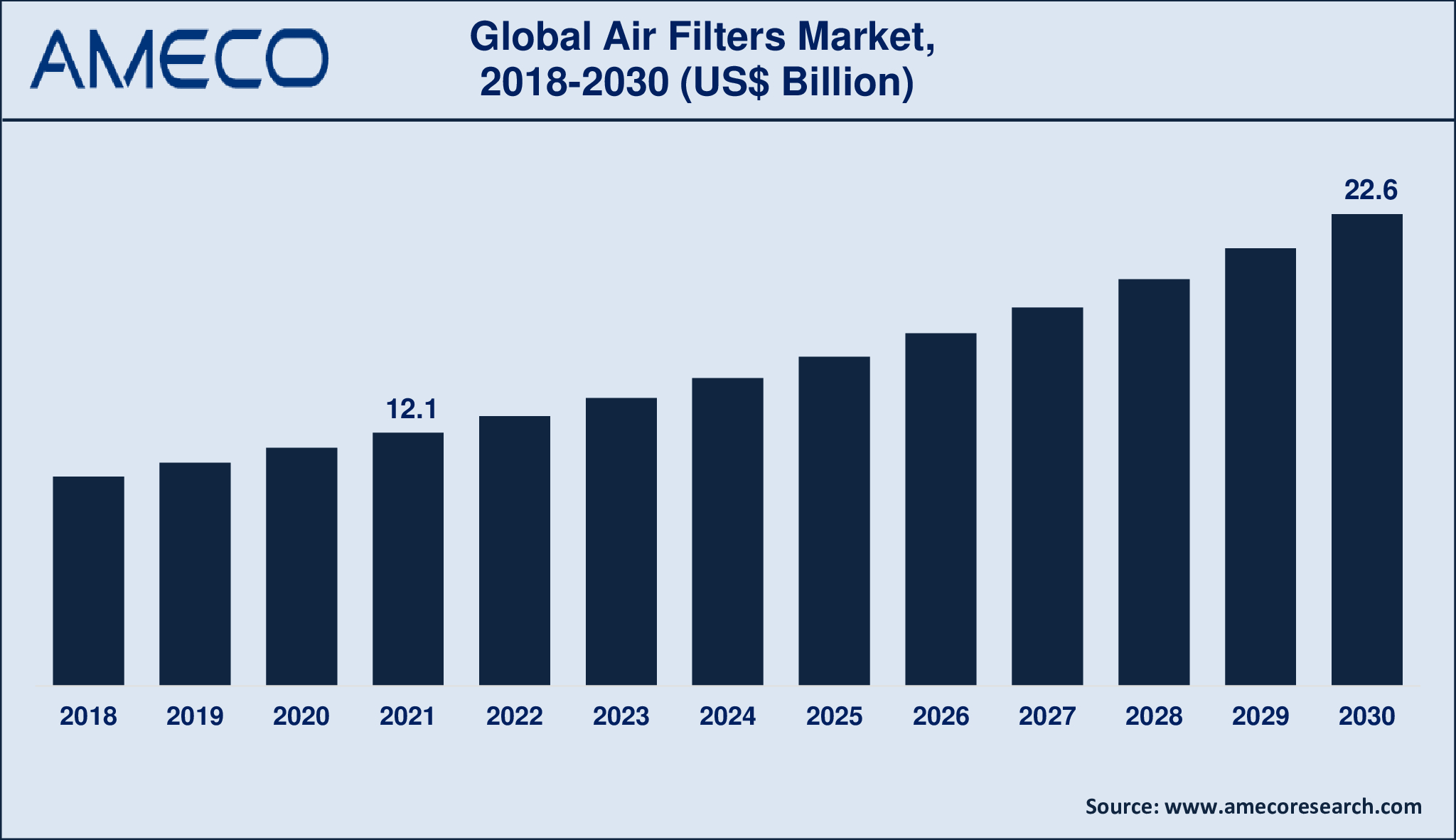 Air filters are critical components that are used in a variety of systems and devices to clean the air by eliminating impurities and particles. They are critical in keeping clean and healthy air in interior areas, industrial processes, and automotive applications. Air filters are intended to trap airborne particles such as dust, pollen, pet dander, mould spores, and other pollutants, stopping them from circulating and potentially causing health problems or damage to equipment. Air filters are typically found in HVAC (Heating, Ventilation, and Air Conditioning) systems in residential settings. These filters capture particles in incoming air before they are cycled throughout the facility, improving indoor air quality and protecting HVAC equipment from dust accumulation. It is critical to change or clean these filters on a regular basis in order to preserve their efficacy and avoid potential problems.
Air filters are especially important in Commercial operations where airborne pollutants can impact product quality, worker safety, and machinery performance. Advanced air filtration systems are used in manufacturing plants, pharmaceutical facilities, and clean rooms to eliminate particulates and maintain a regulated atmosphere. Automotive air filters are used in the intake systems of automobiles to keep dangerous particles from entering the engine and harming its components. By ensuring clear airflow, they aid to preserve engine performance and fuel economy.
Air filters range in form and filtering efficiency, from basic disposable filters to complex high-efficiency particulate air (HEPA) filters capable of catching extremely minute particles. The type of air filter used is determined by the application and the amount of air purification required. Air filter maintenance and replacement are critical for maximum performance and lifetime. Failure to replace filters at the specified intervals might result in lower efficiency, higher energy consumption, and significant health hazards from accumulated pollutants. Individuals and companies may benefit from cleaner air and a healthier environment by ensuring adequate maintenance and selecting appropriate filters.
| | |
| --- | --- |
| Parameter | Air Filters Market |
| Air Filters Market Service Provider in 2021 | US$ 12.1 Billion |
| Air Filters Market Forecast By 2030 | US$ 22.6 Billion |
| Air Filters Market CAGR During 2022 – 2030 | 7.2% |
| Air Filters Market Analysis Period | 2018 - 2030 |
| Air Filters Market Base Year | 2021 |
| Air Filters Market Forecast Data | 2022 - 2030 |
| Segments Covered | By Type, By Application, By End-Use, and By Region |
| Air Filters Market Regional Scope | North America, Europe, Asia Pacific, Latin America, and Middle East & Africa |
| Key Companies Profiled | Acdelco Corporation, Ahlstrom Corporation, Affinia Group Inc., Cummins Inc., Denso Corporation, Donaldson Company Inc., Hengst SE & CO. KG, Mahle Group, Mann & Hummel Group, and Sogefi S.P.A. |
| Report Coverage | Market Trends, Drivers, Restraints, Competitive Analysis, Player Profiling, Regulation Analysis |
Air Filters Market Dynamics
The air filters market has seen rapid expansion and evolution over the years as a result of different variables impacting supply and demand. The growing knowledge and concern about indoor air quality and its influence on human health is one of the primary drivers of market growth. As people spend more time indoors, whether in their homes, businesses, or other indoor locations, there is a greater need for effective air filters that remove pollutants, allergens, and hazardous particles. This tendency has been accelerated by a rising awareness of the relationship between indoor air pollution and respiratory ailments, allergies, and other health problems.
Environmental rules and efforts have also played an important role in defining the dynamics of the air filters industry. Governments and regulatory agencies all over the world have enacted strict air quality regulations, pushing industries and enterprises to invest in high-quality air filtering equipment. This has resulted in increasing expenditures in research and development of new air filter technologies that meet these criteria while also delivering improved filtering effectiveness.
Furthermore, the growth of Commercial and manufacturing operations has resulted in a significant need for air filters in these industries. Airborne particles and pollutants are often generated during manufacturing operations, which can have an influence on product quality, worker safety, and equipment efficiency. As a result, companies are increasingly investing in air filtration systems to maintain clean and safe working conditions, which are contributing to market growth.
Technological advancements have also had a significant influence on the air filter industry. High-efficiency particulate air (HEPA) filters, HVAC filters, and electrostatic filters are examples of innovations that have enhanced the overall performance and efficacy of air filtering systems. These improvements have made it possible to remove increasingly smaller particles and contaminants, increasing the need for such filters in a variety of applications.
However, the air filter business is not without its difficulties. The industry's increased rivalry has resulted in pricing constraints for producers, notably in the case of conventional or basic air filters. Furthermore, the increasing trend towards sustainable and eco-friendly solutions has encouraged manufacturers to produce filters that are not only efficient but also ecologically beneficial, which can complicate and increase the cost of the manufacturing process.
Finally, the air filters market is growing steadily as a result of reasons such as greater awareness of indoor air quality, stronger regulations, more Commercial activity, and technical improvements. The market is projected to continue developing as the emphasis on clean and healthy air intensifies, with manufacturers attempting to innovate and fulfill the different demands of consumers and industries alike.
Air Filters Market Segmentation
The air filters market can be classified based on type, application, end-use, and geography. Type segment covers cartridge filter, dust collector, hepa filter, and baghouse filter. Application segment is split into HVAC, automotive, bag house, cleanroom, and gas turbine. End-use segment is categorized into automotive, commercial, residential, pharmaceutical, semiconductor, and other.
Global Air Filters Market Geographical Competition
The North American area, which includes the United States and Canada, holds a sizable proportion of the air filter market. Several reasons, including rigorous air quality standards, a high degree of awareness about indoor air pollution, and an increasing emphasis on sustainable and energy-efficient HVAC systems, are driving demand in this region. Furthermore, the growth of the industrial sector and a significant automobile industry contribute to the rising use of air filters in a variety of applications.
Europe is another important market for air filters, driven by causes comparable to those in North America, such as tight environmental legislation, a focus on energy efficiency, and growing concerns about indoor air quality. The European market also benefits from a well-established industrial sector, where air filters are used in a variety of applications to keep working environments clean and to comply with regulatory standards.
The Asia-Pacific region is seeing strong expansion in the air filters market as a result of factors such as urbanization, industrialization, and increased awareness of the harmful consequences of air pollution. Population growth, industrial expansion, and increased consumer awareness have all contributed to growing demand for air filters in countries such as China, India, and Japan. Furthermore, governments in the area are imposing more strict air quality requirements, which are fueling market expansion.
Global Air Filters Industry Segment Analysis
Market By Type
· Cartridge Filter
· Dust Collector
· HEPA Filter
· Baghouse Filter
Market By Application
· HVAC
· Automotive
· Bag House
· Clean Room
· Gas Turbine
Market By End-Use
· Automotive
· Commercial
· Residential
· Pharmaceutical
· Semiconductor
· Other
Air Filters Market Leading Companies
The players profiled in the report are Acdelco Corporation, Ahlstrom Corporation, Affinia Group Inc., Cummins Inc., Denso Corporation, Donaldson Company Inc., Hengst SE & CO. KG, Mahle Group, Mann & Hummel Group, and Sogefi S.P.A.
Air Filters Market Regions
North America
· U.S.
· Canada
Europe
· U.K.
· Germany
· France
· Spain
· Rest of Europe
Latin America
· Brazil
· Mexico
· Rest of Latin America
Asia-Pacific
· China
· Japan
· India
· Australia
· South Korea
· Rest of Asia-Pacific
Middle East & Africa
· GCC
· South Africa
· Rest of Middle East & Africa