Air Taxi Market Growth Opportunities and Forecast till 2030
The Global Air Taxi Market Size valued for USD 864 Million in 2021 and is anticipated to reach USD 7,234 Million by 2030 with a CAGR of 26.8% from 2022 to 2030.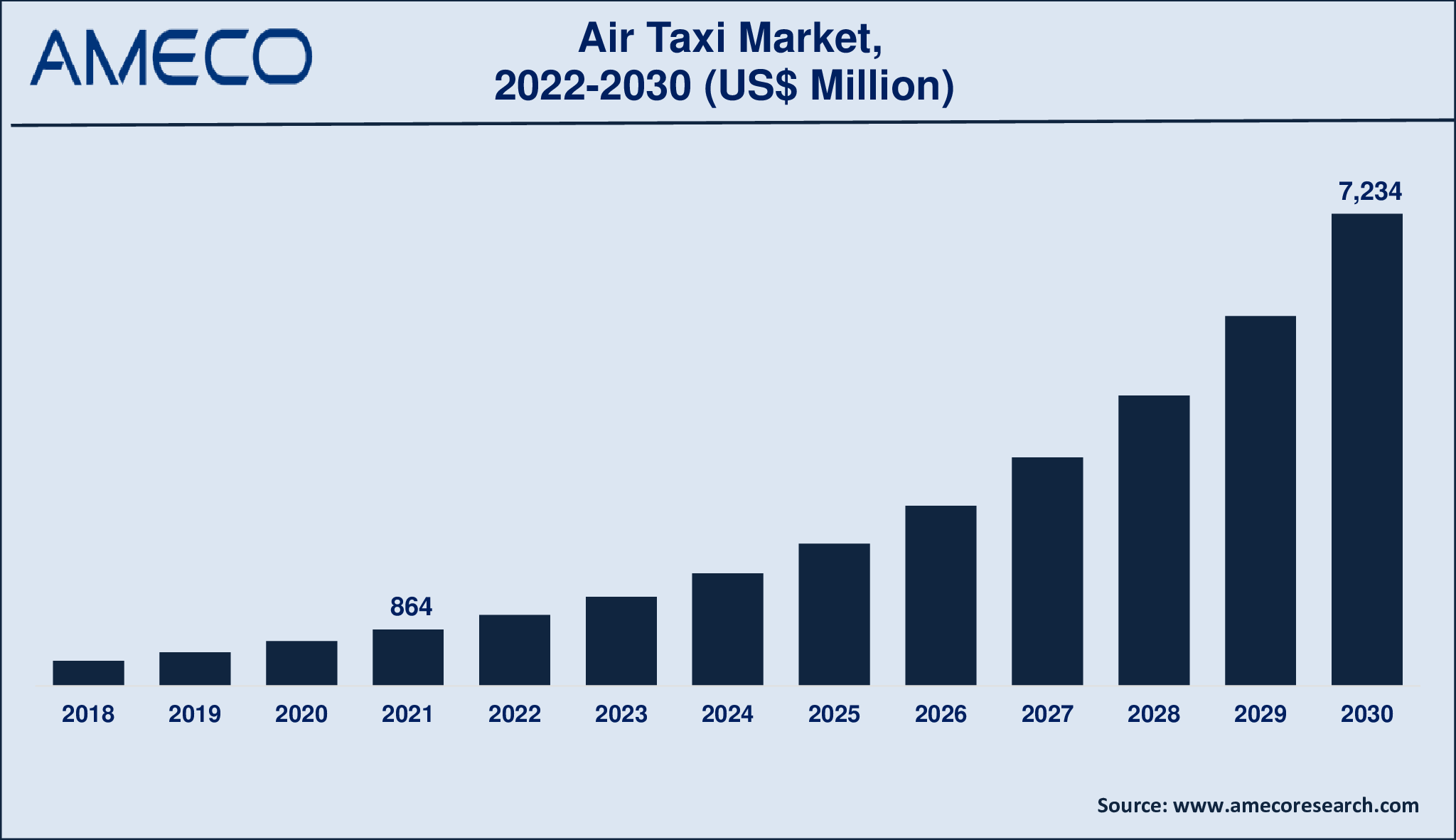 An air taxi is a small aircraft that transports passengers, cargo, and mail along short routes that are not serviced by large airlines. The scope of this definition is limited to the numerous options available in air travel over the last decade. In a new era where drones are encroaching on the freight transport door, the logical next step is to modify this solution to passengers. A convergence of technologies, including autonomous vehicles like drones and self-driving cars, more effective batteries, and advanced manufacturing methods, is what's driving this trend.
It's not surprising that businesses, from major auto and aviation firms to venture-backed start-ups like Uber, are scrambling to establish a foothold in this emerging market. Investors are pouring millions of dollars into the company's commercialization efforts because they believe it has the potential to significantly alter the urban mobility landscape. Electric air taxis have the potential to significantly reduce operating and maintenance costs, which attracts them.
| | |
| --- | --- |
| Parameter | Air Taxi Market |
| Air Taxi Market Size in 2021 | US$ 864 Million |
| Air Taxi Market Forecast By 2030 | US$ 7,234 Million |
| Air Taxi Market CAGR During 2022 – 2030 | 26.8% |
| Air Taxi Market Analysis Period | 2018 - 2030 |
| Air Taxi Market Base Year | 2021 |
| Air Taxi Market Forecast Data | 2022 - 2030 |
| Segments Covered | By Component, By Aircraft Type, By Propulsion Type, and By Region |
| Air Taxi Market Regional Scope | North America, Europe, Asia Pacific, Latin America, and Middle East & Africa |
| Key Companies Profiled | Airbus, Beechcraft Corporation, Boeing, Dassault Aviation SA, Hyundai, EHANG, Lilium, Volocopter GmbH, and Uber Technologies, Inc. |
| Report Coverage | Market Trends, Drivers, Restraints, Competitive Analysis, Player Profiling, Regulation Analysis |
Air Taxi Market Dynamics
In addition, major market players continuously invest in R&D projects to bring about a number of technological developments. Additionally, they are introducing a seamless network of multimodal transportation that will give customers access to emergency services, on-demand air travel, and delivery of goods.
The global air taxi market is expanding as a result of increased government initiatives and increased investments by the major aviation players. Additionally, the industry for air taxis is further fueled by growth in development and innovations. Additionally, the success of numerous startups and leading companies' innovations expands the market globally, growing the air taxi market.
There have been many restrictions placed on the use of this mode of transportation for mass transit up until this point. A revolution is being sparked by recent innovations, particularly in the field of eVTOL. The goal is to turn air taxis into a quicker, less-polluting, more affordable, and more successful industry.
Air Taxi Market Insights
Component, aircraft type, and propulsion type, are the three segments of the market for air taxi. Based on the component; the market is segmented into three categories: hardware, and software & services. The aircraft type segment covers multicopter and quadcopter, and others. Furthermore, the propulsion type segment is categorized into parallel hybrid, electric, turboshaft, and turboelectric.
Global Air Taxi Market Geographical Competition
A significant portion of revenue is anticipated to come from the North American market because of the region's high consumer preference for flying and the region's growing air traffic. Additionally, the existence of significant players operating in the nation and the launch of a fresh, creative solution are anticipated to further support the expansion of the target market in this area. In North Carolina in 2019, EHang demonstrated its EHang 216 two-seat self-flying taxi in full autonomy. EHang is currently working to expand that authorization to include flying while carrying passengers.
As a result of the presence of developing nations like China, Japan, and India, the Asia-Pacific region is predicted to experience a significant CAGR. Due to rising disposable income, growing preference for faster modes of transportation, and increasing traffic congestion, these nations have enormous growth potential.
Global Air Taxi Industry Segment Analysis
Air Taxi Market By Component
· Hardware
· Software & Services
Air Taxi Market By Aircraft Type
· Multicopter
· Quadcopter
· Others
Air Taxi Market By Propulsion Type
· Electric
· Parallel Hybrid
· Turboshaft
· Turboelectric
Air Taxi Market Leading Companies
The players profiled in the report are Airbus, Beechcraft Corporation, Boeing, Dassault Aviation SA, Hyundai, EHANG, Lilium, Volocopter GmbH, and Uber Technologies, Inc.
Air Taxi Market Regions
North America
· U.S.
· Canada
Europe
· U.K.
· Germany
· France
· Spain
· Rest of Europe
Latin America
· Brazil
· Mexico
· Rest of Latin America
Asia-Pacific
· China
· Japan
· India
· Australia
· South Korea
· Rest of Asia-Pacific
Middle East & Africa
· GCC
· South Africa
· Rest of Middle East & Africa