Alternator Market Growth Opportunities and Forecast till 2030
Category by-
Energy and Power
, No. of Pages - 250, Published By - Ameco Research
The Global Alternator Market Size valued for USD 19.1 Billion in 2021 and is anticipated to reach USD 32.3 Billion by 2030 with a CAGR of 6.2% from 2022 to 2030.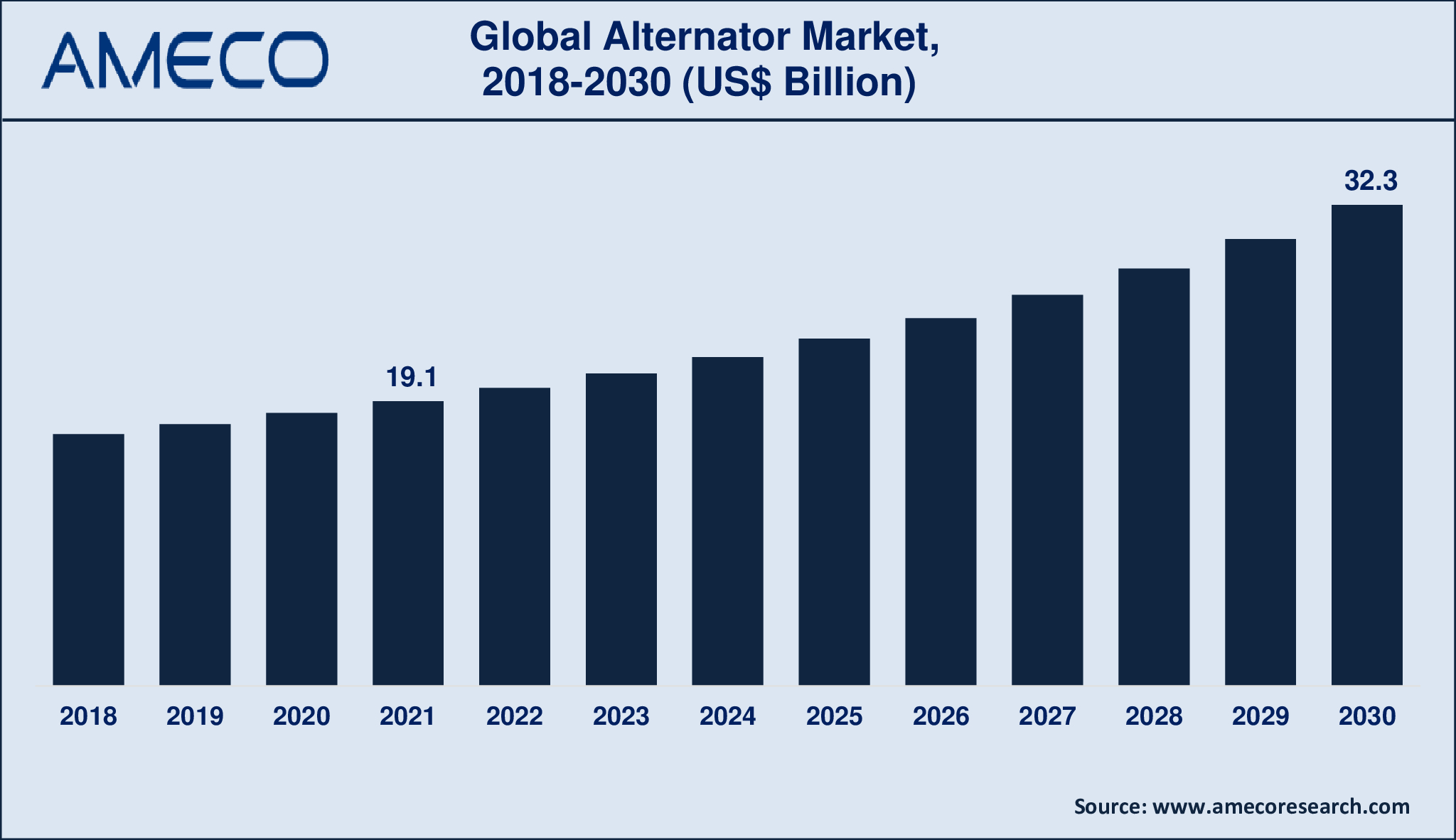 An alternator is a device that converts mechanical energy into electrical energy in electrical systems. It is extensively used in cars, power plants, and other applications that demand a consistent and stable source of electrical power.
An alternator's principal function is to create alternating current (AC). It operates on the electromagnetic induction principle, in which a rotating magnetic field produces an alternating voltage in a series of stationary conductors. The electrical system or power electronics of the car subsequently rectifies this alternating voltage to direct current (DC).
Alternators are essential in automotive applications because they generate electrical power to recharge the vehicle's battery and operate numerous components such as lights, ignition systems, and entertainment systems. They are critical to the correct operation of the vehicle's electrical system when the engine is operating.
Alternators are significant because of their capacity to deliver a constant source of electrical power. A vehicle's battery would gradually deplete without an alternator, resulting in a loss of electrical power and the inability to start the engine or run critical systems. Alternators serve to keep the battery charged and power the vehicle's electrical demands, allowing it to function properly.
| | |
| --- | --- |
| Parameter | Alternator Market |
| Alternator Market Size in 2021 | US$ 19.1 Billion |
| Alternator Market Forecast By 2030 | US$ 32.3 Billion |
| Alternator Market CAGR During 2022 – 2030 | 6.2% |
| Alternator Market Analysis Period | 2018 - 2030 |
| Alternator Market Base Year | 2021 |
| Alternator Market Forecast Data | 2022 - 2030 |
| Segments Covered | By Type, By Power Output, By Application, and By Region |
| Alternator Market Regional Scope | North America, Europe, Asia Pacific, Latin America, and Middle East & Africa |
| Key Companies Profiled | Asimco Technologies, Controlled Power Technologies Ltd., Cummins Generator Technologies Ltd. (Stamford-Avk), Denso Corporation, Hella KGAA Hueck & Co., HHI, Hitachi Automotive Systems, Ltd., Leroy Somer Inc., Lucas Electrical, Mecc Alte Alternators Pty. Ltd., Mitsuba Corporation, Mitsubishi Electric Corporation, Motorcar Parts of America, Robert Bosch GmbH, and Valeo SA. |
| Report Coverage | Market Trends, Drivers, Restraints, Competitive Analysis, Player Profiling, Regulation Analysis |
Alternator Market Dynamics
Several market aspects impact the alternator market's growth, demand, and competitive environment. The rising need for power in various industries is one of the primary drivers of the alternator industry. As companies develop and modernize, the demand for dependable power supply becomes critical. Alternators serve a vital role in meeting this demand by converting mechanical energy into electrical energy, allowing machinery and equipment to run continuously.
Furthermore, the automobile industry has a substantial effect on the alternator market. As the worldwide vehicle population expands, so does the need for alternators used in vehicles. Advances in automotive technology, such as the integration of modern electrical systems and the growing popularity of electric and hybrid vehicles, contribute to the market's expansion. Furthermore, tough environmental rules and a growing emphasis on fuel efficiency have fueled the development of alternators that optimize energy conversion, decreasing engine load and boosting overall vehicle performance.
Furthermore, technical improvements and innovations have an impact on the alternator industry. Manufacturers are investing in R&D to create more efficient and long-lasting alternator designs. This involves the creation of high-output alternators that can handle the power demands of heavy-duty applications. Furthermore, the use of smart features and digital control systems in alternators is gaining traction, allowing for better monitoring, diagnostics, and overall system performance.
However, the automotive alternator market confronts its own set of obstacles. Electric cars, which rely on battery systems and electric motors rather than traditional alternators, are becoming more popular. Demand for conventional alternators in the automotive sector may decrease as the shift to electric mobility advances. As a result, alternator makers are looking into new markets, such as renewable energy, where alternators are utilized in wind turbines and hydroelectric power plants.
Alternator Market Insight
The alternator market is divided into type, power output, application, and geographic markets. The type segment is divided into electro-magnet (induction) alternators, permanent magnet alternators, and synchronous alternators. Based on power output, the market is classified into <1kW, 1 kW to 5 kW, 5 kW to 50 kW, and 50 kW & above. By application, the industry is split into automotive and transportation, industrial applications, power generation, standby power, and others.
Global Alternator Market Geographical Competition
The automobile industry's substantial presence, technological improvements, and the necessity for reliable power supply drive the North American alternator market. The region is home to numerous large automobile manufacturers and suppliers, which helps to drive alternator demand. Furthermore, the emphasis on energy economy and the integration of sophisticated electrical systems in automobiles boosts the industry.
Europe is another important market for alternators, owing to a well-established automotive sector and a heavy emphasis on environmental standards. The area has been at the forefront of the adoption of electric and hybrid cars, impacting demand for alternators in these vehicles. Furthermore, increased investments in renewable energy sources and power generation contribute to the expansion of the European alternator industry.
Asia-Pacific is a key user of alternators because of its thriving automobile sector, fast industrialization, and rising energy consumption. China, India, Japan, and South Korea all have strong automobile manufacturing presences, resulting in a high need for alternators. The region's expanding population and urbanization increase the demand for power production, opening up new potential for alternator producers.
Global Alternator Industry Segment Analysis
Market By Type
· Electro-Magnet (Induction) Alternators
· Synchronous Alternators
· Permanent Magnet Alternators
· Others
Market By Power Output
· <1kW
· 1 kW to 5 kW
· 5 kW to 50 kW
· 50 kW & Above
Market By Application
· Automotive & Transportation
· Power Generation
· Industrial Applications
· Standby Power
· Others
Alternator Market Leading Companies
The players profiled in the report are Asimco Technologies, Cummins Generator Technologies Ltd. (Stamford-Avk), Controlled Power Technologies Ltd., Denso Corporation, HHI, Hella KGAA Hueck & Co., Hitachi Automotive Systems, Ltd., Lucas Electrical, Leroy Somer Inc., Mecc Alte Alternators Pty. Ltd., Mitsubishi Electric Corporation, Mitsuba Corporation, Motorcar Parts of America, Valeo SA, and Robert Bosch GmbH.
Alternator Market Regions
North America
· U.S.
· Canada
Europe
· U.K.
· Germany
· France
· Spain
· Rest of Europe
Latin America
· Brazil
· Mexico
· Rest of Latin America
Asia-Pacific
· China
· Japan
· India
· Australia
· South Korea
· Rest of Asia-Pacific
Middle East & Africa
· GCC
· South Africa
· Rest of Middle East & Africa