Automotive Head-Up Display Market Growth Opportunities and Forecast till 2032
The Global Automotive Head-Up Display (HUD) Market Size was valued at USD 1.1 Billion in 2022 and is anticipated to reach USD 13.4 Billion by 2032 with a CAGR of 28.5% from 2023 to 2032.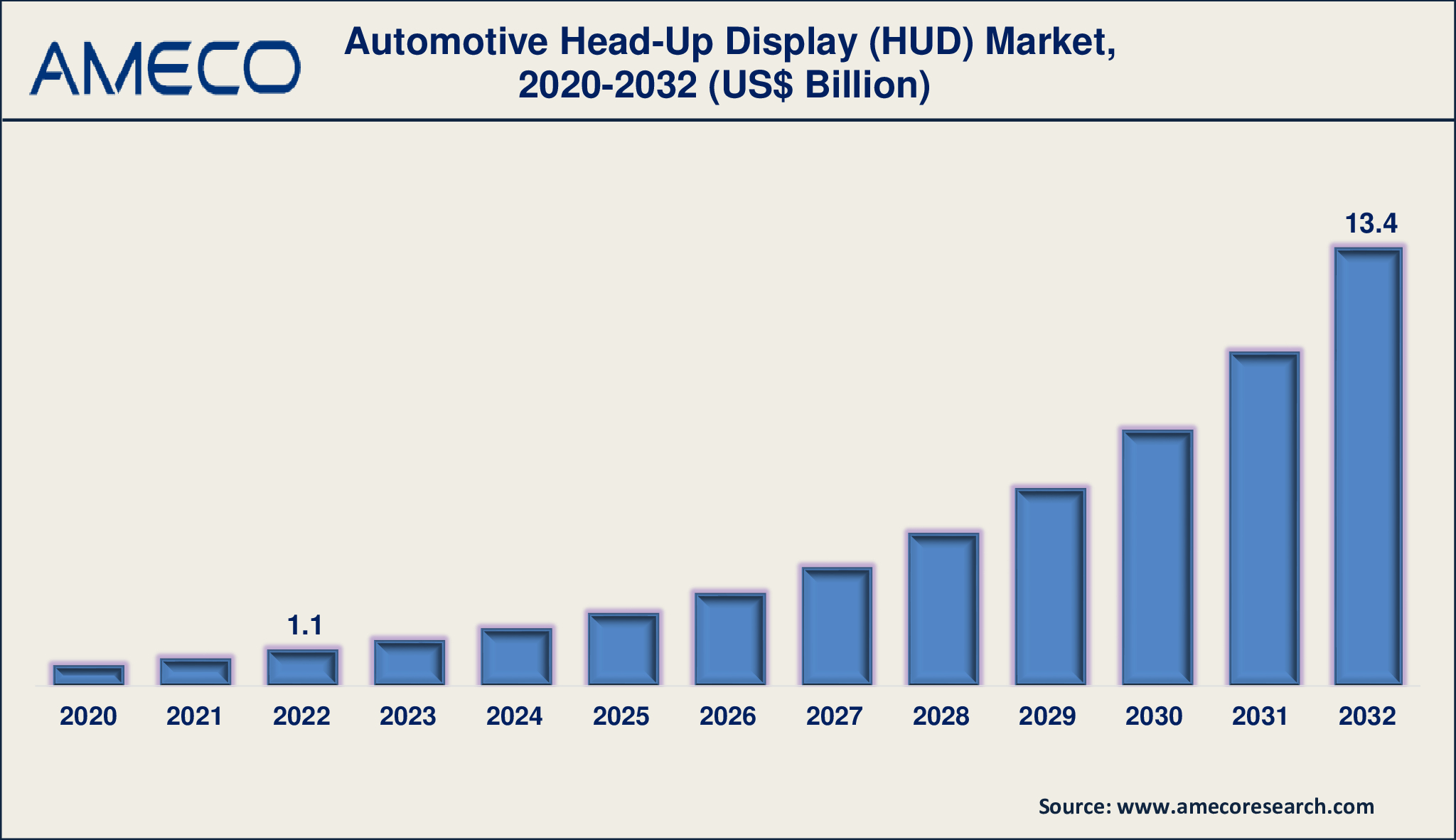 A head-up display (HUD) is a cutting-edge technology that is fitted into current automobiles to improve driving safety and convenience. This device displays critical information onto the vehicle's windscreen, right in the driver's line of sight, without requiring the driver to take their eyes off the road. The displayed data often contains crucial vehicle data like as speed, navigation directions, incoming calls, and other vital data.
The fundamental goal of a HUD is to offer critical information to drivers in a non-intrusive way, allowing them to focus on the road ahead. HUDs enable drivers to get important information without taking their eyes off the road by showing data in a fashion that appears to float in the distance, frequently seeming as if it's on the road itself. By reducing the amount of time spent looking away from the road, this feature can drastically minimize distractions and improve overall safety.
Furthermore, HUD technology has evolved to give a user experience that is both customized and interactive. Drivers may frequently change the position, brightness, and content of the displayed information to fit their tastes and individual driving demands. Advanced HUD systems may also include augmented reality aspects, including as real-time hazards, road signs, and lane advice displayed right on the windscreen.
Overall, automotive head-up displays have shown to be a significant tool for modern automobiles, providing essential information while assisting drivers in maintaining their concentration on the road, therefore leading to safer and more comfortable driving experiences.
| | |
| --- | --- |
| Parameter | Automotive Head-Up Display (HUD) Market |
| Automotive Head-Up Display (HUD) Market Size in 2022 | US$ 1.1 Billion |
| Automotive Head-Up Display (HUD) Market Forecast By 2032 | US$ 13.4 Billion |
| Automotive Head-Up Display (HUD) Market CAGR During 2023 – 2032 | 28.5% |
| Automotive Head-Up Display (HUD) Market Analysis Period | 2020 - 2032 |
| Automotive Head-Up Display (HUD) Market Base Year | 2022 |
| Automotive Head-Up Display (HUD) Market Forecast Data | 2023 - 2032 |
| Segments Covered | By Vehicle Type, By Technology, By HUD Type, By Application, By Application, and By Region |
| Automotive Head-Up Display (HUD) Market Regional Scope | North America, Europe, Asia Pacific, Latin America, and Middle East & Africa |
| Key Companies Profiled | BYD Auto Co. Ltd., Honda Motor Company, Toyota Motors, Nissan Motor Co. Ltd., Kia Motors Corporation, Suzuki Motor Corporation, Ford Motor Company, Volkswagen Group, Hyundai Motor Group, General Motors, and BMW Group. |
| Report Coverage | Market Trends, Drivers, Restraints, Competitive Analysis, Player Profiling, Regulation Analysis |
Automotive Head-Up Display (HUD) Market Dynamics
The Automotive Head-Up Display (HUD) industry is characterized by dynamic forces that have driven its growth and evolution in recent years. The continual technical progress in HUD systems is one of the key aspects driving this market. HUD technology is constantly evolving, with manufacturers improving display clarity, customization choices, and connection with other vehicle systems. As customers increasingly desire enhanced HUD features, these advancements are significant drivers of industry growth.
The rising emphasis on road safety is another key aspect driving the HUD market. Governments and regulatory organizations across the world are emphasizing road safety, and HUD technology is viewed as a vital tool in this respect. The ability of HUDs to present essential information directly onto the windscreen in the driver's line of sight without generating distraction is in line with the objective of minimizing distracted driving accidents. As a result, governmental backing and regulations for safety features like as HUDs have the potential to drive market expansion.
Consumer preferences and expectations also play a pivotal role in shaping the HUD market dynamics. As consumers become more accustomed to digital interfaces and advanced technology in their daily lives, they increasingly demand similar features in their vehicles. This consumer-driven demand for enhanced connectivity, information access, and customization options further drives the development of HUD technology and its integration into a wider range of vehicles.
Additionally, the competitive landscape within the automotive industry contributes to market dynamics. Various automakers and technology companies are vying to establish their dominance in the HUD market, leading to increased innovation and product offerings. This competition not only fosters technological advancements but also often leads to cost reductions, making HUDs more accessible to a broader consumer base.
Finally, the automotive head-up display market is distinguished by continuing technology breakthroughs, safety requirements, customer preferences, and competitive dynamics. These elements all contribute to the advancement and improvement of HUD technology, making it an essential component of the current driving experience.
Automotive Head-Up Display (HUD) Market Segmentation
The automotive head-up display (HUD) market is segmented by vehicle type, HUD type, technology, application, and geography. The vehicle type category is further subdivided into passenger cars and commercial vehicle. Windshield and combiner are the categorization of HUD type. Technology segment comprises augmented reality HUD and conventional HUD. Based on application, the market is split into premium car, luxury car, mid-segment car, and economy car. The region sector includes North America, Asia-Pacific, Europe, Latin America, the Middle East, and Africa.
Global Automotive Head-Up Display (HUD) Market Geographical Competition
The HUD market has grown significantly in North America, notably in the United States. The area places a significant emphasis on car safety, and HUD technology fits in with that. The presence of major automakers and technology firms has fueled innovation and product development in the HUD industry. HUD usage has been encouraged further by regulatory backing for advanced driving assistance systems (ADAS) and safety features. North American consumers frequently prioritise technology and convenience in their automobiles, making them open to the sophisticated features of HUDs.
Europe has been a significant market for HUD technology, with Germany, the United Kingdom, and France leading the way. Stricter safety standards, as well as environmental considerations, have prompted automakers to include sophisticated safety systems, such as HUDs, into their vehicles. Premium and luxury automobiles, which are typically fitted with high-quality HUD systems, are also valued in the European market. Furthermore, the area has experienced rising interest in augmented reality head-up displays (HUDs) for navigation and driver assistance, which is boosting market expansion.
The Asia-Pacific area, which includes nations such as China, Japan, and South Korea, is a fast expanding market for HUD technology. The growing middle-class income, along with a need for enhanced car amenities, has fueled demand for HUDs. Furthermore, governments in the area are focused on safety rules and supporting the implementation of ADAS technology, giving the HUD industry a substantial boost. Because of its enormous automobile industry and customer base, China is a big market for HUDs.
Global Automotive Head-Up Display (HUD) Industry Segment Analysis
Market By Vehicle Type
· Passenger Cars
· Commercial Vehicle
Market By Technology
· Augmented Reality HUD
· Conventional HUD
Market By HUD Type
· Windshield
· Combiner
Market By Application
· Premium Car
· Luxury Car
· Mid-Segment Car
· Economy Car
Automotive Head-Up Display (HUD) Market Leading Companies
The players profiled in the report are Continental AG, DENSO Corporation, HUDWAY, LLC, Nippon Seiki Co. Ltd, Panasonic Corporation, Pioneer Corporation, Robert Bosch GmbH, Visteon Corporation, and Yazaki Corporation.
Automotive Head-Up Display (HUD) Market Regions
North America
· U.S.
· Canada
Europe
· U.K.
· Germany
· France
· Spain
· Rest of Europe
Latin America
· Brazil
· Mexico
· Rest of Latin America
Asia-Pacific
· China
· Japan
· India
· Australia
· South Korea
· Rest of Asia-Pacific
Middle East & Africa
· GCC
· South Africa
· Rest of Middle East & Africa