Automotive Interior Market Growth Opportunities and Forecast till 2030
The Global Automotive Interior Market Size was valued for USD 134.2 Billion in 2021 and is anticipated to reach USD 208.5 Billion by 2030 with a CAGR of 5.1% from 2022 to 2030.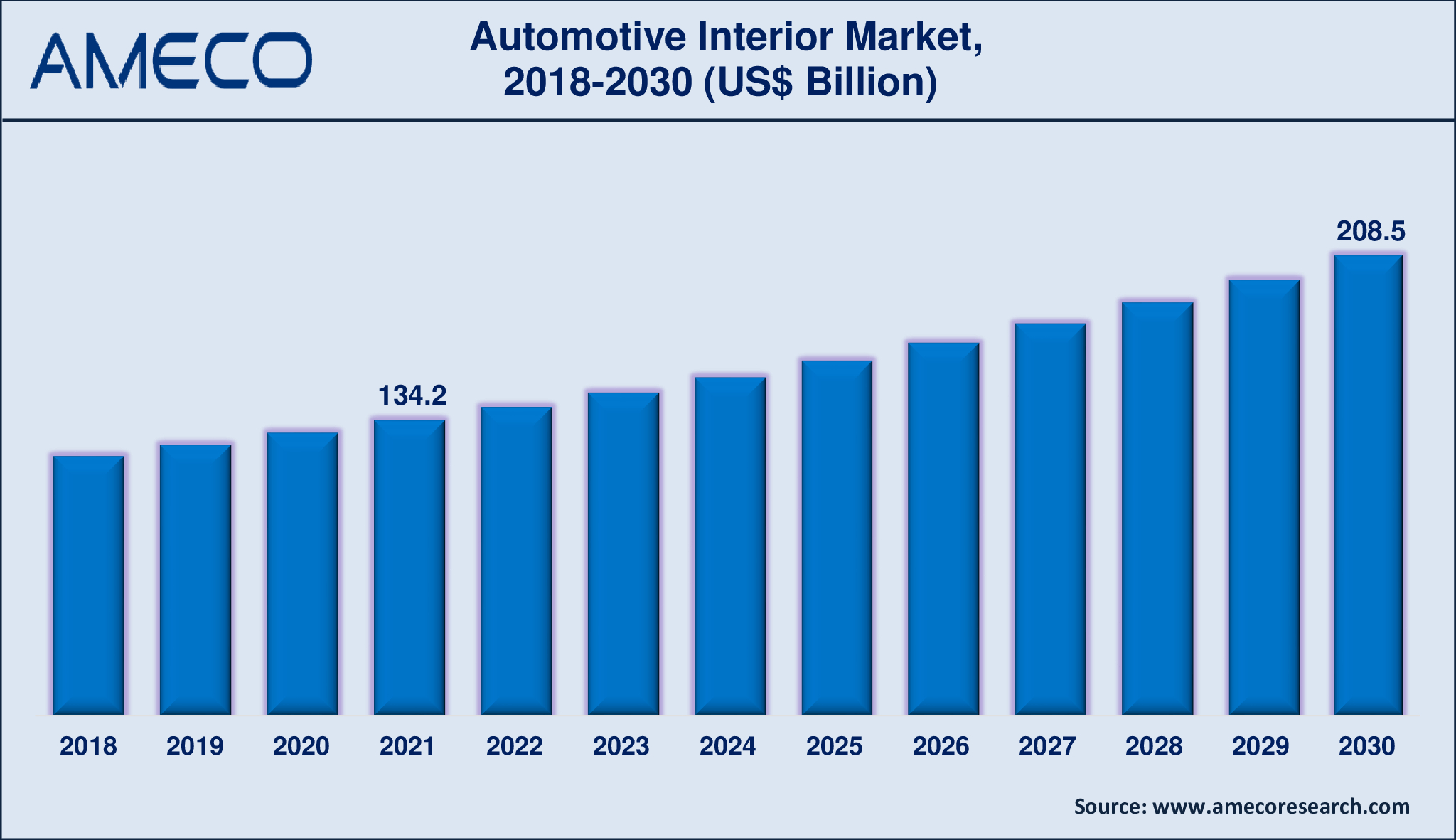 Automotive interior refers to all of the components, materials, and features that make up the space where people sit and interact with the vehicle. It is critical in determining the comfort, aesthetics, and functioning of a vehicle, truck, or other form of automobile.
Seats, dashboard, steering wheel, centre console, door panels, headliner, flooring, and different controls and displays are all part of the car interior. These components are not only useful, but they also improve the entire driving experience and passenger comfort. The layout and appearance of these features might differ greatly between car models and kinds, reflecting the manufacturer's brand identity and target market.
Quality and attention to detail in car interior design are critical since they have a direct influence on a vehicle's perceived worth and attractiveness. A well-designed interior should offer the occupants with comfort, convenience, and safety while also being visually pleasing. It takes into account factors such as materials utilized, ergonomics, technological integration (such as infotainment systems and temperature control), and sound insulation to create a comfortable and enjoyable experience for both the driver and passengers.
The use of novel technology, sustainable materials, and customization choices has resulted in considerable developments in automobile interiors in recent years. These advancements are intended to accommodate changing consumer tastes, improve the overall driving experience, and correspond with the industry's developing environmental and safety norms. As a result, automobile interior design has become an important part of vehicle development, adding to a vehicle's overall attractiveness and market competitiveness.
| | |
| --- | --- |
| Parameter | Automotive Interior Market |
| Automotive Interior Market Size in 2021 | US$ 134.2 Billion |
| Automotive Interior Market Forecast By 2030 | US$ 208.5 Billion |
| Automotive Interior Market CAGR During 2022 – 2030 | 5.1% |
| Automotive Interior Market Analysis Period | 2018 - 2030 |
| Automotive Interior Market Base Year | 2021 |
| Automotive Interior Market Forecast Data | 2022 - 2030 |
| Segments Covered | By Component, By Application, and By Region |
| Automotive Interior Market Regional Scope | North America, Europe, Asia Pacific, Latin America, and Middle East & Africa |
| Key Companies Profiled | Adient PLC, Faurecia, Grupo Antolin, Hyundai Mobis Co., JVCKENWOOD Corporation, Magna International, Panasonic Corp., Pioneer Corporation, Robert Bosch GmbH, and Toyota Boshoku Corporation. |
| Report Coverage | Market Trends, Drivers, Restraints, Competitive Analysis, Player Profiling, Regulation Analysis |
Automotive Interior Market Dynamics
The automotive interior market is a dynamic and ever-changing segment of the automotive industry that is driven by a number of variables that define its trajectory. Consumer demand and preferences are one of the most significant market dynamics. Manufacturers are under continual pressure to innovate and offer interiors that fulfill these expectations as consumers desire more comfort, better technology, and personalized experiences within their vehicles. This demand-driven strategy has resulted in the incorporation of cutting-edge amenities like as touchscreen infotainment systems, intelligent temperature control, and sumptuous materials, all of which contribute to a vehicle's overall attractiveness.
Regulatory reforms and environmental concerns have also had a big influence on the automobile interior business. Stricter emissions standards and an increasing emphasis on sustainability have prompted businesses to investigate environmentally friendly materials and production processes. Sustainability has become a fundamental factor in interior design and production, from the use of recycled and renewable materials to lowering the carbon footprint of manufacturing processes.
Another key driver of change in the automotive interior sector is the introduction of self-driving vehicles. The conventional driver-centric layout is giving way to a more passenger-focused interior as vehicles grow more autonomous. This change in architecture allows for novel seating layouts, entertainment alternatives, and multi-functional cabin areas. Manufacturers are spending in R&D to design interiors that can adapt to different usage conditions, providing passengers with a more pleasant and adaptable environment.
The dynamics of the vehicle interior industry are also influenced by global economic circumstances and market trends. Economic downturns and volatility can have an impact on customer purchasing power, affecting whether premium or budget interiors are preferred. Furthermore, market developments such as the emergence of electric cars and shared mobility solutions have an influence on the interior market since these vehicles frequently have various design considerations, such as larger and more functional cabins.
Finally, the vehicle interior industry is influenced by a mix of customer preferences, legislative changes, technology improvements, and evolving market trends. To address these shifting dynamics and produce vehicle interiors that satisfy the increasing expectations of both drivers and passengers, manufacturers must constantly adapt and innovate.
Automotive Interior Market Segmentation
The Automotive Interior market is segmented by component, application, and geography. The component category is further subdivided into central console, cockpit module, dome module, door panel, headliner, infotainment system, interior lighting, and automotive seats. Passenger car and commercial vehicle (HCV (heavy commercial vehicle) and LCV (light commercial vehicle) are the bifurcation of Application. The region sector includes North America, Asia-Pacific, Europe, Latin America, the Middle East, and Africa.
Global Automotive Interior Market Geographical Competition
The vehicle interior market in North America, which includes the United States and Canada, is distinguished by a significant emphasis on comfort, technology, and spaciousness. Consumers in this region place a premium on amenities such as modern infotainment systems, high-quality materials, and comfortable seats. Furthermore, safety and emissions laws encourage the incorporation of cutting-edge technology, such as advanced driver-assistance systems (ADAS). North America is also seeing an increase in demand for electric and self-driving vehicles, which has an influence on interior design to fit the special requirements of these developments.
The automobile interior industry reflects Europe's reputation for luxury car manufacturers. High-quality materials, innovative designs, and a strong emphasis on sustainability are valued by European customers. European manufacturers frequently use environmentally friendly materials and are at the forefront of innovative safety measures. There is a burgeoning market for electric cars (EVs) in this region, which has resulted in innovative interior designs that emphasize efficiency and enhanced connection.
The Asia-Pacific area, which includes China, Japan, and South Korea, is a varied market with a wide range of customer tastes. While Chinese consumers like vast, well-equipped interiors, Japanese consumers choose simplicity and functionality. Asia-Pacific has developed as an important centre for electric cars in recent years, impacting interior design with an emphasis on battery integration, intuitive controls, and networking features.
Global Automotive Interior Industry Segment Analysis
Market By Component
· Automotive Seats
· Cockpit Module
· Dome Module
· Central Console
· Door Panel
· Headliner
· Interior Lighting
· Infotainment system
Market By Application
· Passenger Car
· Commercial Vehicle
o HCV (Heavy Commercial Vehicle)
o LCV (Light Commercial Vehicle)
Automotive Interior Market Leading Companies
The players profiled in the report are Adient PLC, Faurecia, Grupo Antolin, Hyundai Mobis Co., JVCKENWOOD Corporation, Magna International, Panasonic Corp., Pioneer Corporation, Robert Bosch GmbH, and Toyota Boshoku Corporation.
Automotive Interior Market Regions
North America
· U.S.
· Canada
Europe
· U.K.
· Germany
· France
· Spain
· Rest of Europe
Latin America
· Brazil
· Mexico
· Rest of Latin America
Asia-Pacific
· China
· Japan
· India
· Australia
· South Korea
· Rest of Asia-Pacific
Middle East & Africa
· GCC
· South Africa
· Rest of Middle East & Africa