Automotive Seat Market Growth Opportunities and Forecast till 2030
The Global Automotive Seat Market Size valued for USD 49.5 Billion in 2021 and is anticipated to reach USD 68.7 Billion by 2030 with a CAGR of 3.9% from 2022 to 2030.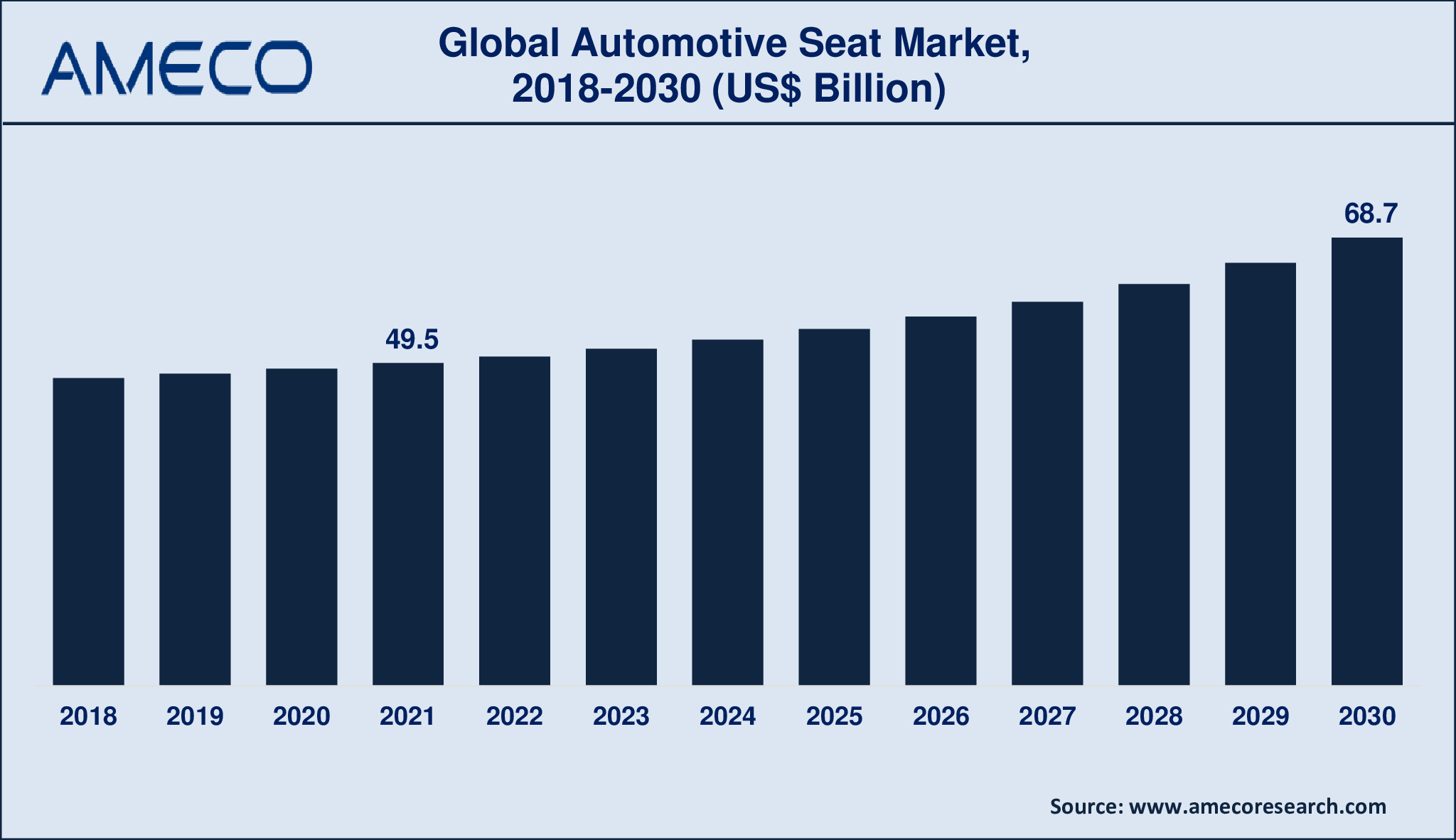 An automobile seat is a necessary component of a vehicle that is meant to give comfort, support, and safety to the occupants. It acts as a vital contact between the vehicle and its occupants, making a substantial contribution to the entire driving experience. Automotive seats are rigorously designed to suit ergonomic criteria, ensuring that drivers and passengers are comfortable on both short and long travels. They are made of a variety of materials, including foam, cloth, leather, and various support systems, which provide cushioning, durability, and aesthetic appeal. Modern vehicle seats have amenities such as adjustable headrests, lumbar support, heating, ventilation, and even massage capabilities, which increase user comfort and personalization possibilities. Additionally, vehicle seats play an important part in passenger safety by combining technology like as seatbelts, airbags, and integrated restraint systems to reduce the effect of crashes.
| | |
| --- | --- |
| Parameter | Automotive Seat Market |
| Automotive Seat Market Size in 2021 | US$ 49.5 Billion |
| Automotive Seat Market Forecast By 2030 | US$ 68.7 Billion |
| Automotive Seat Market CAGR During 2022 – 2030 | 3.9% |
| Automotive Seat Market Analysis Period | 2018 - 2030 |
| Automotive Seat Market Base Year | 2021 |
| Automotive Seat Market Forecast Data | 2022 - 2030 |
| Segments Covered | By Material, By Technology, By Vehicle Type, and By Region |
| Automotive Seat Market Regional Scope | North America, Europe, Asia Pacific, Latin America, and Middle East & Africa |
| Key Companies Profiled | Adient plc, Lear Corporation, Faurecia, Toyota Boshoku Corporation, Magna International Inc., Grupo Antolin, TS Tech Co., Ltd., Grammer AG, Tachi-S Co., Ltd., NHK Spring Co., Ltd., Gentherm, and Isringhausen GmbH & Co. KG. |
| Report Coverage | Market Trends, Drivers, Restraints, Competitive Analysis, Player Profiling, Regulation Analysis |
Automotive Seat Market Dynamics
A plethora of elements determine the dynamics of the automobile seat industry. Rapid developments in automobile technology, a greater emphasis on vehicle aesthetics, and rising customer demand for more comfortable seats have fueled innovation in seat design and functions. Manufacturers seek for a mix of comfort, safety, and cost-effectiveness, which has resulted in the creation of chairs with integrated sensor systems that alter sitting positions based on occupant weight and posture. As the importance of sustainability grows, there is a growing trend towards employing eco-friendly materials in seat construction.
The increasingly severe requirements and standards enforced by governments and regulatory agencies are one of the major limitations influencing the car seat industry. These standards are primarily concerned with increasing occupant safety, lowering emissions, and improving overall vehicle sustainability. While these requirements are important for the automobile industry and passenger safety, they also offer problems for seat producers and the industry as a whole.
Implementing safety regulations, such as those relating to crash testing and occupant protection, necessitates investments in modern technology and materials that can endure rigorous testing by car seat manufacturers. This frequently results in greater production costs, which can have an influence on the overall profitability of seat makers. Furthermore, the requirement to install airbags, seatbelt pretensioners, and other safety systems directly into the seats complicates the design and manufacturing processes, increasing costs.
Furthermore, the automobile seat market's competitive environment is changing, with manufacturers concentrating on cooperation to use each other's knowledge. Customization has been a crucial selling feature for luxury automobile manufacturers, with unique seat choices available to accommodate individual tastes. The incorporation of sophisticated connection features into seats, such as built-in entertainment systems and wireless charging, propels market expansion even further.
Automotive Seat Market Segmentation
The automotive seat market is segmented by material, technology, vehicle type, and geography. The material category is further subdivided into leather, fabric, and other materials. Passenger vehicle and commercial vehicle are the bifurcation of vehicle type. Powered seats, ventilated seats, standard seats, and others are classification of technology segment. The region sector includes North America, Asia-Pacific, Europe, Latin America, the Middle East, and Africa.
Global Automotive Seat Market Geographical Competition
In terms of regional analysis, the automobile seat market varies across geographical divisions. With its developed automotive industry, North America emphasizes technical improvements and safety features inside seats, with the goal of providing a comfortable yet secure driving experience. Seat designs that prioritise both beauty and utility are influenced by Europe's significant emphasis on luxury and premium automobiles.
In contrast, rising Asian nations such as China and India are experiencing a boom in automotive seat demand as a result of a burgeoning middle class and greater car ownership. In these markets, cost-effective seat solutions that do not sacrifice quality are in high demand. Furthermore, severe laws governing occupant safety and vehicle emissions in these locations force manufacturers to build seats that meet stringent criteria.
Latin America and the Middle East exhibit distinct tendencies as well. Seats that are sturdy and easy to maintain, suitable for a variety of terrains and weather situations, are in high demand throughout Latin America. Due to the region's high temperatures, luxury features and heat-resistant materials take primacy in the Middle East.
Global Automotive Seat Industry Segment Analysis
Market By Material
· Leather
· Fabric
· Other Materials
Market By Technology
· Standard Seats
· Powered Seats
· Ventilated Seats
· Others
Market By Vehicle Type
· Passenger Vehicle
· Commercial Vehicle
Automotive Seat Market Leading Companies
The players profiled in the report are Adient plc, Lear Corporation, Faurecia, Toyota Boshoku Corporation, Magna International Inc., Grupo Antolin, TS Tech Co., Ltd., Grammer AG, Tachi-S Co., Ltd., NHK Spring Co., Ltd., Gentherm, and Isringhausen GmbH & Co. KG.
Automotive Seat Market Regions
North America
· U.S.
· Canada
Europe
· U.K.
· Germany
· France
· Spain
· Rest of Europe
Latin America
· Brazil
· Mexico
· Rest of Latin America
Asia-Pacific
· China
· Japan
· India
· Australia
· South Korea
· Rest of Asia-Pacific
Middle East & Africa
· GCC
· South Africa
· Rest of Middle East & Africa