Autonomous Forklift Market Growth Opportunities and Forecast till 2030
The Global Autonomous Forklift Market Size valued for USD 3.5 Billion in 2021 and is anticipated to reach USD 10.5 Billion by 2030 with a CAGR of 13.1% from 2022 to 2030.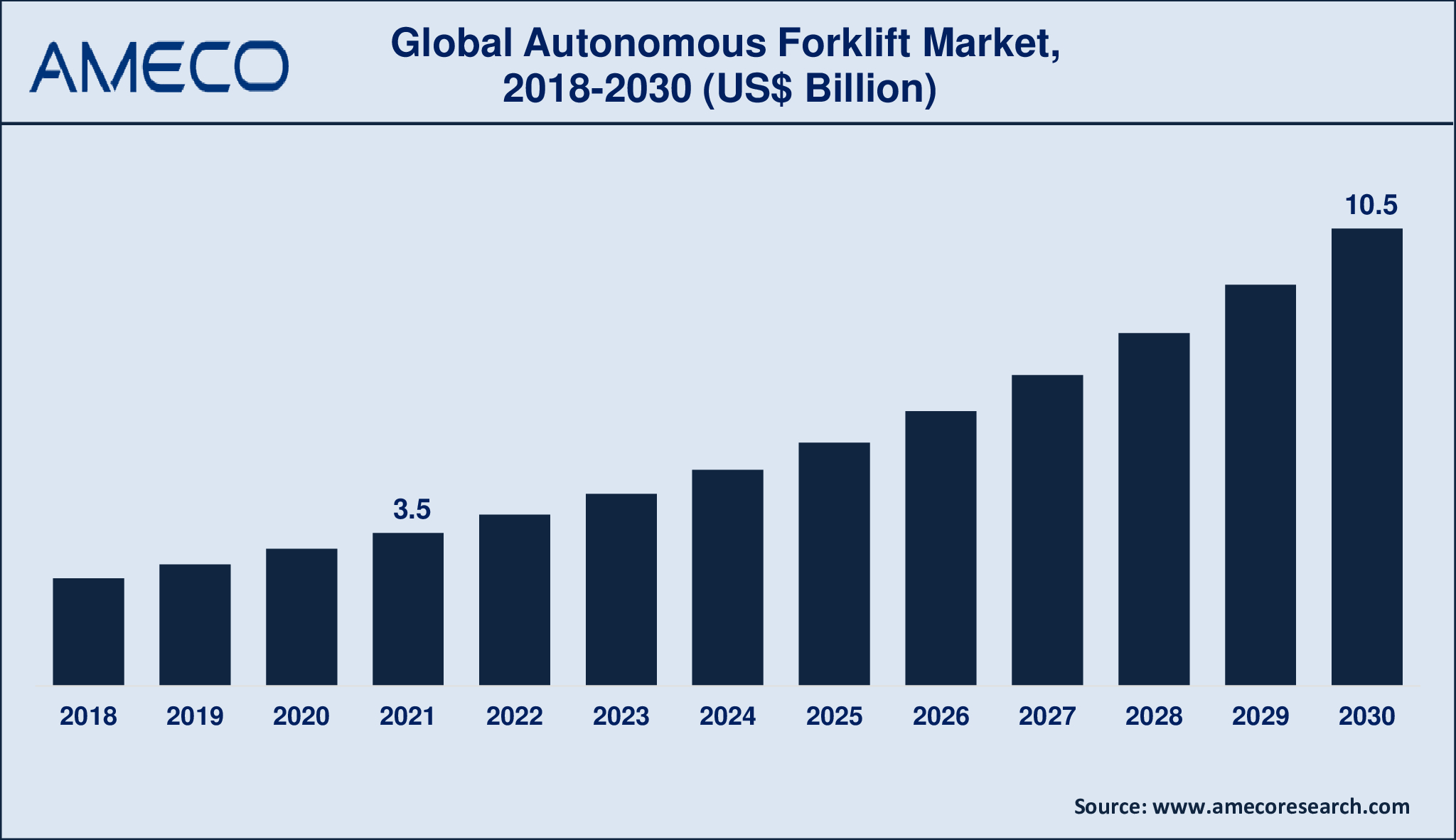 Autonomous forklifts, often known as self-driving forklifts or robotic forklifts, are a game changer in material handling and logistics. These cutting-edge devices are meant to work autonomously by combining technology such as Level 1, cameras, Lidar, GPS, and complex algorithms. The major goal of self-driving forklifts is to improve efficiency, save operating costs, and provide safer working environments in warehouses, distribution centers, manufacturing plants, and other industrial settings.
| | |
| --- | --- |
| Parameter | Autonomous Forklift Market |
| Autonomous Forklift Market Size in 2021 | US$ 3.5 Billion |
| Autonomous Forklift Market Forecast By 2030 | US$ 10.5 Billion |
| Autonomous Forklift Market CAGR During 2022 – 2030 | 13.1% |
| Autonomous Forklift Market Analysis Period | 2018 - 2030 |
| Autonomous Forklift Market Base Year | 2021 |
| Autonomous Forklift Market Forecast Data | 2022 - 2030 |
| Segments Covered | By Automation Level, By Application, By Sales Channel, By Tonnage, and By Region |
| Autonomous Forklift Market Regional Scope | North America, Europe, Asia Pacific, Latin America, and Middle East & Africa |
| Key Companies Profiled | AB Volvo, Balyo Robotic, Crown Equipment, Hyundai Heavy Industries Group, Jungheinrich AG, KION Group AG, Linde Material Handling, OTTO Motors, and Toyota Material Handling Group. |
| Report Coverage | Market Trends, Drivers, Restraints, Competitive Analysis, Player Profiling, Regulation Analysis |
Autonomous Forklift Market Dynamics
The autonomous forklift market environment is formed by a confluence of technology advancements, developing supply chain paradigms, and a constant quest of operational efficiency. Businesses seeking to simplify their operations and remain competitive have pushed the use of self-driving forklifts to the forefront.
Technological improvements have played a critical part in redefining the market for autonomous forklifts. These forklifts have amazing precision because to the incorporation of complex technology such as Artificial Intelligence (AI), Machine Learning (ML), sensors, and advanced navigation systems. This technological combination enables forklifts to navigate complex settings, avoid obstacles, and optimize their routes, increasing both efficiency and operational safety.
The imperatives of supply chain optimization have significantly led to the growth of self-driving forklifts. These forklifts emerge as critical assets in a world that requires quick order fulfillment, low mistakes, and seamless inventory management. Their ability to operate continuously, with no downtime, and to do repetitive activities ushers in a new era of productivity enhancement, freeing up human resources for more complex obligations.
Safety is a top priority in industrial environments. Here, self-driving forklifts provide a novel solution. They promote safer working conditions by lowering the margin for human mistake or fatigue-related mishaps. These robots, outfitted with cutting-edge systems, identify possible risks, pedestrians, and impediments, reducing the likelihood of collisions and accidents.
The data-rich nature of self-driving forklift operations adds a new layer to operational insights. These devices produce massive volumes of data on their operations, routes, and performance. When used wisely, this data may give useful insights on optimizing warehouse layouts, refining inventory management tactics, and improving overall workflow efficiency. As a result, organizations are better equipped to make educated decisions, which drives ongoing progress.
Autonomous forklifts appear as a realistic alternative in scenarios where specific sectors and areas face labor shortages. These devices do activities that formerly required human interaction, successfully bridging workforce shortages and sustaining productivity levels despite labor restrictions.
The decrease of operational costs stands out as a strong benefit provided by autonomous forklifts. While the initial investment may be high, the long-term benefits of increased productivity, reduced downtime, and lower mistake rates translate into significant cost savings over time, supporting the business's bottom line.
Furthermore, the developing regulatory framework and standards have a significant impact on the trajectory of the autonomous forklift business. As the use of these devices grows, regulatory agencies are becoming more concerned with safety and operating requirements. Compliance with changing legislation has become a critical factor for both manufacturers and users, impacting the design and implementation of autonomous forklift systems.
Autonomous Forklift Market Segmentation
The autonomous forklift market is segmented by automation level, application, sales channel, tonnage, and geography. The automation level category is further subdivided into level 1, level 2, level 3, level 4, and level 5. In-house purchase and leasing are the bifurcation of sales channel. Manufacturing, freight and logistics, warehousing, and others are classification of application segment. Tonnage segment includes below 5 tons, 5-10 tons, and more than 10 tons. The region sector includes North America, Asia-Pacific, Europe, Latin America, the Middle East, and Africa.
Global Autonomous Forklift Market Geographical Competition
The global market for autonomous forklifts is expanding rapidly, with various trends and drivers in different countries.
The adoption of autonomous forklifts in North America is largely due to the region's superior technology infrastructure and emphasis on optimizing supply chain operations. The predominance of e-commerce and the necessity for quick order fulfillment have produced an atmosphere favorable to the integration of autonomous solutions. Furthermore, strict safety requirements and a focus on worker well-being are driving the use of self-driving forklifts to decrease workplace accidents.
A variety of variables impact the market dynamics of autonomous forklifts in Europe, including the region's strong manufacturing industry, the requirement for precision in convoluted supply chains, and an increasing emphasis on sustainable logistics. European nations are boosting their investments in smart manufacturing and logistics technologies that complement the capabilities of autonomous forklifts. The emphasis on lowering carbon emissions and optimizing energy utilization encourages the use of this equipment.
In the autonomous forklift industry, Asia-Pacific has a distinct set of characteristics. The region's diversified manufacturing environment, as well as the rapid rise of e-commerce in nations like as China and India, has fueled demand for efficient material handling systems. Furthermore, the frequency of labor shortages in certain sectors has pushed the use of automation, such as self-driving forklifts. However, differing countries' levels of technical infrastructure and legal frameworks might impact the rate of adoption in this region.
Global Autonomous Forklift Industry Segment Analysis
Market By Automation Level
· Level 1
· Level 2
· Level 3
· Level 4
· Level 5
Market By Application
· Warehousing
· Manufacturing
· Freight and Logistics
· Others
Market By Sales Channel
· In-house Purchase
· Leasing
Market By Tonnage
· Below 5 tons
· 5-10 tons
· More than 10 tons
Autonomous Forklift Market Leading Companies
The players profiled in the report are AB Volvo, Balyo Robotic, Crown Equipment, Hyundai Heavy Industries Group, Jungheinrich AG, KION Group AG, Linde Material Handling, OTTO Motors, and Toyota Material Handling Group.
Autonomous Forklift Market Regions
North America
· U.S.
· Canada
Europe
· U.K.
· Germany
· France
· Spain
· Rest of Europe
Latin America
· Brazil
· Mexico
· Rest of Latin America
Asia-Pacific
· China
· Japan
· India
· Australia
· South Korea
· Rest of Asia-Pacific
Middle East & Africa
· GCC
· South Africa
· Rest of Middle East & Africa