Battery Technology Market Growth Opportunities and Forecast till 2030
Category by-
Energy and Power
, No. of Pages - 250, Published By - Ameco Research
The Global Battery Technology Market is valued for USD 103.1 Billion in 2021 and is anticipated to reach USD 255.7 Billion by 2030 with a CAGR of 10.8% from 2022 to 2030.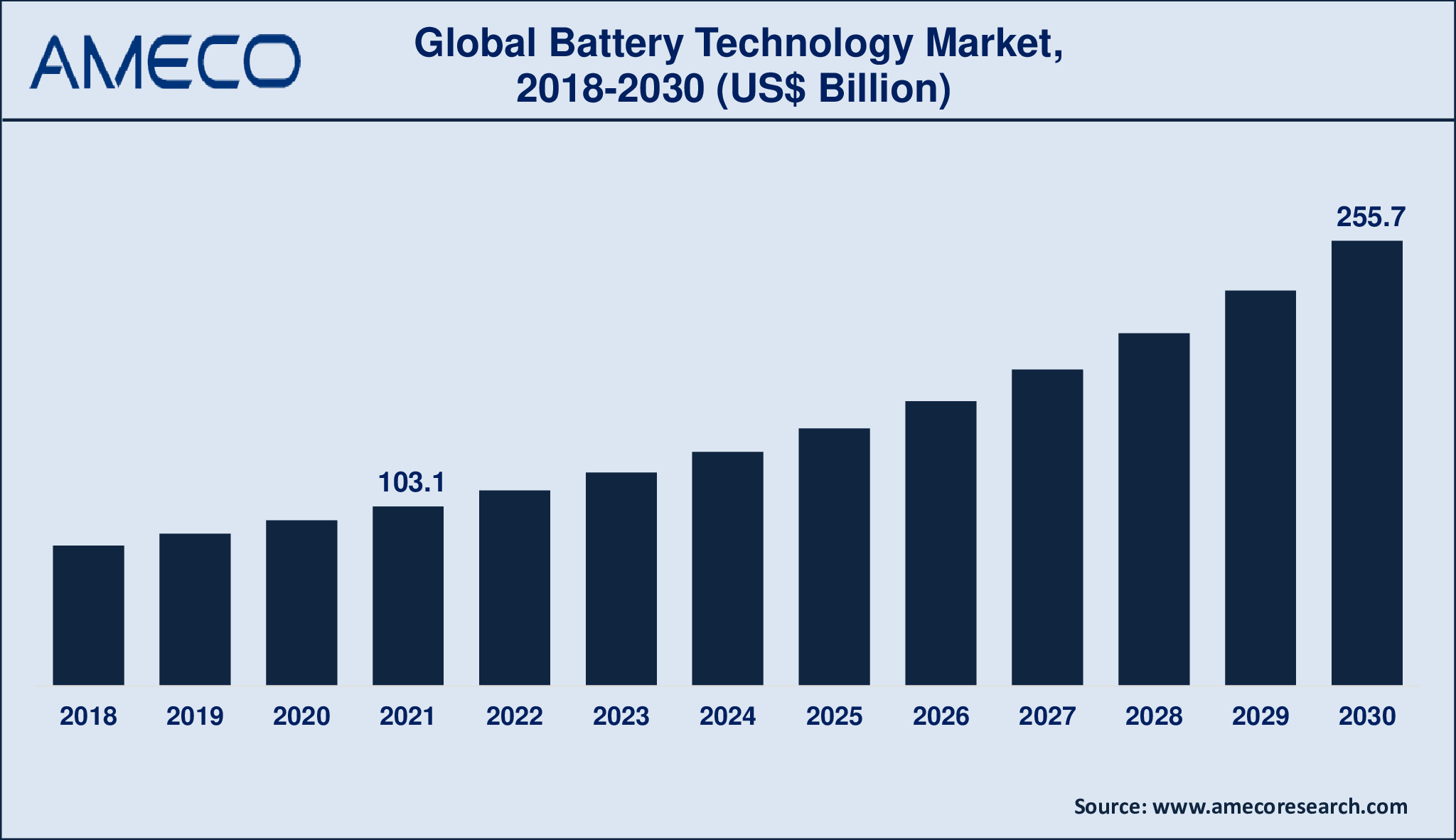 Battery technology is the culmination of scientific research, engineering expertise, and innovative design to produce devices that store and release electrical energy. This occurs as a result of chemical reactions inside the battery's components that turn potential chemical energy into useable electrical energy. Batteries are the foundation of current technological breakthroughs, supplying the energy required to power a wide range of applications that have become indispensable in our everyday lives.
At its foundation, battery technology solves the problem of storing energy for later use. This Battery Type is especially important in situations where a continuous power supply is either unavailable or unsuitable. Small electronic gadgets, such as cell phones and laptop computers, rely on compact and lightweight batteries that can efficiently store energy for extended use without requiring a continual connection to an external power source. These gadgets' simplicity and portability are partly owing to developments in battery technology.
In essence, battery technology is a linchpin in the modernization of energy infrastructure. Its evolution promotes the shift to sustainable energy sources, which are critical for minimizing climate change and creating a more ecologically conscious society. As battery technology advances, we may expect ever more efficient, longer-lasting, and safer batteries, opening the way for new solutions and dramatic improvements in a variety of sectors and daily life.
| | |
| --- | --- |
| Parameter | Battery Technology Market |
| Battery Technology Market Service Provider in 2021 | US$ 103.1 Billion |
| Battery Technology Market Forecast By 2030 | US$ 255.7 Billion |
| Battery Technology Market CAGR During 2022 – 2030 | 10.8% |
| Battery Technology Market Analysis Period | 2018 - 2030 |
| Battery Technology Market Base Year | 2021 |
| Battery Technology Market Forecast Data | 2022 - 2030 |
| Segments Covered | By Battery Type, By Control Technologies, By Application, and By Region |
| Battery Technology Market Regional Scope | North America, Europe, Asia Pacific, Latin America, and Middle East & Africa |
| Key Companies Profiled | Duracell, LG Chem Ltd., Ever Ready, Nippo, Daimler AG, Sony Electronics Inc., D&B Power Associates Inc., Dell Inc, Ford Motor Co., GE Energy LLC, General Motors Corp., Honda Motor Co. Ltd., Samsung SDI Co. Ltd., Panasonic Corp., SANYO Electric Co. Ltd., Toyota Motor Corp. and others. |
| Report Coverage | Market Trends, Drivers, Restraints, Competitive Analysis, Player Profiling, Regulation Analysis |
Battery Technology Market Dynamics
Several main variables fuel the need for battery technologies. For starters, the increased usage of portable electronic devices such as smartphones and laptops has necessitated the development of small and long-lasting battery solutions. Furthermore, to match the performance and range of regular cars, the switch to electric vehicles demands high-capacity batteries. Furthermore, the integration of renewable energy sources into the grid necessitates effective energy storage technologies to handle power generation swings. Large-scale batteries also help to stabilize the electrical grid and reduce energy waste.
Medical equipment require battery technology, especially in distant places or during crises. It also serves as the foundation for a wide range of consumer goods, from smartwatches to wearable fitness trackers. Furthermore, better batteries are required for the Battery Typeing of developing technologies such as drones, robots, and the Internet of Things. The push for energy efficiency and sustainability increases demand for battery technology since it allows for the storage of renewable energy and the electrification of vehicles.
Given these requirements, as well as the worldwide emphasis on sustainability, substantial research and investment are being dedicated into upgrading battery technology. This includes creating novel battery chemistries, increasing energy density, extending battery life, lowering prices, and assuring safety. Battery technology advancements have the potential to transform industries and contribute greatly to a cleaner, more sustainable future.
Battery Technology Market Segmentation
The battery technology market can be classified based on battery type, control technologies, application, and geography. Battery type segment is divided into lead acid battery, lithium-ion battery, lithium-metal battery, nickel cadmium battery, and nickel metal battery. Control technologies segment is split into battery chargers, battery conditioners, and smart battery system. Application segment can be split into power & utilities, transportation, and industrial, commercial & residential, consumer electronics, and others.
Global Battery Technology Market Geographical Competition
North America, notably the United States, is a major leader in the field of battery technology. This region's market for electric cars (EVs) and renewable energy solutions is thriving. Tesla, General Motors, and Ford are leading the charge in EV battery research. Furthermore, the deployment of energy storage systems to enhance grid stability and incorporate renewable energy sources is driving the battery technology industry forward.
Countries in Europe, such as the United Kingdom, Germany, and France, have adopted linked healthcare solutions, owing to modern healthcare systems and a thriving technology industry. The European market is distinguished by a mix of domestic and foreign firms seeking to meet the region's distinct healthcare demands. The regulatory framework, while somewhat harmonized by EU rules, may create differing hurdles for enterprises operating in different European nations.
Europe is a leader in the adoption of renewable energy solutions and the shift to sustainable mobility. Countries such as Germany, France, and the Nordic countries have made significant investments in battery technology to enable EV uptake and renewable energy integration. The strict emissions standards imposed by the European Union have significantly increased demand for innovative battery solutions.
The Asia-Pacific area, notably China, Japan, and South Korea, is a key production and innovation centre for batteries. This region is home to companies like as LG Chem, Samsung SDI, Panasonic, and CATL. It holds a strong position in the EV sector, with China being the world's largest EV market. The region's urbanization, along with environmental concerns, has increased demand for electric vehicles and renewable energy storage technologies.
Global Battery Technology Industry Segment Analysis
Market By Battery Type
· Lead Acid Battery
· Lithium-Ion Battery
· Lithium-Metal Battery
· Nickel Cadmium Battery
· Nickel Metal Battery
Market By Control Technologies
· Battery Chargers
· Battery Conditioners
· Smart Battery System
Market By Application
· Power & Utilities
· Transportation
· Industrial
· Commercial & Residential
· Consumer Electronics
· Others
Battery Technology Market Leading Companies
The players profiled in the report are Daimler AG, Dell Inc., Duracell, Ever Ready, Ford Motor Co., D&B Power Associates Inc. GE Energy LLC, General Motors Corp., Honda Motor Co. Ltd., LG Chem Ltd., Nippo, Panasonic Corp., SANYO Electric Co. Ltd., Samsung SDI Co. Ltd., Sony Electronics Inc., and Toyota Motor Corp.
Battery Technology Market Regions
North America
· U.S.
· Canada
Europe
· U.K.
· Germany
· France
· Spain
· Rest of Europe
Latin America
· Brazil
· Mexico
· Rest of Latin America
Asia-Pacific
· China
· Japan
· India
· Australia
· South Korea
· Rest of Asia-Pacific
Middle East & Africa
· GCC
· South Africa
· Rest of Middle East & Africa