Bio LPG Market Growth Opportunities and Forecast till 2030
Category by-
Energy and Power
, No. of Pages - 250, Published By - Ameco Research
The Global Bio LPG Market Size valued for USD 6 Billion in 2021 and is anticipated to reach USD 196 Billion by 2030 with a CAGR of 47.4% from 2022 to 2030.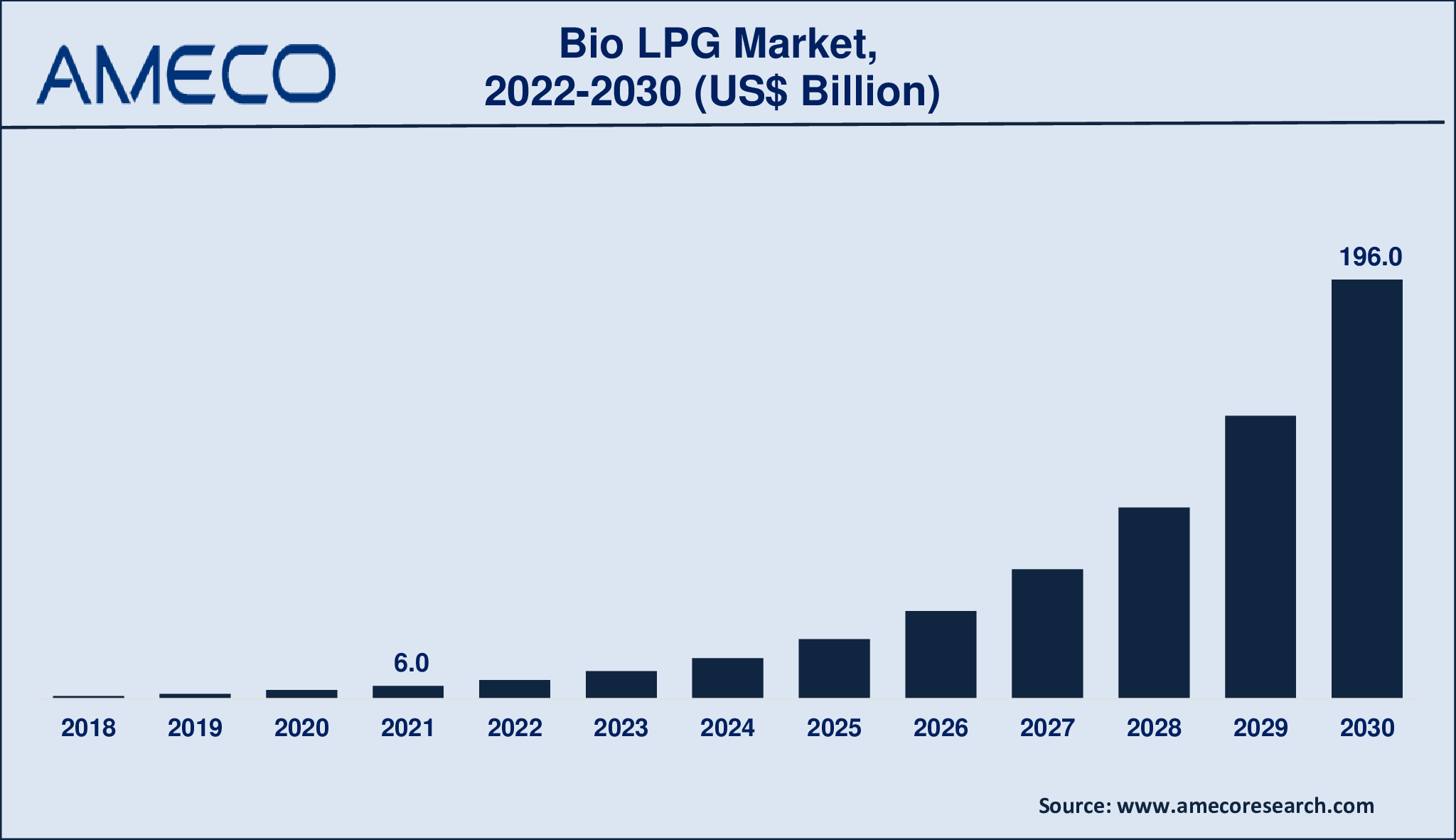 As a certified renewable fuel, BioLPG offers up to a 90% reduction in carbon emissions compared to traditional fossil fuels like oil. BioLPG significantly improves local air quality because it emits the same levels of low-level air and particle pollutants (NOx, SOx, and PM) as conventional LPG.
In terms of performance and use, it is the same as traditional LPG. We are establishing a solid pipeline of new prospects at SHV Energy in order to continuously increase our capacity to provide sustainable bioLPG to our clients who live and work off the grid. We are delighted to be the market innovators for this product. Biopropane, commonly referred to as bioLPG, is a sustainable and renewable substance. Although it is produced utilizing a range of biological feedstocks, such as waste streams, BioLPG is chemically identical to LPG.
The switch from LPG to BioLPG is easy and beneficial to the environment. It can be added to an existing supply and is utilised exactly the same manner as LPG. Therefore, there is no need to modify the LPG network or the LPG appliances.
| | |
| --- | --- |
| Parameter | Bio LPG Market |
| Bio LPG Market Size in 2021 | US$ 6 Billion |
| Bio LPG Market Forecast By 2030 | US$ 196 Billion |
| Bio LPG Market CAGR During 2022 – 2030 | 47.4% |
| Bio LPG Market Analysis Period | 2018 - 2030 |
| Bio LPG Market Base Year | 2021 |
| Bio LPG Market Forecast Data | 2022 - 2030 |
| Segments Covered | By Feedstock, By End-User, and By Region |
| Bio LPG Market Regional Scope | North America, Europe, Asia Pacific, Latin America, and Middle East & Africa |
| Key Companies Profiled | AvantiGas, Diamond Green, ENI, Irving Oil, Neste, Preem AB, Renewable Energy Group, Inc., Repsol, and SHV Energy among others. |
| Report Coverage | Market Trends, Drivers, Restraints, Competitive Analysis, Player Profiling, Regulation Analysis |
Bio LPG Market Dynamics
Depending on the feedstock and End-User, various methods can be used to manufacture bioLPG. The main production process at the moment is the renewable (or HVO) biodiesel production method. As a result, bioLPG is produced as a byproduct. Many waste "off-gases" including propane or bioLPG are created during the refining process. This off-gas stream produces 50 kg of bioLPG for every tonne of biodiesel. After that, this byproduct is filtered to make it comparable to regular propane.
However, we think that bioLPG might be an even lower carbon choice by increasing the carbon efficiency of the biofuels and energy used in the refining process. As a direct replacement for conventional LPG, moving to bioLPG wouldn't call for any modifications to current machinery or appliances.
As a Liquefied Petroleum Gas Association (LPGA) member, Firstgas is sponsoring industry-wide research into bioLPG. We are also considering ways to increase local production or import bioLPG to serve our Rockgas clients.
Internationally, the United Kingdom and Europe are making substantial investments in plans to switch to BioLPG so that we can test and learn from them.
Bio LPG Market Insights
Based on feedstock, the market is divided into bio-oil, sugar, and others. On the basis of end-user, the market is categorized residential, commercial, and industrial. Due to an increase in the need for liquefied petroleum gas in the industrial sector, Bio LPG demand is growing globally. Around the world, environmental issues are now of great concern. The earth has suffered from climate change and other negative repercussions as a result of high carbon emissions. Oil is currently a widely used fossil fuel. However, using liquefied petroleum gas is better than using oil because it is cleaner. Additionally, compared to coal and oil, liquefied petroleum gas emits less carbon dioxide overall. Using organic and renewable feedstock in the production process, bio LPG is a fuel that is produced.
Global Bio LPG Market Geographical Competition
Growing amounts of Bio LPG are being introduced to the market in Europe as a direct renewable replacement for LPG. The majority of the largest businesses in the area have established 100% renewable targets. As a drop-in replacement for traditional LPG, bioLPG can immediately help to raise the renewable energy contribution in heating. Over the projected period of 2020 to 2027, Asia Pacific is expected to develop at the fastest rate with a significant CAGR (%). The growing emphasis on using environmentally friendly energy sources and the development of infrastructure can both contribute to a reduction in emissions.
Global Bio LPG Industry Segment Analysis
Bio LPG Market By Feedstock
· Bio-Oil
· Sugar
· Others
Bio LPG Market By End-User
· Residential
· Commercial
· Industrial
Bio LPG Market Leading Companies
This section of the study honors the market's top vendors AvantiGas, Diamond Green, ENI, Irving Oil, Neste, Preem AB, Renewable Energy Group, Inc., Repsol, and SHV Energy among others.
Bio LPG Market Regions
North America
· U.S.
· Canada
Europe
· U.K.
· Germany
· France
· Spain
· Rest of Europe
Latin America
· Brazil
· Mexico
· Rest of Latin America
Asia-Pacific
· China
· Japan
· India
· Australia
· South Korea
· Rest of Asia-Pacific
Middle East & Africa
· GCC
· South Africa
· Rest of Middle East & Africa