Biodefense Market - Size, Industry Trends, Competitive Landscape, and Opportunities and Forecast 2022 - 2030
The Global Biodefense Market Size accounted for USD 13,838 Million in 2021 and is anticipated to reach USD 22,881 Million by 2030 with a CAGR of 5.8% from 2022 to 2030.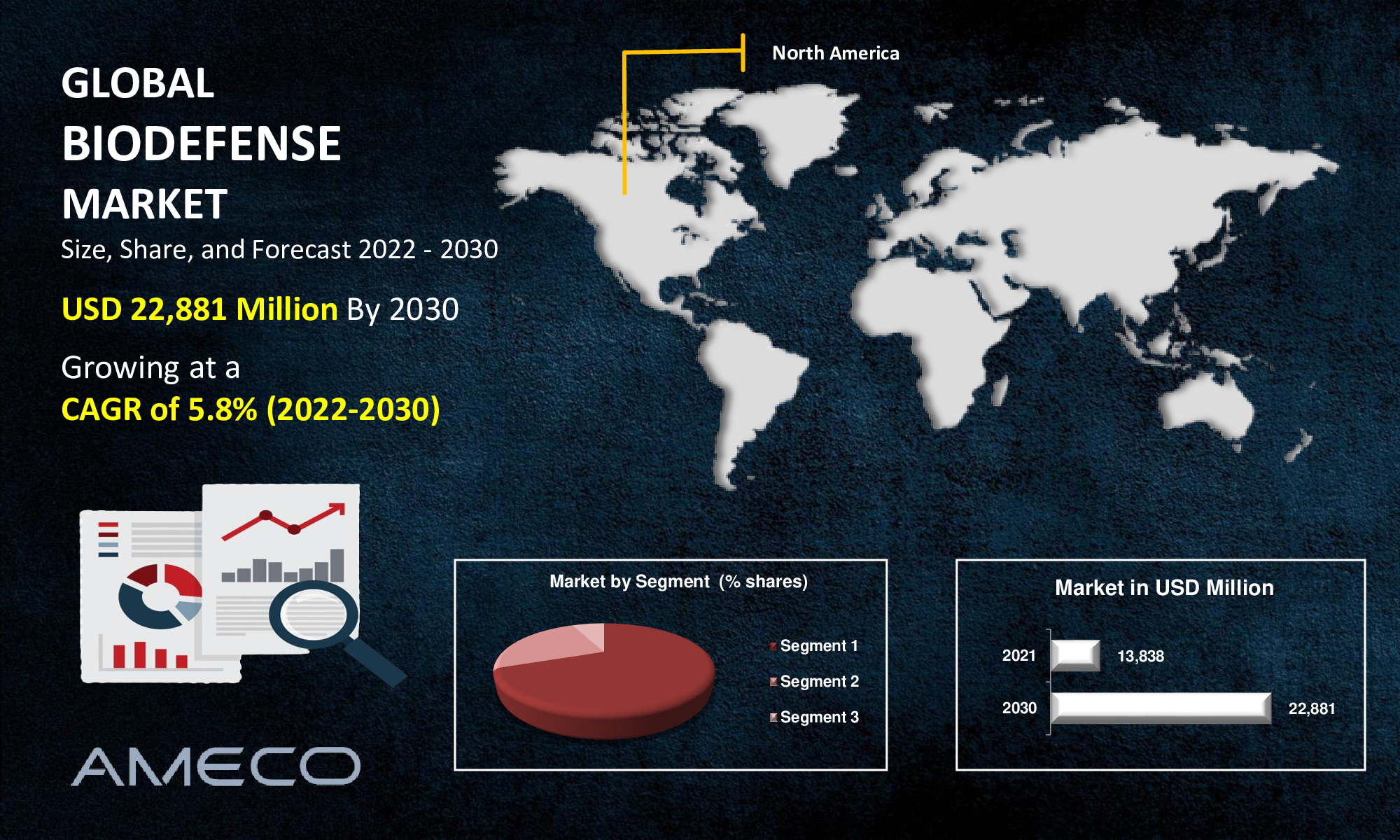 Biodefense is the use of medical interventions such as drugs and vaccinations, but also science and health preparations to defend against these biological attacks, to protect people from bioterrorism. Biological agents are toxins or organisms that have the ability to disable or kill humans, livestock, and crops. A biological attack is the intentional release of germs or other biological compounds that are capable of making you sick. Bacteria, viruses, and toxins are the three basic types of biological agents that could be used as weapons. Biological agents can be transmitted by spraying them into the air, infecting animals that carry the virus to humans, and contaminating food and water. Pathogen outbreaks in the human population have historically resulted in millions of deaths; for example, pandemic influenza after World War I (1918-1920) killed approximately 40 million people worldwide. Furthermore, factors such as increasing resistance to both treatments and control measures exacerbate the risks. If pathogens could be used as a weapon, the consequences would undoubtedly be severe and far-reaching.
| | |
| --- | --- |
| Parameter | Biodefense Market |
| Biodefense Market Size in 2021 | US$ 13,838 Million |
| Biodefense Market Forecast By 2030 | US$ 22,881 Million |
| Biodefense Market CAGR During 2022 – 2030 | 5.8% |
| Biodefense Market Analysis Period | 2018 - 2030 |
| Biodefense Market Market Base Year | 2021 |
| Biodefense Market Market Forecast Data | 2022 - 2030 |
| Segments Covered | By Product, and By Region |
| Regional Scope | North America, Europe, Asia Pacific, Latin America, and Middle East & Africa |
| Key Companies Profiled | Bavarian Nordic, Altimmune Inc., Elusys Therapeutics, Cleveland BioLabs, Emergent BioSolutions Inc., Ology Bioservices, Ichor Medical Systems, PathSensors Inc., and Siga Technologies Inc. |
| Report Coverage | Market Trends, Drivers, Restraints, Competitive Analysis, Player Profiling, Regulation Analysis |
Market Dynamics
Growing awareness regarding biological attacks is the primary factor boosting the biodefense market share. A biological attack might or might not be obvious right away. Local healthcare providers will typically note a pattern of unusual illness or a surge in sick patients seeking emergency care. A radio or TV emergency broadcast, a phone call, or a home visit from an emergency response worker would all be used to notify you.
A bioterrorism attack is defined as the purposeful release of a pathogen, whether it be viral, bacterial, or other, with the intent to harm a person, animal, plant, or other living thing in an effort to sway public opinion or intimidate civilian populations. The 2001 US mail-based anthrax outbreak highlighted the very real risk of bioterrorism and biological warfare. Medical safeguards are used in biodefense to defend against bioterrorism. This covers prescription drugs and immunizations. Medical research and defences against bioterrorist attacks are also included.
Market Insights
The global biodefense market is divided into product, and region. The segmentation based on the product includes Botulism, Anthrax, Radiation/Nuclear, Smallpox, and others. Bacillus anthracis, the bacteria that causes anthrax, is one of the most likely agents to be used in a biological attack. A 50 kg anthrax release from an aircraft over a city with a population of 5 million people would, according to estimates from the World Health Organization's (WHO) anthrax expert committee in 1970, result in 250,000 casualties, of which 95,000 would likely die without treatment and another 125,000 would be severely disabled.
Global Biodefense Market Geographical Competition
The North American, European, Latin American, Asian-Pacific, and Middle Eastern & African regions make up the five geographical segments of the global Biodefense market. North America is the leading market in the biodefense industry. High federal funding, advancement in technological, and rising public awareness are all credited with this. Major players being present in this area also bode well for the market. However, the Asia-Pacific region is anticipated to witness the fastest growth rate in the coming years from 2022 to 2030. The region's major economies are demonstrating technological advancements to monitor both pathogens and benign microorganisms.
Global Biodefense Industry Segment Analysis
Market By Product
· Botulism
· Anthrax
· Radiation/Nuclear
· Smallpox
· Others
Biodefense Market Leading Companies
This section of the study honors the market's top vendors Bavarian Nordic, Altimmune Inc., Elusys Therapeutics, Cleveland BioLabs, Emergent BioSolutions Inc., Ology Bioservices, Ichor Medical Systems, PathSensors Inc., and Siga Technologies Inc.
Biodefense Market Regions
North America
· U.S.
· Canada
Europe
· U.K.
· Germany
· France
· Spain
· Rest of Europe
Latin America
· Brazil
· Mexico
· Rest of Latin America
Asia-Pacific
· China
· Japan
· India
· Australia
· South Korea
· Rest of Asia-Pacific
Middle East & Africa
· GCC
· South Africa
· Rest of Middle East & Africa