Biotechnology Market - Size, Industry Trends, Competitive Landscape, and Opportunities and Forecast 2022 - 2030
The Global Biotechnology Market Size accounted for USD 368 Billion in 2021 and is anticipated to reach USD 1,334 Billion by 2030 with a CAGR of 15.5% from 2022 to 2030.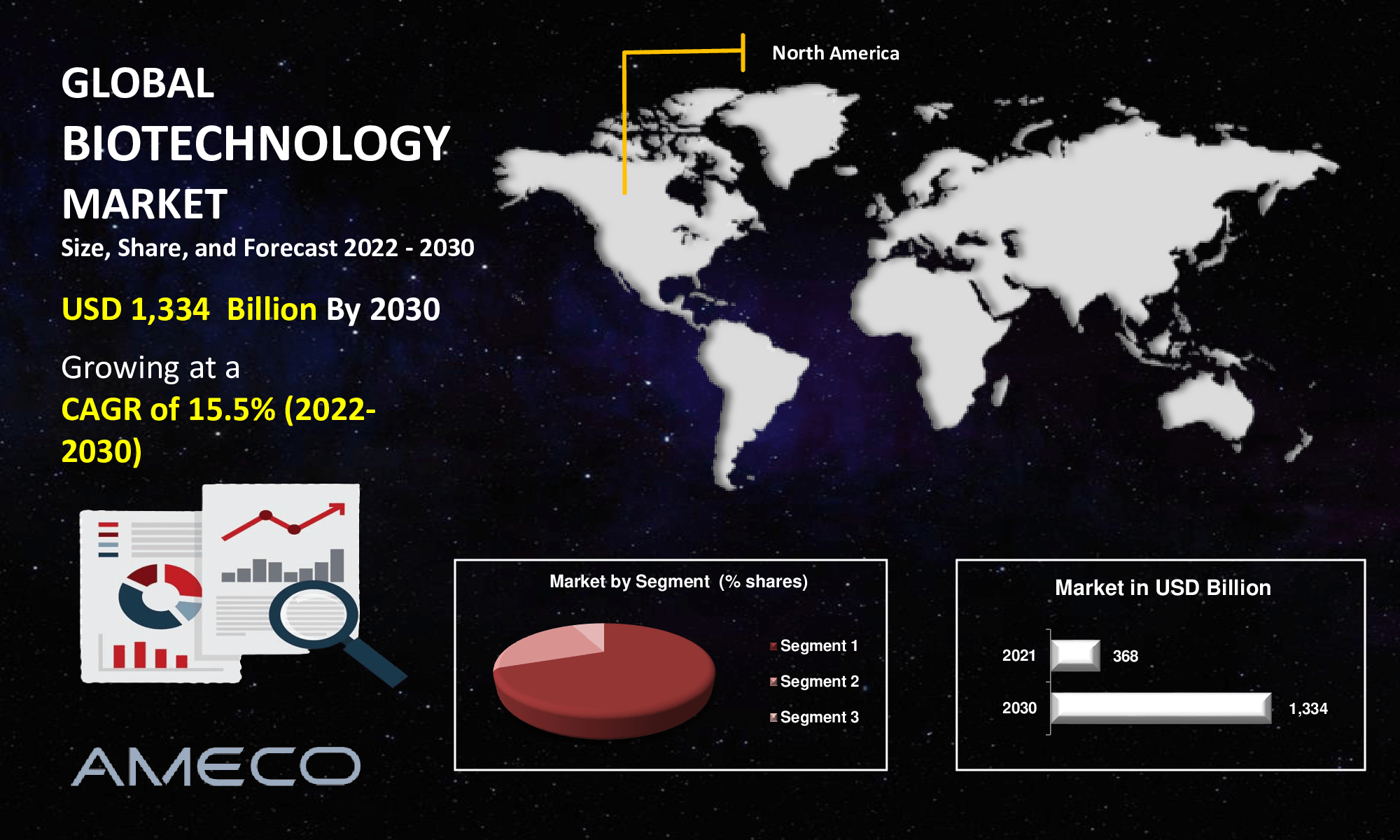 The use of biological systems discovered in organisms or the use of living organisms themselves to create technological advancements and modify those technologies to different fields is referred to as biotechnology. These include applications ranging from agricultural practice to the medical field. It includes not only applications in fields involving living things, but also any other field where information obtained from an organism's biological aspect can be applied.
Biotechnology has the potential to develop new vaccines, diagnostics, drugs, and other medical defensive measures for detecting, preventing, and treating infectious diseases. The coronavirus pandemic, for example, has emphasized the beneficial role that biotechnology can play in this regard. Researchers from all over the world are working hard to combat the pandemic. They have used various technologies to create low-cost diagnostics, discover new drugs, repurpose existing antivirals, and develop safe and effective vaccines.
| | |
| --- | --- |
| Parameter | Biotechnology Market |
| Biotechnology Market Size in 2021 | US$ 368 Billion |
| Biotechnology Market Forecast By 2030 | US$ 1,334 Billion |
| Biotechnology Market CAGR During 2022 – 2030 | 15.5% |
| Biotechnology Market Analysis Period | 2018 - 2030 |
| Biotechnology Market Base Year | 2021 |
| Biotechnology Market Forecast Data | 2022 - 2030 |
| Segments Covered | By Technology, By Application, and By Region |
| Regional Scope | North America, Europe, Asia Pacific, Latin America, and Middle East & Africa |
| Key Companies Profiled | Abbott Laboratories, Amgen Inc., AstraZeneca plc, Biogen Inc., Celgene Corporation, Gilead Sciences, Inc., Johnson & Johnson Services, Inc., Merck & Co., Inc., Novartis AG, and Novo Nordisk A/S. |
| Report Coverage | Market Trends, Drivers, Restraints, Competitive Analysis, Player Profiling, Regulation Analysis |
Market Dynamics
Biotechnology has always been focused on technology. The proliferation of smart computing technology, such as artificial intelligence and machine learning, allows companies to broaden the scope and extent of their research while also improving manufacturing efficiency-both of which reduce the time required biotech firms to introduce new products to market. In medicine, for instance, the ability to analyze large data sets assists drug makers in identifying treatments based on disease cause. This has the capability to minimize the $2.6 billion price tag and the 90% failure rate for new drug development.
The clinical trial process has been transformed by a number of technological advances. Clinical trials were once a very manual process, with test subjects physically going to a clinic to receive treatment and writing down their symptoms and complications. Furthermore, drugs companies typically needed to enlist a group of participants in order to obtain the appropriate sample size-or they needs to be invested heavily in marketing resources in order to attract the right patients to treat a rare disorder.
According to the United Nations, the world population will be more than double in the next 30 years, rising from 7.7 billion in 2019 to 9.7 billion in 2050. A growing population increases food demands; both for people and livestock, and puts pressure on land use as urban areas broaden onto farming lands. These global trends provide opportunities for biotechnology to improve agricultural yields.
Cell and gene therapies, which modify human cells and genomes to create customized drugs, are thriving biotechnology fields. The search for vaccines to stop the spread of the COVID-19 disease has compelled scientists to consider novel approaches to vaccine development. Government agencies and biopharmaceutical companies have formed unexpected public partnerships to fund research and pool resources in this region, advancing our overall understanding of vaccines. These biotechnology trends demonstrate that today's biotech professionals require more than a background in biology, chemistry, or pharmaceutical science to accelerate their careers. Business skills are required to manage a research project or a technical team, whereas technology competence can add real analysis to cutting-edge research and innovation.
Market Insights
The four categories of the global biotechnology market are technology, application, region, and industry. The segmentation is based on the technology sector and includes cell-based assays, chromatography, DNA sequencing, fermentation, nanobiotechnology, PCR technology, tissue engineering and regeneration, and others.
Bioinformatics, food & agriculture, health, industrial processing, natural resources & environment, and others are among the application segments included in the segmentation.
.Global Biotechnology Market Geographical Competition
There are five regions that make up the global biotechnology market: North America, Europe, Latin America, Asia-Pacific, the Middle East, and Africa. In 2021, North America held the largest share. The presence of major players, comprehensive Innovative activities, and elevated healthcare spending are all driving growth in the regional market. The region has a high penetration of platforms based on genomics, proteomics, and cell biology, which is speeding up the adoption of life sciences tools. The Asia-Pacific region biotechnology market is projected to expand at the fastest rate in the coming years. A huge patient pool in populated countries prone to various diseases, such as India and China, will be a major market driver for geographical business growth.
Global Biotechnology Industry Segment Analysis
Market By Technology
· Chromatography
· Cell-based Assays
· DNA Sequencing
· Fermentation
· Nanobiotechnology
· PCR Technology
· Tissue Engineering and Regeneration
· Others
Market By Application
· Bioinformatics
· Food & Agriculture
· Health
· Industrial Processing
· Natural Resources & Environment
· Others
Biotechnology Market Leading Companies
This section of the study honors the market's top vendors Abbott Laboratories, Amgen Inc., AstraZeneca plc, Biogen Inc., Celgene Corporation, Gilead Sciences, Inc., Johnson & Johnson Services, Inc., Merck & Co., Inc., Novartis AG, and Novo Nordisk A/S.
Biotechnology Market Regions
North America
· U.S.
· Canada
Europe
· U.K.
· Germany
· France
· Spain
· Rest of Europe
Latin America
· Brazil
· Mexico
· Rest of Latin America
Asia-Pacific
· China
· Japan
· India
· Australia
· South Korea
· Rest of Asia-Pacific
Middle East & Africa
· GCC
· South Africa
· Rest of Middle East & Africa