Buttock Augmentation Market - Size, Industry Trends, Competitive Landscape, and Opportunities and Forecast 2022 - 2030
The Global Buttock Augmentation Market Size accounted for USD 951 Million in 2021 and is anticipated to reach USD 1,749 Million by 2030 with a CAGR of 7.5% from 2022 to 2030.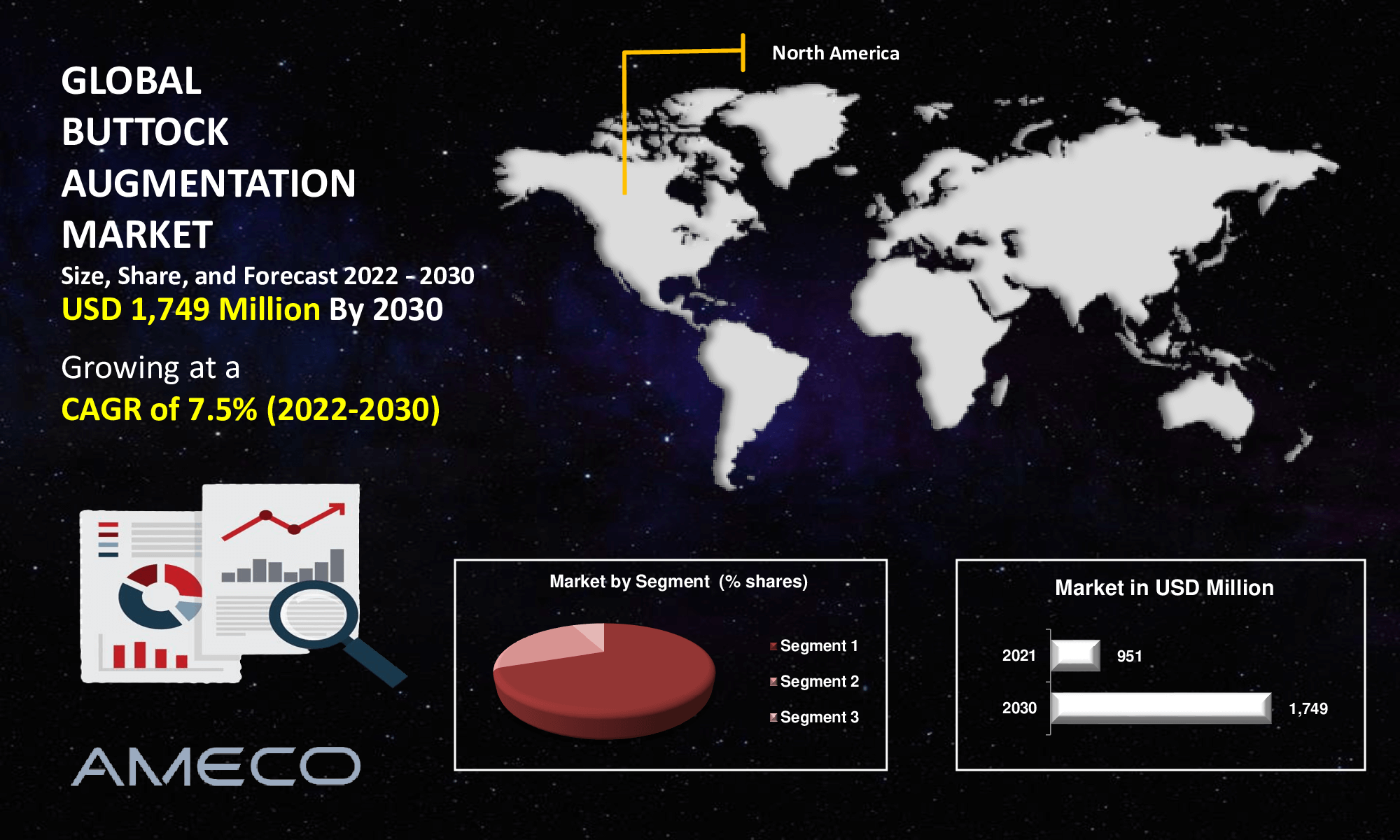 Buttock augmentation lift is another name for Brazilian butt. A well-shaped buttock region is a sign of attractiveness. However, due to genetics or other factors like lifestyle choices, not everyone is blessed with the will-shaped bottom. Some people put a lot of effort into exercising, but it fails. You might find it difficult to feel confident wearing tight clothing if you have a flat or square bottom. The solution is a Brazilian butt lift. A buttock lift is a cosmetic surgery procedure to enhance the buttocks' appearance. It can be performed as part of a lower body lift or tummy tuck (belt lipectomy) to contour the buttocks, groyne, thighs, and abdomen. The buttocks sag and the skin loosens with massive weight loss, advancing age, and the implications of gravity. The knotted, youthful appearance that is frequently desired is altered by the extra fatty tissue. Butt enhancement surgery is frequently requested by patients who want to enlarge their butt in size, shape, visual appeal, and proportion.
| | |
| --- | --- |
| Parameter | Buttock Augmentation Market |
| Buttock Augmentation Market Size in 2021 | US$ 951 Million |
| Buttock Augmentation Market Forecast By 2030 | US$ 1,749 Million |
| Buttock Augmentation Market CAGR During 2022 – 2030 | 7.5% |
| Buttock Augmentation Market Analysis Period | 2018 - 2030 |
| Buttock Augmentation Market Base Year | 2021 |
| Buttock Augmentation Market Forecast Data | 2022 - 2030 |
| Segments Covered | By Product, By End-Use, and By Region |
| Regional Scope | North America, Europe, Asia Pacific, Latin America, and Middle East & Africa |
| Key Companies Profiled | POLYTECH Health & Aesthetics, Sientra, Inc., Sebbin, Allergan, Merz North America, Inc, Spectrum Designs Medical, Silimed, Implantech. |
| Report Coverage | Market Trends, Drivers, Restraints, Competitive Analysis, Player Profiling, Regulation Analysis |
Market Dynamics
The Brazilian butt lift, an autologous fat transfer procedure that uses your own natural fatty tissue, and gluteal implant surgery even without fat transfer for extra contouring are the two most common procedures for buttock augmentation. Although it is frequently referred to as a "butt lift," the BBL procedure primarily aims to enhance the body's torso contours, waistline, reduce back rolls, and give the patient a more slender appearance. In a typical BBL, skin is not removed, and the "lift" effect primarily entails a rise in buttock projection. Implants are best suited for treating buttocks that are flat or poorly defined, especially in patients with little fatty tissue. For the treatment of sagging buttocks that may develop after significant weight loss, butt implants are not as effective.
Poor tissue elasticity can cause the buttocks to sag due to ageing, sun damage, pregnancy, substantial weight changes, and genetic factors. Excess lumpy skin and fat are eliminated to create a smoother and more aesthetically pleasing contour. A conventional gluteal lift won't enlarge the butt, but it might smooth out the skin's uneven, dimpled surface. This procedure can be done either as part of a body lift or separately.
Risks associated with a buttock lift include: fluid retention under the skin (seroma), wounds don't heal well, and scarring. After surgery, drain tubes can aid in lowering the risk of seroma. After surgery, your doctor may also drain fluid using a needle and syringe. On occasion, the incision line's surrounding tissues heal slowly or start to separate. If there is a problem with wound healing, you might be given antibiotics. Permanent scars from a buttock lift are created during the procedure, but they are usually hidden.
Market Insights
Product, end-use, and region are the three categories of the global buttock augmentation industry. Based on the product sector, the segmentation includes buttock injections, buttock implants, and others. The buttock injection segment is further categorized into silicone butt injections, PMMA butt injections, hydrogel butt injections, and ploy-L-lactic acid. The buttock implants is further sub-segmented into fat grating and silicone gel implants. Among them, the buttock implants segment achieved a significant buttock augmentation market share in 2021.
The end-use segment is divided into hospitals, aesthetic clinics, and others. Out of these, the hospitals generated a greater amount of share in 2021.
Global Buttock Augmentation Market Geographical Competition
North America, Europe, Latin America, Asia-Pacific, and the Middle East & Africa are the segmentation of the worldwide Buttock Augmentation industry. The global market for buttock augmentation is dominated by North America in terms of regional market share. This is a result of the high cost of cosmetic plastic surgery in the area. One of the main factors propelling the market for buttock augmentation globally is this. On the other hand, in the upcoming years, Asia Pacific is anticipated to have the buttock augmentation market's fastest growing CAGR. The global buttock augmentation market is expanding as a result of rising personal fitness and healthcare consciousness, along with body beautification and an increasing disposable income in the area.
Global Buttock Augmentation Industry Segment Analysis
Market By Product
· Buttock Injections
o Silicone Butt Injections
o PMMA Butt Injections
o Hydrogel Butt Injections
o Ploy-L-Lactic Acid
· Buttock Implants
o Fat Grating
o Silicone Gel Implants
Market By End-Use
· Hospitals
· Aesthetic Clinics
· Others
Buttock Augmentation Market Leading Companies
This section of the study honors the market's top vendors POLYTECH Health & Aesthetics, Sientra, Inc., Sebbin, Allergan, Merz North America, Inc, Spectrum Designs Medical, Silimed, Implantech.

Buttock Augmentation Market Regions
North America
· U.S.
· Canada
Europe
· U.K.
· Germany
· France
· Spain
· Rest of Europe
Latin America
· Brazil
· Mexico
· Rest of Latin America
Asia-Pacific
· China
· Japan
· India
· Australia
· South Korea
· Rest of Asia-Pacific
Middle East & Africa
· GCC
· South Africa
· Rest of Middle East & Africa