Cloud Kitchen Market - Size, Industry Trends, Competitive Landscape, and Opportunities and Forecast 2022 - 2030
Category by-
ICT and Media
, No. of Pages - 250, Published By - Ameco Research
The Global Cloud Kitchen Market Size accounted for USD 63 Billion in 2021 and is anticipated to reach USD 374 Billion by 2030 with a CAGR of 22% from 2022 to 2030.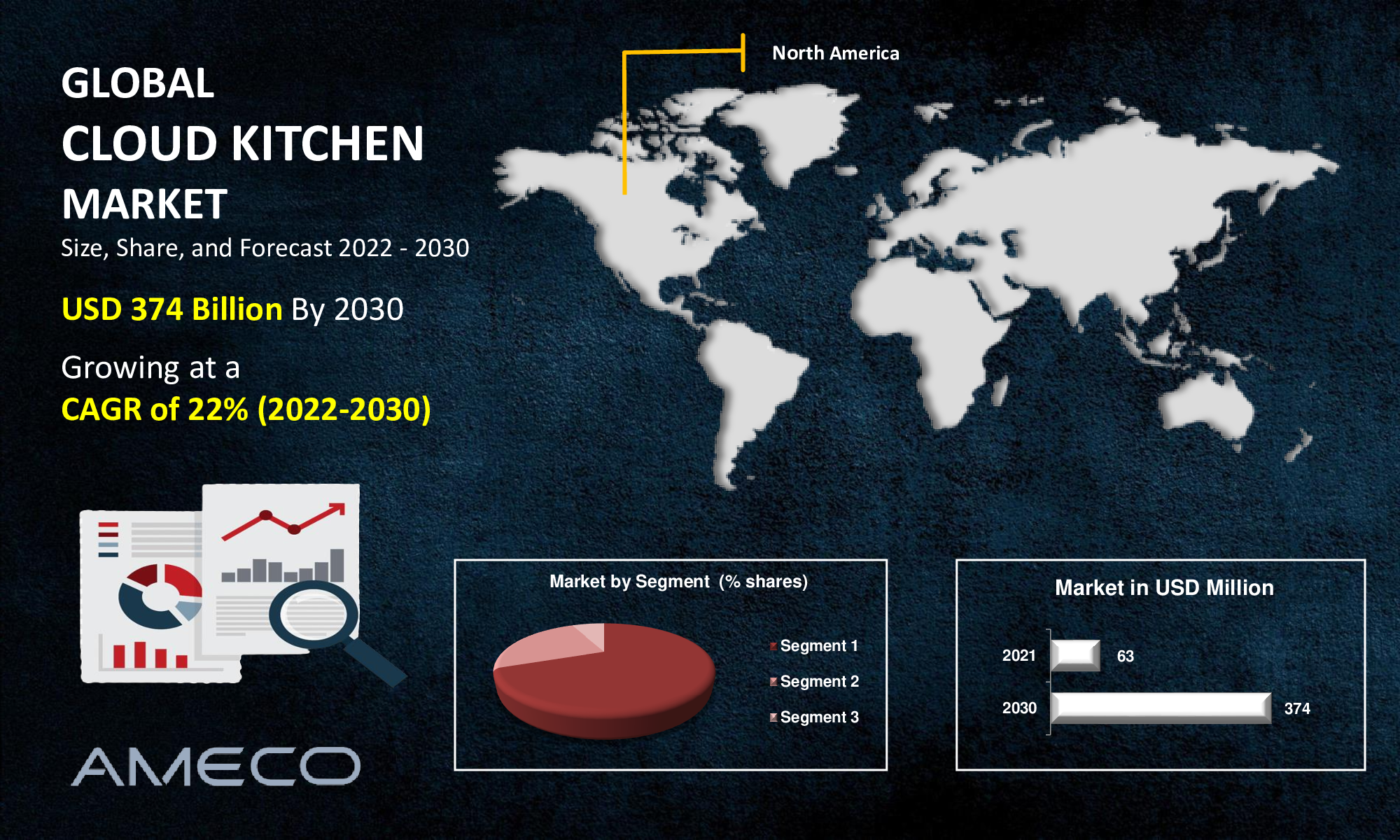 A cloud kitchen is a location where food is prepared specifically for delivery orders. A cloud kitchen functions as a virtual restaurant without a physical dining area. Introducing cloud kitchens, a new type of commercial kitchen designed specifically to produce food for delivery. For the delivery-only food brands that operate inside of them, these commissary kitchens are also known as ghost kitchens, shared kitchens, or virtual kitchens. Many restaurants, including those in five-star hotels, switched to cloud kitchens after the COVID-19 pandemic prompted lockdown in order to maintain business. The cloud kitchen business is now an additional revenue stream for the majority of them even as dine-ins has increased.
The F&B industry announced that "Cloud kitchen" would be their primary tool in the fight against COVID-19. Because of this, the popularity of cloud kitchens has skyrocketed in India. The pandemic couldn't stop us from ordering in our favorite food because Indians are known for their love of food. This inspired a lot of chefs to start cloud kitchens.
| | |
| --- | --- |
| Parameter | Cloud Kitchen Market |
| Cloud Kitchen Market Size in 2021 | US$ 63 Billion |
| Cloud Kitchen Market Forecast By 2030 | US$ 374 Billion |
| Cloud Kitchen Market CAGR During 2022 – 2030 | 22% |
| Cloud Kitchen Market Analysis Period | 2018 - 2030 |
| Cloud Kitchen Market Base Year | 2021 |
| Cloud Kitchen Market Forecast Data | 2022 - 2030 |
| Segments Covered | By Type, By Product Type, By Nature, and By Region |
| Regional Scope | North America, Europe, Asia Pacific, Latin America, and Middle East & Africa |
| Key Companies Profiled | Starbucks (Star Kitchen), Cloud Kitchen, Kitchen United, Dahmakan, Kitopi, DoorDash Kitchens, Keatz, Rebel Foods, Ghost Kitchen Orlando, and Zuul Kitchen. |
| Report Coverage | Market Trends, Drivers, Restraints, Competitive Analysis, Player Profiling, Regulation Analysis |
Market Dynamics
The food industry has always experienced numerous technological advancements due to the increasing competition and ever-evolving technology. One such idea that recently crept into the food industry and swept the world restaurant scene by storm is Cloud Kitchen. According to reports, the Cloud kitchen concept is the restaurant industry segment that is growing at the highest compound annual growth rate (CAGR) and is regarded as the more intelligent way to operate a restaurant.
The idea of cloud or "ghost" kitchens is one of the most recent trends to appear alongside online food delivery. They not only benefit current restaurateurs by being less expensive and more effective, but they also offer a great chance for newcomers to the F&B sector.
The restaurant can avoid high real estate costs and concentrate more on the food thanks to the cloud kitchen model. Restaurants are having a hard time making any money, but customers also complain that the food is very expensive. Low-cost real estate can be maintained with cloud kitchens. This is because they do not need to be in prime locations because customers never visit these kitchens. All packaging tasks have been successfully automated by cloud kitchen companies. These activities contribute to about 25% of the total workload.
Market Insights
The three categories of the global cloud kitchen market are type, product type, nature, and region. The segmentation based on the type includes kitchenpods, independent cloud kitchen, and commissary/shared kitchen. Based on product type, the market is categorized into seafood, chicken, pizza/pasta, burger/sandwich, mexican/asian food, and others. Furthermore, the segmentation of the industry includes the following nature segments: franchised, and standalone.
Global Cloud Kitchen Market Geographical Competition
The North America, Europe, Latin America, Asian-Pacific, and the Middle East & Africa regions make up the five geographical segments of the global cloud kitchen market. One of the key geographical markets for cloud kitchens is Asia-Pacific. The regional market is being driven by the rising trend of cloud kitchens in nations like China and India. Online food delivery services are on the rise in part due to rising disposable incomes and millennials' increased use of smartphone applications. However, during the forecast period of 2022 to 2030, North America is anticipated to grow at the fastest CAGR. The growth of ghost kitchens in the area is being aided by elements like rising consumer purchasing power, access to various digital touchpoints, and a rise in the demand for fast food.
Global Cloud Kitchen Industry Segment Analysis
Market By Type
· Independent Cloud Kitchen
· Commissary/Shared Kitchen
· KitchenPods
Market By Product Type
· Burger/Sandwich
· Chicken
· Mexican/Asian Food
· Pizza/Pasta
· Seafood
· Others
Market By Nature
· Standalone
· Franchised
Cloud Kitchen Market Leading Companies
This section of the study honors the market's top vendors Starbucks (Star Kitchen), Cloud Kitchen, Kitchen United, Dahmakan, Kitopi, DoorDash Kitchens, Keatz, Rebel Foods, Ghost Kitchen Orlando, and Zuul Kitchen.
Cloud Kitchen Market Regions
North America
· U.S.
· Canada
Europe
· U.K.
· Germany
· France
· Spain
· Rest of Europe
Latin America
· Brazil
· Mexico
· Rest of Latin America
Asia-Pacific
· China
· Japan
· India
· Australia
· South Korea
· Rest of Asia-Pacific
Middle East & Africa
· GCC
· South Africa
· Rest of Middle East & Africa