Contactless Payment Market Growth Opportunities and Forecast till 2030
Category by-
ICT and Media
, No. of Pages - 250, Published By - Ameco Research
The Global Contactless Payment Market is valued for USD 13.1 Billion in 2021 and is anticipated to reach USD 51.7 Billion by 2030 with a CAGR of 16.9% from 2022 to 2030.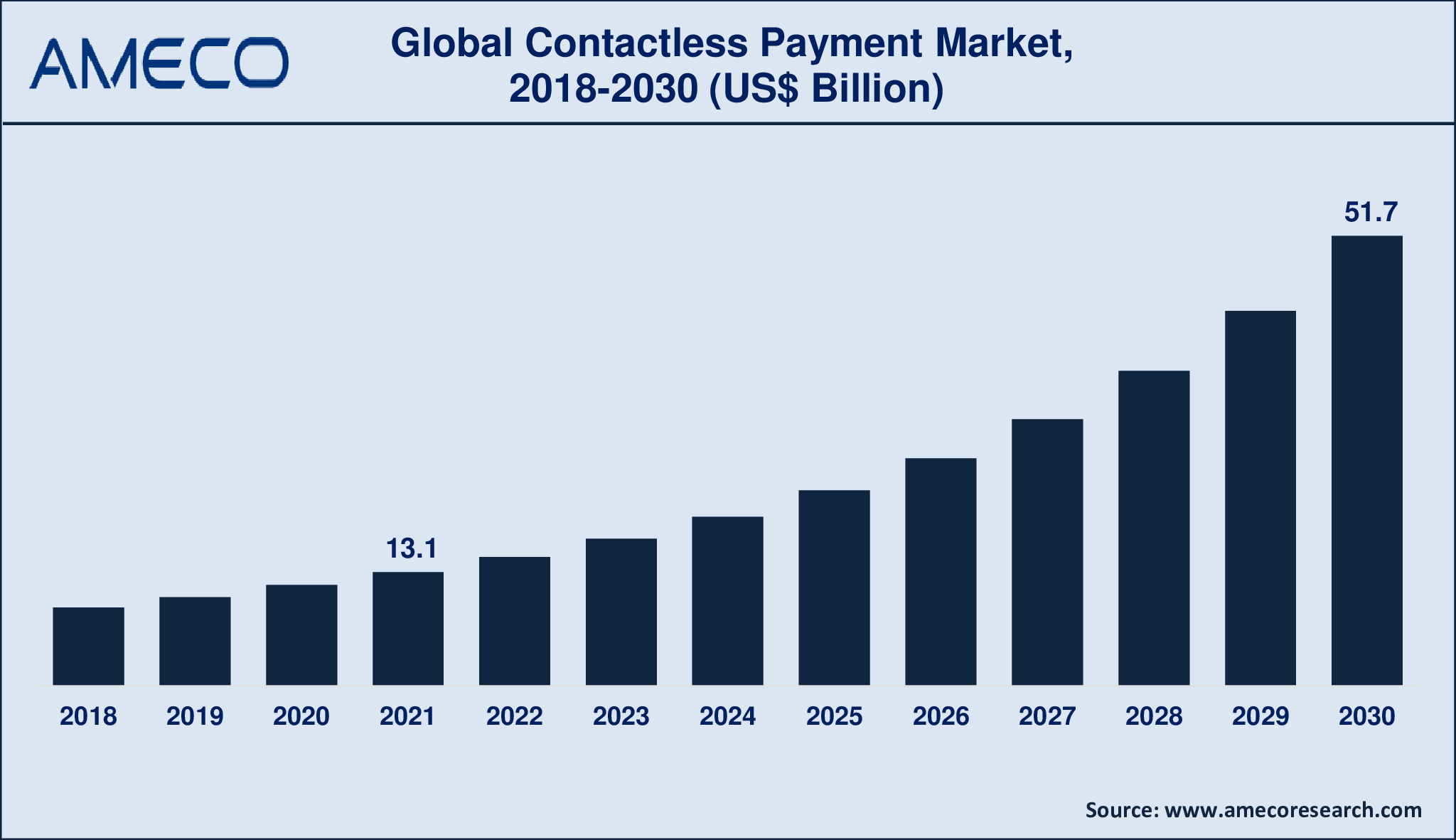 Contactless payment is a means of conducting transactions or making payments using a secure device, such as a smartphone, wristwatch, or contactless card, without having physical touch with a payment terminal. To ease the transaction, this technology uses near-field communication (NFC) or radio frequency identification (RFID).
Customers may use contactless payment by simply tapping or waving their equipped smartphone or card near a suitable payment terminal to complete the purchase. Without the need to insert a card or enter a PIN, the payment is performed promptly and securely. Some systems may need a PIN or biometric identification for enhanced security, depending on the payment method and transaction size.
Contactless payments have grown in favour in recent years due to their simplicity, quickness, and increased security over traditional payment methods. It provides a smooth and fast way to make purchases, particularly for modest expenditures such as coffee, groceries, or public transit fees. It eliminates the need for actual currency and minimizes dependency on physical cards, making it a more sanitary choice, particularly in the context of public health issues like as the COVID-19 epidemic.
Contactless payment demand has been gradually growing, owing to technological developments, the proliferation of NFC-enabled smartphones, and retailers' broad adoption of contactless payment terminals. Consumers love the simplicity and quickness of contactless payments, and companies are embracing the technology to accommodate to consumer preferences and expedite payment operations.
| | |
| --- | --- |
| Parameter | Contactless Payment Market |
| Contactless Payment Market Application in 2021 | US$ 13.1 Billion |
| Contactless Payment Market Forecast By 2030 | US$ 51.7 Billion |
| Contactless Payment Market CAGR During 2022 – 2030 | 16.9% |
| Contactless Payment Market Analysis Period | 2018 - 2030 |
| Contactless Payment Market Base Year | 2021 |
| Contactless Payment Market Forecast Data | 2022 - 2030 |
| Segments Covered | By Device, By System, By Application, and By Region |
| Contactless Payment Market Regional Scope | North America, Europe, Asia Pacific, Latin America, and Middle East & Africa |
| Key Companies Profiled | Linde AG, Air Products & Chemicals Inc., Iwatani Corporation, Airgas Inc., Caloric Anlagenbau GmbH, Air Liquide SA, Hydrogenics Corp., Nuvera Fuel Cells, LLC, Alumifuel Power Corporation, and Praxair Inc. |
| Report Coverage | Market Trends, Drivers, Restraints, Competitive Analysis, Player Profiling, Regulation Analysis |
Contactless Payment Market Dynamics
In recent years, the contactless payment sector has experienced substantial development and dynamic changes. The introduction of new technology, as well as changing customer tastes, has contributed to an increase in demand for contactless payment options. This payment method has various advantages, including simplicity, speed, and better security, which have piqued the interest of both consumers and companies.
The convenience element is crucial in generating demand for contactless payments. Customers may conduct transactions fast and easily with a simple tap or wave of a smartphone. This speed is especially useful for modest purchases because it removes the need to handle cash or wait for card authorization. As a result, contactless payment has become a popular option for everyday purchases such as coffee, groceries and public transport fares.
In addition to convenience, contactless payment's increased security has contributed to its appeal. To protect sensitive payment information, several contactless payment systems employ tokenization and encryption approaches. This protects consumers against fraud and lowers the likelihood of card skimming or data breaches. Consumers are increasingly adopting contactless payment as a safer alternative to traditional payment methods as they become more aware of security issues.
Merchant acceptance and implementation of contactless payment technology has also contributed to market development. Contactless payment terminals have been used by businesses in a variety of industries, including retail, food services, and transportation, in order to respond to client preferences and expedite payment operations. The rising availability of contactless payment choices at checkout counters, point-of-sale systems, and online platforms has made contactless transactions more accessible to customers.
In addition, the global COVID-19 epidemic has increased demand for contactless payment. Consumers and companies sought alternatives to physical currency and card payments as hygiene and safety concerns arose. Contactless payment has developed as a feasible alternative, eliminating the necessity for physical touch during transactions. To reduce the possible transmission of the virus, governments and health agencies advocated the use of contactless payments.
Nonetheless, despite its rising popularity, contactless payment acceptance may differ among areas and nations. The velocity of adoption can be influenced by factors such as technology infrastructure, regulatory environment, and cultural preferences. While certain locations have seen extensive acceptance and integration of contactless payment methods, others may be in the early stages.
Contactless Payment Market Segmentation
The contactless payment market can be classified based on device, system, application, and geography. In terms of device, the market is divided into smartphone and wearable, point-of-sale terminals, and smart cards. Based on system, the market is split into payment terminal solution, transaction management, security and fraud management, hosted point-of-sale, and analytics. The application segment is split into retail, transportation, healthcare, hospitality, and government.
Global Contactless Payment Market Geographical Competition
North America has been a pioneer in the use of contactless payment. Because of the extensive availability of contactless payment terminals and the high penetration of smartphones with NFC capabilities, the United States and Canada have seen substantial growth. Contactless payment options have been extensively promoted by major participants in the region, including tech behemoths and financial institutions. As consumers and companies sought safer and more convenient payment methods, the COVID-19 epidemic drove demand for contactless payments.
Contactless payments have grown rapidly in the Asia-Pacific area. Contactless payment systems have been widely used in countries such as China, South Korea, and Australia. In China, mobile payment services such as Alipay and WeChat Pay have established themselves as industry leaders. The region's high smartphone penetration, expanding e-commerce business, and customer demand for digital payments have all contributed to contactless payment's success. Furthermore, government initiatives and investments in payment infrastructure have accelerated the region's adoption of contactless payments.
Global Contactless Payment Industry Segment Analysis
Market By Device
· Smartphone and Wearable
· Point-of-Sale Terminals
· Smart Cards
Market By System
· Payment Terminal Solution
· Transaction Management
· Security and Fraud Management
· Hosted Point-of-Sale
· Analytics
Market By Application
· Transportation
· Hospitality
· Government
· Healthcare
· Retail
Contactless Payment Market Leading Companies
The players profiled in the report are Gemalto, Giesecke & Devrient GmbH, Heartland Payment Systems, Ingenico Group SA, Oberthur Technologies (OT) Morpho, On Track Innovations Ltd., Thales Group, Verifone, Visa Inc., and Wirecard AG.
Contactless Payment Market Regions
North America
· U.S.
· Canada
Europe
· U.K.
· Germany
· France
· Spain
· Rest of Europe
Latin America
· Brazil
· Mexico
· Rest of Latin America
Asia-Pacific
· China
· Japan
· India
· Australia
· South Korea
· Rest of Asia-Pacific
Middle East & Africa
· GCC
· South Africa
· Rest of Middle East & Africa