Dermatological Market Growth Opportunities and Forecast till 2030
The Global Dermatological Market Size valued for USD 21.9 Billion in 2021 and is anticipated to reach USD 52.9 Billion by 2030 with a CAGR of 10.5% from 2022 to 2030.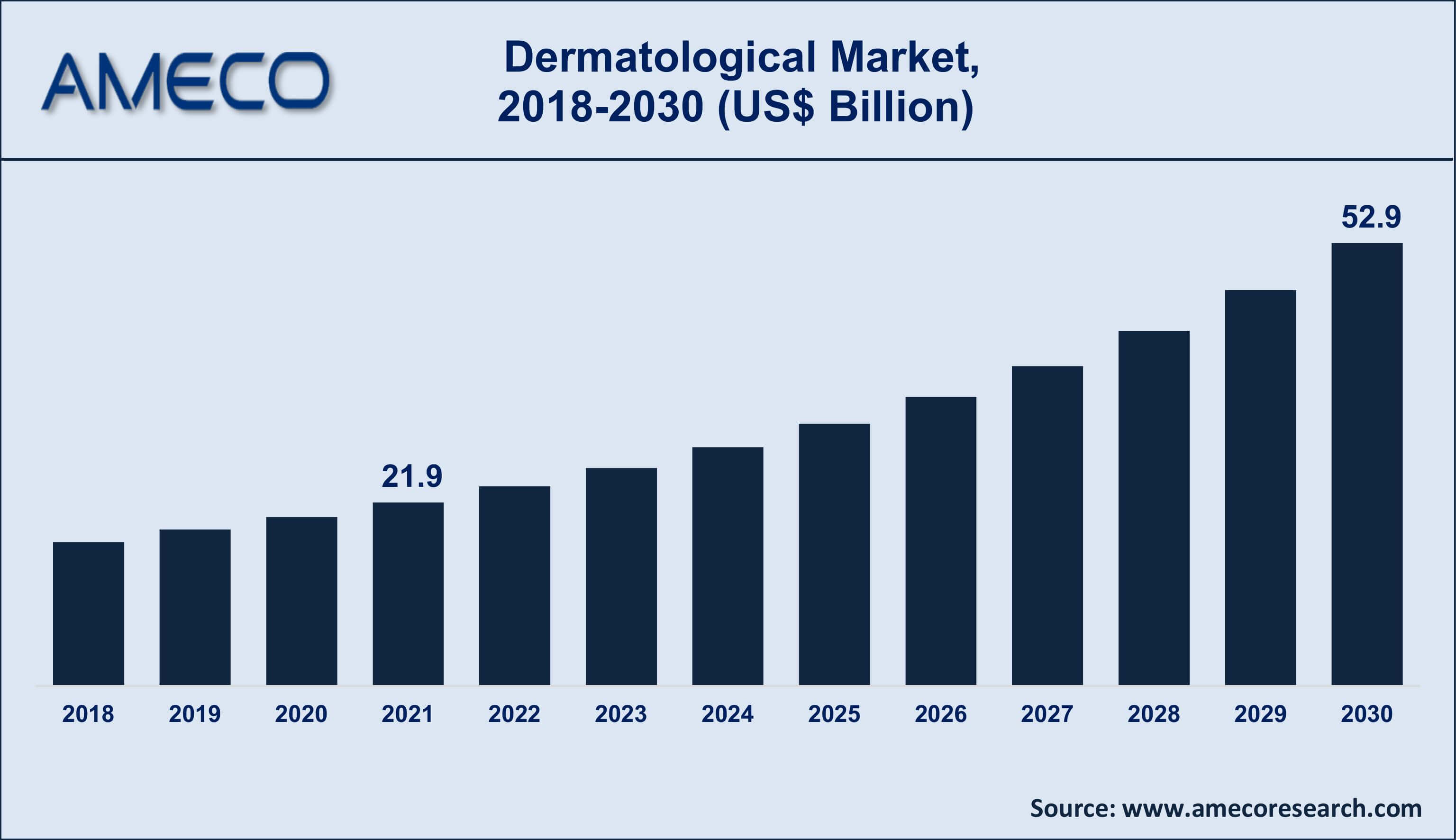 The field of medicine known as dermatology deals with the analysis and treatment of problems with the skin, hair, and nails. The Greek words "derma," which means skin, and "logos," which means study, is the origin of the word "dermatology."
From minor skin irritations to potentially fatal disorders, dermatological conditions can range widely. Acne, eczema, psoriasis, skin cancer, and fungal infections are a few prevalent dermatological diseases. Skin conditions can be brought on by a number of things, including heredity, the environment, infections, and immune system problems.
Dermatology has made considerable strides recently, with novel therapies and treatments being created to assist treat a variety of skin disorders. Dermatologists may diagnose and treat skin disorders using a range of diagnostic techniques, such as skin biopsies, allergy tests, and blood tests. Dermatologists may also provide aesthetic procedures like Botox injections, chemical peels, and laser therapy to assist improve the appearance of skin in addition to medical care.
A key component of dermatological care is prevention, and dermatologists can offer guidance on how to shield skin from damaging UV rays and other environmental factors. In order to help prevent skin disorders, patients might also be counselled to keep a healthy diet and lifestyle.
In conclusion, dermatology is a branch of medicine that concentrates on the identification and treatment of diseases of the skin, hair, and nails. Dermatologists may now provide a wide range of treatments and therapies to assist manage a variety of skin disorders thanks to advances in research and technology, and prevention and maintenance are now significant components of dermatological care.
| | |
| --- | --- |
| Parameter | Dermatological Market |
| Dermatological Market Size in 2021 | US$ 21.9 Billion |
| Dermatological Market Forecast By 2030 | US$ 52.9 Billion |
| Dermatological Market CAGR During 2022 – 2030 | 10.5% |
| Dermatological Market Analysis Period | 2018 - 2030 |
| Dermatological Market Base Year | 2021 |
| Dermatological Market Forecast Data | 2022 - 2030 |
| Segments Covered | By Dermatological Disease, By Drug Type, By Drug Type, and By Region |
| Dermatological Market Regional Scope | North America, Europe, Asia Pacific, Latin America, and Middle East & Africa |
| Key Companies Profiled | Merck KGaA, Bayer AG, Johnson & Johnson, Novartis AG, GlaxoSmithKline plc, AstraZeneca, Galderma S.A., Amgen Inc., AbbVie Inc., and Pfizer Inc. |
| Report Coverage | Market Trends, Drivers, Restraints, Competitive Analysis, Player Profiling, Regulation Analysis |
Dermatological Market Dynamics
The prevalence of skin illnesses is increasing, with conditions like psoriasis, eczema, and acne on the rise. Demand for dermatological treatments is increasing as a result. Dermatological services are in greater demand as the population ages because skin problems like skin cancer and age-related skin changes are more common. New and inventive therapies for skin diseases have been created as a result of technological advancements, including microneedling, radiofrequency devices, and laser therapy. The demand for cosmetic dermatological procedures like Botox and dermal fillers is rising as there is more social pressure to preserve a youthful appearance.
The dermatological industry is anticipated to continue growing as a result of the rising cost of Oral globally.
Over-the-counter (OTC) dermatological products are becoming available and are handy and affordable for consumers. In the upcoming years, it is anticipated that this would increase demand for OTC products.
The cost of many dermatological procedures can be high, particularly those that are not insured. For certain patients, particularly those with lesser finances, this may restrict their access to care. Certain dermatological therapies may not be used or accepted by patients due to side effects or safety issues. For instance, certain acne treatments should not be used by pregnant women since they may result in birth abnormalities. The profitability of branded dermatological goods can decline due to the accessibility of generic medications, which can restrict spending on innovative therapy development.
Dermatological Market Insight
The dermatological market is divided into dermatological disease, drug type, route of administration, and geographic markets. Based on dermatological disease, the segment is categorized acne, dermatitis, psoriasis, skin cancer, rosacea, and alopecia. By drug type, the industry is split into prescription-based drugs, and over-the-counter drugs. Route of Administration segment is categorized into topical, oral, and parenteral administration. North America, Asia-Pacific, Europe, Latin America, and the Middle East and Africa comprise the region sector.
Global Dermatological Market Geographical Competition
The United States is the biggest market in North America, which is currently the largest regional market for dermatology. Some of the drivers propelling growth in this area include the high frequency of skin illnesses, the ageing population, and growing public awareness of the significance of skin health. In the upcoming years, the Asia-Pacific area is anticipated to have the largest growth rate due to reasons like rising healthcare spending, an increase in the frequency of skin illnesses, and expanding public knowledge of dermatological treatments. The availability of affordable dermatological treatments and rising medical tourism in nations like India and Thailand are also anticipated to contribute to the region's dermatology market's expansion.
Dermatology has a sizable regional market in Europe, with nations like Germany, France, and the UK dominating in terms of market size. One of the main drivers of growth in this area is the ageing population and rising rates of skin cancer. Although South America and the Middle East & Africa are smaller regional dermatology markets, they are anticipated to develop steadily over the next few years as a result of rising healthcare costs and increased public awareness of skin health.
Global Dermatological Industry Segment Analysis
Market By Dermatological Disease
· Acne
· Dermatitis
· Skin Cancer
· Psoriasis
· Rosacea
· Alopecia
Market By Drug Type
· Prescription-Based Drugs
· Over-the-Counter Drugs
Market By Drug Type
· Topical
· Oral
· Parenteral Administration
Dermatological Market Leading Companies
The players profiled in the report are Merck KGaA, Bayer AG, Johnson & Johnson, Novartis AG, GlaxoSmithKline plc, AstraZeneca, Galderma S.A., Amgen Inc., AbbVie Inc., and Pfizer Inc.
Dermatological Market Regions
North America
· U.S.
· Canada
Europe
· U.K.
· Germany
· France
· Spain
· Rest of Europe
Latin America
· Brazil
· Mexico
· Rest of Latin America
Asia-Pacific
· China
· Japan
· India
· Australia
· South Korea
· Rest of Asia-Pacific
Middle East & Africa
· GCC
· South Africa
· Rest of Middle East & Africa