Diabetes Devices Market Growth Opportunities and Forecast till 2030
The Global Diabetes Devices Market is valued for USD 221.8 Billion in 2021 and is anticipated to reach USD 765.9 Billion by 2030 with a CAGR of 5.1% from 2022 to 2030.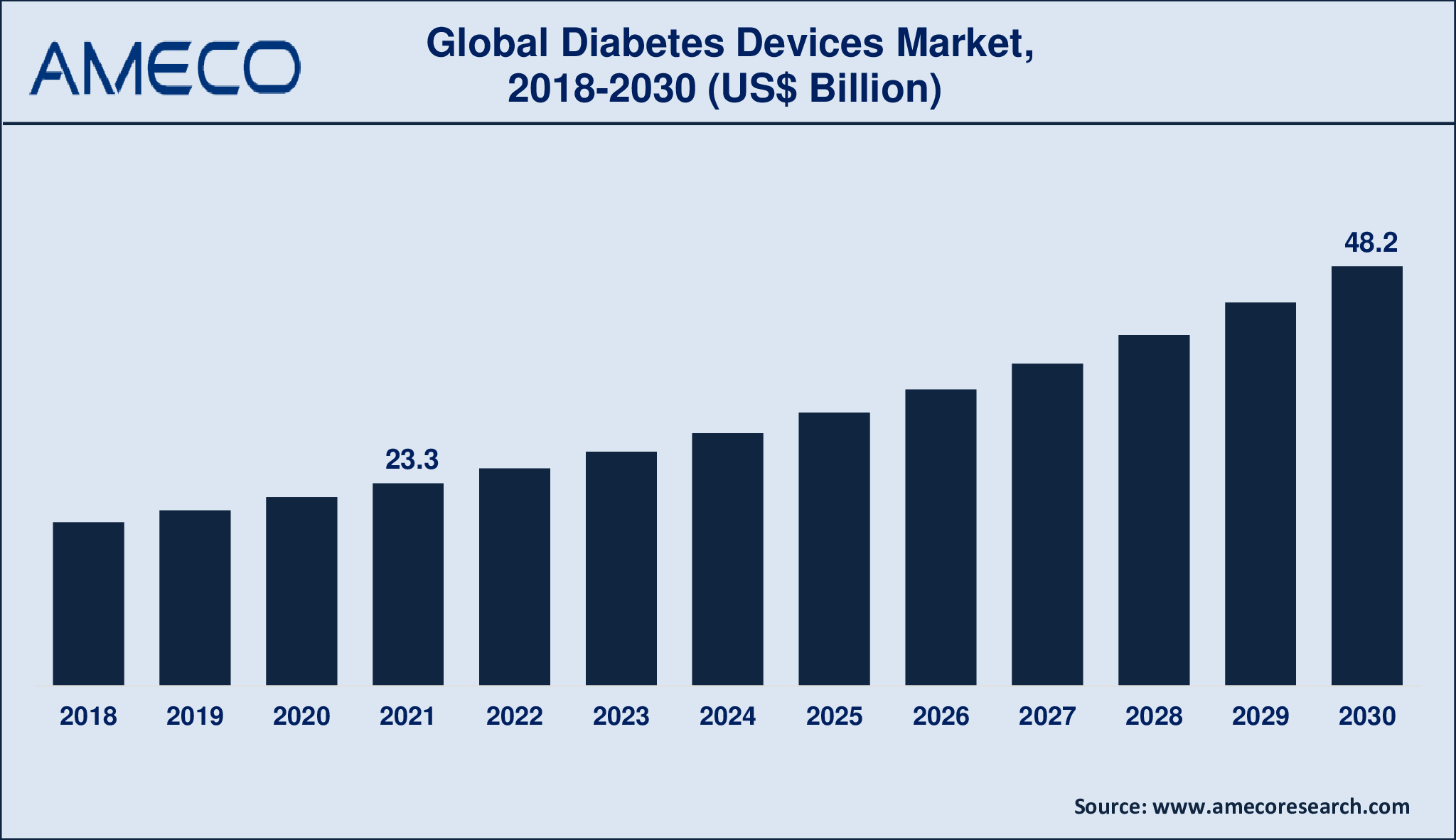 Diabetes devices are necessary tools for patients to adequately control their diabetes. These devices are intended to monitor blood glucose levels, administer insulin, and measure key health parameters. The blood glucose meter is one of the most prevalent forms of diabetic gadgets, allowing individuals with diabetes to monitor their blood sugar levels simply at home or on the road. Individuals can maintain stable glucose levels by frequently checking their blood glucose levels and making educated decisions about their food, medicine, and lifestyle.
The insulin pump is another important diabetic device. This compact, wearable gadget continually administers insulin throughout the day, mimicking the function of a healthy pancreas. It makes insulin administration more easy and accurate, minimizing the need for many daily injections. Many current insulin pumps also interface with continuous glucose monitoring (CGM) devices, resulting in a sophisticated closed-loop system dubbed an "artificial pancreas." This advanced technology optimizes diabetes care by automatically adjusting insulin supply based on real-time glucose measurements, lowering the risk of hazardous variations.
Continuous glucose monitors (CGMs) are stand-alone devices or sensors of insulin pumps that continually measure blood glucose levels. CGMs monitor glucose levels in interstitial fluid using a small component implanted beneath the skin, giving users with real-time glucose readings and trend information. CGMs enable users to make proactive modifications to their treatment plan by providing insights into glucose patterns and trends, resulting in better overall diabetes management.
| | |
| --- | --- |
| Parameter | Diabetes Devices Market |
| Diabetes Devices Market Service Provider in 2021 | US$ 221.8 Billion |
| Diabetes Devices Market Forecast By 2030 | US$ 765.9 Billion |
| Diabetes Devices Market CAGR During 2022 – 2030 | 5.1% |
| Diabetes Devices Market Analysis Period | 2018 - 2030 |
| Diabetes Devices Market Base Year | 2021 |
| Diabetes Devices Market Forecast Data | 2022 - 2030 |
| Segments Covered | By Product Type, By End-User, By Distribution Channel, and By Region |
| Diabetes Devices Market Regional Scope | North America, Europe, Asia Pacific, Latin America, and Middle East & Africa |
| Key Companies Profiled | Abbott Laboratories, Arkray, Inc., B Braun Melsungen AG, Bayer AG, Lifescan, Inc., Companion Medical, Dexcom Inc., F.Hoffmann-La-Ltd., Insulet Corporation, Lifescan, Inc., Medtronic plc, Novo Nordisk, Sanofi, Valeritas Holding Inc., and Ypsomed Holdings. |
| Report Coverage | Market Trends, Drivers, Restraints, Competitive Analysis, Player Profiling, Regulation Analysis |
Diabetes Devices Market Dynamics
Several factors have contributed to major changes in the diabetic devices industry throughout the years. The increased incidence of diabetes globally is one of the key factors of market growth. With the rising prevalence of diabetes, there is a greater need for innovative and effective diabetes management technologies. As a result, manufacturers have been investing extensively in R&D to provide revolutionary devices that provide improved glucose monitoring and insulin administration options.
Technological advancements have had a significant impact on the dynamics of the diabetic devices industry. The introduction of continuous glucose monitoring (CGM) technologies and closed-loop insulin pumps has transformed diabetes care. CGM devices deliver real-time glucose readings to patients and healthcare providers, allowing them to make educated decisions regarding insulin dose and lifestyle changes. The combination of CGM and insulin pumps in artificial pancreas systems has improved treatment results by lowering the likelihood of hypo- and hyperglycemia episodes.
Another market driver is the growing desire for minimally invasive and non-invasive diabetic devices. Patients are looking for less painful and more pleasant alternatives to standard fingerstick blood glucose testing and insulin injections. This has resulted in the development of novel solutions like as wearable CGMs and insulin patches, which provide continuous monitoring and insulin administration without the need for repeated needle pricks.
The rising popularity of telemedicine and digital health solutions has had an effect on the diabetic device industry. Remote patient monitoring and telehealth services have grown in popularity, allowing healthcare professionals to examine and analyze patients' glucose data from afar. This has improved diabetes care overall by allowing for more rapid interventions and personalized treatment programmes.
Despite these breakthroughs and favorable achievements, the cost of diabetic devices remains a big problem in the industry. Some modern diabetic devices are costly, rendering them unavailable to certain patient populations, particularly those in low-income areas. Manufacturers and healthcare organizations are constantly addressing this issue by providing cost-effective alternatives and pushing reimbursement policies.
Finally, the diabetes devices market is being pushed by increased diabetes incidence, technological improvements, and a need for more comfortable and efficient management options. Further developments and cooperation between manufacturers, healthcare providers, and regulatory authorities are likely to impact the market's dynamics, increasing the overall quality of life for those living with diabetes.
Diabetes Devices Market Segmentation
The diabetes devices market can be classified based on product type, end-user, distribution channel, and geography. Product type segment is divided into monitoring devices (self-monitoring blood glucose device (SMBG) and continuous blood glucose monitoring (CGM)) and treatment devices (insulin pens, insulin pumps, insulin jet injectors, insulin syringes, and others). End-user segment is split into diagnostic centers, hospitals, home care, and ambulatory surgery centers. Distribution channel segment can be split into hospitals pharmacies, retail pharmacies, and diabetes clinics/centers, online pharmacies, and others.
Global Diabetes Devices Market Geographical Competition
North America holds a significant share of the global diabetes devices market due to the high prevalence of diabetes in countries like the United States and Canada. A well-established healthcare infrastructure, high diabetes awareness, and favourable reimbursement rules help the region. Continuous research and technical breakthroughs in the diabetes industry help to drive market expansion. Furthermore, the presence of leading diabetic device manufacturers in this area propels market growth.
Europe is another prominent market for diabetes devices. The area has a sizable diabetic population, and many European nations' healthcare systems are well-equipped to handle diabetes management. Innovative diabetic gadgets are widely used in technologically sophisticated nations like as Germany, the United Kingdom, and France. Furthermore, the emphasis on preventive healthcare and raising knowledge about diabetes management approaches help to drive market growth.
The Asia-Pacific region has witnessed a surge in diabetes prevalence in recent years, primarily due to changing lifestyles, urbanization, and dietary habits. Diabetes devices are in high demand in countries with large diabetic populations, such as India and China. However, variables such as diverse healthcare infrastructure, income levels, and diabetes management knowledge all have an impact on market dynamics in this area. Device cost continues to be a major issue in market penetration in many Asian nations.
Global Diabetes Devices Industry Segment Analysis
Market By Product Type
· Monitoring Devices
o Self-Monitoring Blood Glucose Device (SMBG)
o Continuous Blood Glucose Monitoring (CGM)
· Treatment Devices
o Insulin Pens
o Insulin Pumps
o Insulin Jet Injectors
o Insulin Syringes
o Others
Market By End-User
· Diagnostic Centers
· Hospitals
· Home Care
· Ambulatory Surgery Centers
Market By Distribution Channel
· Hospitals Pharmacies
· Retail Pharmacies
· Diabetes Clinics/Centers
· Online Pharmacies
· Others
Diabetes Devices Market Leading Companies
The players profiled in the report are Abbott Laboratories, Arkray, Inc., B Braun Melsungen AG, Bayer AG, Lifescan, Inc., Companion Medical, Dexcom Inc., F.Hoffmann-La-Ltd., Insulet Corporation, Lifescan, Inc., Medtronic plc, Novo Nordisk, Sanofi, Valeritas Holding Inc., and Ypsomed Holdings.
Diabetes Devices Market Regions
North America
· U.S.
· Canada
Europe
· U.K.
· Germany
· France
· Spain
· Rest of Europe
Latin America
· Brazil
· Mexico
· Rest of Latin America
Asia-Pacific
· China
· Japan
· India
· Australia
· South Korea
· Rest of Asia-Pacific
Middle East & Africa
· GCC
· South Africa
· Rest of Middle East & Africa