Digital Signage Market Growth Opportunities and Forecast till 2030
Category by-
ICT and Media
, No. of Pages - 250, Published By - Ameco Research
The Global Digital Signage Market Size valued for USD 18.3 Billion in 2021 and is anticipated to reach USD 42.8 Billion by 2030 with a CAGR of 10.1% from 2022 to 2030.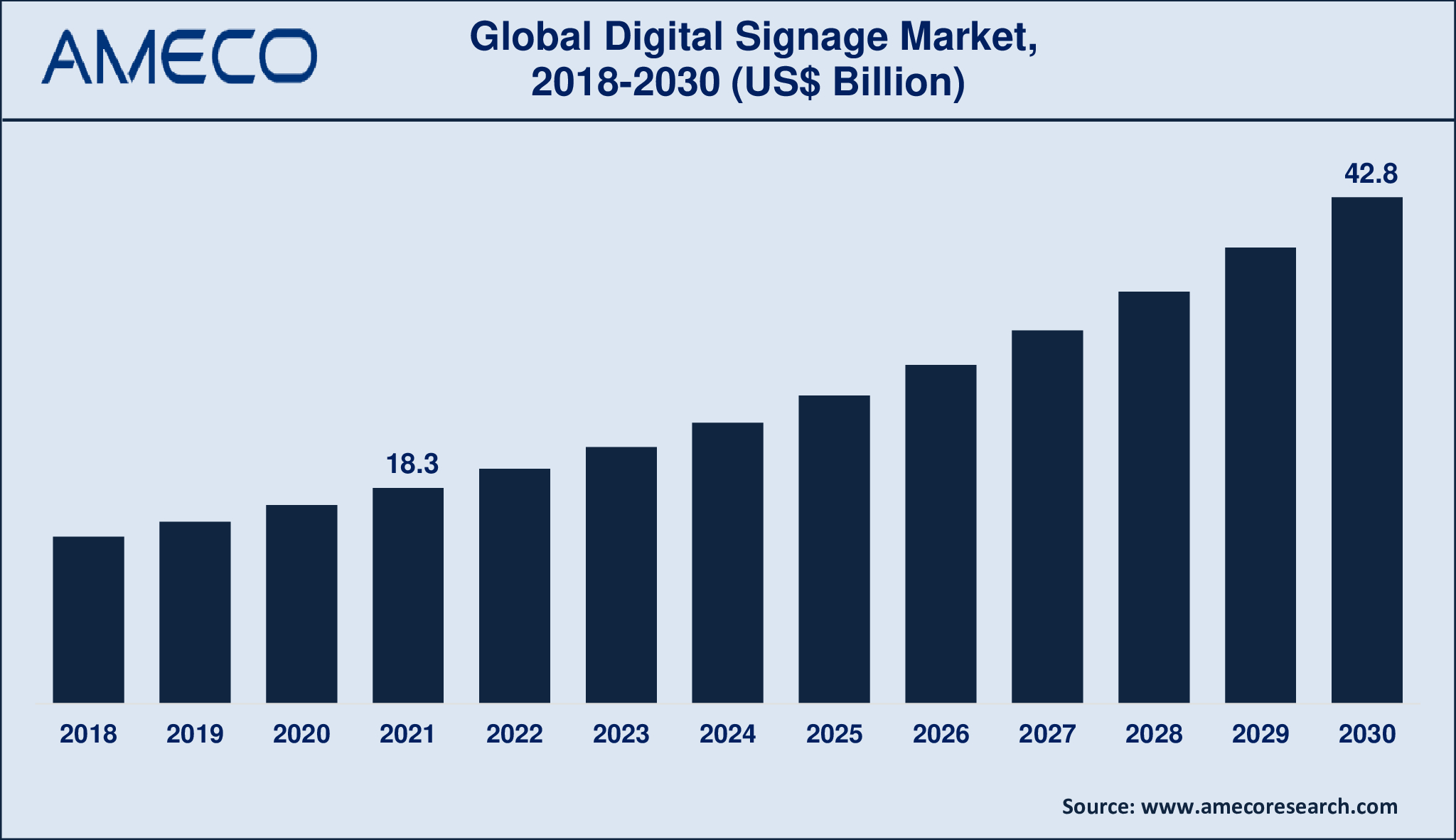 Digital signage is the use of digital displays or screens to provide targeted messages, information, or ads in a variety of contexts such as retail establishments, airports, hotels, restaurants, educational institutions, and public areas. These displays might be as tiny as LCD panels or as huge as video walls or interactive kiosks. Digital signage is in high demand for a variety of reasons. For starters, it provides fascinating and dynamic material that may attract viewers' attention more effectively than static signs. Digital signage delivers a visually appealing and dynamic experience for the audience by combining high-resolution images, videos, animations, and live feeds.
Second, digital signage makes it simple for businesses to change their material in real time. Because of this flexibility, they may provide timely information, promotions, or announcements, keeping the material fresh and current. It removes the need for printing and delivering physical items, lowering printing, logistical, and maintenance costs. Additionally, digital signage allows for the exact targeting of certain demographics or client segments. Businesses may provide personalized messages that have a better possibility of engaging with viewers by adjusting the content depending on criteria such as location, time of day, or demographic characteristics. This kind of customized advertising enhances the efficacy of marketing efforts and the return on investment.
Digital signage is essential for a variety of reasons. For starters, it improves the user experience by delivering dynamic and engaging information. It has the ability to entertain, enlighten, instruct, and engage customers, resulting in improved satisfaction and loyalty. Digital signage guarantees that messages reach the target audience quickly and efficiently by successfully transmitting critical information such as wayfinding directions, product promotions, or emergency notifications. Furthermore, digital signage is important for branding and uniqueness. Businesses may enhance their brand image and differentiate themselves from rivals by using aesthetically attractive and consistent branding components. This improves brand awareness and creates a lasting image in the minds of customers.
Through the integration of analytics tools, digital signage also gives data-driven insights. Businesses may collect data on viewer interactions, preferences, and behaviors, which can then be used to improve content optimization and marketing efforts. This data-driven strategy enables better decision-making and knowledge of the target audience. Finally, digital signage allows for scalability and central management. Businesses can manage and operate many displays from a single point, making it easier to expand their network to new places. This provides uniform message and branding while also offering a centralized content management platform.
| | |
| --- | --- |
| Parameter | Digital Signage Market |
| Digital Signage Market Size in 2021 | US$ 18.3 Billion |
| Digital Signage Market Forecast By 2030 | US$ 42.8 Billion |
| Digital Signage Market CAGR During 2022 – 2030 | 10.1% |
| Digital Signage Market Analysis Period | 2018 - 2030 |
| Digital Signage Market Base Year | 2021 |
| Digital Signage Market Forecast Data | 2022 - 2030 |
| Segments Covered | By Offering, By Product, By Location, By End-User, and By Region |
| Digital Signage Market Regional Scope | North America, Europe, Asia Pacific, Latin America, and Middle East & Africa |
| Key Companies Profiled | Omnivex Corporation, Hewlett-Packard Company, Cisco Systems Inc., NEC Display Solutions Ltd., 3M Co., Panasonic Corporation, Samsung Electronics Co. Ltd., Winmate Communication Inc., Adflow Networks, Keywest Technology, Brightsign Llc., Broadsign International Inc., LG Display Co. Ltd., AU Optronics, Ucview Media Inc., Onelan Ltd. |
| Report Coverage | Market Trends, Drivers, Restraints, Competitive Analysis, Player Profiling, Regulation Analysis |
Digital Signage Market Dynamics
Several factors contribute to the growth and broad acceptance of the digital signage industry. For starters, the growing desire for visually appealing and engaging advertising solutions is a significant driver. Digital signage provides dynamic material such as high-resolution photographs, movies, and animations that attract viewers' attention more effectively than static signs. This engaging style of advertising provides customers with a memorable and immersive experience.
Second, developments in display technology and lower digital display prices have led to industry expansion. The advent of low-cost high-definition displays, video walls, and interactive kiosks has increased the accessibility of digital signage to businesses of all sizes. This has resulted in a greater use of digital signs across businesses such as retail, hospitality, Healthcare, and healthcare.
In addition, digital signage's flexibility and real-time content changes are major factors. Businesses can quickly edit and update their material, ensuring that information and promotions are up to date and relevant. Because of this versatility, they may send tailored messages depending on parameters like as location, time of day, or certain client groups. The capacity to offer personalized information improves the efficacy of advertising efforts and increases customer engagement.
Despite its numerous advantages, the digital signage sector is not without its challenges. The initial expenditure necessary for hardware, software, and installation is one of the major hurdles. While costs have reduced over time, establishing a complete digital signage network might still need a large upfront expenditure for firms, particularly small and medium-sized businesses.
Another impediment is the requirement for experienced employees to administer and maintain digital signage networks. Businesses require competent people to guarantee seamless operation and maximum performance, from content development and scheduling to technological problems. The availability of trained experts and the accompanying personnel expenditures might provide difficulties, especially for organizations with limited resources.
Furthermore, combining digital signage with other technologies like as mobile devices, sensors, and Internet of Things (IoT) platforms offers up new opportunities for interactive and personalized experiences. Customers, for example, can interact with displayed material, get extra information, or make purchases directly from their smartphones by combining digital signage with mobile apps. These interactive features improve consumer engagement and allow for upselling and cross-selling.
Digital Signage Market Insight
The digital signage market is divided into offering, product, end-user, and geographic markets. The offering segment is divided into Hardware, Software, and Service. Based on product, the market is classified into Single Screen, Display, Video wall, and Kiosk. Based on location, the segmentation includes indoor and outdoor. End-User segment is split into retail, education, healthcare, corporate, stadiums, government, and other.
Global Digital Signage Market Geographical Competition
North America has long been a market leader in digital signs. The area has a large presence of established digital signage suppliers as well as a high adoption rate across a variety of industries including retail, hospitality, healthcare, and transportation. Technological developments, the desire for dynamic and engaging advertising, and the necessity for effective communication in public settings are driving market expansion in NA.
Europe is another important market for digital signage, with widespread usage in the retail, business, and transportation sectors. The region's sophisticated infrastructure, high percentage of digital literacy, and increased emphasis on customer involvement all contribute to market growth. Significant deployments of digital signage networks, both indoors and outdoors, have occurred in European nations such as the United Kingdom, Germany, and France.
The Asia-Pacific region's digital signage industry is rapidly expanding. In nations such as China, Japan, South Korea, and India, increasing urbanization, rising disposable incomes, and expanding retail and advertising industries are driving market expansion. Furthermore, the region's enormous population base and increasing awareness of digital advertising are driving demand for digital signage systems.
Global Digital Signage Industry Segment Analysis
Market By Offering
· Hardware
· Software
· Service
Market By Product
· Display
· Video wall
· Single Screen
· Kiosk
Market By End-User
· Retail
· Education
· Healthcare
· Corporate
· Stadiums
· Government
· Other
Digital Signage Market Leading Companies
The players profiled in the report are 3M Co., Adflow Networks, AU Optronics, Brightsign Llc., Broadsign International Inc., Cisco Systems Inc., Hewlett-Packard Company, Keywest Technology, LG Display Co. Ltd., NEC Display Solutions Ltd., Omnivex Corporation, Onelan Ltd., Panasonic Corporation, Samsung Electronics Co. Ltd., Ucview Media Inc., and Winmate Communication Inc.
Digital Signage Market Regions
North America
· U.S.
· Canada
Europe
· U.K.
· Germany
· France
· Spain
· Rest of Europe
Latin America
· Brazil
· Mexico
· Rest of Latin America
Asia-Pacific
· China
· Japan
· India
· Australia
· South Korea
· Rest of Asia-Pacific
Middle East & Africa
· GCC
· South Africa
· Rest of Middle East & Africa