Filters Market - Size, Industry Trends, Competitive Landscape, and Opportunities and Forecast 2022 - 2030
The Global Filters Market Size accounted for USD 74 Billion in 2021 and is anticipated to reach USD 111 Billion by 2030 with a CAGR of 4.8% from 2022 to 2030.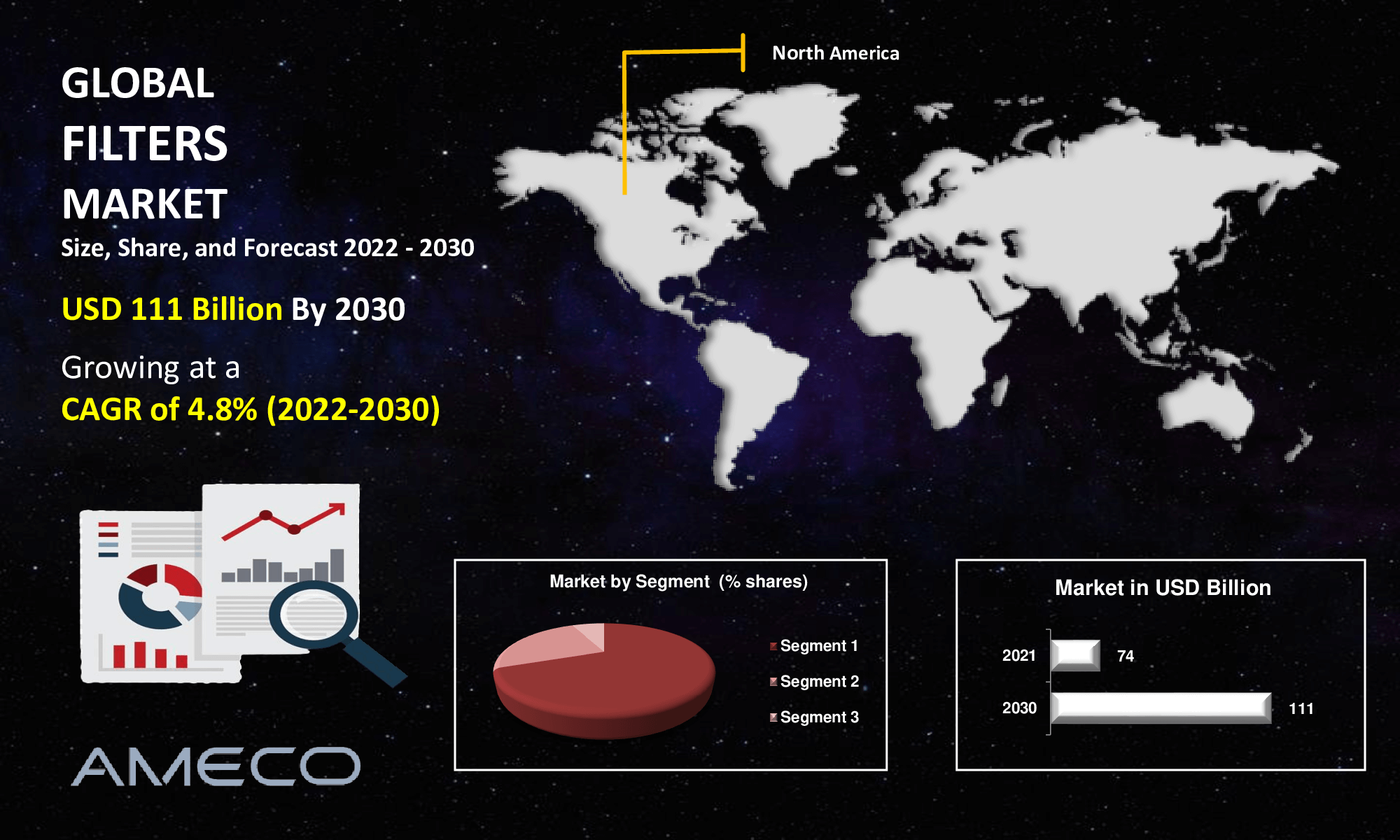 Filtration is a critical process utilized in various industries, including chemicals, air and gas, electronics, oil and gas, and food & beverages, to name a few. However, it's not just for water; it's also for coolants, chemicals, and oil. In addition to filtering individual components, many businesses incorporate filtration into their manufacturing processes to lengthen the life of their equipment. Industrial filtration is essential to numerous industries and professions. It is used to prolong the lifespan of manufacturing equipment as well as to separate particles and substances from liquids. Industrial filters are crucial for treating oils, water, and coolants in a variety of settings, including restaurants, schools, automobile factories, and hydroelectric plants.
| | |
| --- | --- |
| Parameter | Filters Market |
| Filters Market Size in 2021 | US$ 74 Billion |
| Filters Market Forecast By 2030 | US$ 111 Billion |
| Filters Market CAGR During 2022 – 2030 | 4.8% |
| Filters Market Analysis Period | 2018 - 2030 |
| Filters Market Base Year | 2021 |
| Filters Market Forecast Data | 2022 - 2030 |
| Segments Covered | By Product, By Application, and By Region |
| Regional Scope | North America, Europe, Asia Pacific, Latin America, and Middle East & Africa |
| Key Companies Profiled | 3M, Airex Filter Corporation, Clark Air Systems, DENSO Corporation, Donaldson Company, Inc., Freudenberg Filtration Technologies SE & Co. KG, Koch Filter, Parker-Hannifin Corporation, Spectrum Filtration Pvt. Ltd., and The Camfil Group.  |
| Report Coverage | Market Trends, Drivers, Restraints, Competitive Analysis, Player Profiling, Regulation Analysis |
Market Dynamics
In industrial settings, water sources are cleaned of contaminants using industrial water filters. These filters function by allowing water to seep through sufficiently small holes. A wide variety of options exist for industrial water filtration technology. They were developed for a range of industrial uses. Industrial uses for water filter technology include ion exchange systems, nano- and ultra-filtration, UV sterilisation, and reverse osmosis pre-treatment.
Poor air quality is one of the top five risks to public health, according to the Environmental Protection Agency (EPA). The typical person spends nearly 90% of their time indoors. Absenteeism is encouraged by poor indoor air quality (IAQ) at work and in classrooms. Asthma, headaches, allergies, and dizziness are a few common symptoms.
Utilizing a sludge dewatering system will allow for the filtration of wastewater. This produces clean water that can be used in sewers by separating solids from liquids. There are two main categories of sludge dewatering systems: those that use a vacuum producer in addition to gravity alone. A vacuum producer system is a popular investment choice among many industries because it significantly lowers the cost of sludge disposal.
The longevity of the coolant itself and the efficiency of the machinery are directly related to the coolant's purity. Because of this, industrial coolant filtration is crucial. Tiny particles introduced throughout various production processes can contaminate coolants. The removal of ferrous particles from the coolant is aided through the use of magnetic filtration drum separators.
The purpose of filtration systems is to separate particles from one another. Similar to how you would strain rice, many manufacturing and industrial processes need to separate their solids, gases, oils, water, and other fluids in order to remove waste in an organised and effective manner. With the ability to separate waste, each type of waste can receive the proper treatment before being disposed of. Filtration systems are a more affordable option than chemical treatment facilities and contract waste hauling.
Market Insights
The four categories of the global filters market are product, application, region, and industry. The segmentation is based on the product sector and includes gold, fluid filters, air filters, ICE filters. One of them, the ICE filters segment, represented a sizable portion of the Filters market in 2021. ICE filters are frequently used in cars to increase fuel efficiency. It is anticipated that the presence of strict regulatory framework, which mandates lowering of exhaust emissions, will increase product consumption in the automotive industry. Additionally, it is anticipated that the market will grow during the forecast period as a result of rising investments made by automakers in the setup of high-quality filters for cabin air filtration.
Motor vehicles, consumer goods, utilities, industrial & manufacturing, and others are among the Application segments included in the segmentation. Among them, the motor vehicle segment increased its market share over the course of the forecast period. Governments in several nations are developing strict standards pertaining greenhouse gas (GHG) emissions as well as the fuel economy of vehicles in response to rising environmental concerns and rising auto sales. As a result, the use of numerous types of filters in cars to lower carbon emissions is increasing.
Global Filters Market Geographical Competition
There are five regions that make up the global Filters market: North America, Europe, Latin America, Asia-Pacific, the Middle East, and Africa. Asia Pacific is anticipated to hold a commanding market share during the prediction period as a result of rapid industrialization patterns and strict regulations set by regulatory governments to establish environmental quality. The use of water filtration and air filtration techniques is anticipated to increase, spurring growth, as environmental concerns and atmospheric pollution levels rise.
According to guidelines established by various agencies, such as the International Plant Protection Convention (IPPC) by the European Commission, the demand for the product in Europe is being driven by the increasing adoption of air filtration equipment in several industries, including cement, chemicals, and metallurgy, to lower their emission levels.
Global Filters Industry Segment Analysis
Market By Product
• Air Filters
• Fluid Filters
• ICE Filters
Market By Application
• Utilities
• Industrial & Manufacturing
• Motor Vehicles
• Consumer Goods
• Others
Filters Market Leading Companies
This section of the study honors the market's top vendors 3M, Airex Filter Corporation, Clark Air Systems, DENSO Corporation, Donaldson Company, Inc., Freudenberg Filtration Technologies SE & Co. KG, Koch Filter, Parker-Hannifin Corporation, Spectrum Filtration Pvt. Ltd., and The Camfil Group. 
Filters Market Regions
North America
• U.S.
• Canada
Europe
• U.K.
• Germany
• France
• Spain
• Rest of Europe
Latin America
• Brazil
• Mexico
• Rest of Latin America
Asia-Pacific
• China
• Japan
• India
• Australia
• South Korea
• Rest of Asia-Pacific
Middle East & Africa
• GCC
• South Africa
• Rest of Middle East & Africa