Hand Sanitizer Market Growth Opportunities and Forecast till 2030
Category by-
ICT and Media
, No. of Pages - 250, Published By - Ameco Research
The Global Hand Sanitizer Market is valued at USD 6.1 Billion in 2021 and is anticipated to reach USD 10.9 Billion by 2030 with a CAGR of 6.7% from 2022 to 2030.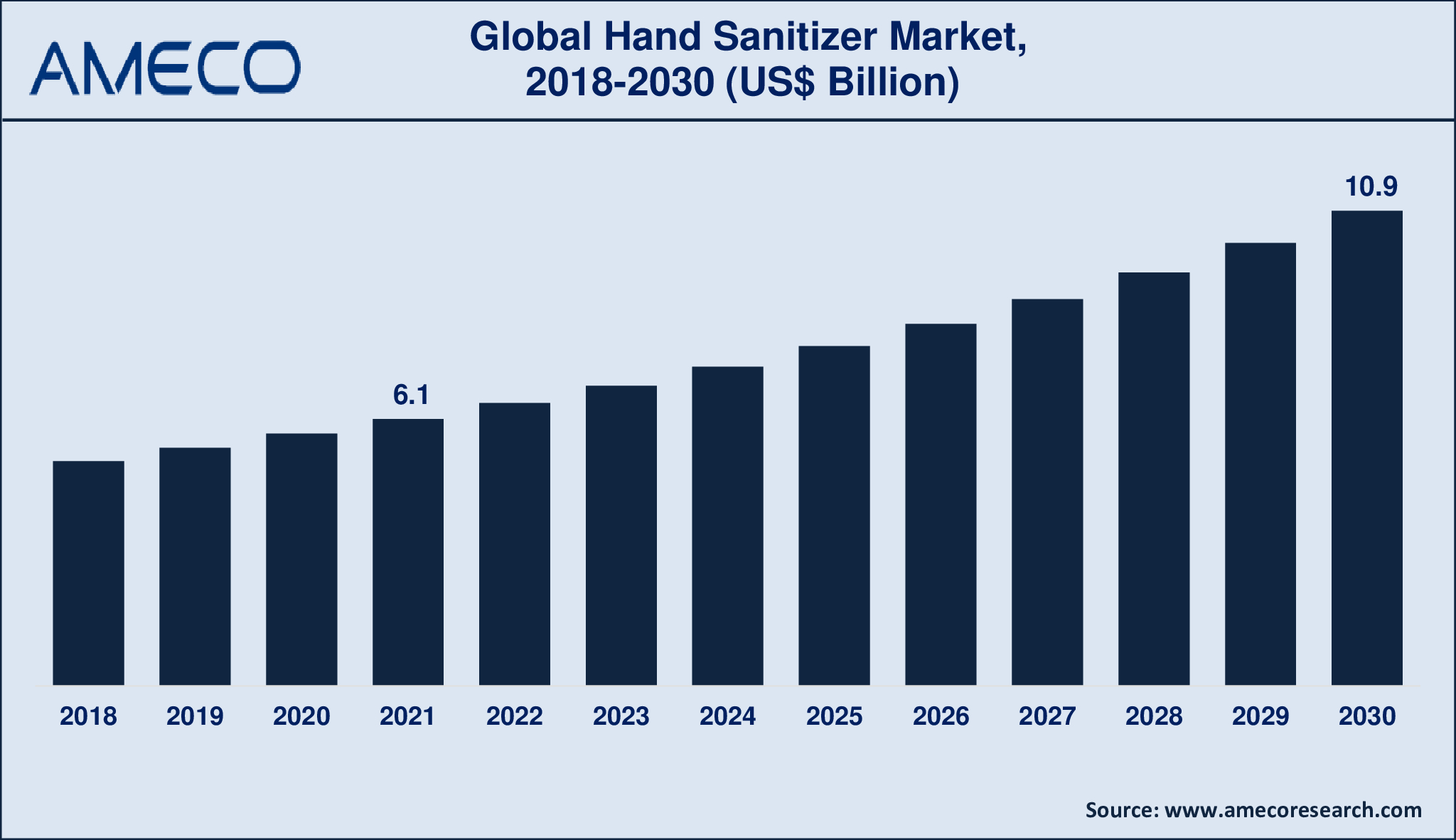 Hand sanitizer is a liquid or gel that is used to clean and disinfect hands. It includes alcohol, most often ethanol or isopropyl alcohol, which functions as an active component to eliminate germs and bacteria on the skin. The primary goal of hand sanitizer is to limit the transmission of diseases and illnesses, especially in conditions when soap and water are unavailable.
The demand for hand sanitizer has grown in recent years due to a multitude of factors. One of the key causes is the ongoing global COVID-19 outbreak. According to the World Health Organization (WHO) and other health organizations, hand hygiene is crucial in minimizing viral transmission. Hand sanitizer has become an essential tool for maintaining personal hygiene, particularly when soap and water are short.
Hand sanitizer is portable and handy, making it an appealing choice for people on the go. It is small enough to fit in pockets, purses, or be strategically positioned for easy access. Furthermore, because of its quick-drying nature, it is excellent for usage in a variety of contexts such as businesses, schools, hospitals, public transit, and public gatherings.
Another reason for the increased demand for hand sanitizer is its ability to kill a wide variety of germs. Many kinds of bacteria and viruses, including the coronavirus, have been shown to be killed by alcohol-based hand sanitizers. This feature has aided in the rising use and popularity of hand sanitizers as a prophylactic step to reduce the danger of illness transmission.
| | |
| --- | --- |
| Parameter | Hand Sanitizer Market |
| Hand Sanitizer Market Application in 2021 | US$ 6.1 Billion |
| Hand Sanitizer Market Forecast By 2030 | US$ 10.9 Billion |
| Hand Sanitizer Market CAGR During 2022 – 2030 | 6.7% |
| Hand Sanitizer Market Analysis Period | 2018 - 2030 |
| Hand Sanitizer Market Base Year | 2021 |
| Hand Sanitizer Market Forecast Data | 2022 - 2030 |
| Segments Covered | By Type, By Sales Channel, By End-User, and By Region |
| Hand Sanitizer Market Regional Scope | North America, Europe, Asia Pacific, Latin America, and Middle East & Africa |
| Key Companies Profiled | Best Sanitizers Inc., Chattem Inc., Gojo Industry Inc., Henkel Corporation, Procter and Gamble, Reckitt Benckiser Group, The Himalaya Drug Company, Unilever, and Vi-Jon Laboratories Inc. |
| Report Coverage | Market Trends, Drivers, Restraints, Competitive Analysis, Player Profiling, Regulation Analysis |
Hand Sanitizer Market Dynamics
The COVID-19 epidemic has had a significant impact on the hand sanitizer business in recent years. The virus's spread has increased demand for hand sanitizers as individual's priorities personal cleanliness and infection control. This unexpected surge in demand has produced a highly competitive market environment, with multiple firms joining the business to suit customer demands.
The pandemic has had an influence not just on demand, but also on the supply chain dynamics of hand sanitizers. Manufacturers have had difficulty getting raw materials, notably alcohol, because demand has outstripped supply. Because of the shortage, prices have fluctuated and production costs have risen, affecting the pricing strategies of hand sanitizer goods.
The hand sanitizer business has also been impacted by government restrictions and standards. Worldwide, health agencies have established recommendations for the necessary alcohol percentage and composition of efficient hand sanitizers. These laws aim to assure product safety and efficacy while preventing the growth of subpar or inefficient sanitizers on the market. To win customer trust and satisfy regulatory obligations, manufacturers have had to adapt to these principles and adhere to quality standards.
As firms attempt to differentiate themselves in a congested market, the market has seen a variety of product offers. To accommodate to varying customer preferences, several forms such as gels, foams, sprays, and wipes have arisen. Additionally, firms have prioritized product innovation, providing features like as moisturizing agents, natural chemicals, and attractive aromas to improve the user experience and distinguish their goods.
Manufacturers and merchants have also boosted their cooperation and partnerships in the hand sanitizer sector. Manufacturers tried to expand their distribution channels and assure widespread availability as demand increased. Collaboration with retailers, both online and off, has enabled manufacturers to access a larger client base and increase their market presence.
Hand Sanitizer Market Segmentation
The hand sanitizer market can be classified based on type, sales channel, application, and geography. In terms of type, the market is divided into liquid, gel, foam, and others. Based on sales channel, the market is split into e-commerce, convenience stores, supermarket, pharmaceutical stores, and other. Household, restaurants, hospitals, schools, and others are some of the end-user segment.
Global Hand Sanitizer Market Geographical Competition
The hand sanitizer industry has seen severe rivalry in densely populated regions such as Asia, notably in nations such as China and India. These nations have big customer bases and an increasing awareness of cleanliness practices, which has resulted in a significant demand for hand sanitizers. Local and multinational brands fight for market share by offering a variety of products at various price points and using their distribution networks.
The hand sanitizer industry in North America has likewise been fiercely competitive. During the COVID-19 epidemic, there has been an increase in demand for hand sanitizers, particularly in the United States. Both established firms and new entrants have increased output and expanded distribution networks in order to gain market share. Furthermore, the North American regulatory framework has affected competitiveness, with producers required to follow standards established by regulatory organizations such as the Food and Drug Administration (FDA).
The hand sanitizer market in Europe has seen a similar competitive landscape. Demand for hand sanitizers has surged in countries such as Germany, France, and the United Kingdom, leading both domestic and foreign firms to fight for market share. The legislative structure of the European Union has also affected competitiveness, with manufacturers required to follow rules such as the European Biocidal goods Regulation (BPR) while selling their goods in the area.
Global Hand Sanitizer Industry Segment Analysis
Market By Type
· Liquid
· Gel
· Foam
· Others
Market By Sales Channel
· E-commerce
· Convenience Stores
· Supermarket
· Pharmaceutical Stores
· Other
Market By End-User
· Household
· Restaurants
· Hospitals
· Schools
· Others
Hand Sanitizer Market Leading Companies
The players profiled in the report are Best Sanitizers Inc., Chattem Inc., Gojo Industry Inc., Henkel Corporation, Procter and Gamble, Reckitt Benckiser Group, The Himalaya Drug Company, Unilever, and Vi-Jon Laboratories Inc.
Hand Sanitizer Market Regions
North America
· U.S.
· Canada
Europe
· U.K.
· Germany
· France
· Spain
· Rest of Europe
Latin America
· Brazil
· Mexico
· Rest of Latin America
Asia-Pacific
· China
· Japan
· India
· Australia
· South Korea
· Rest of Asia-Pacific
Middle East & Africa
· GCC
· South Africa
· Rest of Middle East & Africa