Home Fitness Market - Global Market Size, Industry Trends, Competitive Landscape, and Opportunities and Forecast 2022 - 2030
The Global Market for Home Fitness accounted for US$ 11 Billion in 2021 and is anticipated to reach US$ 17 Billion by 2030 with a CAGR of 4.7% from 2022 to 2030.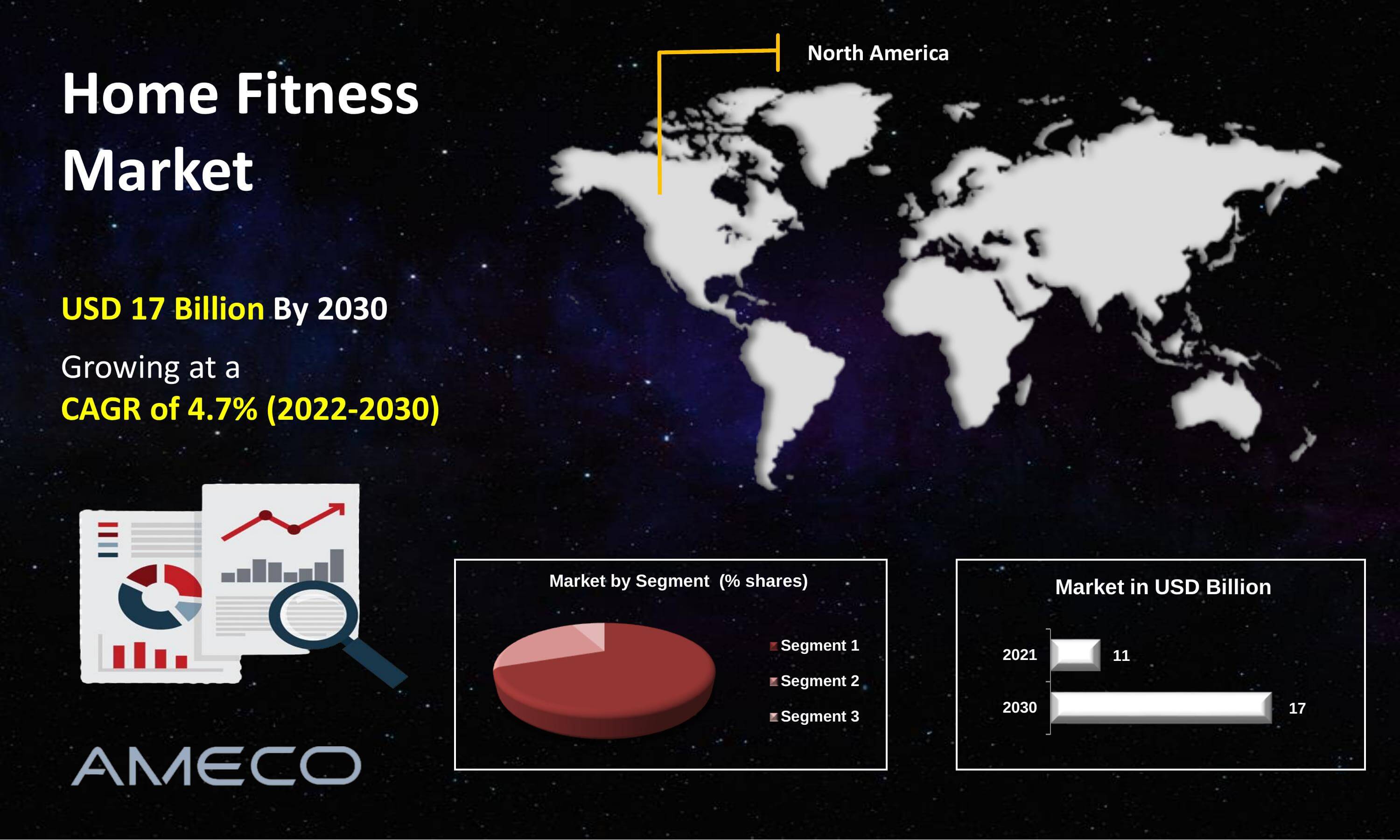 As social isolation becomes the norm as a result of COVID-19, it's critical to find new ways to stay active, as exercise is essential. Home fitness has been a part of our lives for decades, and it has taken on a new significance since the Covid-19 pandemic shut down gyms around the world. Whether it's a Zoom yoga class or a last-minute Peloton purchase, many of us are looking for ways to exercise effectively within four walls. The advantages of exercising at home extend far beyond one's own physical well-being. A good at-home workout saves time and money. For starters, an individual does not have to pay any gym membership fees, which are becoming increasingly expensive as people spend more time in the gym.
| | |
| --- | --- |
| Parameter | Home Fitness Market |
| Home Fitness Market Size in 2021 | US$ 11 Billion |
| Home Fitness Market Forecast By 2030 | US$ 17 Billion |
| Home Fitness Market CAGR During 2022 – 2030 | 4.7% |
| Home Fitness Market Analysis Period | 2018 - 2030 |
| Home Fitness Market Base Year | 2021 |
| Home Fitness Market Forecast Data | 2022 - 2030 |
| Segments Covered | By Equipment, By Sales Channel, By End-Use, and By Region |
| Home Fitness Market Regional Scope | North America, Europe, Asia Pacific, Latin America, and Middle East & Africa |
| Key Companies Profiled | Amer Sports Oyj, HOIST Fitness Systems, Icon Health & Fitness, Inc., Johnson Health Tech. Co., Ltd., Nautilus Inc., Technogym, and True Fitness |
| Report Coverage | Market Trends, Drivers, Restraints, Competitive Analysis, Player Profiling, Regulation Analysis |
Home Fitness Market Dynamics
The COVID-19 pandemic has ground to a halt in this fast-paced world. The impact of this pandemic is enormous, and the only way to slow the disease's spread is to practice social distancing. The imposed lockdown, which resulted in the closure of business operations, public places, fitness and activity centers, and overall social life, has hindered many aspects of people's lives, including routine exercise programs of fitness freaks, resulting in a variety of psychological issues as well as serious fitness and health concerns. The authors of this paper aimed to understand the varied experiences of fitness freaks during the COVID-19 lockdown.
As new COVID-19 cases emerge in the WHO European Region, many healthy people are being asked to remain at home in self-quarantine. Fitness centers and other places where people normally exercise will be temporarily closed in some countries. Staying at home for extended period of time can make it difficult to stay physically active. Individuals' well-being, health, and quality of life can suffer as a result of sedentary behavior and low levels of physical activity. Self-quarantine can also increase stress and put citizens' mental health at risk. Relaxation techniques and physical activity and can be helpful in remaining calm and protecting your health throughout this time. World Health Organization guidelines recommend 150 minutes of simple intensity physical activity per week, or a mixture of the two. These suggestions can still be carried out at home, without any elite equipment and in a small amount of space.
Home Fitness Market Insights
Equipment, sales channel, end-use, and region are the four categories of the global home fitness industry. Based on the equipment sector, the segmentation includes cardiovascular (climbers, elliptical machines, exercise bikes, treadmills, and others) and strength training (barbells & ladders, extension machines, weightlifting, power racks, weights, and others). According to our research, the cardiovascular segment will dominate the home fitness market in the coming years. This could be attributed to its ability to toughen the heart and muscle while also aiding in the health of people suffering from diabetes, heart disease, and high blood pressure. Strength training equipment has received a lot of attention in the market because of its ability to increase muscle mass; provide stronger bones, and flexible joints, among other things.
The sales channel segment is divided into online and offline. Based on sales channel, the online segment achieved a significant growth rate during the forecasted timeframe 2022 – 2030, owing to upsurge in the internet penetration and growing infrastructure of e-commerce channels. The end-use segment is further categorized into health clubs, home, office, and hotel.
Global Home Fitness Market Geographical Competition
The global home fitness industry is divided into North America, Europe, Latin America, Asia-Pacific, and the Middle East and Africa. North America will have the largest market share of any region in 2021. The growing percentage of million-dollar homes, which has led to the increased emergence of a home gym, is anticipated to enhance consumption in this region. Furthermore, the widespread presence of homegrown players such as Cybex International, Life Fitness, Precor Incorporated, and others contributes to the global home fitness market's expansion. However, the Asia-Pacific region is anticipated to witness the fastest growth rate throughout the forecasted years.
Global Home Fitness Industry Segment Analysis
Home Fitness Market By Equipment
· Strength Training
o Barbells & Ladders
o Extension Machines
o Weightlifting
o Power Racks
o Weights
o Others
· Cardiovascular
o Climbers
o Elliptical Machines
o Exercise Bikes
o Treadmills
o Others
Home Fitness Market By Sales Channel
· Online
· Offline
Home Fitness Market By End-Use
· Home
· Health Clubs
· Office
· Hotel
Home Fitness Market Leading Companies
This section of the study honors the market's top vendors Amer Sports Oyj, HOIST Fitness Systems, Icon Health & Fitness, Inc., Johnson Health Tech. Co., Ltd., Nautilus Inc., Technogym, and True Fitness are the key companies mentioned in the research.
Home Fitness Market Regions
North America
· U.S.
· Canada
Europe
· U.K.
· Germany
· France
· Spain
· Rest of Europe
Latin America
· Brazil
· Mexico
· Rest of Latin America
Asia-Pacific
· China
· Japan
· India
· Australia
· South Korea
· Rest of Asia-Pacific
Middle East & Africa
· GCC
· South Africa
· Rest of Middle East & Africa