HVAC Filters Market - Size, Industry Trends, Competitive Landscape, and Opportunities and Forecast 2022 - 2030
The Global HVAC Filters Market Size accounted for USD 6,663 Million in 2021 and is anticipated to reach USD 10,644 Million by 2030 with a CAGR of 5.2% from 2022 to 2030.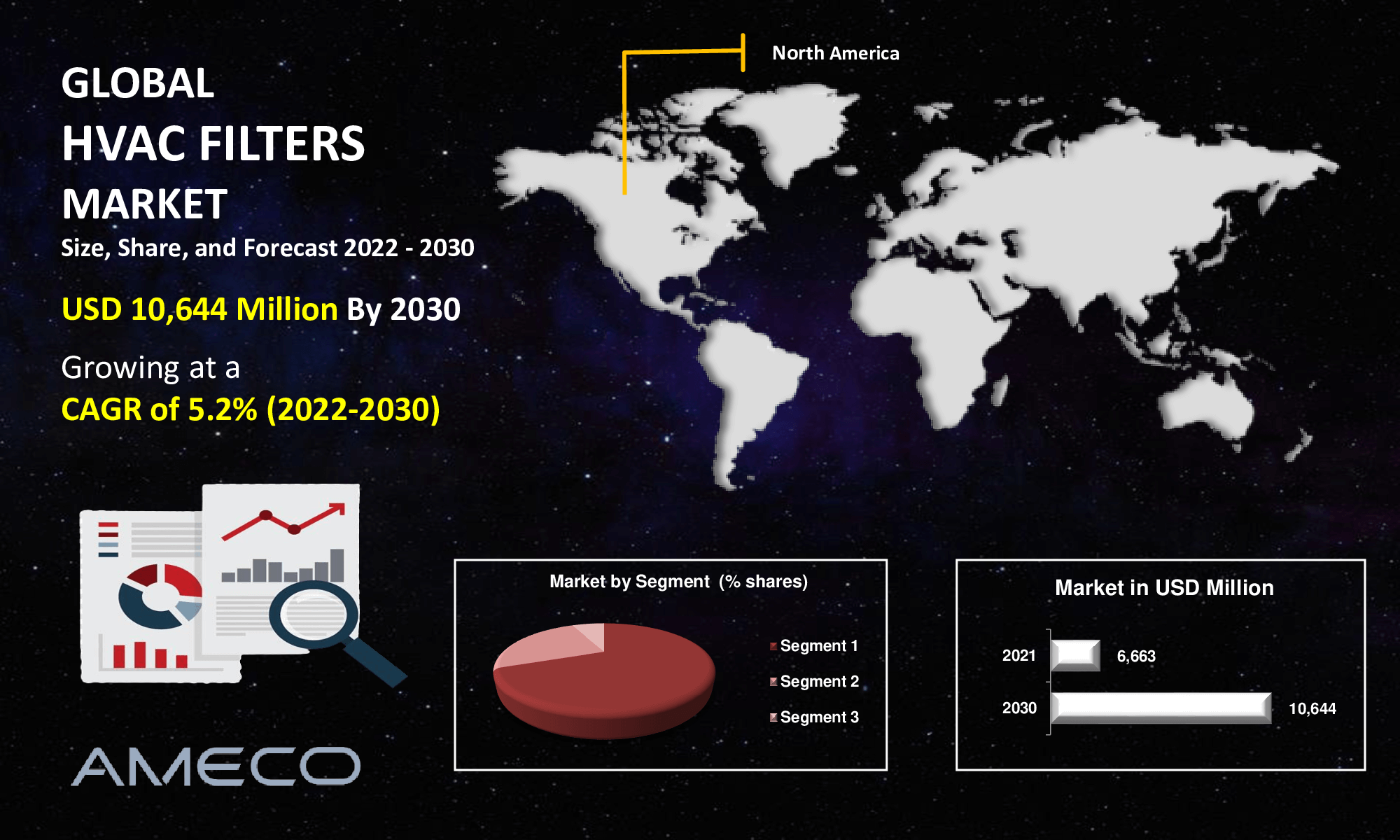 HVAC filters are critical for the operation and durability of equipment, as well as for maintaining good air quality in facilities and the health of the people who use them. A Heating, Ventilation, and Air-Conditioning (HVAC) system's primary function is to help preserve good indoor air quality via proper ventilation with filtration and to supply thermal comfort. Appropriate air filtration and HVAC filter care will outcome in enhanced building conditions and air quality, as well as increased efficiency and durability of the HVAC system.
| | |
| --- | --- |
| Parameter | HVAC Filters Market |
| HVAC Filters Market Size in 2021 | US$ 6,663 Million |
| HVAC Filters Market Forecast By 2030 | US$ 10,644 Million |
| HVAC Filters Market CAGR During 2022 – 2030 | 5.2% |
| HVAC Filters Market Analysis Period | 2018 - 2030 |
| HVAC Filters Market Base Year | 2021 |
| HVAC Filters Market Forecast Data | 2022 - 2030 |
| Segments Covered | By Material, By Technology, By End-Use Industry, and By Region |
| Regional Scope | North America, Europe, Asia Pacific, Latin America, and Middle East & Africa |
| Key Companies Profiled | 3M, Ahlstrom-Munksjö Oyj, American Air Filter Company, Inc., Donaldson Company, Inc., MANN+HUMMEL, Parker-Hannifin Corporation, and The Camfil Group. |
| Report Coverage | Market Trends, Drivers, Restraints, Competitive Analysis, Player Profiling, Regulation Analysis |
Market Dynamics
They purify the air you and your family breathe by filtering dust, pollen, pet dander, and other small particles. These particles are deposited in the filter and are not recirculated all across your home. The greater the MERV rating, the more efficient the filter.
Filters are also important in keeping larger particles out of your system, which could damage it. As a result, you should always use the proper type of filter and replace it when it becomes dirty.
The efficiency of HVAC air filters is measured using MERV, which stands for Minimum Efficiency Reporting Value. This creates a consistent metric for assessing the quality and reliability of HVAC filters.
The MERV rating scale is typically 1 at the lower end of the spectrum and 16 at the high end. The higher the MERV rating, the better the filter at removing airborne contaminants, with 16 being the standard high end of the scale, although a few filters have been rated higher. The higher the MERV rating you choose when choosing HVAC air filters for workplace, the higher the filtration level you seek.
HVAC air filters with MERV ratings of 13-16 are commonly used in hospitals and surgical centres. Because of COVID-19 worries, all facility managers and commercial property owners should consider a MERV rating of 13 or higher, as recommended by ASHRAE.
However, the capabilities of the HVAC system must always be considered. High air filter efficiency can end up causing a pressure drop in the system, resulting in decreased air flow and increased fan (and energy) use to make up the difference. If a top-rated MERV filter cannot be used in the HVAC system, choose the highest MERV filter available.
Market Insights
Material, technology, end-use industry, and region are the four categories of the global HVAC filters industry. Based on the material sector, the segmentation includes synthetic polymer, carbon, fiberglass, and others. Among them, the synthetic polymer segment achieved a significant HVAC Filters market share in 2021. Synthetic polymer filter materials are provided in pleats or expanded films and are produced using either a spun bond or even a melt-blown process. The pleats boost the surface area of the filters, allowing them to capture more airborne particles in HVAC systems.
Based on technology, the segmentation includes HEPA, activated carbon, electrostatic precipitators, and others (UV filtration and ionic filtration). HEPA filters generated the largest market share in 2021. High-efficiency particulate air (HEPA) filters are advised if you or your family suffer from allergies or other respiratory issues. While more expensive than fibreglass or pleated air filters, they are by far the most effective at removing 99.97% of dust, mold, pollen, bacteria, pet dander, viruses, and other irritants from the air. Look for filters with MERV 11 or higher ratings.
The end-use Industry segment is divided into automotive, building & construction, food & beverage, pharmaceutical, and others (electronics & semiconductors and livestock). Out of these, the pharmaceutical generated a greater amount of share in 2021. The pharmaceutical industry primarily employs HEPA technology with greater MERV ratings to prevent entry of very small particulates through HVAC filters. This rise is due to an increase in new products, which will mean a rise in pharmaceutical product manufacturing.
Global HVAC Filters Market Geographical Competition
The global HVAC Filters industry is divided into North America, Europe, Latin America, Asia-Pacific, and the Middle East and Africa. North America dominates the global HVAC Filters market in terms of geographic market share, owing to the rapid growth of the pharmaceutical industry and the rising burden of chronic health conditions such as diabetes, high blood pressure, cancer, and so on. On the other hand, Asia Pacific is expected to have the fastest growing CAGR in the HVAC Filters market in the coming years. The region's HVAC filters market is expanding rapidly as a result of extensive construction and infrastructure projects. The demand from India, China, and Southeast Asian nations is propelling the development of the HVAC filters market.
Global HVAC Filters Industry Segment Analysis
Market By Material
· Synthetic Polymer
· Carbon
· Fiberglass
· Others
Market By Technology
· Activated Carbon
· Electrostatic Precipitators
· HEPA
· Others (UV Filtration and Ionic Filtration)
Market By End-Use Industry
· Automotive
· Building & Construction
· Food & Beverage
· Pharmaceutical
· Others (Electronics & Semiconductors and Livestock)
HVAC Filters Market Leading Companies
This section of the study honors the market's top vendors 3M, Ahlstrom-Munksjö Oyj, American Air Filter Company, Inc., Donaldson Company, Inc., MANN+HUMMEL, Parker-Hannifin Corporation, and The Camfil Group.

HVAC Filters Market Regions
North America
· U.S.
· Canada
Europe
· U.K.
· Germany
· France
· Spain
· Rest of Europe
Latin America
· Brazil
· Mexico
· Rest of Latin America
Asia-Pacific
· China
· Japan
· India
· Australia
· South Korea
· Rest of Asia-Pacific
Middle East & Africa
· GCC
· South Africa
· Rest of Middle East & Africa