Hydrogen Generation Market Growth Opportunities and Forecast till 2030
Category by-
Energy and Power
, No. of Pages - 250, Published By - Ameco Research
The Global Hydrogen Generation Market is valued for USD 147.6 Billion in 2021 and is anticipated to reach USD 281.9 Billion by 2030 with a CAGR of 7.6% from 2022 to 2030.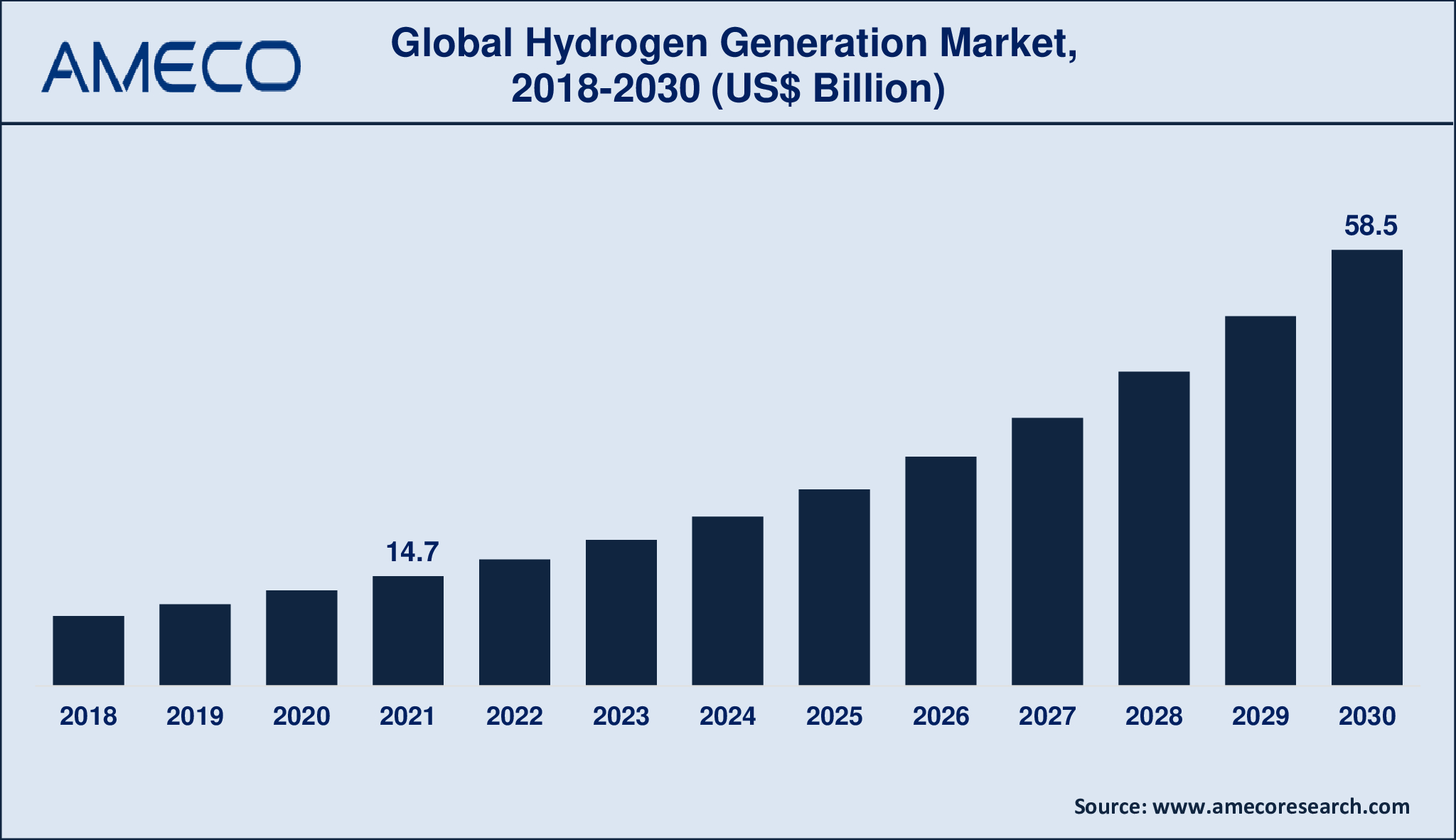 The process of creating hydrogen gas is referred to as hydrogen production. It may be done using a variety of technologies, including steam methane reforming, electrolysis, biomass gasification, and others. Although hydrogen is the most basic and common element in the cosmos, it is rarely encountered in its pure form on Earth. As a result, it must be created from other sources.
The need for hydrogen generation is increasing for a variety of reasons. To begin with, hydrogen is regarded as a clean and adaptable energy carrier. It generates solely water vapour as a byproduct when used in fuel cells or combustion engines, making it a zero-emission fuel. Hydrogen provides a possible answer as governments and companies work to reduce greenhouse gas emissions and shift to greener energy sources.
Hydrogen production is also in high demand due to its ability to store energy. With the increased integration of intermittent renewable energy sources such as solar and wind power, effective energy storage technologies are required to balance supply and demand changes. Hydrogen may be created and stored during periods of surplus renewable energy. When renewable energy output is low, it may be turned back into electricity or utilized as a fuel, resulting in a more stable and dependable energy system.
Furthermore, hydrogen has a wide range of uses. It may be used as a transportation fuel, powering fuel cell cars and giving an alternative to vehicles that run on fossil fuels. Hydrogen may also be used in sectors such as chemical manufacture, refining, and steel production. Hydrogen can help cut carbon emissions and contribute to the decarbonization of major industries by substituting fossil fuels in these areas.
| | |
| --- | --- |
| Parameter | Hydrogen Generation Market |
| Hydrogen Generation Market End-User in 2021 | US$ 147.6 Billion |
| Hydrogen Generation Market Forecast By 2030 | US$ 281.9 Billion |
| Hydrogen Generation Market CAGR During 2022 – 2030 | 7.6% |
| Hydrogen Generation Market Analysis Period | 2018 - 2030 |
| Hydrogen Generation Market Base Year | 2021 |
| Hydrogen Generation Market Forecast Data | 2022 - 2030 |
| Segments Covered | By Production, By Generation & Delivery Mode, By End-User, and By Region |
| Hydrogen Generation Market Regional Scope | North America, Europe, Asia Pacific, Latin America, and Middle East & Africa |
| Key Companies Profiled | Linde AG, Air Products & Chemicals Inc., Iwatani Corporation, Airgas Inc., Caloric Anlagenbau GmbH, Air Liquide SA, Hydrogenics Corp., Nuvera Fuel Cells, LLC, Alumifuel Power Corporation, and Praxair Inc. |
| Report Coverage | Market Trends, Drivers, Restraints, Competitive Analysis, Player Profiling, Regulation Analysis |
Hydrogen Generation Market Dynamics
The hydrogen generating market is witnessing rapid expansion and major changes as a result of a variety of causes. The growing worldwide focus on decarbonization and the transition to a low-carbon economy is one significant cause. Governments and international organizations are establishing aggressive targets for reducing greenhouse gas emissions, and hydrogen is seen as a critical component in meeting these ambitions. As a result, the need for hydrogen generation technologies and solutions is increasing.
The transportation industry is a primary market driver for hydrogen production. In comparison to battery electric cars, hydrogen fuel cell vehicles (FCVs) provide zero-emission mobility and greater driving ranges. Governments all around the globe are encouraging the use of hydrogen-powered cars by offering incentives and investing in infrastructure development. As a result, demand for hydrogen as a fuel has skyrocketed, as has the need for hydrogen producing capacity.
Another key driver of the hydrogen generating industry is industrial applications. Refineries, chemicals, and steel industries are all looking for solutions to lower their carbon footprint. As a clean fuel or feedstock, hydrogen can play an important role in decarbonizing various industries. The need for hydrogen as a substitute for fossil fuels in industrial processes is predicted to rise, propelling the development of hydrogen generating technology.
The renewable energy industry is inextricably related to the market dynamics of hydrogen generation. Electrolysis may be used to make hydrogen using renewable energy sources such as solar and wind power. The intermittent nature of renewable energy generation and the requirement for energy storage have provided potential for hydrogen as a way of storing extra energy. Hydrogen production can act as a critical connection between renewable energy production and utilization, allowing for a more stable and dependable energy system.
The evolution of hydrogen generating technology is being accelerated through research and development initiatives. Innovative strategies for increasing the efficiency and cost-effectiveness of hydrogen generation are being investigated. This involves the creation of new catalysts and electrolyzers, as well as the development of innovative processes such as methane pyrolysis and photoelectrochemical water splitting. As technology advances, the cost of producing hydrogen is predicted to fall, making it more economically viable and boosting market development.
Hydrogen Generation Market Share
The hydrogen generation market can be classified based on production, generation & delivery mode, end-user, and geography. In terms of production, the market is divided into steam reforming of hydrocarbons, fossil fuels, electrolysis, water, alkaline, polymer electrolyte membrane (PEM), high temperature, dissociation of hydrocarbons, and others (photolysis, bio photolysis). Based on generation & delivery mode, the market is split into merchant production, liquid production, gaseous production, captive production, and by-product production. The end-user segment is split into petroleum refining & recovery, chemical processing, automotive fuels, ammonia production, methanol production, and others (aerospace, electrical & electronics, edible fats & oils).
Global Hydrogen Generation Market Geographical Competition
The hydrogen generating market in North America has grown significantly. The US and Canada have ambitious hydrogen programmes and efforts in place to promote hydrogen as a sustainable energy source. The region has a well-established industrial sector, including the refining, chemical, and automotive sectors, which drive hydrogen consumption. Investments in hydrogen infrastructure, R&D, and collaboration with industry stakeholders are boosting market growth.
The Asia-Pacific region's hydrogen generating market is rapidly expanding. Japan and South Korea, for example, have established themselves as world leaders in fuel cell technology and are advancing hydrogen usage in a variety of sectors, including transportation and industry. China has seen hydrogen's promise and is spending extensively in hydrogen infrastructure and research. The region's strong manufacturing base and expanding renewable energy capability help to drive market growth.
Global Hydrogen Generation Industry Segment Analysis
Market By Production
· Steam Reforming of Hydrocarbons
· Fossil Fuels
· Electrolysis
· Water
· Alkaline
· Polymer Electrolyte Membrane (PEM)
· High Temperature
· Dissociation of hydrocarbons
· Others (Photolysis, Bio photolysis)
Market By Generation & Delivery Mode
· Merchant Production
· Liquid Production
· Gaseous Production
· Captive Production
· By-Product Production
Market By End-User
· Chemical Processing
· Ammonia Production
· Methanol Production
· Automotive Fuels
· Petroleum Refining & Recovery
· Others
Hydrogen Generation Market Leading Companies
The players profiled in the report are Airgas Inc., Air Liquide SA, Air Products & Chemicals Inc., Anlagenbau GmbH, Alumifuel Power Corporation, Caloric Linde AG, Hydrogenics Corp., Iwatani Corporation, Nuvera Fuel Cells, LLC, and Praxair Inc.
Hydrogen Generation Market Regions
North America
· U.S.
· Canada
Europe
· U.K.
· Germany
· France
· Spain
· Rest of Europe
Latin America
· Brazil
· Mexico
· Rest of Latin America
Asia-Pacific
· China
· Japan
· India
· Australia
· South Korea
· Rest of Asia-Pacific
Middle East & Africa
· GCC
· South Africa
· Rest of Middle East & Africa