Leather Market Growth Opportunities and Forecast till 2030
Category by-
Consumer Goods
, No. of Pages - 250, Published By - Ameco Research
The Global Market for Leather accounted for US$ 457 Billion in 2021 and is anticipated to reach US$ 763 Billion by 2030 with a CAGR of 6% from 2022 to 2030.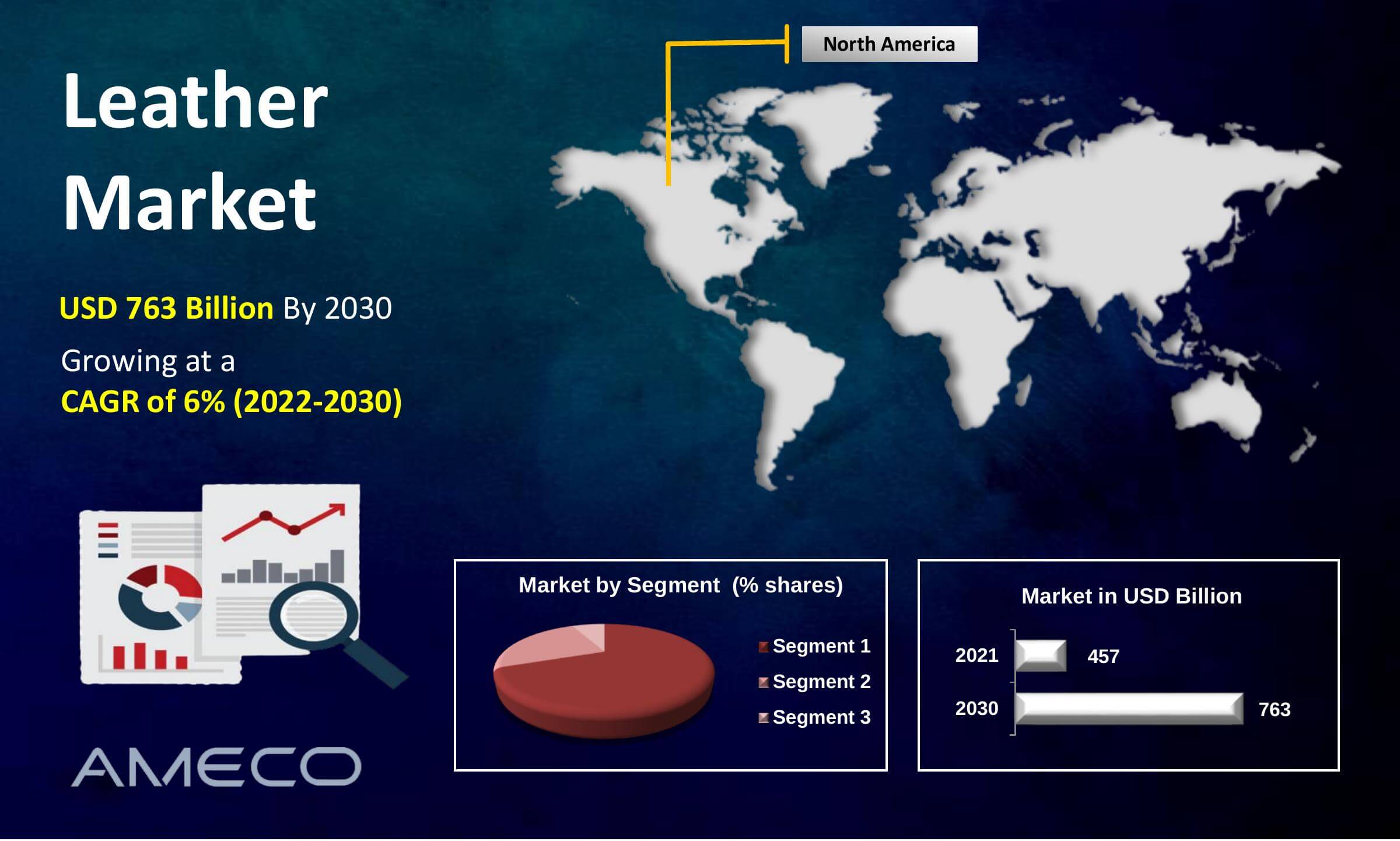 Any fabric manufactured from animal hides or skins is known as leather. Varied sorts of animals and treatment practices result in different leathers. While cowhide is the most common form of animal skin used for leather, accounting for around 65 percent of all leather produced, practically any animal, from crocodiles to pigs to stingrays, can be turned into leather. Leather-making is a centuries-old craft that has been done for over 7,000 years. Fresh skins were sun-dried, softened by pounding in animal fats and brains, then salted and smoked to preserve them. Preparation for tanning, tanning, and processing tanned leather are the three essential processes of the contemporary commercial leather-making process. Before reaching the tannery, a hide must be carefully peeled and protected both in storage and during transportation.
| | |
| --- | --- |
| Parameter | Leather Market |
| Leather Market Size in 2021 | US$ 457 Billion |
| Leather Market Forecast By 2030 | US$ 763 Billion |
| Leather Market CAGR During 2022 – 2030 | 6% |
| Leather Market Analysis Period | 2018 - 2030 |
| Leather Market Base Year | 2021 |
| Leather Market Forecast Data | 2022 - 2030 |
| Segments Covered | By Product, By Type, and By Region |
| Leather Market Regional Scope | North America, Europe, Asia Pacific, Latin America, and Middle East & Africa |
| Key Companies Profiled | Adidas AG, Fila, Inc., Johnston & Murphy, Knoll, Inc., Nike, Inc., New Balance Athletics, Inc., Puma SE, Samsonite International S.A., Timberland LLC, and VIP Industries Ltd. |
| Report Coverage | Market Trends, Drivers, Restraints, Competitive Analysis, Player Profiling, Regulation Analysis |
Market Dynamics
One of the primary elements driving up demand for leather items around the world is the growing population, which is combined with rising individual income levels. Furthermore, because these items are functional, pleasant, and cost-effective, they are gaining popularity around the world. In addition, the market is being driven by expanding demand, the availability of trained labor, rising exports, the ease of obtaining raw materials, and government incentives. The existence of a high number of competitors in the sector has heightened the fight for a larger piece of the profitable industry's market share. On the demand side, customers are increasingly gravitating toward new styles and creative leather options in order to stay current with changing fashion trends. The emergence of the BRICS (Brazil, Russia, India, China, and South Africa) economies is another element to consider. Other countries are finding it difficult to compete with them in the labor-intensive textile and leather industries.
The leather and footwear business, according to the IBEF, is a labor-intensive industry that employs 4.42 million people. Women make up around 40% of the workforce, making this one of the most female-friendly industries. Several milestones have been reached in the sector. India is the world's second-largest exporter of leather goods, third-largest exporter of harness and saddlery, and fourth-largest distributor of leather clothing.
Due to limited buying power, closed stores/outlets of premium clothes, and widespread lockdown, the COVID-19 pandemic caused a disruption in retail sales of leather goods products in 2020. Due to the complete lockdown imposed by the epidemic, the companies' production and supply chains were also interrupted.
Market Insights
Product, type, and region are the three categories of the global leather industry. Apparel, automotive accessories, handbag, footwear, home décor & furnishing, pet accessories, and small leather goods & accessories are the segmentations of product segments. The footwear segment generated a substantial market share in 2021. The rising income of customers is one of the primary driving factors projected to favorably impact the leather footwear industry. With rising consumer spending, people's lifestyles are improving. Demand for formal shoes, particularly those made of leather, is predicted to increase steadily as the working-class population grows. The apparel and leather products market is predicted to develop as internet shopping becomes more popular. Manufacturers may now sell their products on a bigger platform than ever before, expanding their consumer base and propelling the garment and leather products sector forward. E-commerce portals have improved the sales of traditional clothes in countries like India by offering producers who were previously confined to single geography where the weaving community was located more exposure.
Based on the type sector, the segmentation includes synthetic, genuine, and vegan. Based on our analysis, the Genuine are likely to display an impressive growth all through the forecast period 2022 – 2030. Synthetic leather is created using a different set of chemicals and a different manufacturing process than real leather. The most common method for making imitation leather is to apply a plastic coating to a fabric backing; the type of plastic used in these coatings varies, and this is what decides whether it is ecologically friendly or not.
Global Leather Market Geographical Competition
North America, Europe, Latin America, Asia-Pacific, and the Middle East & Africa are the segmentation of the worldwide Leather industry. The Asia-Pacific region is anticipated to witness the fastest growth rate during the forecast period 2022 – 2030. India is the world's second-largest consumer of footwear. With its inherent strengths of the huge raw material base, traditional know-how, skilled manpower, and application of modern technology, India has established its reputation as a supplier of high-quality goods. Start-ups in the leather and footwear industry should expect strong growth both domestically and internationally following the implementation of COVID. MLFACs (Mega Leather, Footwear, and Accessories Development Clusters) will be established in states such as Uttar Pradesh, Tamil Nadu, West Bengal, Maharashtra, and Andhra Pradesh, and will be integrated production centers with plug-and-play factories and shared facilities such as testing laboratories.
Global Leather Industry Segment Analysis
Leather Market By Product
· Apparel
· Automotive Accessories
· Handbag
· Footwear
· Home Décor & Furnishing
· Pet Accessories
· Small Leather Goods & Accessories
Leather Market By Type
· Synthetic
· Genuine
· Vegan
Leather Market Leading Companies
This section of the study honors the market's top vendors Adidas AG, Fila, Inc., Johnston & Murphy, Knoll, Inc., Nike, Inc., New Balance Athletics, Inc., Puma SE, Samsonite International S.A., Timberland LLC, and VIP Industries Ltd. are the key companies mentioned in the research.
Leather Market Regions
North America
· U.S.
· Canada
Europe
· U.K.
· Germany
· France
· Spain
· Rest of Europe
Latin America
· Brazil
· Mexico
· Rest of Latin America
Asia-Pacific
· China
· Japan
· India
· Australia
· South Korea
· Rest of Asia-Pacific
Middle East & Africa
· GCC
· South Africa
· Rest of Middle East & Africa