Materials Informatics Market Size - Global Industry Analysis, Market Size, Opportunities and Forecast 2022 - 2030
The Global Market for Material Informatics accounted for US$ 92 Million in 2021 and is anticipated to reach US$ 702 Million by 2030 with a CAGR of 13.7% from 2022 to 2030.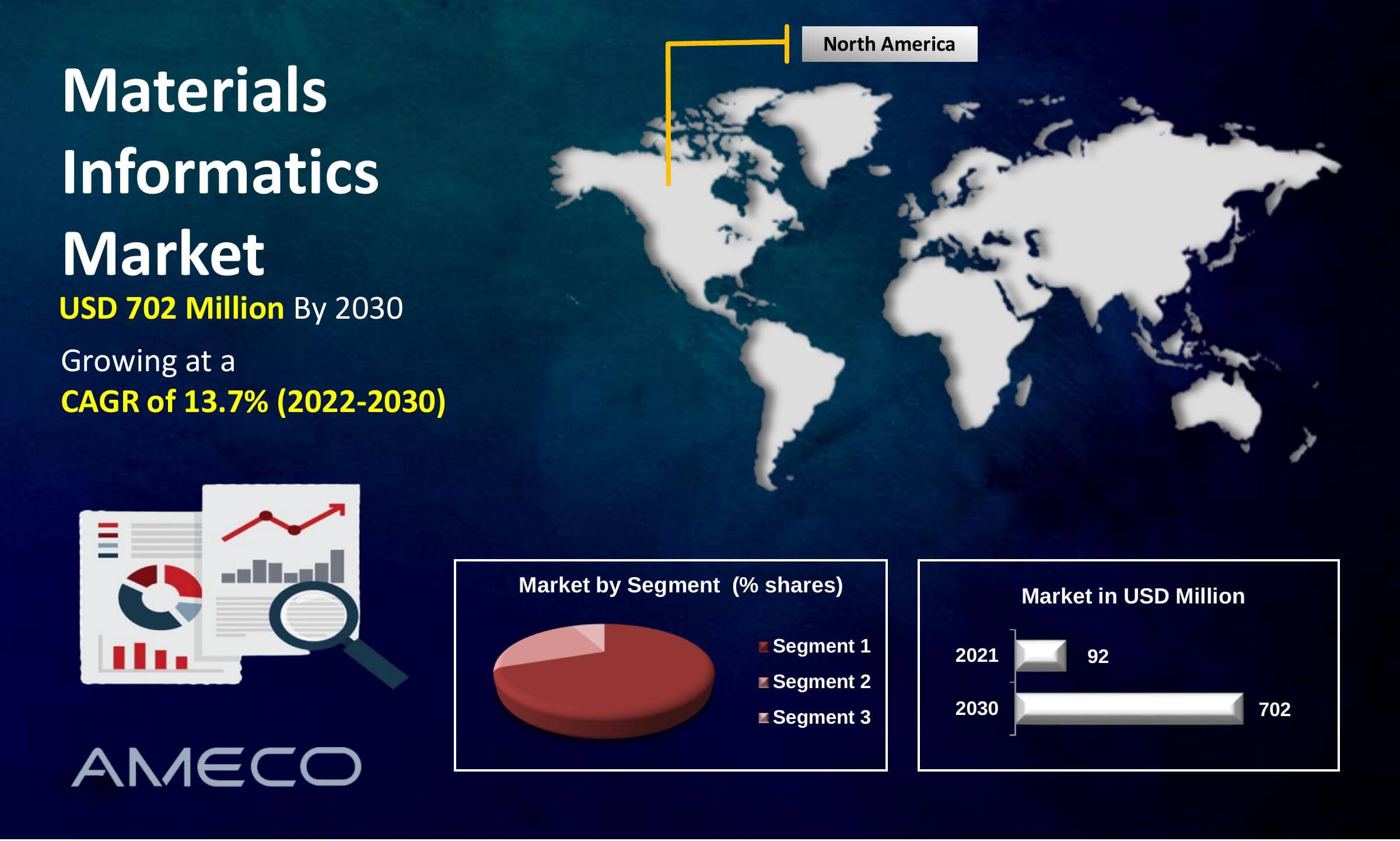 Materials informatics is a new subject that applies computer theory to the study of materials. Its ability to change the way scientists and researchers test, formulate and invent new chemistries is only limited by the technology offered to process the data they acquire. The environment has permitted the high-speed handling of massive volumes of data, which has fostered the application of materials informatics, thanks to the high performance of supercomputers and the large scale of materials science databases. President Barack Obama established the Materials Genome Initiative (MGI) in 2011 with the goal of building infrastructures that would double the speed of discovery and implementation of new materials for creative goods. Materials Informatics, according to the MGI white paper, is the key to attaining huge time and cost savings in materials science research.
| | |
| --- | --- |
| Parameter | Materials Informatics Market |
| Materials Informatics Market Size in 2021 | US$ 92 Million |
| Materials Informatics Market Forecast By 2030 | US$ 702Million |
| Materials Informatics Market CAGR During 2022 – 2030 | 13.7% |
| Materials Informatics Market Analysis Period | 2018 - 2030 |
| Materials Informatics Market Base Year | 2021 |
| Materials Informatics Market Forecast Data | 2022 - 2030 |
| Segments Covered | By Material, By Application, By Technique, and By Region |
| Materials Informatics Market Regional Scope | North America, Europe, Asia Pacific, Latin America, and Middle East & Africa |
| Key Companies Profiled | Alpine Electronics, Inc., Citrine Informatics, Exabyte.io, Materials Zone Ltd. and Nutonian Inc. |
| Report Coverage | Market Trends, Drivers, Restraints, Competitive Analysis, Player Profiling, Regulation Analysis |
Market Dynamics
The study of computational systems-how information is handled and transformed-s applied to the creation of industrial materials such as ceramics and polymers in materials informatics. The field's goal is to use data-rich industries' best practices, such as the management and collection of large datasets, the infrastructure required to learn and process from them, and sophisticated machine learning techniques, to make more rapidly, more focused progress in new material discovery and development. Computationally creating massive datasets of material attributes has become possible thanks to advances in computing techniques and the exponential increase in PC speed. Such high-throughput testing allows professionals to quickly assess a large number of new materials to determine which ones are most suitable for innovative uses.
The application of data-centric methodologies for the improvement of materials science is known as materials informatics. This can take many forms and affect every aspect of R&D. (data analysis, data handling & acquisition, and knowledge extraction). Machine learning is used in materials informatics to improve task performance based on previous experience by taking input factors and predicting output attributes. Materials discovery necessitates three major components: data, descriptors, and algorithms.
Materials research has traditionally been carried out by a single researcher who chooses and designs chemicals based on his expertise and experience, then performs many syntheses and assesses their qualities. Materials informatics, which combines material databases and artificial intelligence to calculate material properties on computers with high precision, is intended to augment researchers' knowledge and intuition with data, saving them time and money.
Market Insights
Material, technique, application, and region are the four categories of the global materials informatics industry. Inorganic materials, organic materials, and hybrid materials are the categorization of material segments. Among them, the inorganic materials segment occupied the maximum market share in 2021. However, as people's concern for the environment has grown, the usage of organic materials in research and development has increased. Meanwhile, the hybrid materials segment is expected to grow at a significant rate throughout the forecast period 2022 - 2030. Based on techniques, the segmentation includes deep tensor, digital annealer, genetic algorithm, and statistical analysis. Furthermore, the application sector is sub-segmented into chemical industries, dyes, research and development agencies, material science, food science, electronics, and paper & pulp. Based on our analysis, the research and development agencies are likely to display an impressive growth all through the forecast period 2022 - 2030.
Global Materials Informatics Market Geographical Competition
North America, Europe, Latin America, Asia-Pacific, and the Middle East & Africa are the segmentation of the worldwide material informatics industry. Among all the regions, North America gathered a substantial amount of share in 2021. Huge investments and ongoing R&D activity are only a few of the reasons propelling regional development. Another factor contributing to the market's growth in North America is the presence of important competitors in the region.
Global Materials Informatics Industry Segment Analysis
Materials Informatics Market By Material
· Organic Materials
· Inorganic Materials
· Hybrid Materials
Materials Informatics Market By Application
· Chemical Industries
· Dyes
· Research and Development Agencies
· Material Science
· Food Science
· Electronics
· Paper & Pulp
Materials Informatics Market By Technique
· Digital Annealer
· Deep Tensor
· Statistical Analysis
· Genetic Algorithm
Material Informatics Market Leading Companies
This section of the study honors the market's top vendors. Alpine Electronics, Inc., Citrine Informatics, Exabyte.io, Materials Zone Ltd. and Nutonian Inc. are the key companies mentioned in the research.
Material Informatics Market Regions
North America
· U.S.
· Canada
Europe
· U.K.
· Germany
· France
· Spain
· Rest of Europe
Latin America
· Brazil
· Mexico
· Rest of Latin America
Asia-Pacific
· China
· Japan
· India
· Australia
· South Korea
· Rest of Asia-Pacific
Middle East & Africa
· GCC
· South Africa
· Rest of Middle East & Africa