Medical Drone Market - Size, Industry Trends, Competitive Landscape, and Opportunities and Forecast 2022 - 2030
The Global Medical Drone Market Size was valued at USD 174 Million in 2021 and is anticipated to reach USD 1,274 Million by 2030 with a CAGR of 24.9% from 2022 to 2030.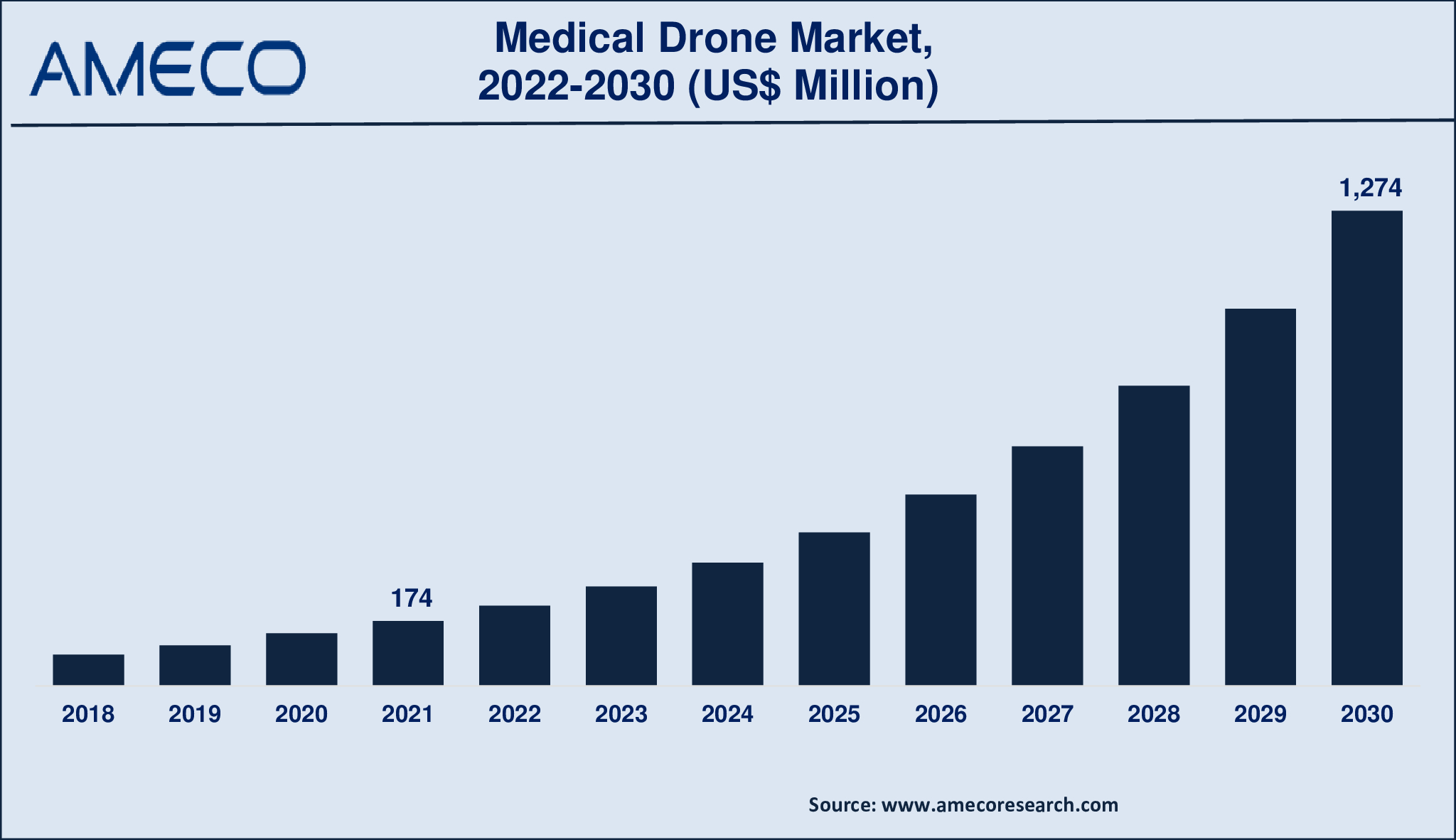 Healthcare professionals can communicate with patients remotely and transfer medical supplies using a particular form of UAV called a medical drone. Most of the time, medical professionals use drones to transport materials along the entire medical supply chain, from doctors' offices and clinics to patients, lab partners, and waste disposal facilities. As they become more dependable and affordable, drones are an ideal emerging technology for medical professionals to use in both emergencies and non-emergency scenarios. It is not unexpected that the industry for medical drones is growing quickly as a result.
| | |
| --- | --- |
| Parameter | Medical Drone Market |
| Medical Drone Market Size in 2021 | US$ 174 Million |
| Medical Drone Market Forecast By 2030 | US$ 1,274 Million |
| Medical Drone Market CAGR During 2022 – 2030 | 24.9% |
| Medical Drone Market Analysis Period | 2018 - 2030 |
| Medical Drone Market Base Year | 2021 |
| Medical Drone Market Forecast Data | 2022 - 2030 |
| Segments Covered | By Application, By End-Use, and By Region |
| Medical Drone Market Regional Scope | North America, Europe, Asia Pacific, Latin America, and Middle East & Africa |
| Key Companies Profiled | DHL, Ebre Drone LLC, SZ DJI Technology Co., Ltd, Flirtey, Matternet, SkyfarerLtd., Volocopter GmbH, Vayu, Embention, and Zipline |
| Report Coverage | Market Trends, Drivers, Restraints, Competitive Analysis, Player Profiling, Regulation Analysis |
Market Dynamics
Drugs, serum, and small medical devices can all be delivered rapidly and in remote locations using medical drones. Medical drones are already being utilized in developing nations, while businesses are still testing them for the delivery of huge products to customers. Because medical supplies are frequently compact and lightweight, modern drones are equipped with the necessary capabilities. The need for a regulatory framework that would permit autonomous medical drones to fly great distances to deliver life-saving supplies to patients is being driven by the urgency of medical supplies.
Even the transport of medications from one floor to another may be possible using drones, according to some. The business's significant technology advancements in robotics, autonomous navigation, and aerospace management are concealed by the routine of assembling, launching, landing, and charging the drones. Before creating particular regulations concentrating on the use of drones in the healthcare sector, aviation authorities need to collaborate closely with healthcare regulators. According to current FAA (Federal Aviation Authority) regulations, drones must always be in the pilot's line of sight. Drones are also limited to a maximum altitude of 400 feet and a maximum speed of 100 mph.
Mobile technology is already being used by healthcare companies to address some of the issues facing the sector today. Healthcare is changing as a result of the use of mobile devices, wearable technology, remote monitoring, telemedicine, and information sharing platforms. To reduce unpredictability, expense, and mistake, drones, robots, and artificial intelligence will probably soon take over many tasks currently carried out by humans in the healthcare industry.
Drones may now fly farther than they previously could in a safe manner because to recent developments in beyond visual line of sight (BVLOS) technology. Drones can therefore deliver delicate things to partners who are located elsewhere.
Drone costs might vary depending on the model and size. Drones typically cost less to set up and maintain than more traditional forms of transportation. Commercial drones range in price from $500 to $5,000 depending on the manufacturer and type. Most drones have a low learning curve and are comparatively easy to use. Medical practitioners can also easily launch drones from roofs, parking lots, and nearby fields.
Market Insights
The three categories of the global medical drone market are application, end-use, and region. Application segment can be further divided into blood transfer, drugs/pharmaceutical transfer, and vaccination program. Life-saving drugs and vaccines could be delivered more quickly and with greater accessibility thanks to drones. For instance, three years ago on the Pacific island nation of Vanuatu, Wingcopter transported children's vaccines. In addition, we have tested potential regular supplies of insulin off the coast of Ireland. We are currently getting ready to send COVID-19 vaccines to Africa and Southeast Asia. Furthermore, emergency medical services, blood banks, and chemist/drugstore are the segregation of end-use segment.
Global Medical Drone Market Geographical Competition
The North American, European, Latin American, Asian Pacific, and Middle Eastern & African regions make up the five geographical segments of the worldwide Medical Drone market. Due to rising government investment on the creation of smart healthcare systems, the industry in North America is anticipated to account for a significant revenue share in the worldwide medical drone market. Additionally, the existence of many competitors functioning in the nation and the launch of creative solutions in an effort to draw in new clients is anticipated to assist the expansion of the regional market for medical drones. Due to better medical facilities and more public knowledge of the advantages of medical drones, the Asia-Pacific area is expected to see the largest growth rate between 2022 and 2030.
Global Medical Drone Industry Segment Analysis
Market By Application
Drugs/Pharmaceutical Transfer
Blood Transfer
Vaccination Program
Market By End-Use
Blood Banks
Emergency Medical Services
Medical Drone Market Leading Companies
This section of the study honors the market's top vendors DHL, Ebre Drone LLC, SZ DJI Technology Co., Ltd, Flirtey, Matternet, SkyfarerLtd., Volocopter GmbH, Vayu, Embention, and Zipline.
Medical Drone Market Regions
North America
Europe
U.K.
Germany
France
Spain
Rest of Europe
Latin America
Mexico
Brazil
Rest of Latin America
Asia-Pacific
India
Japan
China
Australia
South Korea
Rest of Asia-Pacific
The Middle East & Africa (MEA)
Gulf Cooperation Council (GCC)
South Africa
Rest of the Middle East & Africa