Neonatal Medicine Market Growth Opportunities and Forecast till 2030
The Global Neonatal Medicine Market Size accounted for USD 3.9 Billion in 2021 and is anticipated to reach USD 7.2 Billion by 2030 with a CAGR of 7.2% from 2022 to 2030.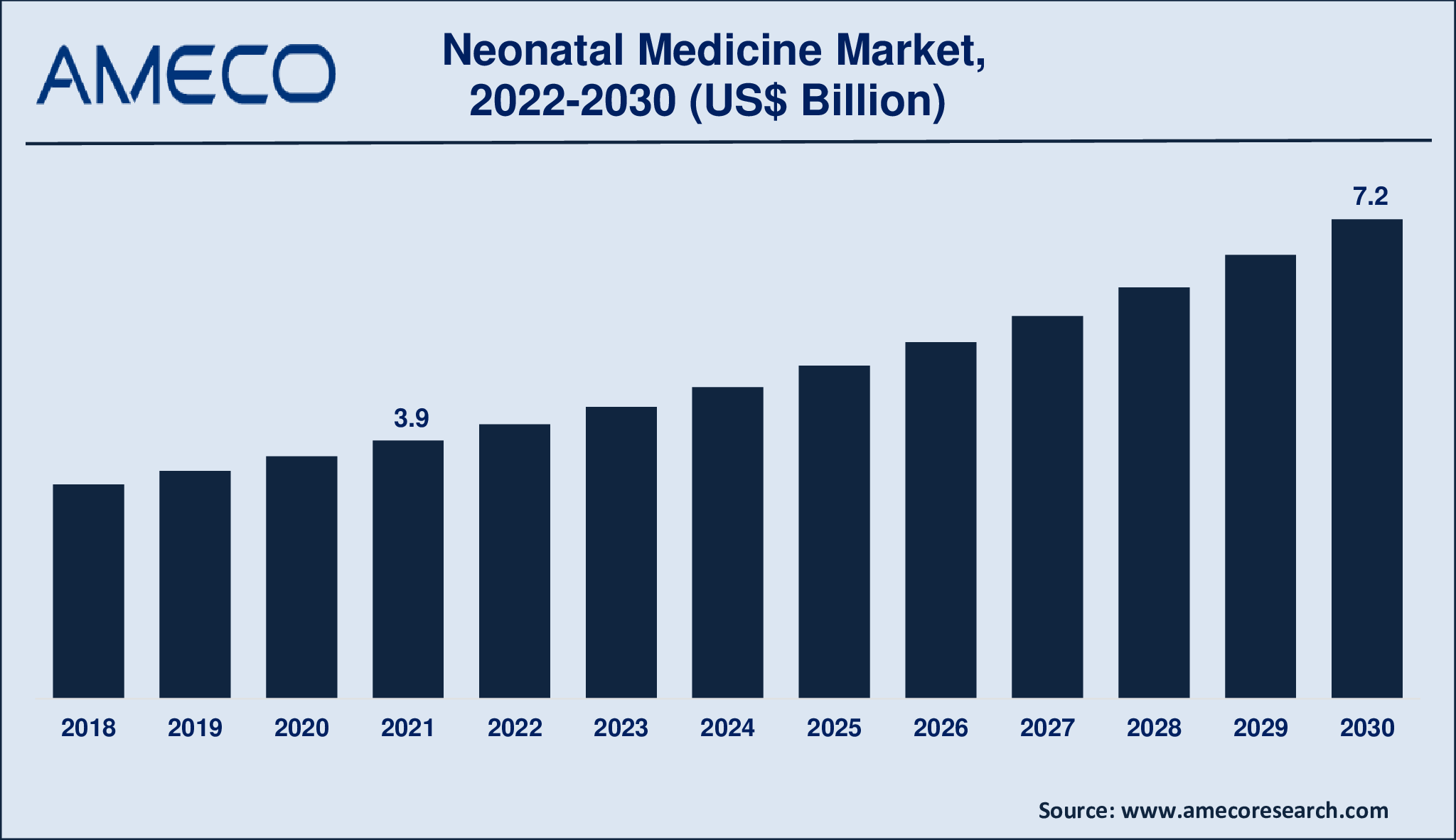 An estimated 44% of deaths in children under the age of five are considered to be neonatal (0-28 days). Neonatal infections, such as those that result in the clinical syndromes of sepsis, meningitis, and pneumonia, account for about one-third of these (640,000 in 2013). In 2012, South Asia and sub-Saharan Africa were home to an approx 6.1 million cases of potentially serious bacterial infections (PSBI). These neonatal infections result in impairment and disability in addition to mortality. Low birth weight or preterm birth put newborns at the greatest risk. Immunization, anti-sepsis, and unique breastfeeding are all forms of prevention. If they do get sick, prompt diagnosis of newborn illness and effective case management could, according to estimates, prevent 84% of neonatal infection deaths. A baby who is born prematurely or with a health condition will receive neonatal care in a neonatal unit. Hospitals have units that care for infants who are delivered early (prior to 37 weeks gestation), with a condition that requires medical attention, or with a low birthweight. Neonatal refers to a newborn or a person's first 28 days of life. In the UK, every year more than 90,000 infants are born prematurely, sick, or requiring neonatal care. That works out to about 250 newborns every day, or one in every seven.
| | |
| --- | --- |
| Parameter | Neonatal Medicine Market |
| Neonatal Medicine Market Size in 2021 | US$ 3.9 Billion |
| Neonatal Medicine Market Forecast By 2030 | US$ 7.2 Billion |
| Neonatal Medicine Market CAGR During 2022 – 2030 | 7.2% |
| Neonatal Medicine Market Analysis Period | 2018 - 2030 |
| Neonatal Medicine Market Base Year | 2021 |
| Neonatal Medicine Market Forecast Data | 2022 - 2030 |
| Segments Covered | By Product Type, By End-Use, and By Region |
| Market Regional Scope | North America, Europe, Asia Pacific, Latin America, and Middle East & Africa |
| Key Companies Profiled | Atom Medical Corp, Drägerwerk AG & Co. KGaA, Fisher & Paykel Healthcare Limited, GE Healthcare, Ibis Medical, Medtronic, Natus Medical Incorporated, International Biomedical, Koninklijke Philips N.V., Phoenix Medical Systems Pvt Ltd, and Nice Neotech Medical Systems Pvt. Ltd. |
| Report Coverage | Market Trends, Drivers, Restraints, Competitive Analysis, Player Profiling, Regulation Analysis |
Market Dynamics
Growing incidences of neonatal stroke is the primary factor that is leading the neonatal medicine market. Inadequate blood flow to the developing brain during the first 28 days of life is referred to as a neonatal stroke. It also includes hypoxic events, which deprive the brain tissue of oxygen, and ischemic events, which cause vessel blockage in neonatal strokes. Autoimmune disorders, prenatal cocaine exposure, coagulation disorders, infection, diabetes, congenital heart disease, and trauma are just a few examples of maternal disorders that can cause neonatal stroke.
Infections are to blame for about a third of the 2.8 million neonatal deaths worldwide. The majority of these fatalities could have been avoided, but they do so because people don't seek care right away or have access to supportive care and antibiotics that work. In order to scale up the case management of neonatal infections and find solutions, it is crucial to understand the variations in health system bottlenecks.
Market Insights
Product type, end-use, and region are the three subcategories of the global neonatal medicine market. Wearable technology, thermoregulation devices, monitoring systems, and vision screening, and others are all part of the product type segmentation. The thermoregulation devices will hold a sizable market share in the upcoming years, predicts the neonatal medicine market forecast. When it comes to sick newborns or neonates, thermoregulation is a crucial function that is absolutely necessary. Additionally, the end-use segment can be further broken down into the following conditions: hospitals, pediatric & neonatal clinics, and nursing homes. The analysis of the neonatal medical market indicates that hospitals will probably control the market in 2021. Due to the availability of high-tech equipment and a skilled workforce, hospitals are preferred by patients over clinics.
Global Neonatal Medicine Market Geographical Competition
The North America, Europe, Latin America, Asia-Pacific, and the Middle East & Africa regions make up the five geographical segments of the global Neonatal Medicine market. The neonatal medicine market is dominated by North America, followed by Asia Pacific. One of the key drivers of the regional market's expansion is the presence of major players in the US. Increased product approvals and rising healthcare costs will significantly reduce North American market share. The market for neonatal medicine in North America is being driven by the rising incidence of neonatal deaths in the US.
Global Neonatal Medicine Industry Segment Analysis
Market By Product Type
Thermoregulation Devices
Phototherapy Devices
Monitoring Systems
Vision Screening
Others
Market By End-Use
Hospitals
Pediatric & Neonatal Clinics
Nursing Homes
Neonatal Medicine Market Leading Companies
This section of the study honors the market's top vendors Atom Medical Corp, Fisher & Paykel Healthcare Limited, Drägerwerk AG & Co. KGaA, GE Healthcare, Natus Medical Incorporated, Ibis Medical, Medtronic, Koninklijke Philips N.V., International Biomedical, Phoenix Medical Systems Pvt Ltd, and Nice Neotech Medical Systems Pvt. Ltd.
Neonatal Medicine Market Regions
North America
Europe
U.K.

Germany

France

Spain

Rest of Europe
Latin America
Brazil

Mexico

Rest of Latin America
Asia-Pacific
China

Japan

India

Australia

South Korea

Rest of Asia-Pacific
Middle East & Africa
GCC

South Africa

Rest of Middle East & Africa