Nylon Market Growth Opportunities and Forecast till 2030
The Global Nylon Market Size valued for USD 22.4 Billion in 2021 and is anticipated to reach USD 39.1 Billion by 2030 with a CAGR of 6.5% from 2022 to 2030.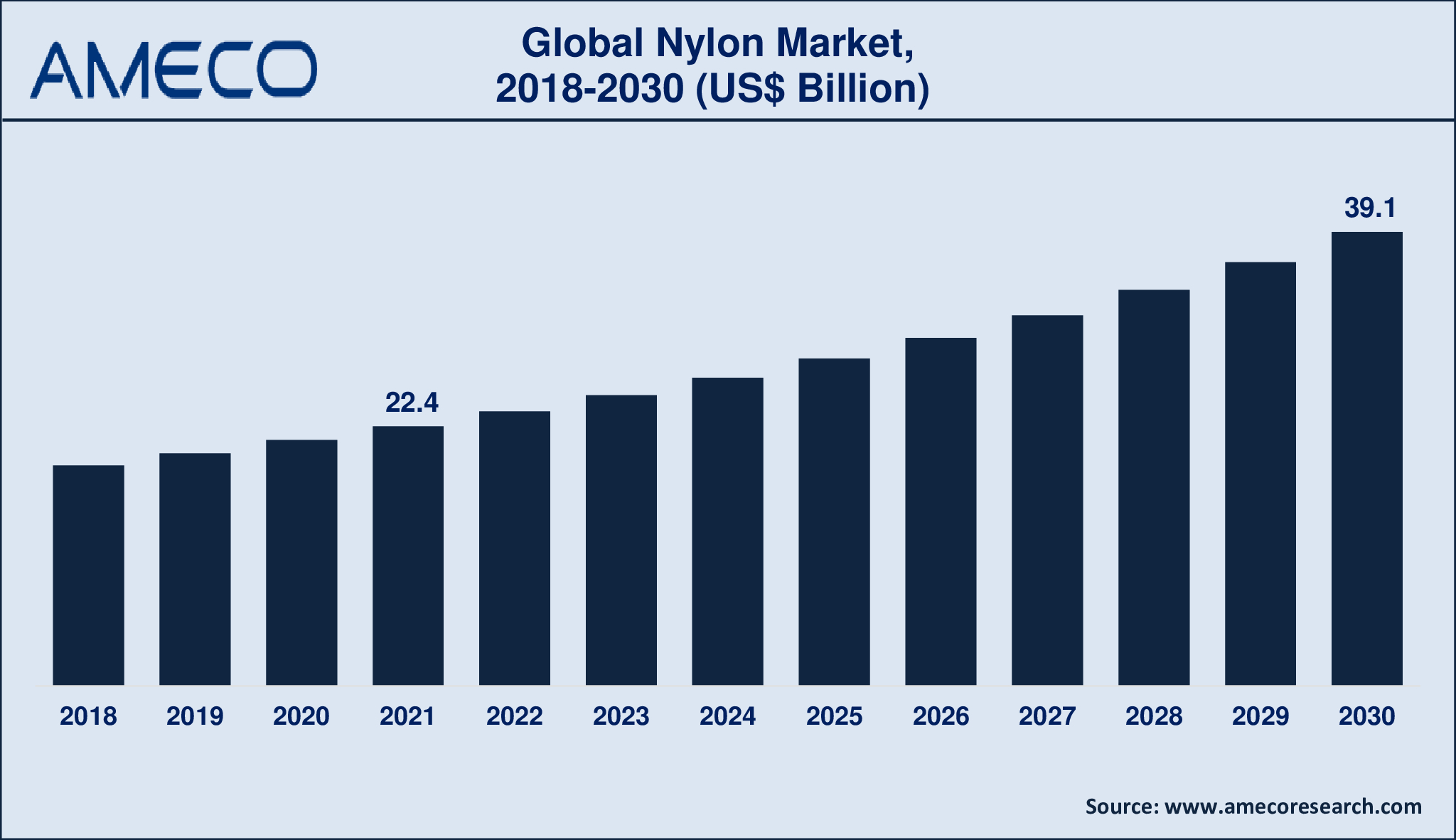 Nylon is a synthetic polymer, a type of plastic invented in the 1930s. It is a versatile thermoplastic that can be melted and molded into many shapes. Nylon is useful because of its strength, durability, and resilience. It has a high strength-to-weight ratio, making it appropriate for applications requiring tough materials. Nylon is resistant to abrasion, chemicals, and wear, making it dependable under harsh conditions. It is very versatile, serving a variety of functions in a variety of sectors. The lightweight characteristic of nylon makes it useful in industries where weight reduction is critical, such as aerospace and automobile manufacture.
Nylon is in high demand for a variety of reasons. For starters, it is widely utilized in the manufacture of consumer items including as garments, footwear, purses, and accessories. It is popular among manufacturers and consumers due to its durability, flexibility, and aesthetic appeal. Second, it is used in industries such as automotive, aerospace, construction, and electronics. Its strength, durability, and chemical resistance make it a popular material for the manufacture of components, gears, bearings, and electrical connections. Furthermore, nylon is frequently used as a replacement for natural materials such as cotton, silk, and wool. Its popularity stems from benefits such as enhanced longevity, lower costs, and simplicity of maintenance. Finally, as emerging countries grow, there is a greater need for infrastructure development, transportation systems, and consumer products, all of which rely on nylon in various ways.
Overall, nylon's unique mix of strength, durability, adaptability, and low weight makes it useful in a variety of sectors. Its popularity arises from its numerous applications in consumer items, industrial sectors, and as a replacement for natural resources.
| | |
| --- | --- |
| Parameter | Nylon Market |
| Nylon Market Size in 2021 | US$ 22.4 Billion |
| Nylon Market Forecast By 2030 | US$ 39.1 Billion |
| Nylon Market CAGR During 2022 – 2030 | 6.5% |
| Nylon Market Analysis Period | 2018 - 2030 |
| Nylon Market Base Year | 2021 |
| Nylon Market Forecast Data | 2022 - 2030 |
| Segments Covered | By Type, By Application, and By Region |
| Nylon Market Regional Scope | North America, Europe, Asia Pacific, Latin America, and Middle East & Africa |
| Key Companies Profiled | Honeywell International, Inc., BASF SE, Huntsman Corporation, Evonik Industries AG , E.I. Dupont De Nemours & Company, Asahi Kasei Corporation, UBE Industries Limited, and Invista S.A.R.L. |
| Report Coverage | Market Trends, Drivers, Restraints, Competitive Analysis, Player Profiling, Regulation Analysis |
Nylon Market Dynamics
Several variables impact the dynamics of the Nylon market. For starters, the growing need for lightweight and long-lasting materials in the automotive and aerospace sectors has a substantial influence. Nylons are popular due to their high strength-to-weight ratio, which makes them appropriate for gears, belts, and pulleys. Nylons are used extensively in the automobile industry, particularly in engine timing systems, power transmission, and seat mechanics. The increasing production and sales of automobiles throughout the world add to the need for Nylons.
Second, the industrial sector is a major driver of demand for Nylons. Manufacturing, equipment, and automation all require dependable power transmission systems. Nylons are appropriate for these applications due to their low friction, high wear resistance, and noise reduction. The rise of the industrial sector, particularly in developing nations, adds to growing demand for Nylons.
Third, the growing emphasis on energy efficiency and sustainability promotes demand for Nylons. Because Nylons are lightweight, they consume less energy and increase overall system efficiency. This is especially significant in fields such as renewable energy, where maximizing energy output while minimizing losses is critical. Nylons are utilized in wind turbines, solar panel tracking systems, and other renewable energy applications, which increases market demand for them.
Moreover, advances in production technology and the development of improved nylon formulas have benefited the Nylon industry. Manufacturers are always working to improve the performance features of Nylons, such as increasing strength, decreasing friction, and boosting temperature resistance. These advancements broaden the range of applications for which Nylons may be utilised, attracting new industries and propelling market growth.
Furthermore, the increasing trend towards automation and robots in numerous sectors is fuelling Nylon demand. Robots and automated machines need on accurate and efficient power transfer systems, which Nylons provide. As automation advances, the need for Nylons in this industry is projected to rise.
Overall, factors such as the demand for lightweight and durable materials in the automotive and aerospace industries, the growth of the industrial sector, the emphasis on energy efficiency and sustainability, advancements in manufacturing technologies, and the trend towards automation and robotics influence the dynamics of the nylon market. These reasons all lead to the growing demand for nylons in a variety of applications, promoting market development and industrial innovation.
Global Nylon Market Geographical Competition
The Asia-Pacific region, notably China, is a prominent nylon market participant. China has a considerable production capability and is one of the world's major manufacturers of nylon. A well-developed industrial base, large supply networks, and competitive manufacturing costs benefit the region. Other nations in the area, including Japan, South Korea, and India, have a significant presence in the nylon industry, focusing on specialized nylon goods.
The nylon market is dominated by North America, particularly the United States. Several important producers of nylon and its intermediates are located in the region. The United States has a well-developed industrial infrastructure, cutting-edge technology, and a varied spectrum of end-user sectors such as automobiles, textiles, and consumer products. These factors contribute to the region's competitiveness in the nylon market.
Another important market for nylon is Europe. Countries with a strong industrial base, such as Germany, France, Italy, and the United Kingdom, are big users of nylon products. The region is well-known for its engineering, creativity, and superior manufacturing capabilities. Manufacturers in Europe concentrate on high-performance nylon applications such as automobile components, industrial gear, and electrical insulation.
Global Nylon Industry Segment Analysis
Market By Type
· Nylon 66
· Nylon 6
Market By Application
· Electrical & Electronics
· Automobile
· Textile
· Engineering Plastics
· Others
Nylon Market Leading Companies
The players profiled in the report are Asahi Kasei Corporation, BASF SE, E.I. Dupont De Nemours & Company, Evonik Industries AG, Honeywell International, Inc., Huntsman Corporation, Invista S.A.R.L., and UBE Industries Limited.
Nylon Market Regions
North America
· U.S.
· Canada
Europe
· U.K.
· Germany
· France
· Spain
· Rest of Europe
Latin America
· Brazil
· Mexico
· Rest of Latin America
Asia-Pacific
· China
· Japan
· India
· Australia
· South Korea
· Rest of Asia-Pacific
Middle East & Africa
· GCC
· South Africa
· Rest of Middle East & Africa