Petrochemicals Market Growth Opportunities and Forecast till 2030
The Global Petrochemicals Market is valued for USD 533.8 Billion in 2021 and is anticipated to reach USD 895.7 Billion by 2030 with a CAGR of 6.1% from 2022 to 2030.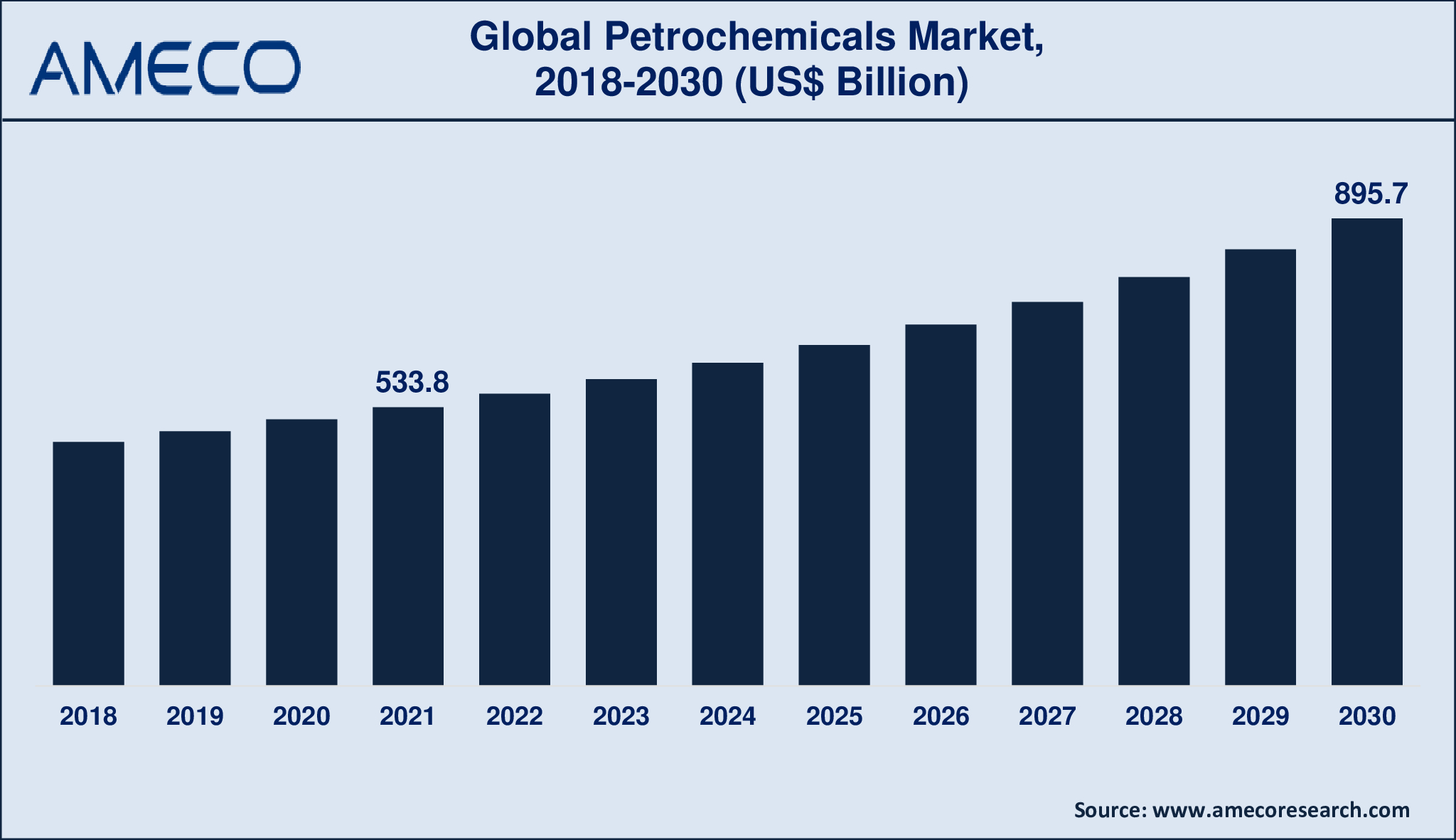 Petrochemicals are petroleum or natural gas-derived chemical compounds. They are used to make a variety of goods, including plastics, synthetic fibers, rubber, detergents, solvents, fertilizers, and medicines. Petrochemicals are in high demand due to a variety of variables. For starters, they are required for the manufacture of industrial and consumer items such as packaging materials, building components, and automobile parts. Second, as countries develop and urbanize, there is a greater need for petrochemicals in the infrastructure and industrial sectors. Third, shifting customer lives and tastes fuel demand for convenience-oriented items and synthetic fibers. Finally, petrochemicals are essential in contemporary agriculture since they are used to manufacture fertilizers and insecticides. However, the environmental effect of petrochemical manufacturing must be considered, and sustainable alternatives must be explored.
| | |
| --- | --- |
| Parameter | Petrochemicals Market |
| Petrochemicals Market End-User in 2021 | US$ 533.8 Billion |
| Petrochemicals Market Forecast By 2030 | US$ 895.7 Billion |
| Petrochemicals Market CAGR During 2022 – 2030 | 6.1% |
| Petrochemicals Market Analysis Period | 2018 - 2030 |
| Petrochemicals Market Base Year | 2021 |
| Petrochemicals Market Forecast Data | 2022 - 2030 |
| Segments Covered | By Type, By Application, By End-User, and By Region |
| Petrochemicals Market Regional Scope | North America, Europe, Asia Pacific, Latin America, and Middle East & Africa |
| Key Companies Profiled | Shell Chemical Company, BASF SE, Total S.A., DuPont, Sinopec Limited, ExxonMobil, Sumitomo Chemical Co. Ltd., Saudi Arabian Oil Co., and Dow Inc. |
| Report Coverage | Market Trends, Drivers, Restraints, Competitive Analysis, Player Profiling, Regulation Analysis |
Petrochemicals Market Dynamics
Various dynamic variables drive the petrochemicals market. The growing need for petrochemical-based goods in both the industrial and consumer sectors is one of the primary factors. Petrochemicals are critical raw materials for the manufacture of plastics, synthetic fibers, rubber, and other materials used in a variety of applications. Global population growth, improved living standards, and urbanization all contribute to increased demand for these items.
Economic expansion also has a substantial impact on petrochemical consumption. Petrochemicals are in increased demand in many manufacturing sectors such as automotive, construction, and electronics as nations industrialize and build their infrastructure. These industries rely significantly on petrochemicals to manufacture components and materials, propelling the industry ahead.
Other variables impacting the petrochemicals industry include changing customer lifestyles and tastes. Because of their practicality and ease of use, convenience-oriented items, such as single-use plastics and packaging materials, are in great demand. The fashion industry's dependence on synthetic fibers such as polyester and nylon increases demand for petrochemical-based goods. The petrochemicals industry continues to develop as customers seek for the newest trends and fashion options.
Furthermore, the agriculture industry primarily relies on petrochemicals for fertilizer and pesticide manufacture. With the world's population growing and food demand rising, efficient and high-yielding agricultural practices are required. Petrochemical-based agricultural inputs play a critical role in accomplishing these goals, raising petrochemical demand in the agricultural sector.
It is crucial to highlight that, while petrochemicals are in high demand, there are also environmental risks linked with their manufacturing and usage. Efforts are being undertaken to create more sustainable alternatives and lessen petrochemicals' environmental effect. These include research into bio-based polymers, renewable chemicals, and recycling activities in order to reduce dependency on fossil fuel-derived petrochemicals and promote a more ecologically friendly market strategy.
Petrochemicals Market Share
The petrochemicals market can be classified based on type, application, end-user, and geography. In terms of type, the market is divided into benzene, butadiene, ethylene, methanol, propylene, toluene, xylene, and others. Based on application, the market is split into adhesives and sealants, dyes, paints and coatings, polymers, rubber, solvents, surfactants, and others. The end-user segment is split into automotive & transportation, construction, electrical & electronics, healthcare, packaging, and others.
Global Petrochemicals Market Geographical Competition
The Asia-Pacific region is a major participant in the petrochemicals industry. Rapid industrialization and urbanization have fueled demand for petrochemical-based goods in countries such as China, India, and South Korea. The region's vast population, increasing middle class, and expanding manufacturing sectors all contribute to the region's petrochemicals market's robust expansion.
The petrochemicals market in North America is well-established. The United States, in particular, is a significant petrochemical producer and user. The country's shale gas revolution has created a competitive edge in feedstock supply, increasing petrochemical output. The region's strong manufacturing base, robust infrastructure and technical breakthroughs help the petrochemicals industry expand.
Europe is another important petrochemical market. Germany, France, and the United Kingdom are major petrochemical companies in the region. The European market is focused on sustainability and green initiatives, with the goal of lowering the environmental effect of petrochemical manufacturing. Demand for high-value specialty chemicals and innovative materials propel the European petrochemicals industry even more.
Global Petrochemicals Industry Segment Analysis
Market By Type
· Benzene
· Butadiene
· Ethylene
· Methanol
· Propylene
· Toluene
· Xylene
· Others
Market By Application
· Adhesives and Sealants
· Dyes
· Paints and Coatings
· Polymers
· Rubber
· Solvents
· Surfactants
Market By End-User
· Construction
· Healthcare
· Packaging
· Electrical & Electronics
· Automotive & Transportation
· Others
Petrochemicals Market Leading Companies
The players profiled in the report are BASF SE, Dow Inc. DuPont, ExxonMobil, Shell Chemical Company, Sinopec Limited, Sumitomo Chemical Co. Ltd., Saudi Arabian Oil Co., and Total S.A.
Petrochemicals Market Regions
North America
· U.S.
· Canada
Europe
· U.K.
· Germany
· France
· Spain
· Rest of Europe
Latin America
· Brazil
· Mexico
· Rest of Latin America
Asia-Pacific
· China
· Japan
· India
· Australia
· South Korea
· Rest of Asia-Pacific
Middle East & Africa
· GCC
· South Africa
· Rest of Middle East & Africa