Plastic to Fuel Market Size - Global Industry Analysis, Market Size, Opportunities and Forecast 2021 - 2028
Category by-
Energy and Power
, No. of Pages - 160, Published By - Ameco Research
From 2021 to 2028, the Global Plastic to Fuel Market is predicted to grow at a CAGR of 28.8%, from US$ 234 Million in 2020 to US$ 1,747 Million in 2028.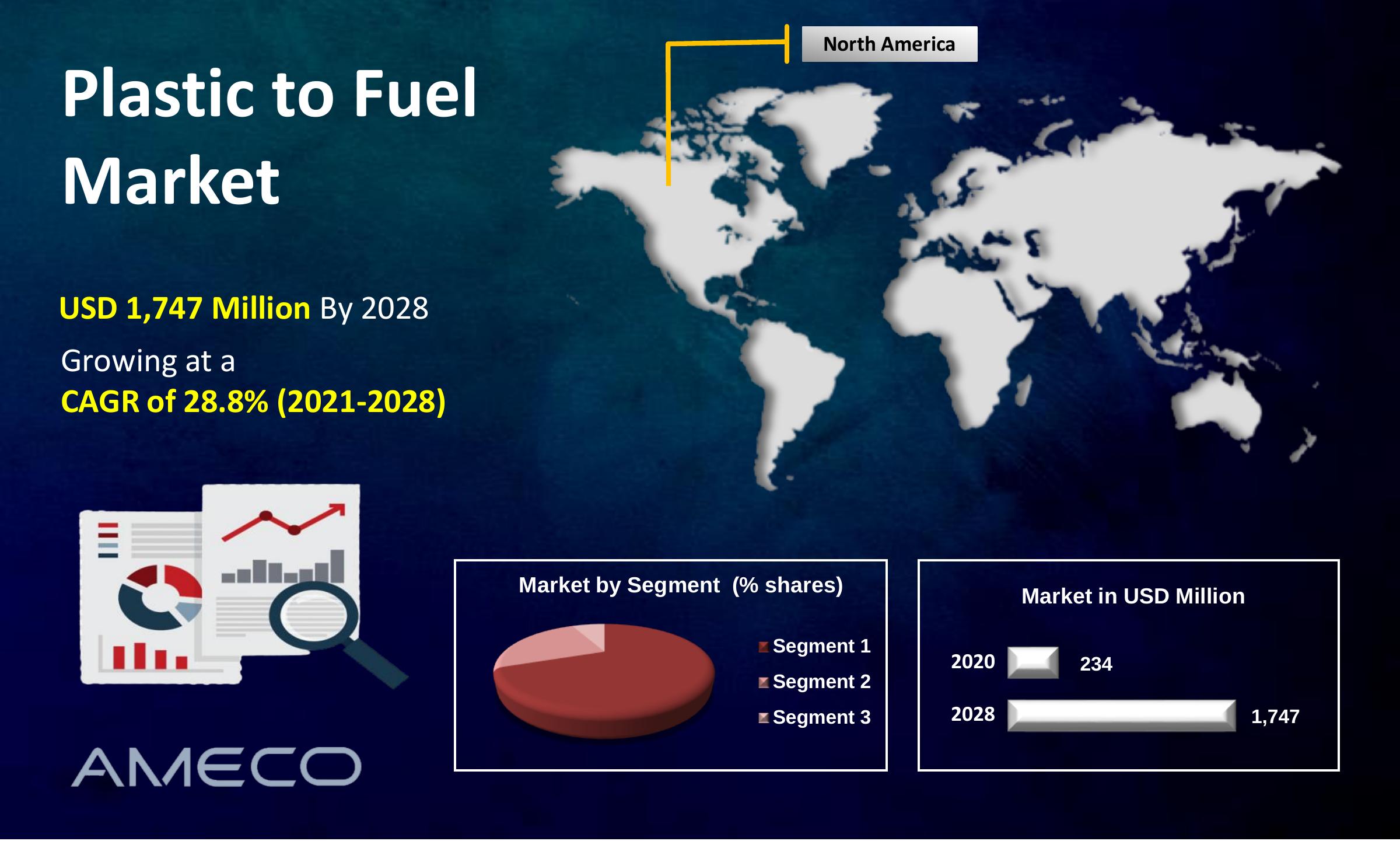 According to the World Bank, high-income countries generate approximately 34% (almost 683 million tonnes) of the world's waste but account for only 16% of the global population. Controlling big-scale waste producers, such as factories and large retailers, is a never-ending governance activity, but managing waste producers on a smaller scale, such as a household or an office, is more difficult. A modern office can generate a lot of waste these days, from plastic packaging to tiny and medium-sized electrical devices and equipment. Such debris is difficult to separate, making appropriate recycling challenging.For example,plastics-to-fuel technologies are expected to be particularly helpful in places where fuel prices are high and landfill options are limited, such as island nations.
| | |
| --- | --- |
| Parameter | Plastic to Fuel Market |
| Plastic to Fuel Market Size in 2020 | US$ 234 Million |
| Plastic to Fuel Market Forecast By 2028 | US$ 1,747 Million |
| Plastic to Fuel Market CAGR During 2021 - 2028 | 28.8% |
| Plastic to Fuel Market Analysis Period | 2017 - 2028 |
| Plastic to Fuel Market Base Year | 2020 |
| Plastic to Fuel Market Forecast Data | 2021 - 2028 |
| Segments Covered | By Technology, By End-Fuel, and By Region |
| Plastic to Fuel Market Regional Scope | North America, Europe, Asia Pacific, Latin America, and Middle East & Africa |
| Key Companies Profiled | Agilyx Corporation, Nexus Fuel, Klean Industries, Vadxx, POLCYL, Plastic2Oil, Inc., Green Envirotec Holdings LLC, CbS Technologies, RES Polyflow, and Neste |
| Report Coverage | Market Trends, Drivers, Restraints, Competitive Analysis, Player Profiling, Regulation Analysis |
Market Dynamics
Various factors that drive the global plastic to fuel market are increased demand for crude oil paired with natural resource depletion, and rising use of plastics coupled with the need to recycle plastics. In addition, the increasing requirement for alternative energy sources is fueling the expansion of the plastic to fuel market over the forecast period.
The rate of waste generation is increasing all across the world. In 2016, cities around the world generated 2.01 billion tonnes of solid garbage, or 0.74 kg per person each day. Annual waste creation is anticipated to increase by 70% from 2016 levels to 3.40 billion tonnes in 2050, owing to high population expansion and urbanization.
Residents of developing countries, particularly the urban poor, are more severely affected by unsustainable garbage management than those in rich countries. Over 90% of rubbish in low-income countries is disposed of in unregulated dumps or burned openly. These activities have major effects on people's health, safety, and the environment. Waste that is not properly handled acts as a breeding ground for disease vectors, contributes to global climate change by generating methane, and can even fuel urban violence.
Because of the severe environmental damage caused by high levels of plastic usage around the world, it is a matter for concern. Researchers are looking for alternative disposal solutions for the growing amount of plastic garbage due to insufficient recycling processes.
Global Plastic to Fuel Segment Analysis
The global plastic to fuel market is divided into three categories: Technology, End-fuel, and Geography. The technology segment is divided into pyrolysis, depolymerization, and gasification. End-fuel segment consists ofhydrogen, sulfur, crude oil, and others.
Market by Technology
· Pyrolysis
· Gasification
· Depolymerization
Pyrolysis is predicted to lead the market in terms of market share in 2020. A catalyst is used to put plastic waste through a pyrolysis process. The catalyst can be made up of various proportions of zeolite, clay, alumina, and silicates. Slow pyrolysis, quick pyrolysis, and flash pyrolysis are three types of pyrolytic reactions distinguished by the processing time and temperature of the biomass.
Market by End-Fuel
· Sulfur
· Crude Oil
· Hydrogen
· Others
In 2020, the crude oil segment accounted for the majority of the end-fuel market. Researchers at the Illinois Sustainable Technology Center have developed a recycling system that converts plastic trash into fuel in collaboration with the US Department of Agriculture. The team used high-density polyethylene bags obtained from local merchants. The plastic bags were fed into a pyrolysis unit, which resulted in the production of crude oil. The crude oil was then distilled to produce diesel and gasoline.
Plastic-to-Fuel Market Regional Overview
Europe has an edge over other regions owing to the presence of a large number ofplastics to fuel conversion facilities. To address the difficulties posed by plastics, particularly single-use plastics, a growing number of EU regulations and initiatives are already in place. In 2018, the European Commission published the world's first comprehensive Strategy on Plastics in a Circular Economy, outlining the EU's strategy to solving plastics' issues, which was followed by the Single-Use Plastics Directive in 2019.
North America commanded the second-largest shares in 2020. The United States government has many programs for collecting and sorting plastic debris throughout North America. However, the region's plastic recycling rate is alarmingly low (below 10 percent). As a result, the region has a lot of potential for plastic-to-fuel technology in the future.
Furthermore, the Asia-Pacific region is expected to attain the fastest growth rate during the forecast period 2021 – 2028. Plastic to fuel technologies has a lot of potential in the Asia-Pacific. Several countries in the Asia-Pacific are major manufacturers and illicit dumpers of plastic garbage. When it comes to inappropriate plastic trash management, China is the undisputed top. Tons of plastic garbage is also imported from other countries. Thus, the region is expanding rapidly with respect to CAGR.
Plastic-to-Fuel Market Competitive Landscape
This section of the report identifies the market's major players. Agilyx Corporation, Nexus Fuel, Klean Industries, Vadxx, POLCYL, Plastic2Oil, Inc., Green Envirotec Holdings LLC, CbS Technologies, RES Polyflow, and Neste are among the key companies mentioned in the research.
Plastic to Fuel Market Regional Overview
North America
· U.S.
· Canada
Europe
· U.K.
· Germany
· France
· Spain
· Rest of Europe
Latin America
· Brazil
· Mexico
· Rest of Latin America
Asia-Pacific
· China
· Japan
· India
· Australia
· South Korea
· Rest of Asia-Pacific
Middle East & Africa
· GCC
· South Africa
· Rest of Middle East & Africa