Polyisoprene Market Size - Global Industry Analysis, Market Size, Opportunities and Forecast 2021 - 2028
From 2021 to 2028, the Global Market for Polyisoprene is expected to grow at a CAGR of 4.5%, with a market value of US$ 2.5 Billion in 2020.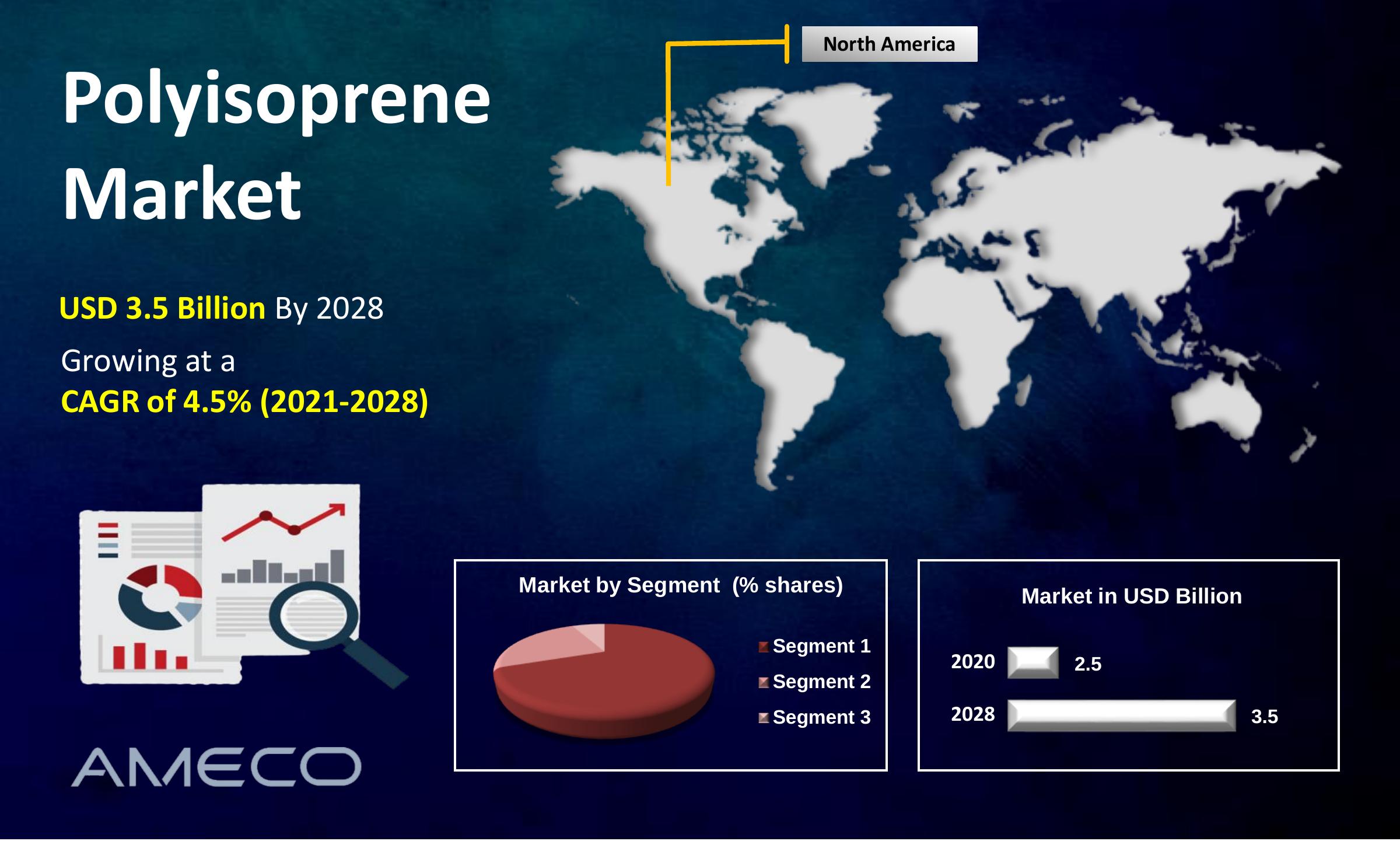 Polyisoprene is an isoprene (C5H8) polymer that is the main chemical component of natural rubber. Polyisoprene is known for its exceptional resilience, tear and abrasion resistance, elasticity, and flex fatigue resistance. Polyisoprene can be a supple, elastic polymer like isoprene rubber and natural rubber, or a tough, leathery resin-like natural and gutta-percha or synthetic balata, depending on its molecular composition. Polyisoprenes also have high tensile strength and can be used in temperatures as low as -65°F (-54°C). Synthetic polyisoprene is frequently the preferable choice in applications that need consistency and strong processability. Natural rubber contains naturally occurring contamination, and the molecular weight differs with the growth conditions of the rubber plant, whereas isoprene polymerization is carried out under tightly controlled conditions, resulting in very little variation in composition, structure, and resulting properties.
| | |
| --- | --- |
| Parameter | Polyisoprene Market |
| Polyisoprene Market Size in 2020 | US$ 2.5 Billion |
| Polyisoprene Market Forecast By 2028 | US$ 3.5 Billion |
| Polyisoprene Market CAGR During 2021 - 2028 | 4.5% |
| Polyisoprene Market Analysis Period | 2017 - 2028 |
| Polyisoprene Market Base Year | 2020 |
| Polyisoprene Market Forecast Data | 2021 - 2028 |
| Segments Covered | By Application, and By Region |
| Polyisoprene Market Regional Scope | North America, Europe, Asia Pacific, Latin America, and Middle East & Africa |
| Key Companies Profiled | The Goodyear Tire & Rubber Company, CHEMSPEC, LTD., ENEOS Corporation, KURARAY CO., LTD., PJSC Nizhnekamskneftekhim, and ZEON CORPORATION |
| Report Coverage | Market Trends, Drivers, Restraints, Competitive Analysis, Player Profiling, Regulation Analysis |
Market Dynamics
Increasing application of polyisoprene for the manufacturing of condoms is the primary reason for the development of the industry. Polyisoprene condoms are a safe sex choice for people who are allergic to latex. Many people believe that polyisoprene condoms have a feeling profile that is much closer to that of latex condoms. To put it another way, it's latex created in a lab rather than natural rubber latex, which comes from a tree. Gloves, condoms, and other latex items are created from natural latex gathered from trees. Latex rubber, which is used to produce these products, includes proteins that might cause allergic responses.
Southeast Asia produces the majority of the world's tree-based polyisoprene, and new production expansion necessitates land-use modification, which often involves converting natural and managed forests to rubber plantations. This devastates the local flora and fauna ecology, as well as habitat for numerous species. Rubber tree plantations have caused enormous deforestation in Southeast Asia in recent years. Expanding plantations by destroying native forests alters the soil microbiome, releasing GHGs such as CO2 and N2O from stored carbon and nitrogen. Petroleum-derived isoprene, on the other hand, has a significant detrimental impact on climate change. As a result, both plantation- and petroleum-sourced polyisoprene have severe environmental consequences.
Market Insights
Application and regions are the segmentations of the global polyisoprene market. Tires and related products, latex, footwear, non-automotive engineering, belts & hose, and others are the categorizations of applications. Polyisoprene elastomers are employed in a range of end-use applications that require high hot tensile strength, high gum tensile strength, minimal water swell, and strong tack. Tires are by far the most common end application for polyisoprene. Tires, engine mounts, shock absorber bushings, pipe gaskets, and a variety of other molded and mechanical products all use black-loaded polyisoprene. Rubber bands, infant bottle nipples, cut thread, and extruded hoses, among other things, contain gum polyisoprene compounds. Mineral filled polyisoprene can be found in sponges, footwear, and athletic products. Medical/health applications, as well as sealants and adhesives, are all key uses.
In addition, the surging demand for polyisoprene in the healthcare industry also expands the demand of the market. In many circumstances, polyisoprene (IR) might be the optimal elastomer for medical applications if it is designed and processed to satisfy specific needs. Polyisoprene is a synthetic form of natural rubber (NR) with many of the same physical qualities and features as NR, but without the allergens found in NR's proteins. Because of its remarkable durability, abrasion resistance, ability to reseal without coring and/or fragmentation, and inexpensive cost, polyisoprene is frequently employed in the healthcare business.
However, the volatility of raw material prices is one of the major constraints for market growth. Moreover, the rising footwear market and increasing production of tires are likely to attain a significant impetus thus creating numerous growth opportunities for the market in the coming years.
Polyisoprene Market Regional Overview
North America, Asia-Pacific, Latin America, Europe, and the Middle East & Africa are the segmentation of the global polyisoprene industry. In 2020, Asia-Pacific was the largest revenue-generating segment owing to the increased use of polyisoprene in healthcare, coatings, and the adhesive sector, as well as increased research and development activity in this area. Europe is currently holding a significant market share in the polyisoprene market. Russia has the largest synthetic polyisoprene market, accounting for more than a third of the total global consumption of the material. In addition, the presence of a well-established automotive sector in countries such as Germany and Italy is expected to drive the European market. Meanwhile, North America is predicted to be the fastest-growing area in terms of polyisoprene market growth, because of rising vehicle production and increasing research & development in the chemical industries.
Global Polyisoprene Segment Analysis
Market By Application
· Tires and Related Products
· Footwear
· Latex
· Belts & Hose
· Non-Automotive Engineering
· Others
Polyisoprene Market Competitive Landscape
This section of the report identifies the market's major players. The Goodyear Tire & Rubber Company, CHEMSPEC, LTD., ENEOS Corporation, KURARAY CO., LTD., PJSC Nizhnekamskneftekhim, and ZEON CORPORATION are the key companies mentioned in the research.
Polyisoprene Market Regions
North America
· U.S.
· Canada
Europe
· U.K.
· Germany
· France
· Spain
· Rest of Europe
Latin America
· Brazil
· Mexico
· Rest of Latin America
Asia-Pacific
· China
· Japan
· India
· Australia
· South Korea
· Rest of Asia-Pacific
Middle East & Africa
· GCC
· South Africa
· Rest of Middle East & Africa