Portable Medical Devices Market Growth Opportunities and Forecast till 2030
The Global Portable Medical Devices Market Size valued for USD 39,310 Million in 2021 and is anticipated to reach USD 80,611 Million by 2030 with a CAGR of 8.5% from 2022 to 2030.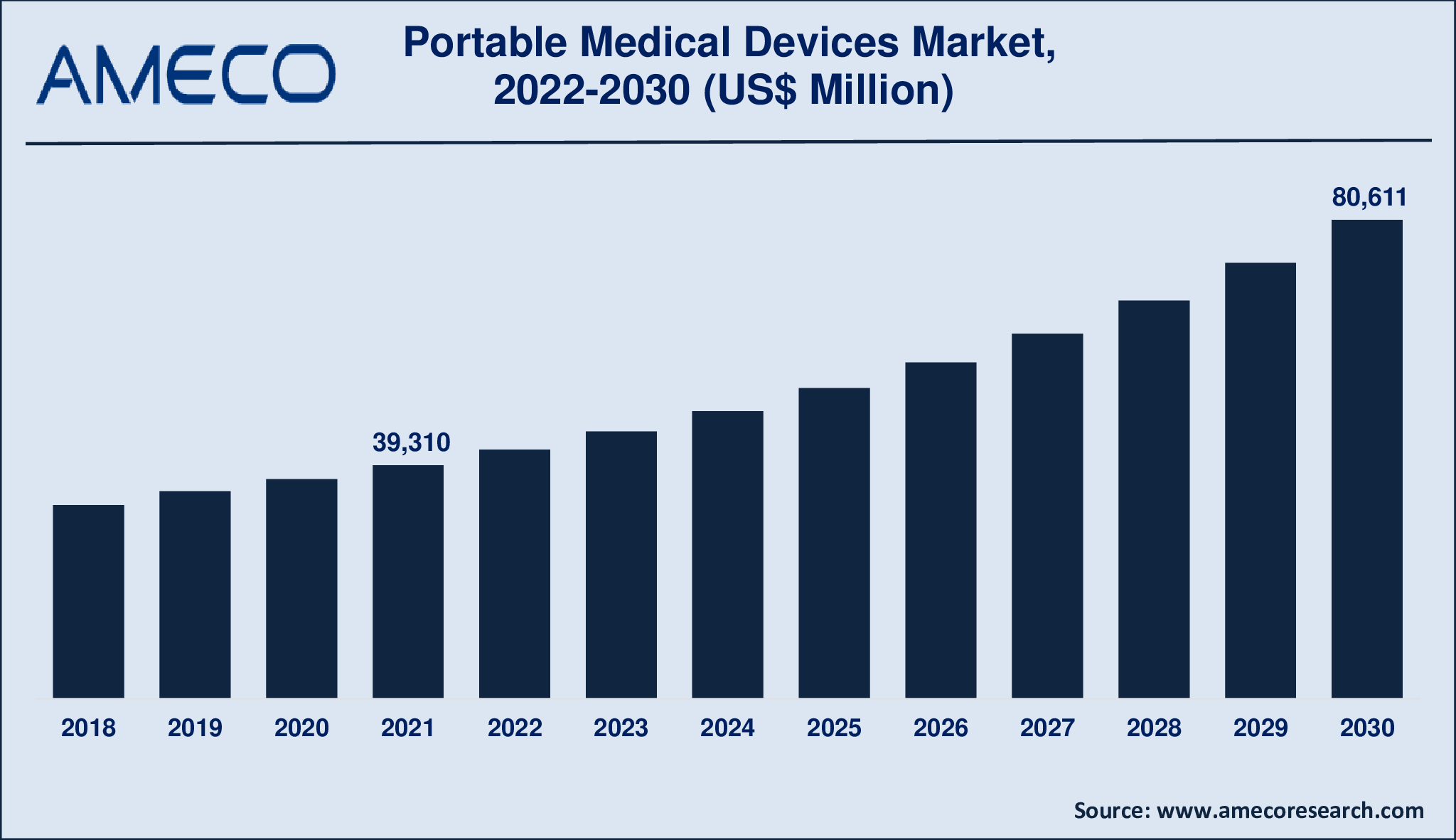 Portable medical devices continuously monitor and track a patient's physiological conditions. A healthcare professional can view the collected health data digitally on a smartphone app via a Bluetooth connection. Portable and wearable medical devices that are wirelessly connected are critical in enabling ambulatory care ambulatory care services. Security should be top design priority when creating portable medical devices because they collect, process, and transmit sensitive health information. With the help of outpatient ambulatory care services, governments around the world are lowering healthcare costs by boosting efficiency and patient accessibility. Multiple health disorders are on the rise as a result of our hectic and stressful lifestyle. People prefer to have easy access to monitoring and diagnostics equipment in the fast-paced world of today.
| | |
| --- | --- |
| Parameter | Portable Medical Devices Market |
| Portable Medical Devices Market Size in 2021 | US$ 39,310 Million |
| Portable Medical Devices Market Forecast By 2030 | US$ 80,611 Million |
| Portable Medical Devices Market CAGR During 2022 – 2030 | 8.5% |
| Portable Medical Devices Market Analysis Period | 2018 - 2030 |
| Portable Medical Devices Market Base Year | 2021 |
| Portable Medical Devices Market Forecast Data | 2022 - 2030 |
| Segments Covered | By Product, By Application, and By Region |
| Regional Scope | North America, Europe, Asia Pacific, Latin America, and Middle East & Africa |
| Key Companies Profiled | F. Hoffmann-La Roche Ltd., General Electric Company, Koninklijke Philips N.V, OMRON Corporation, Medtronic, Samsung, Stryker, Abbott, Siemens Healthcare GmbH, and Panasonic Corporation, and others. |
| Report Coverage | Market Trends, Drivers, Restraints, Competitive Analysis, Player Profiling, Regulation Analysis |
Market Dynamics
The key drivers of the market growth are the rise in health and fitness awareness and the introduction of new technologies like the Internet of Things (IoT), Big Data, and analytics in medical devices. Additionally, a hectic and stressful lifestyle has led to an increase in a number of health disorders, which is another factor supporting the market's expansion. The increasing need for ambulatory care necessitates remote monitoring of the physical body conditions on a constant basis. To enable precise and safe operation with long life and low cost, the enabling wireless devices and applications must have strong IoT device security, high energy-efficiency, and small form-factor. A perfect wireless solution is offered to manufacturers and device makers by Bluetooth Low Energy (BLE), which satisfies all the requirements.
People with non-communicable diseases will benefit from a greater use of these medical devices and wearables at home because they can better self-monitor their vitals. Additionally, big data analysis and artificial intelligence integration are being quickly adopted to enhance decision-making, performance, and monitoring capabilities. Therefore, it is anticipated that technological developments in newly released portable medical products will contribute significantly to market growth. A key factor in the branding of portable medical devices is the FDA's (US Food and Drug Administration) approval. Once the device has been shown to be decently effective and safe to use, the FDA grants clearance. Portable medical device and portable vital signs monitor producers seek FDA approval because it is crucial to the overall distribution of their products.
One of the most important design factors for medical devices is high accuracy. Designing highly accurate medical products is made possible by the analogue front-ends on our EFR32 Series 2 hardware, which include a 16-bit analogue to digital converter, a 12-bit digital to analogue converter, and precise on-chip voltage references. The sophisticated Series 2 design makes sure that the analogue blocks function as expected when using Bluetooth radio.
Market Insights
The global portable medical devices market is split on the product, application, and geography.
The product segment is further split into therapeutics, monitoring devices, respiratory monitoring, and other. Among them, monitoring devices sub-segment accounted for majority of the share. People with a tendency toward high or low blood pressure now routinely monitor their blood pressure. Smart technology is used by wireless BPMs, which attach to your upper arm and are very portable. They record and monitor your blood pressure.
A person can measure the levels of glucose in your blood on the go with smart, portable glucose monitoring systems. The smart component of these tiny gadgets is their ability to connect to smartphone so one can track their blood sugar levels whenever required and share them with a physician.
By Application, the segmentation includes gynecology, cardiology, gastrointestinal, urology, and others. Gynecology is expected to experience rapid market growth over the next few years, according to the forecast for the market for portable medical devices. Recent developments and the growing acceptance of mobile monitor and imaging technology are the main growth drivers.
Global Portable Medical Devices Market Geographical Competition
The North America, Europe, Latin America, Asia-Pacific, and the Middle East & Africa regions make up the five geographical segments of the global portable medical devices market. The United States and Canada make up the portable medical device market in North America. Latin America's portable medical devices are distributed in Brazil, Mexico, and the rest of the region.
Wheeled portable medical equipment from Western Europe The market is made up of the United Kingdom, Germany, Italy, France, the Nordic countries, and the rest of Western Europe. In the upcoming years, analysts predict that the Asia Pacific region will experience the fastest growth. The APAC region is anticipated to experience CAGR of more than 12% during the forecast period. The factors that have the greatest impact on the growth of the regional market for portable medical devices are advancements in treatment outcomes, healthcare infrastructure, and growing smart wearable adoption.
Global Portable Medical Devices Industry Segment Analysis
Market By Formulation
Monitoring Devices

Respiratory Monitoring

Therapeutics

Others
By Application
Urology

Gynecology

Gastrointestinal

Cardiology

Others
Portable Medical Devices Market Leading Companies
This section of the study honors the market's top vendors Abbott, F. Hoffmann-La Roche Ltd., General Electric Company, Koninklijke Philips N.V, Medtronic, OMRON Corporation, Panasonic Corporation, Samsung, Siemens Healthcare GmbH, and Stryker.
Portable Medical Devices Market Regions
North America
Europe
U.K.

Germany

France

Spain

Rest of Europe
Latin America
Brazil

Mexico

Rest of Latin America
Asia-Pacific
China

Japan

India

Australia

South Korea

Rest of Asia-Pacific
Middle East & Africa
GCC

South Africa

Rest of Middle East & Africa