Pouches Market Growth Opportunities and Forecast till 2032
The Global Pouches Market Size was valued at USD 46.3 Billion in 2022 and is anticipated to reach USD 83.7 Billion by 2032 with a CAGR of 6.2% from 2023 to 2032.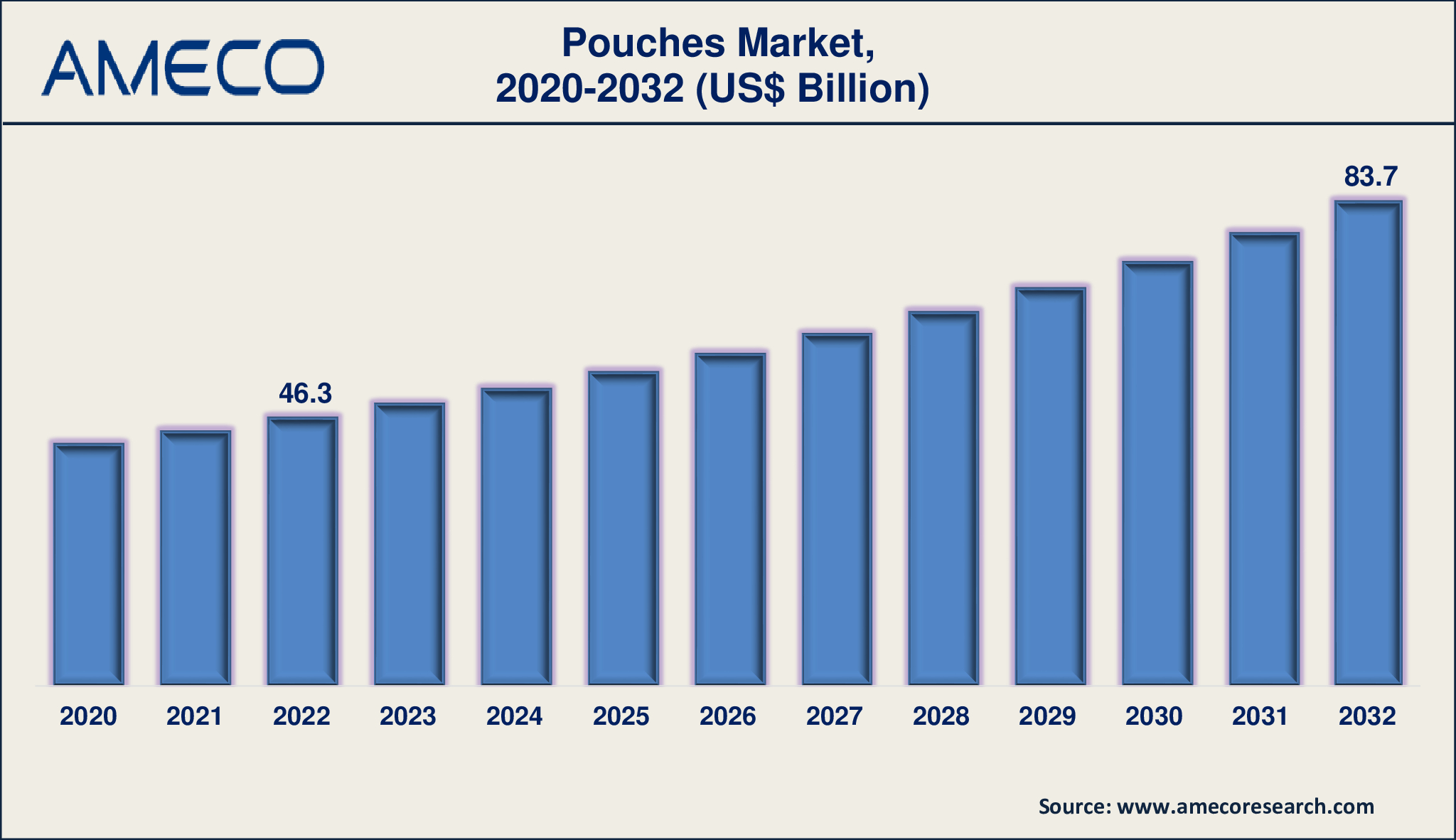 Pouches are small, flexible containers designed for the purpose of holding and organizing various items. These versatile storage solutions come in a wide range of shapes, sizes, and materials to suit different needs. Pouches are typically made from materials like fabric, plastic, leather, or even paper, depending on their intended use. They often feature a secure closure mechanism, such as zippers, buttons, or drawstrings, to keep the contents protected and easily accessible.
Pouches find application in a multitude of contexts. For instance, in everyday life, people use them to store and carry personal items such as cosmetics, toiletries, keys, and electronic accessories. They're also common in outdoor activities, where they serve as compact and portable containers for essentials like first-aid supplies or camping tools. Moreover, pouches have a significant presence in various industries, including healthcare, where they store medical instruments, and in the culinary world, where they keep spices and culinary tools organized.
Parameter

Pouches Market

Pouches Market Size in 2022

US$ 46.3 Billion

Pouches Market Forecast By 2032

US$ 83.7 Billion

Pouches Market CAGR During 2023 – 2032

6.2%

Pouches Market Analysis Period

2020 - 2032

Pouches Market Base Year

2022

Pouches Market Forecast Data

2023 - 2032

Segments Covered

By Type, By Treatment, By Material, By Application, and By Region

Pouches Market Regional Scope

North America, Europe, Asia Pacific, Latin America, and Middle East & Africa

Key Companies Profiled

Amcor Limited, Sonoco Products Company, Sealed Air Corporation, Constantia Flexibles, Printpack, Huhtamaki Group, ProAmpac, Mondi Group

Glenroy, Inc., Gualapack, Scholle IPN, and Berry Global, Inc. (formerly Bemis Company, Inc.).

Report Coverage

Market Trends, Drivers, Restraints, Competitive Analysis, Player Profiling, Regulation Analysis
Pouches Market Dynamics
In recent years, the pouches industry has seen dynamic adjustments and growing patterns, driven by a combination of customer preferences, technology improvements, and sustainability concerns. The shifting consumer lifestyle is a significant aspect impacting market dynamics. Pouches have grown in popularity as consumers seek convenience and on-the-go solutions due to their mobility and ease of usage. This trend has resulted in an increase in demand for flexible pouch packaging in a variety of industries, including food, beverage, and personal care.
Furthermore, the sector has seen tremendous material and design innovation. To preserve product freshness and safety, manufacturers are constantly inventing pouches with improved barrier qualities. This is especially important in the food business, where pouches are used to package anything from snacks to infant food. As sustainability becomes more important, there is an increasing preference for eco-friendly materials and recyclable pouches. Responding to customer and regulatory constraints, companies are investing in research and development to create packaging that is both useful and ecologically friendly.
Leading market companies have been working hard to retain their market dominance and remain at the forefront of innovation. Consolidation has been noticeable throughout the business, with acquisitions and mergers allowing corporations to extend their capabilities and worldwide reach. Furthermore, regional dynamics are important, with various regions having variable rates of growth. As their economies expand and consumer habits shift, emerging nations, in particular, have seen an increase in demand for pouches.
Government restrictions and sustainability objectives have also influenced market dynamics. Increased awareness of the environmental impact of plastic trash has resulted in policies and programs targeted at minimizing single-use plastic packaging. As a result, businesses have had to react by investigating alternate materials and manufacturing pouches that meet these environmental goals. This transition has created both obstacles and opportunities for organizations that can adapt to shifting legislation and customer preferences.
In conclusion, the pouches market is characterized by a combination of variables such as changing consumer lifestyles, material innovation, sustainability considerations, and regional dynamics. To stay competitive and satisfy the expectations of an ever-changing marketplace, market participants must remain nimble and sensitive to these altering dynamics.
Pouches Market Segmentation
The pouches market is segmented by type, treatment, material, application, and geography. The type category is further subdivided into stand-up pouches, flat pouches, and roll stock. Plastic, paper, metal, and bioplastics are the categorization of material. Aseptic, standard, retort, and hot-filled are the treatment types. Based on application, the market is split into food, beverage, medical & pharmaceuticals, cosmetic & personal care, and others. The region sector includes North America, Asia-Pacific, Europe, Latin America, the Middle East, and Africa.
Global Pouches Market Geographical Competition
The worldwide pouches market has different geographical differences that are impacted by a variety of variables including economic growth, consumer behavior, regulatory frameworks, and cultural subtleties. The pouches market in North America, notably in the United States and Canada, is mature, with a heavy emphasis on convenience and sustainability. Pouches are widely used in the food and beverage sector for goods like as infant meals and snacks. The area also enforces severe food safety and labeling rules, which have a direct influence on the design and materials used in pouch packing. Concerns about sustainability, particularly recyclability, have a considerable impact on consumer and producer decision-making.
Pouch markets are well-established in Europe, with nations like as Germany, France, and the United Kingdom leading the way. Stand-up pouches are becoming increasingly common, notably in the food and beverage industries. The notion of sustainability dominates here, leading to increasing use of recyclable materials. Environmental restrictions and waste reduction objectives have a significant impact on pouch design and material selection, defining the industry in this area.
The Asia-Pacific region, encompassing countries like China and India, represents a burgeoning pouches market due to rising disposable incomes and shifting lifestyles. Pouches are commonly used for products like as snacks and dairy items, particularly in the food and beverage sector. Local preferences and cultural variables influence bag design and graphic choices. Furthermore, sustainability is gaining traction as the need of decreasing plastic waste and adopting eco-friendly products develops.
Global Pouches Industry Segment Analysis
Market By Type
· Stand-up Pouches
· Flat Pouches
· Roll Stock
· Hot-filled
Market By Treatment
· Aseptic
· Standard
· Retort
· Hot-Filled
Market By Material
· Plastic
· Paper
· Metal
· Bioplastic
Market By Application
· Food
· Beverage
· Medical & Pharmaceuticals
· Cosmetic & Personal care
· Others
Pouches Market Leading Companies
The players profiled in the report are Amcor Limited, Sonoco Products Company, Sealed Air Corporation, Constantia Flexibles, Printpack, Huhtamaki Group, ProAmpac, Mondi Group, Glenroy, Inc., Gualapack, Scholle IPN, and Berry Global, Inc.
Pouches Market Regions
North America
· U.S.
· Canada
Europe
· U.K.
· Germany
· France
· Spain
· Rest of Europe
Latin America
· Brazil
· Mexico
· Rest of Latin America
Asia-Pacific
· China
· Japan
· India
· Australia
· South Korea
· Rest of Asia-Pacific
Middle East & Africa
· GCC
· South Africa
· Rest of Middle East & Africa