Remodeling Market Growth Opportunities and Forecast till 2030
Category by-
ICT and Media
, No. of Pages - 250, Published By - Ameco Research
The Global Remodeling Market Size valued for USD 4,754 Billion in 2021 and is anticipated to reach USD 6,832 Billion by 2030 with a CAGR of 4.2% from 2022 to 2030.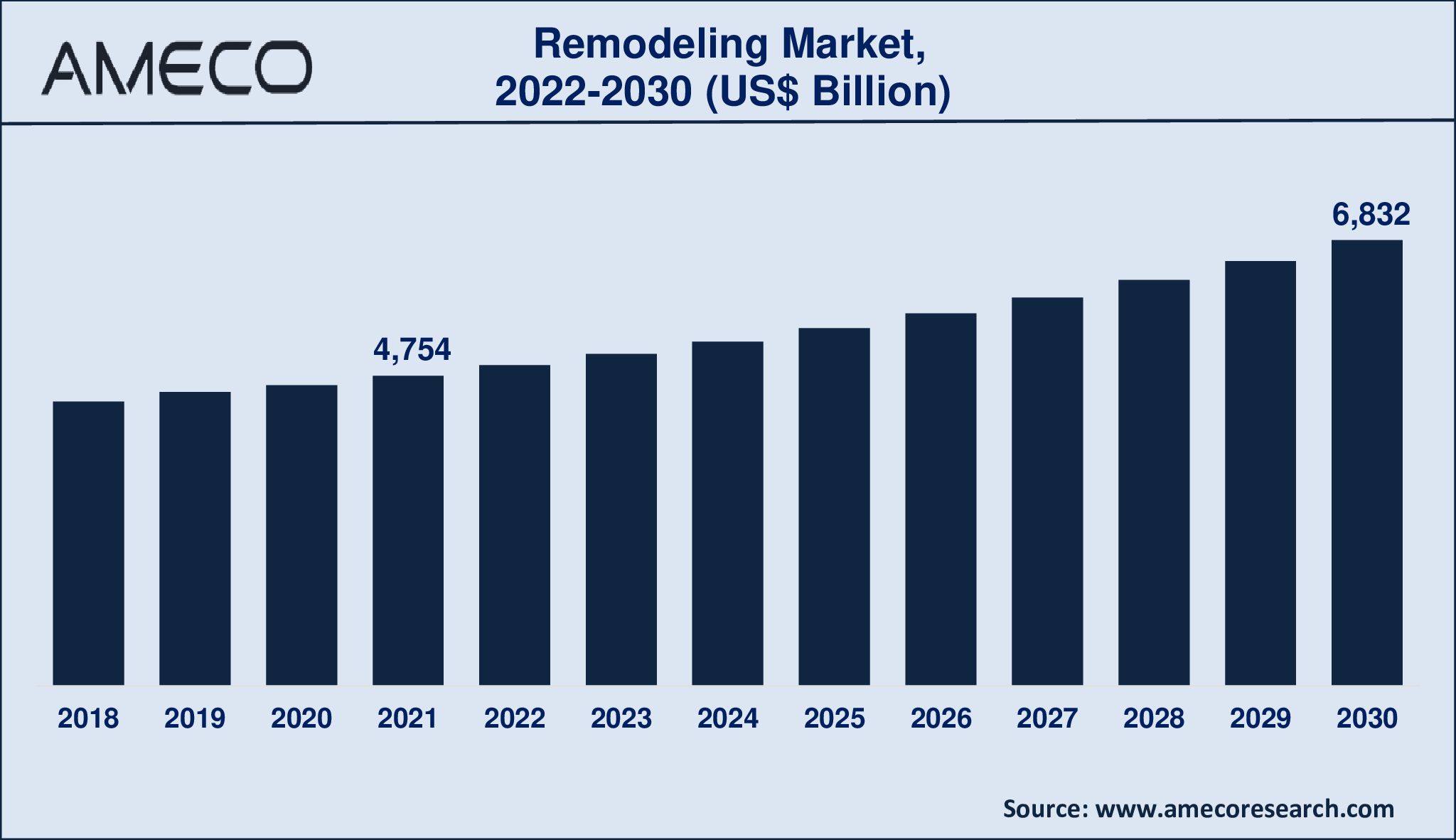 Remodeling is the process of altering the entire building's original design. An area's design may occasionally be completely abandoned or combined with those of other areas. Changes to the home's structure or layout are included in the transformation of a whole structure's essence. A remodeling project might involve combining two rooms into one, adding a kitchen island, knocking down walls, or raising ceilings, among other things. It might entail increasing the building's square footage or adding plumbing, heating, or cooling ducts. These are bigger projects and may call for more workers and contractors. They frequently entail altering how space is used and call for permits.
| | |
| --- | --- |
| Parameter | Remodeling Market |
| Remodeling Market Size in 2021 | US$ 4,754 Billion |
| Remodeling Market Forecast By 2030 | US$ 6,832 Billion |
| Remodeling Market CAGR During 2022 – 2030 | 4.2% |
| Remodeling Market Analysis Period | 2018 - 2030 |
| Remodeling Market Base Year | 2021 |
| Remodeling Market Forecast Data | 2022 - 2030 |
| Segments Covered | By Type, By End-Use, and By Region |
| Remodeling Market Regional Scope | North America, Europe, Asia Pacific, Latin America, and Middle East & Africa |
| Key Companies Profiled | American Exteriors , Andersen Corporation, Builders FirstSourc, Case Design/Remodeling, Dow Building Types, Dreamstyle Remodeling, Harvey Building Products, Henkel Construction, Kohler, Lutron Electronics, Masco Corporation, Neil Kelly Company, and others. |
| Report Coverage | Market Trends, Drivers, Restraints, Competitive Analysis, Player Profiling, Regulation Analysis |
Remodeling Market Dynamics
Renovation procedures at the office or larger workplace are essentially the same as those at home. In this way, high-performance products are needed in places like factories while floor coverings, wall paints, and installation processes are done in the office area.
In factory areas, high-performance flooring materials, high-chemical-resistance coatings, anti-dust chemicals, and materials resistant to heavy loads are required. These materials ought to be strong, durable, high-performing, and resistant to the effects of the elements.
Despite the growing demand from consumers for remodeling, a shortage of skilled labor could hurt the growth of the remodeling industry. The decreasing number of remodeling projects is being caused by the difficulty customers are having finding skilled labor at reasonable prices. Approximately 7,000 people enter the field of electrical work each year, but 10,000 people leave it, according to the National Electrical Contractors Association. Rising costs for acquiring raw materials are also creating new difficulties for the industry.
Remodeling Market Insights
The remodeling market is mainly divided into type, end-use, and geographic segments. The type category is divided into DIY and DIFM. By end-use, the segment is divided into residential (exterior addition and alterations, interior addition & alterations, and others (system & equipment, disaster repair, property improvement) and commercial (retail space renovation, office space renovation, hotel remodeling, snow removal, and restaurant renovation & remodeling). Among them, the segment for remodeling office space will have a 3.8% CAGR during the assessment period. Industrial company's priorities office space renovation for advantages like improved office ambiance and increased employee satisfaction, which further supports the expansion of the remodeling market. Furthermore, the region segment is categorized into North America, Latin America, Europe, Asia-Pacific, and the Middle East & Africa.
Global Remodeling Market Geographical Competition
The Asia-Pacific remodeling market is anticipated to grow at a 5% annual rate between 2022 and 2030. The region's rising property prices have caused a rise in small living spaces, which has increased the demand for low-cost, multipurpose renovations. Additionally, as the region's tourism industry continues to grow, it has influenced the building of tourist lodgings, positively affecting renovation market statistics. Additionally promoting regional growth are the rising use of foreign brands and the demand for imported services.
Global Remodeling Industry Segment Analysis
Market By Type
· DIFM
· DIY
Market By End-Use
· Commercial
o Exterior Addition And Alterations
o Interior Addition & Alterations
o Others (Disaster Repair, System & Equipment, Property Improvement)
· Residential
o Retail Space Renovation
o Office Space Renovation
o Hotel Remodeling
o Restaurant Renovation & Remodeling
o Snow Removal
Remodeling Market Leading Companies
The players profiled in the report are Andersen Corporation, American Exteriors, Case Design/Remodeling, Builders FirstSourc, Dow Building Types, Dreamstyle Remodeling, Henkel Construction, Harvey Building Products, Kohler, Lutron Electronics, Neil Kelly Company, Masco Corporation, and others.
Remodeling Market Regions
North America
· U.S.
· Canada
Europe
· U.K.
· Germany
· France
· Spain
· Rest of Europe
Latin America
· Brazil
· Mexico
· Rest of Latin America
Asia-Pacific
· China
· Japan
· India
· Australia
· South Korea
· Rest of Asia-Pacific
Middle East & Africa
· GCC
· South Africa
· Rest of Middle East & Africa