Sepsis Diagnostics Market Growth Opportunities and Forecast till 2030
The Global Sepsis Diagnostics Market Size valued for USD 497 Million in 2021 and is anticipated to reach USD 1,047 Million by 2030 with a CAGR of 8.8% from 2022 to 2030.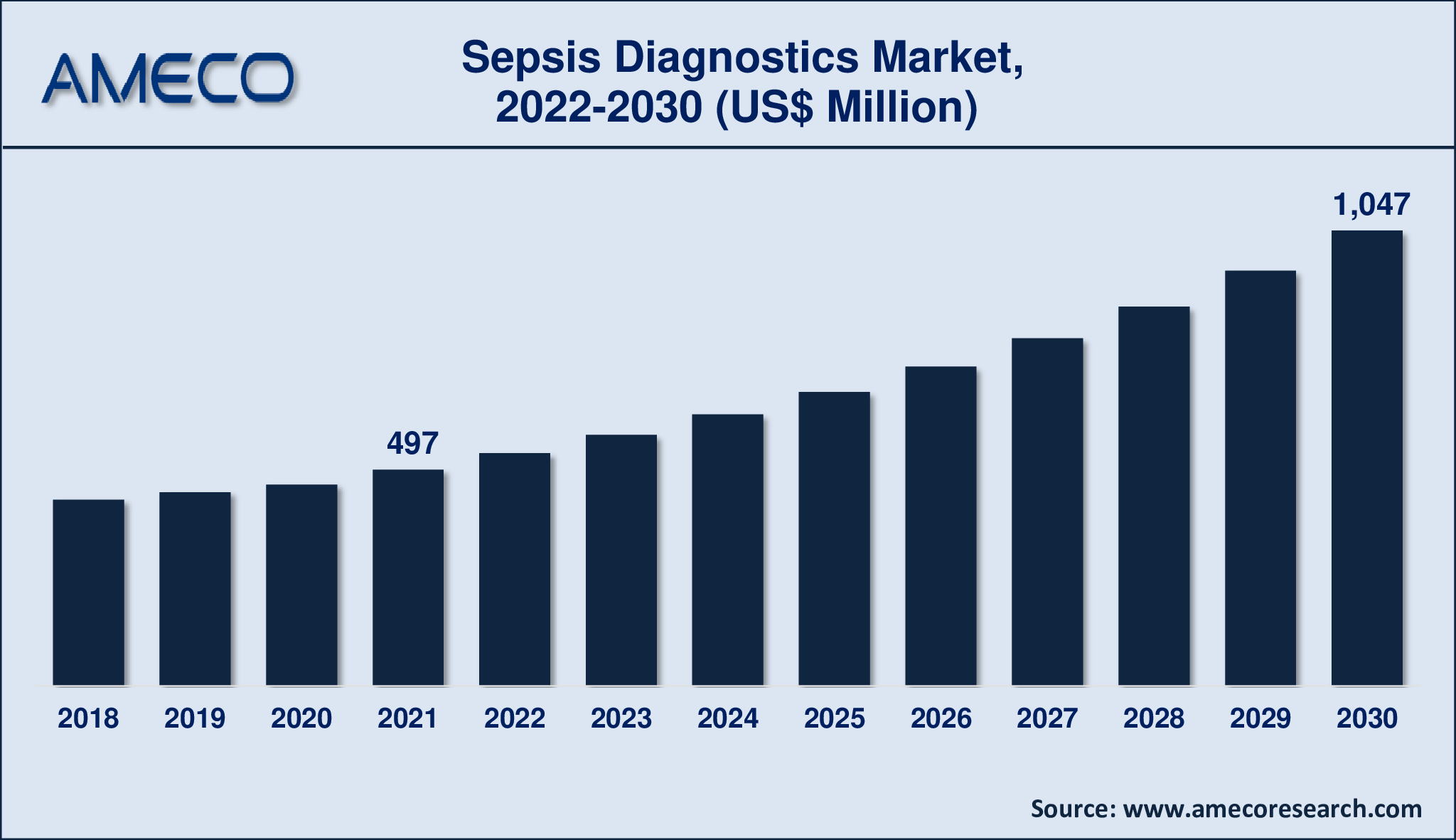 Sepsis is a catastrophic medical disorder brought on by a strong immune reaction to an infection in the body. Sepsis diagnostics is the Product of locating and diagnosing sepsis. If sepsis is not treated, it can result in organ failure, septic shock, and eventually death.
Sepsis can be difficult to diagnose since its symptoms are frequently vague and can overlap with those of other illnesses. To effectively identify sepsis, Laboratory Testing practitioners rely on a variety of diagnostic tests and technologies.
Typically, a mix of clinical assessment, laboratory tests, and imaging studies are used in the diagnostic Product for sepsis. An evaluation of the patient's vital signs, including blood pressure, heart rate, and respiration rate, as well as their medical history and physical are all included in clinical evaluation. Since they may be used to determine the presence of an infection, the etiologic bacterium, and the severity of the infection, laboratory tests are essential for correctly diagnosing sepsis.
| | |
| --- | --- |
| Parameter | Sepsis Diagnostics Market |
| Sepsis Diagnostics Market Size in 2021 | US$ 497 Million |
| Sepsis Diagnostics Market Forecast By 2030 | US$ 1,047 Million |
| Sepsis Diagnostics Market CAGR During 2022 – 2030 | 8.8% |
| Sepsis Diagnostics Market Analysis Period | 2018 - 2030 |
| Sepsis Diagnostics Market Base Year | 2021 |
| Sepsis Diagnostics Market Forecast Data | 2022 - 2030 |
| Segments Covered | By Technology, By Product, By Usability, By Pathogen, and By Region |
| Sepsis Diagnostics Market Regional Scope | North America, Europe, Asia Pacific, Latin America, and Middle East & Africa |
| Key Companies Profiled | Roche Diagnostics, Becton Dickinson Company, bioMérieux, Danaher, Bruker, Abbott Laboratories, T2 Biosystems, Luminex, Thermo Fisher Scientific, EKF Diagnostics, Response Biomedica, Immunexpress, Axis-Shield Diagnostics, CytoSorbents. |
| Report Coverage | Market Trends, Drivers, Restraints, Competitive Analysis, Player Profiling, Regulation Analysis |
Sepsis Diagnostics Market Dynamics
Sepsis is a common and potentially life-threatening condition that affects millions of people worldwide. According to the World Health According to the organization, sepsis is thought to be the cause of 11 million fatalities annually. The market for sepsis diagnostics is significantly influenced by the increased incidence of sepsis since more people need diagnostic tests to detect and treat the condition. The diagnosis and management of sepsis have been completely transformed by the advent of new and sophisticated diagnostic tools, including as molecular diagnostics, point-of-care testing, and biomarkers. The quicker and more precise results provided by these technologies can aid medical practitioners in diagnosing and treating sepsis more successfully.
The significance of sepsis early detection and treatment is becoming more and clearer to Laboratory Testing practitioners. Because of this knowledge, sepsis care procedures and standards have been created, emphasizing the urgency of the condition's detection and treatment. Rapid diagnostic tests that may be employed in emergency situations and in places with few resources, such developing nations, are becoming more and more in demand. Quick treatment decisions and better patient outcomes are made possible by point-of-care testing and other rapid diagnostic procedures, which can produce results in only a few minutes.
Sepsis is still underdiagnosed and undertreated in many parts of the world despite rising awareness. This is frequently brought on by a lack of knowledge among Laboratory Testing experts and a dearth of qualified Laboratory Testing personnel in some areas. The cost of many of the sophisticated diagnostic procedures needed to identify sepsis, including molecular diagnostics and biomarkers, can be high. In low-resource areas, this high cost may restrict patients' and Laboratory Testing professionals' access to these tests. Strict regulatory requirements must be met before novel sepsis diagnostic tests may be developed and commercialized in many nations. This may restrict the creation and accessibility of new diagnostic technologies because it can be a time-consuming and expensive procedure.
Global Laboratory Testing spending is rising as a result of variables like population growth, age, and the rise in chronic illness prevalence. As more money is allocated to the diagnosis and treatment of sepsis, this increasing investment is anticipated to fuel market growth for sepsis diagnostics. Governments all over the world are putting plans into action to enhance sepsis diagnosis and care. The Centers for Medicare and Medicaid Services (CMS), for instance, have established sepsis performance measures that encourage medical professionals to enhance sepsis diagnosis and care. By raising the demand for diagnostic services and tests, these measures are anticipated to propel the sepsis diagnostics market's expansion.
Sepsis Diagnostics Market Insight
The sepsis diagnostics market is divided into technology, product, usability, pathogen, and geographic markets. Technology segment is further sub-segmented into microbiology, molecular diagnostics, immunoassays, and flow cytometry. The market segments based on Product are blood culture media, instruments, and assays & reagents. On the basis of usability, the segmentation includes laboratory testing, and point-of-care testing. Based on pathogen, the segmentation includes bacterial sepsis, gram-negative bacterial sepsis, gram-positive bacterial sepsis, fungal sepsis, and others. North America, Asia-Pacific, Europe, Latin America, and the Middle East and Africa comprise the region sector.
Global Sepsis Diagnostics Market Geographical Competition
Given the high frequency of sepsis in the region, rising healthcare spending, and encouraging government initiatives, North America is anticipated to account for a sizeable portion of the sepsis diagnostics market. Major firms' presence in the area is also anticipated to fuel market expansion.
Due to the high prevalence of sepsis and rising knowledge and acceptance of cutting-edge diagnostic technologies, Europe is anticipated to be a significant market for sepsis diagnostics. Additionally, the area has a strong healthcare infrastructure and helpful government programmes.
Due to the increased prevalence of sepsis, rising healthcare spending, and an increase in the number of diagnostic laboratories and hospitals, the sepsis diagnostics market is anticipated to experience considerable expansion in the Asia-Pacific region. Additionally, the area has a sizable population, which can increase demand for diagnostic tests.
Global Sepsis Diagnostics Industry Segment Analysis
Market By Technology
· Microbiology
· Molecular Diagnostics
· Immunoassays
· Flow Cytometry
Market By Product
· Blood Culture Media
· Instruments
· Assays & Reagents
Market By Usability
· Laboratory Testing
· Point-of-care Testing
Market By Pathogen
· Bacterial Sepsis
· Gram-negative Bacterial Sepsis
· Gram-positive Bacterial Sepsis
· Fungal Sepsis
· Others
Sepsis Diagnostics Market Leading Companies
The players profiled in the report are Abbott Laboratories, Axis-Shield Diagnostics, Becton Dickinson Company, bioMérieux, Bruker, CytoSorbents, Danaher, EKF Diagnostics, Luminex, T2 Biosystems, Thermo Fisher Scientific, Response Biomedica, Immunexpress, and Roche Diagnostics.
Sepsis Diagnostics Market Regions
North America
· U.S.
· Canada
Europe
· U.K.
· Germany
· France
· Spain
· Rest of Europe
Latin America
· Brazil
· Mexico
· Rest of Latin America
Asia-Pacific
· China
· Japan
· India
· Australia
· South Korea
· Rest of Asia-Pacific
Middle East & Africa
· GCC
· South Africa
· Rest of Middle East & Africa