Server Market - Size, Industry Trends, Competitive Landscape, and Opportunities and Forecast 2022 - 2030
Category by-
ICT and Media
, No. of Pages - 250, Published By - Ameco Research
The Global Server Market Size accounted for USD 98 Billion in 2021 and is anticipated to reach USD 226 Billion by 2030 with a CAGR of 9.8% from 2022 to 2030.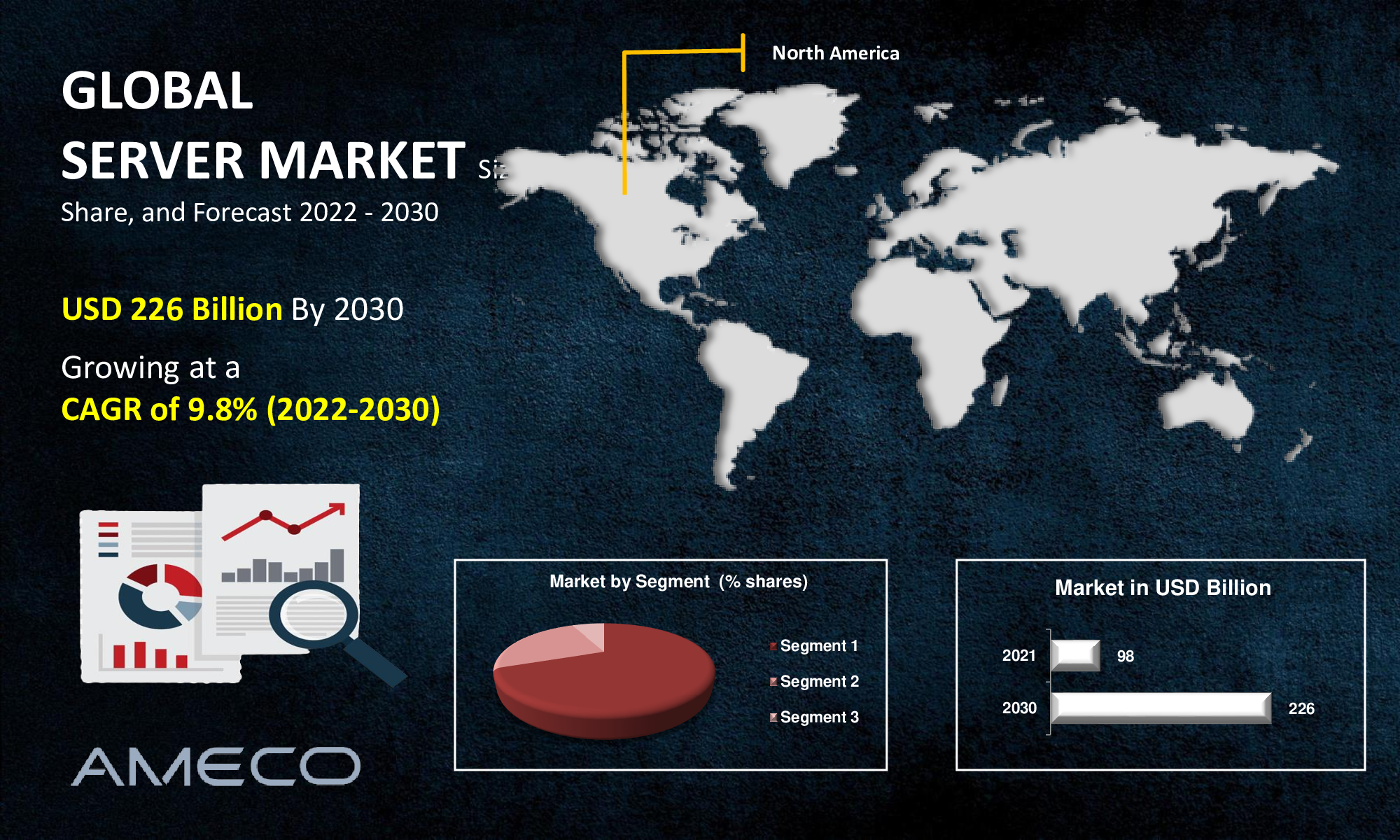 Servers are powerful computers are designed to process, store, and manage network data, devices, and systems. Through the provision of sufficient resources for network devices and systems, servers act as the driving force behind organizations. Servers provide crucial scalability, efficiency, and business continuity capabilities for businesses. Compared to 20 years ago, personal computers like laptops and workstations have a tonne of capabilities for users, but the fault tolerance, advanced load balancing, and scalability of today's physical, virtual, and cloud servers make it possible to manage contemporary business networks. Most servers are never turned off because they are frequently used to deliver services that are constantly needed. As a result, when servers malfunction, they can be very problematic for both the company and the network users. In order to address these problems, servers are frequently configured to be fault tolerant.
| | |
| --- | --- |
| Parameter | Server Market |
| Server Market Size in 2021 | US$ 98 Billion |
| Server Market Forecast By 2030 | US$ 226 Billion |
| Server Market CAGR During 2022 – 2030 | 9.8% |
| Server Market Analysis Period | 2018 - 2030 |
| Server Market Base Year | 2021 |
| Server Market Forecast Data | 2022 - 2030 |
| Segments Covered | By Product, By Enterprise Size, By Industry Vertical, and By Region |
| Regional Scope | North America, Europe, Asia Pacific, Latin America, and Middle East & Africa |
| Key Companies Profiled | Dell, Fujitsu, Hewlett Packard Enterprise, Huawei Technologies Co. Ltd., IBM, Inspur Technologies Co. Ltd., and Lenovo. |
| Report Coverage | Market Trends, Drivers, Restraints, Competitive Analysis, Player Profiling, Regulation Analysis |
Market Dynamics
The growing number of new data centers throughout the world is the primary factor boosting the global server market growth. The primary driver of the market's expansion is the exponential growth of data. As a result, there is a growing global need for social, mobile, analytics, and cloud services, which is driving up demand for these centers. More businesses are using outside providers with expertise in running data centers to handle their data operations. Because they offer physical space, power, and cooling systems for servers as well as connections to local communication networks, colocation data centers are particularly well-liked.
Growing data from social media sites and applications fuels the server industry. Globally, there are 4.48 billion users of social media in 2021, up from 3.69 billion in 2020, a 13.13 percent increase year over year. Rapidly increasing cloud service providers is also expected to boost the industry demand. The majority of email sender and receiver data is not physically stored on computers. Actually, it is kept on the computers of the organization that gave you the email address. Data for Gmail, for instance, is kept on Google's servers, while data for Hotmail is kept on Microsoft's servers.
Market Insights
The three categories of the global server market are product, enterprise size, industry vertical, and region. The segmentation based on the product includes tower, blade, micro, rack, and open compute project (OCP). Based on enterprise size, the market is categorized into large, medium, small, and micro. Large businesses held the largest revenue share in 2021, and it is anticipated that they will continue to dominate the market from 2022 to 2030. Furthermore, the segmentation of the industry includes the following industry vertical segments: IT & telecom, BFSI, government & defense, healthcare, energy, and others. The IT & telecom segment acquired the largest global server market in 2021 and is expected to continue to do so throughout the estimated period, according to industry vertical.
Global Server Market Geographical Competition
The North America, Europe, Latin America, Asian-Pacific, and the Middle Easter & Africa regions make up the five geographical segments of the global server market. North America is now the world's largest hosting market, with a large number of dedicated servers spread throughout the continent thanks to the presence of several data centre and cloud service providers in the area. On the other hand, Asia-Pacific is anticipated to experience the fastest growth rate over the next few years. Due to the widespread use of social media platforms, mobile wallets, and web services, it is anticipated that developing countries will increase their investment in IT infrastructure, data centers will expand internationally as a result of numerous smart city development projects, and data storage needs will soar.
Global Server Industry Segment Analysis
Market By Product
· Blade
· Micro
· Open Compute Project (OCP)
· Rack
· Tower
Market By Enterprise Size
· Large
· Medium
· Micro
· Small
Market By Industry Vertical
· BFSI
· Energy
· Government & Defense
· Healthcare
· IT & Telecom
· Others
Server Market Leading Companies
This section of the study honors the market's top vendors Dell, Fujitsu, Hewlett Packard Enterprise, Huawei Technologies Co. Ltd., IBM, Inspur Technologies Co. Ltd., and Lenovo.
Server Market Regions
North America
· U.S.
· Canada
Europe
· U.K.
· Germany
· France
· Spain
· Rest of Europe
Latin America
· Brazil
· Mexico
· Rest of Latin America
Asia-Pacific
· China
· Japan
· India
· Australia
· South Korea
· Rest of Asia-Pacific
Middle East & Africa
· GCC
· South Africa
· Rest of Middle East & Africa