Simulator Market Growth Opportunities and Forecast till 2030
Category by-
ICT and Media
, No. of Pages - 250, Published By - Ameco Research
The Global Simulator Market Size valued for USD 23.7 Billion in 2021 and is anticipated to reach USD 38.9 Billion by 2030 with a CAGR of 5.8% from 2022 to 2030.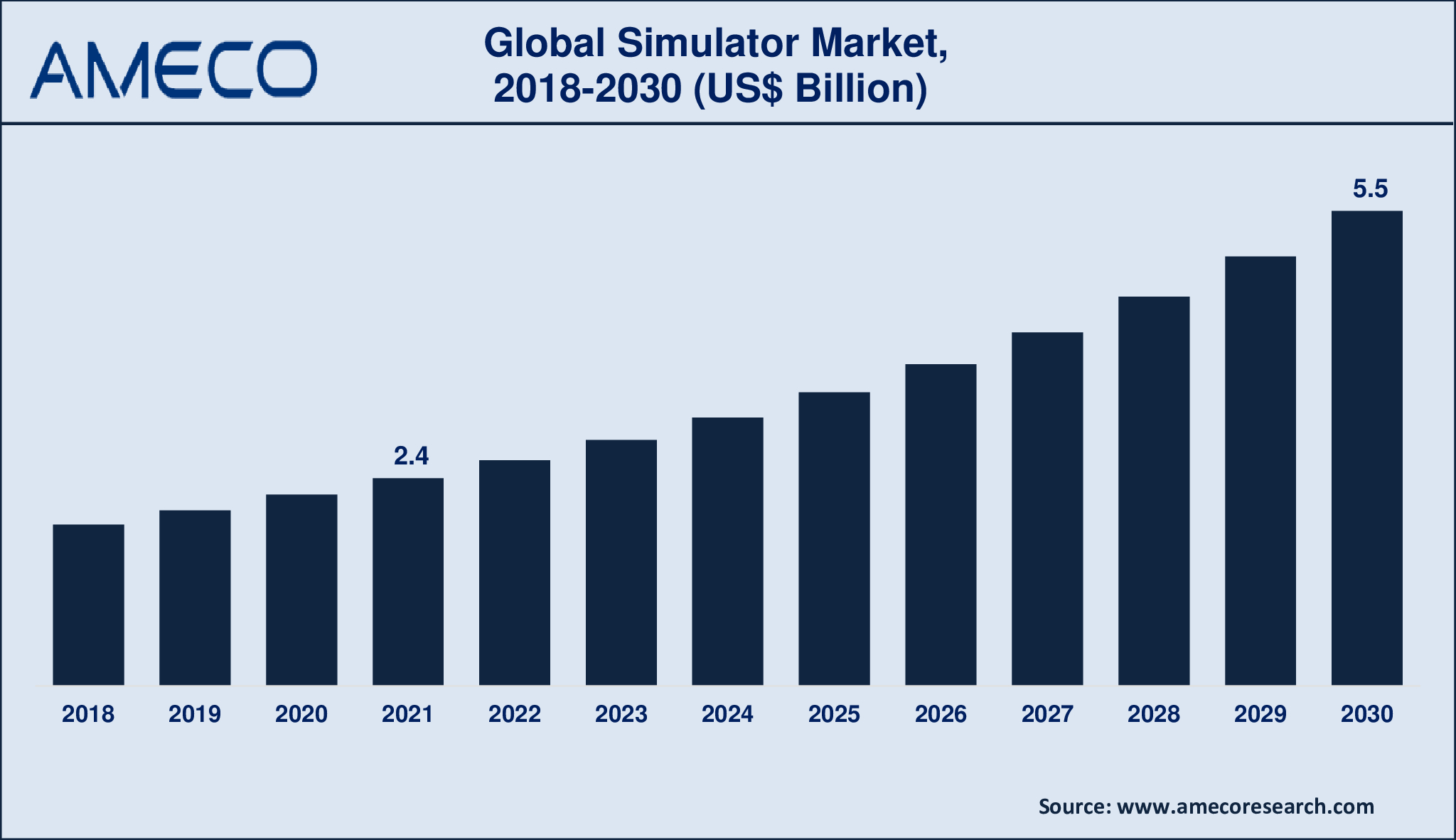 A simulator is a computer-based model or piece of software that mimics the behavior, processes, or features of a real-world system or phenomena. Simulators are important because they may give a realistic simulation of the original system and allow users to interact with it and monitor its behavior in a controlled and safe setting. They have various vital functions:
For starters, simulators are essential for training and teaching. They provide a secure and cost-effective means for individuals to be trained without exposing them to real-world threats. For example, flight simulators allow pilots to practice flying in various situations and dealing with crises without the risk of an actual aircraft.
Secondly, simulators are instrumental in research and development. They enable scientists and engineers to study and analyze the behavior of complex systems, test hypotheses, and identify potential issues or improvements. Simulations allow for exploring various scenarios and evaluating system performance before physical prototypes are built.
Lastly, simulators are in high demand due to their versatility and applicability across a wide range of industries. They find Techniques in aviation, military operations, healthcare, driver education, manufacturing, virtual reality, and many other fields. As technology advances, the demand for simulators continues to grow as they offer valuable insights, cost savings, and enhanced safety in various domains.
| | |
| --- | --- |
| Parameter | Simulator Market |
| Simulator Market Size in 2021 | US$ 23.7 Billion |
| Simulator Market Forecast By 2030 | US$ 38.9 Billion |
| Simulator Market CAGR During 2022 – 2030 | 5.8% |
| Simulator Market Analysis Period | 2018 - 2030 |
| Simulator Market Base Year | 2021 |
| Simulator Market Forecast Data | 2022 - 2030 |
| Segments Covered | By Type, By Component, By Solution, By Platform, By Technique, and By Region |
| Simulator Market Regional Scope | North America, Europe, Asia Pacific, Latin America, and Middle East & Africa |
| Key Companies Profiled | CAE Inc., Collins Aerospace (United Technologies Company), Cubic Corporation, FAAC Incorporated, FlightSafety International (Berkshire Hathaway Inc.), FRASCA International Inc., L3Harris Technologies, Inc., Rheinmetall AG, RUAG Group, Thales Group, TRU Simulation+Training Inc. (Textron Inc.), VSTEP Simulation(Netherlands). |
| Report Coverage | Market Trends, Drivers, Restraints, Competitive Analysis, Player Profiling, Regulation Analysis |
Simulator Market Dynamics
The simulator market has been experiencing tremendous changes due to a variety of causes. The growing demand for training and skill development across sectors is one significant reason. Simulators are significantly used in industries such as aviation, defence, healthcare, and automotive to educate workers and improve their abilities in a safe and regulated environment. Simulators offer a realistic and immersive experience that aids in the acquisition of practical knowledge and competence.
Technological improvements have also had a significant impact on the simulator business. Simulators have gotten increasingly complex and effective as processing power, realistic visuals, virtual reality (VR), augmented reality (AR), and artificial intelligence (AI) have developed. These developments have broadened the spectrum of simulator applications and improved their capacity to simulate real-world circumstances.
Simulators provide a more cost-effective training alternative than traditional techniques. They do away with the need for costly physical equipment, save operational expenses, and lessen the dangers involved with real-world training. Simulators enable students to get practical experience and enhance their abilities in a controlled setting by allowing for repeated and scenario-based training.
Furthermore, the increased emphasis on safety and risk reduction has increased demand for simulators. The necessity of minimizing risks and maintaining the safety of workers and assets is recognized by industries. Simulators allow organizations to model and analyze numerous scenarios, uncover possible difficulties, and educate employees to efficiently manage crucial events.
Overall, the simulator market is being pushed by increased training demand, technical developments, cost-effectiveness, and a focus on safety and risk avoidance. As industries increasingly recognize the benefits and uses of simulators, these trends are projected to continue driving the market.
Simulator Market Insight
The simulator market is divided into type, component, solution, platform, technique, and geographic markets. The type segment is divided into air traffic control (ATC), driving simulators, fixed base simulators, flight training devices, full flight simulators (FMS), full mission bridge simulators, full mission flight, land forces training simulators, and vessel traffic control (VTC). Based on component, the market is classified into hardware and software. Solution segment is bifurcated into products and services. Platform segment is sub-segmented into airborne, land, and maritime. By technique, the industry is split into live, virtual & constructive simulation, synthetic environment simulation, and gaming simulation.
Global Simulator Market Geographical Competition
North America controls a sizable portion of the simulator business. The area has a strong presence of important market companies, cutting-edge technical infrastructure, and significant investment in the defense, aviation, and healthcare sectors. Because of its powerful aviation sector and military operations, the United States, in particular, is a key contributor to the North American simulator market. The necessity for efficient training solutions, as well as an emphasis on safety precautions, is driving demand for simulators in North America.
Europe is another important market for simulators. Countries with a well-established aerospace and defense sector, such as Germany, France, and the United Kingdom, contribute to the need for simulators. Additionally, Europe is home to a large number of automobile industries and healthcare institutes that rely on simulators for training and research. The region's emphasis on technology improvements and safety requirements promotes simulator use even further.
The Asia-Pacific region is seeing rapid expansion in the simulator industry. Rapid industrialization, an expanding aviation industry, and rising defense spending in nations such as China, India, and Japan are fuelling demand for simulators. The area also sees a growth in the need for qualified individuals in many industries, which leads to greater training and development operations, which pushes the usage of simulators.
Global Simulator Industry Segment Analysis
Market By Type
· Air Traffic Control (ATC)
· Driving simulators
· Fixed Base Simulators
· Flight Training Devices
· Full Flight Simulators (FMS)
· Full Mission Bridge Simulators
· Full Mission Flight
· Land Forces Training Simulators
· Vessel Traffic Control (VTC)
Market By Component
· Hardware
· Software
Market By Solution
· Products
· Services
Market By Platform
· Airborne
· Land
· Maritime
Market By Technique
· Live, Virtual & Constructive Simulation
· Synthetic Environment Simulation
· Gaming Simulation
Simulator Market Leading Companies
The players profiled in the report are CAE Inc., Collins Aerospace (United Technologies Company), Cubic Corporation, FAAC Incorporated, FlightSafety International (Berkshire Hathaway Inc.), FRASCA International Inc., L3Harris Technologies, Inc., Rheinmetall AG, RUAG Group, Thales Group, TRU Simulation+Training Inc. (Textron Inc.), VSTEP Simulation.
Simulator Market Regions
North America
· U.S.
· Canada
Europe
· U.K.
· Germany
· France
· Spain
· Rest of Europe
Latin America
· Brazil
· Mexico
· Rest of Latin America
Asia-Pacific
· China
· Japan
· India
· Australia
· South Korea
· Rest of Asia-Pacific
Middle East & Africa
· GCC
· South Africa
· Rest of Middle East & Africa