Supercapacitors Market Growth Opportunities and Forecast till 2030
The Global Supercapacitors Market is valued for USD 4.5 Billion in 2021 and is anticipated to reach USD 22.4 Billion by 2030 with a CAGR of 19.8% from 2022 to 2030.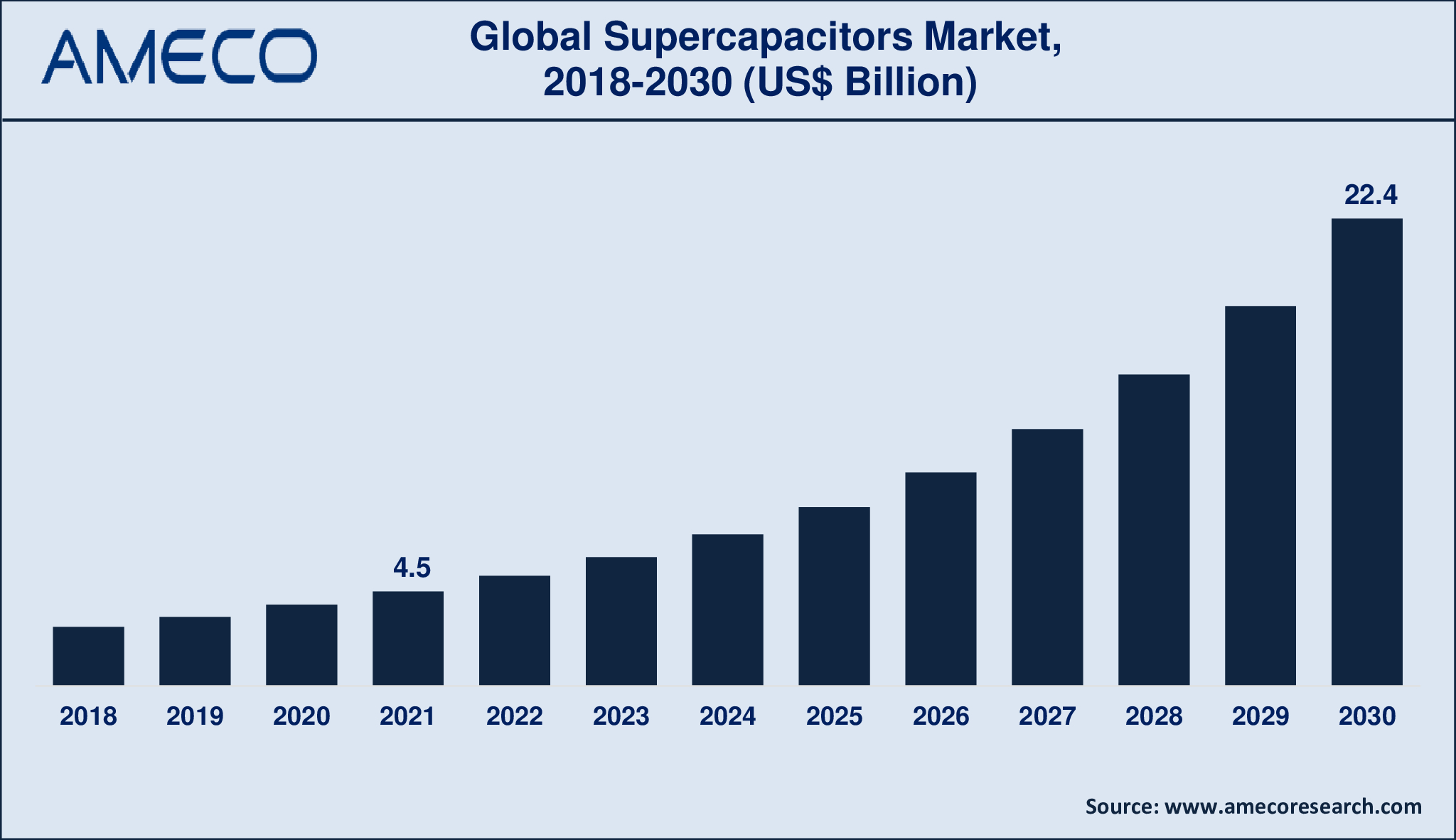 Supercapacitors, also known as ultracapacitors or electric double-layer capacitors (EDLCs), are high-capacitance energy storage devices. They can more efficiently store and distribute electrical energy, spanning the gap between regular capacitors and batteries. A supercapacitor is made up of two electrically conducting plates separated by an electrolyte. Supercapacitors, unlike conventional capacitors, store energy electrostatically rather than by the building of electrical charge on the plates. When a voltage is supplied to the electrolyte, ions collect at the interface between the plates and the electrolyte, resulting in the formation of an electric double layer. This double layer may store a substantial amount of charge, resulting in a significantly larger capacitance.
Supercapacitors' major qualities include their high power density, which allows them to swiftly release a huge quantity of energy, making them useful for Materials needing fast bursts of power. They can also rapidly charge and discharge, allowing for fast energy transmission. Furthermore, supercapacitors have a longer lifespan and can withstand a greater number of charge and discharge cycles than many battery technologies, making them more robust. Their fundamental restriction, however, is that they have a lower energy density than batteries. They have a lower energy storage capacity per unit of weight or volume.
Supercapacitors are used in a variety of Materials, including energy storage systems such as uninterruptible power supply (UPS), regenerative braking in hybrid and electric automobiles, and consumer electronics for fast-charging Materials. They are also used in renewable energy integration to smooth out swings in renewable energy output and to increase grid stability. Supercapacitors are also employed in power electronics to deliver high-power pulses in a variety of electronic devices.
While supercapacitors offer certain benefits, they are not intended to completely replace batteries. Instead, they work in tandem with batteries and other energy storage technologies to improve performance in certain Materials where their characteristics are well-suited. Supercapacitor technology is being improved via ongoing research and development, making them more efficient and adaptable in the future.
| | |
| --- | --- |
| Parameter | Supercapacitors Market |
| Supercapacitors Market Service provider in 2021 | US$ 4.5 Billion |
| Supercapacitors Market Forecast By 2030 | US$ 22.4 Billion |
| Supercapacitors Market CAGR During 2022 – 2030 | 19.8% |
| Supercapacitors Market Analysis Period | 2018 - 2030 |
| Supercapacitors Market Base Year | 2021 |
| Supercapacitors Market Forecast Data | 2022 - 2030 |
| Segments Covered | By Type, By Material, By End-User, and By Region |
| Supercapacitors Market Regional Scope | North America, Europe, Asia Pacific, Latin America, and Middle East & Africa |
| Key Companies Profiled | AVX Corporation, CAP-XX, Evans Capacitor Company, Ioxus Inc., KORCHIP Corporation, LS Mtron Ltd., Nippon Chemi-Con Corporation, Panasonic Corporation, Skeleton Technologies, SPEL Technologies Private Limited, and Tesla. |
| Report Coverage | Market Trends, Drivers, Restraints, Competitive Analysis, Player Profiling, Regulation Analysis |
Supercapacitors Market Dynamics
Several main reasons have contributed to the tremendous rise and dynamism of the supercapacitors market in recent years. The growing need for energy storage systems with high power density and quick charging capabilities is one of the primary factors. Because of its capacity to supply brief bursts of energy, supercapacitors are in great demand in Materials needing quick reaction times, such as regenerative braking in electric vehicles and backup power systems. Supercapacitors are finding numerous uses across many sectors as industry and consumers continue to prioritise energy efficiency and sustainability.
The increased interest in renewable energy sources is another important driver of the supercapacitors industry. Supercapacitors are critical in the integration of intermittent renewables like as solar and wind into the power grid. They serve as energy buffers, holding extra energy during high-production periods and releasing it during high-demand or low-production periods. Supercapacitors improve the dependability and efficiency of renewable energy sources by providing stability and smoothing out swings in output.
Supercapacitor technological advancements have also influenced market dynamics. Continuous R&D efforts have resulted in increases in capacitance, energy density, and cycle life, making supercapacitors more competitive with standard energy storage technologies. As researchers uncover novel materials and production procedures, supercapacitors' performance and cost-effectiveness are projected to improve further, fueling market expansion.
Furthermore, the automobile sector has embraced supercapacitor technology. Supercapacitors are increasingly being utilized in conjunction with batteries to deliver larger power outputs during acceleration and regenerative braking as electric vehicles (EVs) gain popularity. This hybrid strategy maximizes the benefits of both energy storage solutions, resulting in better overall vehicle performance and battery life. The continued trend of electrification in the automotive sector is likely to drive supercapacitor demand in the future years.
Despite the upbeat market outlook, there are always obstacles to overcome. Supercapacitors' lower energy density as compared to batteries restricts its use in long-term energy storage, particularly for large-scale grid Materials. As a result, research efforts are focused on increasing supercapacitors' energy storage capacity while keeping their quick charging and extended cycle life features.
Supercapacitors Market Segmentation
The supercapacitors market can be classified based on type, material, end-user, and geography. Type segment covers double layer, hybrid, and pseudocapacitors. Material segment is split into activated carbon, carbide derived carbon, carbon aerogel, and others. End-user segment is categorized into consumer electronics, industrial, energy & utilities, automotive, and other.
Global Supercapacitors Market Geographical Competition
North America is an important market for supercapacitors because to its excellent technical infrastructure and strong emphasis on renewable energy integration. The US and Canada were early users of supercapacitor technology, particularly in the automobile sector. Market expansion is being driven by the region's rising usage of electric vehicles (EVs) and the existence of notable supercapacitor manufacturers. Furthermore, programmes encouraging energy efficiency and sustainability contribute to North America's developing demand for supercapacitors.
Europe is another important market for supercapacitors, owing to the region's devotion to renewable energy and environmentally friendly practises. Germany, France, and the Nordic countries have been leaders in renewable energy adoption. As a result, supercapacitors are widely used in grid stabilisation, energy storage systems, and transportation. Regulations in Europe encouraging the adoption of energy-efficient technology in a variety of industries also increase demand for supercapacitors.
The Asia-Pacific area has enormous supercapacitor market potential. Countries such as China, Japan, South Korea, and India have seen significant increases in renewable energy investment, resulting in increasing demand for energy storage solutions. The rapidly expanding electric car industries in China and Japan have expedited the use of supercapacitors in hybrid and electric vehicles. Furthermore, the region's strong manufacturing capabilities have helped Asia-Pacific become a prominent participant in the worldwide supercapacitors market.
Global Supercapacitors Industry Segment Analysis
Market By Type
· Double Layer
· Hybrid
· Pseudocapacitors
Market By Material
· Activated Carbon
· Carbide Derived Carbon
· Carbon Aerogel
· Others
Market By End-User
· Consumer Electronics
· Industrial
· Energy & Utilities
· Automotive
· Other
Supercapacitors Market Leading Companies
The players profiled in the report are AVX Corporation, CAP-XX, Evans Capacitor Company, Ioxus Inc., KORCHIP Corporation, LS Mtron Ltd., Nippon Chemi-Con Corporation, Panasonic Corporation, Skeleton Technologies, SPEL Technologies Private Limited, and Tesla.
Supercapacitors Market Regions
North America
· U.S.
· Canada
Europe
· U.K.
· Germany
· France
· Spain
· Rest of Europe
Latin America
· Brazil
· Mexico
· Rest of Latin America
Asia-Pacific
· China
· Japan
· India
· Australia
· South Korea
· Rest of Asia-Pacific
Middle East & Africa
· GCC
· South Africa
· Rest of Middle East & Africa