Surrogacy Market Growth Opportunities and Forecast till 2030
The Global Surrogacy Market Size valued for USD 6.4 Billion in 2021 and is anticipated to reach USD 11.4 Billion by 2030 with a CAGR of 6.7% from 2022 to 2030.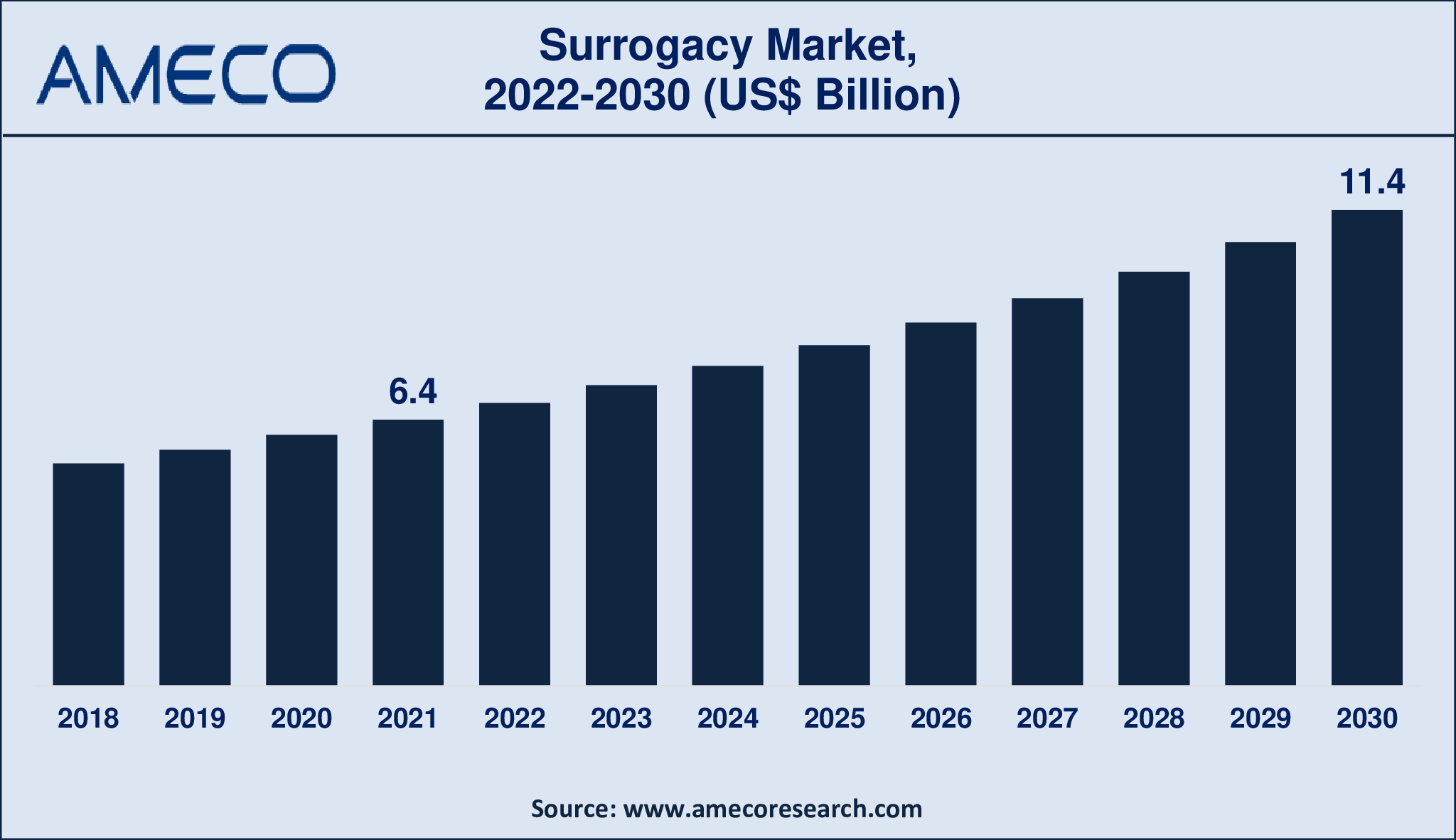 A woman who carries and delivers a child on behalf of a prospective parent or couple is known as a surrogate. Traditional and gestational surrogacies are the two forms. New and creative solutions for starting families are now possible because to advances in science and medicine. Couples who are unable to carry a pregnancy to term can choose to start a family through surrogacy. There are intricate legal and medical requirements for surrogacy. Surrogacy agreements are intricate from a medical, emotional, financial, and legal standpoint. Surrogacy provides the chance to have a child for those people who previously were unable to do so, such as lesbian couples and women who are unable to carry a pregnancy.
Many ethical, moral, and financial factors must be taken into account while using a surrogate. The surrogate's medical costs are often covered by the intended parents, but there are also considerable legal costs. The price ranges from $80,000 to $120,000 or more. To safeguard the legal rights and obligations of the intended parents, gestational carrier, and intended child, legal contracts must be signed before the procedure can start. The third party and intended parents should each have their own legal representation.
| | |
| --- | --- |
| Parameter | Surrogacy Market |
| Surrogacy Market Size in 2021 | US$ 6.4 Billion |
| Surrogacy Market Forecast By 2030 | US$ 11.4 Billion |
| Surrogacy Market CAGR During 2022 – 2030 | 6.7% |
| Surrogacy Market Analysis Period | 2018 - 2030 |
| Surrogacy Market Base Year | 2021 |
| Surrogacy Market Forecast Data | 2022 - 2030 |
| Segments Covered | By Type, By Technology, By Age Group, By End Use, and By Region |
| Surrogacy Market Regional Scope | North America, Europe, Asia Pacific, Latin America, and Middle East & Africa |
| Key Companies Profiled | Scanfert AVA Clinic, Bourn Hall Fertility Clinic, Nova IVI Fertility, Ovation Fertility, Bangkok IVF Center, Extraordinary Conceptions, Cardone & Associates Reproductive Medicine & Infertility, LLC, New Hope Fertility Center, IVI-RMA Global, Max Healthcare, and Growing Generations, LLC. |
| Report Coverage | Market Trends, Drivers, Restraints, Competitive Analysis, Player Profiling, Regulation Analysis |
Surrogacy Market Dynamics
One of the main factors influencing the market is the rapid development of assisted reproductive technologies and the rising public knowledge of infertility treatments like sperm or egg donation and in-vitro fertilisation (IVF). The occurrence of polycystic ovarian syndrome (PCOS) in women is also rising as a result of stress, hormonal imbalances, decreased physical activity, and lifestyle changes like smoking, drunkenness, and an increase in calorie-dense foods.
According to the American Pregnancy Association, one-fifth of all cases of infertility are among men, who make up 30% of the population. Additionally, according to statistics from the Centers for Disease Control and Prevention (CDC), close to 12.1% of women between the ages of 15 and 44 are unable to get pregnant. These elements are brought on by hormonal abnormalities, which also lead to a decrease in sperm production, which encourages the use of surrogacy and other options.
However, the market's expansion is constrained by the procedure's high cost and the harsh surrogacy laws in several nations. Age, genetic factors, issues with sperm or egg production, and excessive exposure to specific chemicals and poisons are just a few of the many variables that contribute to infertility.
Surrogacy Market Insights
The surrogacy market is mainly divided into mode of type, technology, age group, end-user, and geographic segments. The mode of type category is divided into gestational surrogacy, traditional surrogacy. Based on technology, the market is in-vitro fertilization (IVF) (classical/standard IVF, intracytoplasmic sperm injection (ICSI)), intrauterine insemination (IUI), and others. The age group segment can be divided into below 35 years, 35-37 years, 38 - 39 years, 40-42 years, 43-44 years, and over 44 years. End-user segment is further split into hospitals, fertility clinics, and others. Furthermore, the region segment is categorized into North America, Asia-Pacific, Europe, Latin America, and the Middle East & Africa.
Global Surrogacy Market Geographical Competition
Because there are so many patients in North America who are struggling with infertility, the region is anticipated to contribute a sizeable portion of market revenue. Additionally, the existence of several competitors operating in the nation, the availability of state-of-the-art facilities for R&D activities, and the emphasis on the development of novel solutions are all anticipated to assist the expansion of the target market.
The expansion of the regional market is anticipated to be aided by rising merger and acquisition activity aimed at expanding the clientele and revenue share.
Global Surrogacy Industry Segment Analysis
Market By Mode of Type
· Gestational Surrogacy
· Traditional Surrogacy
Market By Technology
· Intrauterine Insemination (IUI)
· In-Vitro Fertilization (IVF)
o Classical/Standard IVF
o Intracytoplasmic Sperm Injection (ICSI)
· Others
Market By Age Group
· Below 35 years
· 35-37 Years
· 38 - 39 Years
· 40-42 Years
· 43-44 Years
· Over 44 Years
Market By End-User
· Hospitals
· Fertility clinics
· Others
Surrogacy Market Leading Companies
The players profiled in the report are Bangkok IVF Center, Bourn Hall Fertility Clinic, Cardone & Associates Reproductive Medicine & Infertility, LLC, Extraordinary Conceptions, Growing Generations, LLC, IVI-RMA Global, Max Healthcare, New Hope Fertility Center, Nova IVI Fertility, Ovation Fertility, and Scanfert AVA Clinic.
Surrogacy Market Regions
North America
· U.S.
· Canada
Europe
· U.K.
· Germany
· France
· Spain
· Rest of Europe
Latin America
· Brazil
· Mexico
· Rest of Latin America
Asia-Pacific
· China
· Japan
· India
· Australia
· South Korea
· Rest of Asia-Pacific
Middle East & Africa
· GCC
· South Africa
· Rest of Middle East & Africa