Tappet Market Growth Opportunities and Forecast till 2030
The Global Tappet Market Size was valued for USD 8.7 Billion in 2021 and is anticipated to reach USD 12.2 Billion by 2030 with a CAGR of 3.9% from 2022 to 2030.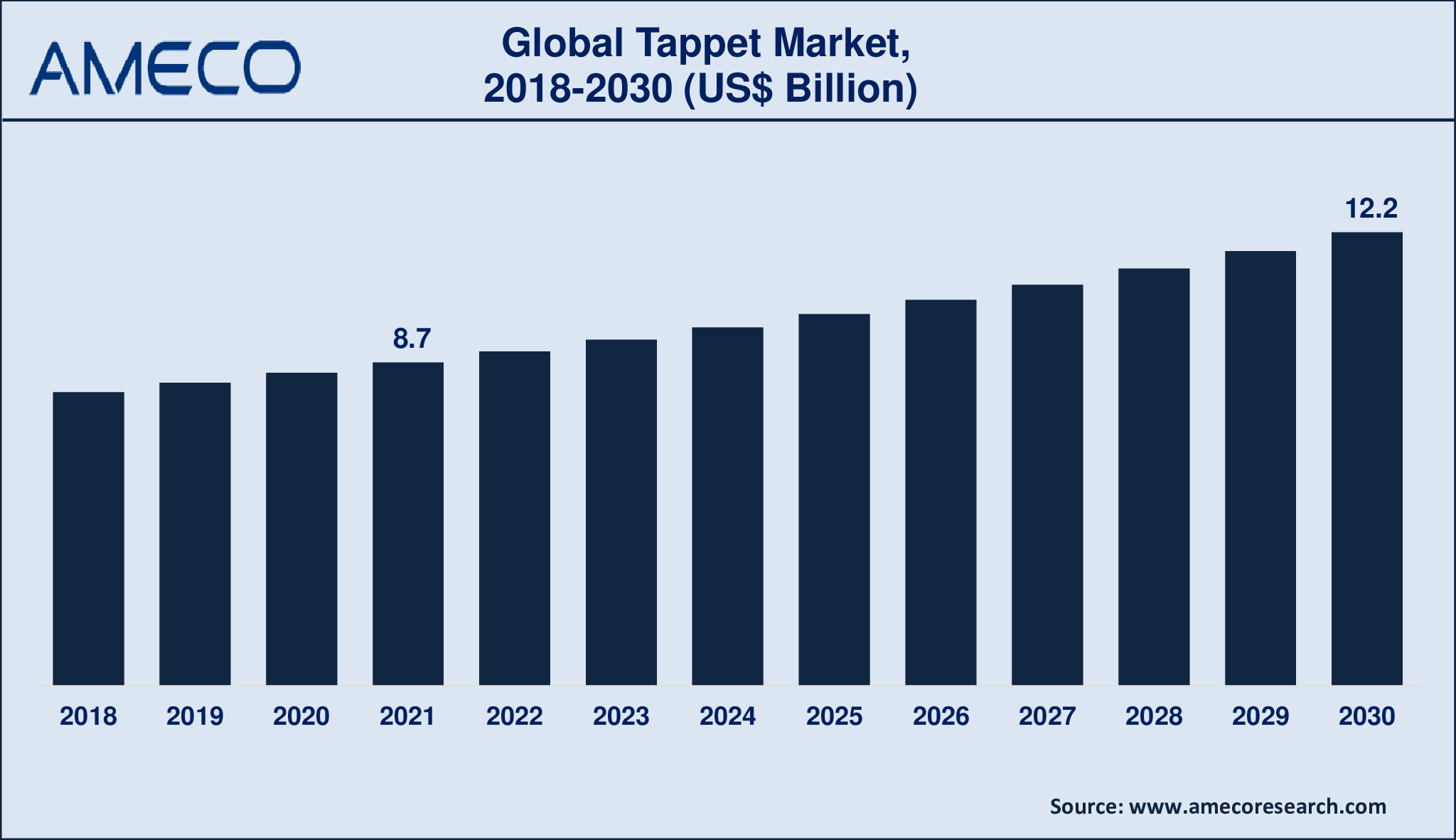 A tappet is a component found in internal combustion engines that is used in mechanical engineering and automotive technology. Tappets are tiny, cylindrical components that work with the camshaft, a rotating shaft with precisely formed lobes. These camshaft lobes are intended to precisely lift and lower the tappets while the engine runs. The camshaft-tappet interaction is a critical component of the engine's valve train system.
Tappets' principal role is to convey motion created by the camshaft to other engine components, namely the valves. The camshaft pushes on the tappets as it spins, forcing them to move up and down. This action, in turn, opens and closes the intake and exhaust valves of the engine at the precise times necessary for fuel intake, combustion, and exhaust expulsion. The engine's performance, efficiency, and emissions are all dependent on the precise timing and regulation of valve activity.
Tappets are in high demand for a variety of reasons. For starters, they are critical to the operation of internal combustion engines, which power the great majority of vehicles and industry globally. As the automobile industry grows and evolves, there is a rising demand for more efficient and dependable engine components, such as tappets, to fulfill more severe emissions rules and fuel economy standards.
Furthermore, the ongoing development of new engine technology drives the demand for tappets. Engineers and manufacturers are always seeking to improve engine performance, lower emissions, and increase fuel efficiency. This necessitates novel engine component designs and materials, including tappets that can handle greater operating pressures, temperatures, and strains.
Furthermore, the rise of other industries that rely on internal combustion engines, such as construction and agriculture, contributes to the continuous need for tappets. Tappets that can resist harsh operating conditions while offering accurate valve control are in high demand as these sectors innovate and expand.
Parameter

Tappet Market

Tappet Market Size in 2021

US$ 8.7 Billion

Tappet Market Forecast By 2030

US$ 12.2 Billion

Tappet Market CAGR During 2022 – 2030

3.9%

Tappet Market Analysis Period

2018 - 2030

Tappet Market Base Year

2021

Tappet Market Forecast Data

2022 - 2030

Segments Covered

By Type, By Capacity, By Vehicle Type, By End-Use, and By Region

Tappet Market Regional Scope

North America, Europe, Asia Pacific, Latin America, and Middle East & Africa

Key Companies Profiled

AC Delco, Competition Cams, Inc., Eaton, Federal-Mogul LLC, Lunati

NSK Ltd., Otics Operation, Rane Engine Valve Limited, Schaeffler AG, and TRW.

Report Coverage

Market Trends, Drivers, Restraints, Competitive Analysis, Player Profiling, Regulation Analysis
Tappet Market Dynamics
The tappet market is influenced by a number of dynamic elements that affect its growth and evolution. Continuous development and innovation in the automobile sector is one of the primary driving reasons behind the tappet market dynamics. As manufacturers attempt to produce more economical and environmentally friendly automobiles, sophisticated engine components such as tappets that may increase engine performance, reduce emissions, and improve fuel efficiency are in high demand. The ongoing need for advancement in engine technology drives demand for high-quality tappets.
Another important aspect influencing the tappet market dynamics is raising worldwide vehicle demand, particularly in emerging nations. As populations expand and urbanization grows, so does the demand for transportation. This leads to increased automotive manufacturing, which increases demand for tappets. Furthermore, the growth of sectors relying on internal combustion engines, such as construction and agriculture, increases demand for tappets in a variety of applications.
The tappet market dynamics are also influenced by regulatory changes and environmental concerns. Stricter emissions standards are being imposed across the world to combat air pollution and minimize vehicle carbon footprint. As a result, automakers are under pressure to implement new engine technology that complies with these rules, and tappets are critical to attaining these objectives. This trend towards cleaner, more efficient engines drives the development and acceptance of novel tappet designs and materials.
Additionally, changes in manufacturing methods influence the tappet market dynamics. Improved machining processes and materials science enable the manufacturing of tappets that are not only robust but also lightweight, potentially increasing engine efficiency. These technological advances enable tappet providers to satisfy the changing demands of the automotive and industrial industries.
Finally, the competitive environment in the tappet business is ever-changing. Manufacturers are constantly looking for methods to stand apart by creating tappets with distinctive features or higher performance. This rivalry promotes industry innovation and product development, resulting in a diverse range of tappet possibilities for varied applications and engine types.
Finally, the tappet market is impacted by a variety of variables such as technical improvements, regulatory changes, market demand, and competition. These characteristics result in a vibrant and expanding industry that adjusts to satisfy the requirements of the automotive and industrial sectors while also contributing to overall engine performance and environmental sustainability.
Tappet Market Segmentation
The tappet market is segmented by type, capacity, vehicle type, and geography. The type category is further subdivided into roller tappet, and flat tappet. More than 6 cylinder, 4-6 cylinder, and less than 4 cylinder engine are the bifurcation of capacity. Vehicle type includes commercial vehicles and passenger cars. The region sector includes North America, Asia-Pacific, Europe, Latin America, the Middle East, and Africa.
Global Tappet Market Geographical Competition
The tappet market in North America, notably in the United States and Canada, is driven by a well-established automobile sector. Tappets are in high demand due to the presence of major manufacturers and a large number of automobiles on the road. The region's emphasis on emissions reduction and fuel economy promotes tappet technology innovation. Furthermore, rigorous environmental rules, such as EPA standards, force manufacturers to design innovative tappets that meet emissions criteria.
Europe has a robust automotive sector, with significant participants including Germany, France, and the United Kingdom. The emphasis on high-performance and fuel-efficient engines influences the tappet market in Europe. To achieve these restrictions, novel tappets must meet stringent Euro emission criteria. Precision engineering and quality are important priorities for European manufacturers, which contributes to the need for innovative tappet solutions.
The Asia-Pacific area, which includes China, Japan, India, and South Korea, is a major automobile production hub. The rapidly expanding middle-class population, urbanization, and more industrial activity have resulted in a rise in automobile ownership, boosting demand for tappets. Cost-effectiveness is a crucial driver in this region, and manufacturers frequently seek economical yet dependable tappet solutions. Furthermore, environmental concerns are driving the adoption of cleaner engine technology, which has an impact on tappet design and demand.
Global Tappet Industry Segment Analysis
Market By Type
· Flat Tappet
· Roller Tappet
Market By Capacity
· More than 6 Cylinder
· 4-6 Cylinder
· Less than 4 Cylinder Engine
Market By Vehicle Type
· Commercial Vehicles
· Passenger Cars
· Inkjet
Tappet Market Leading Companies
The players profiled in the report are AC Delco, Competition Cams, Inc., Eaton, Federal-Mogul LLC, Lunati, NSK Ltd., Otics Operation, Rane Engine Valve Limited, Schaeffler AG, and TRW.
Tappet Market Regions
North America
· U.S.
· Canada
Europe
· U.K.
· Germany
· France
· Spain
· Rest of Europe
Latin America
· Brazil
· Mexico
· Rest of Latin America
Asia-Pacific
· China
· Japan
· India
· Australia
· South Korea
· Rest of Asia-Pacific
Middle East & Africa
· GCC
· South Africa
· Rest of Middle East & Africa