Thermostats Market Growth Opportunities and Forecast till 2030
Category by-
ICT and Media
, No. of Pages - 250, Published By - Ameco Research
The Global Thermostats Market is valued for USD 3.9 Billion in 2021 and is anticipated to reach USD 8.4 Billion by 2030 with a CAGR of 9.1% from 2022 to 2030.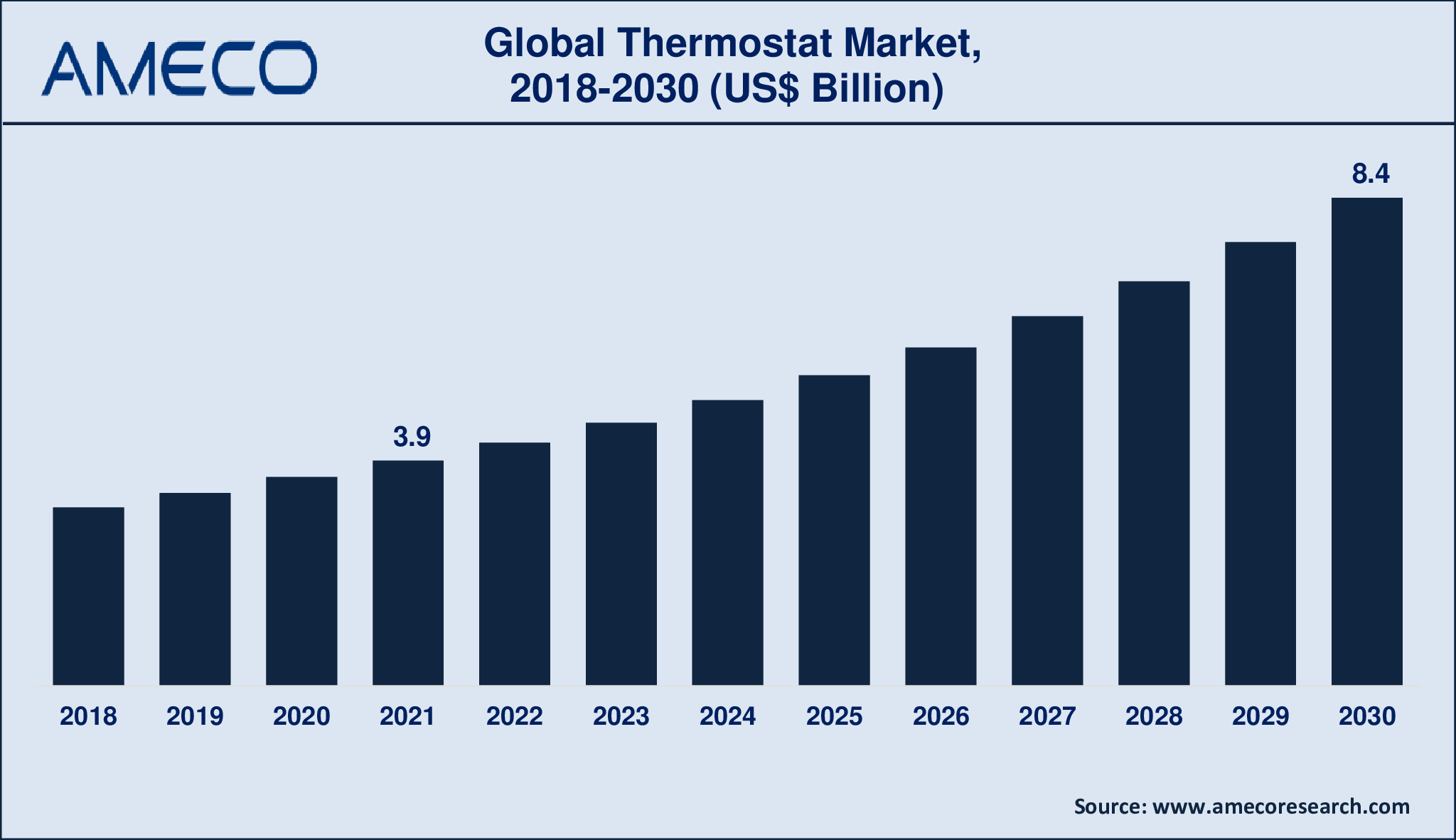 Thermostats are temperature-controlling devices that are used to regulate and control the temperature of a Distribution Channel or environment. They are frequently used in heating, ventilation, and air conditioning (HVAC) Distribution Channels, as well as a variety of other applications requiring temperature control.
A thermostat's principal duty is to sense the current temperature and compare it to a predetermined set point. To maintain the intended temperature, the thermostat activates or deactivates the heating or cooling Distribution Channel based on this comparison. When the temperature falls below the set point, the thermostat activates the heating Distribution Channel; when the temperature rises over the set point, the thermostat activates the cooling Distribution Channel.
Traditional thermostats are often made out of a bimetallic strip or a gas-filled bulb that expands and contracts in response to temperature variations, causing mechanical switches to open and close. These switches regulate the heating or cooling Distribution Channel. Modern thermostats frequently include digital displays and electrical controls, which provide improved accuracy and programmability.
Smart thermostats have grown in popularity as smart home technology has advanced. Smart thermostats can be internet-connected and managed remotely via smartphone applications, or they can be combined with other smart home equipment. They frequently include learning capabilities, energy consumption tracking, scheduling choices, and voice assistant compatibility for quick and energy-efficient temperature management.
| | |
| --- | --- |
| Parameter | Thermostats Market |
| Thermostats Market Application in 2021 | US$ 3.9 Billion |
| Thermostats Market Forecast By 2030 | US$ 8.4 Billion |
| Thermostats Market CAGR During 2022 – 2030 | 9.1% |
| Thermostats Market Analysis Period | 2018 - 2030 |
| Thermostats Market Base Year | 2021 |
| Thermostats Market Forecast Data | 2022 - 2030 |
| Segments Covered | By Device, By Distribution Channel, By Mode of Operation, By Application, and By Region |
| Thermostats Market Regional Scope | North America, Europe, Asia Pacific, Latin America, and Middle East & Africa |
| Key Companies Profiled | Nest, Trane, Energate, Legrand SA, Alarm.com, Schneider Electric, Nortek Security & Control, LLC, Radio Thermostat Company of America, Computime, Johnson Controls, Inc., Danfoss, Carrier Corporation, Emerson Electric Co., and Vulcanic Group. |
| Report Coverage | Market Trends, Drivers, Restraints, Competitive Analysis, Player Profiling, Regulation Analysis |
Thermostats Market Dynamics
The thermostat market has expanded and innovated significantly in recent years. With the rising emphasis on energy efficiency and environmental sustainability, there is a greater need for smarter, more advanced thermostat solutions. Furthermore, the rise of smart home technologies and the Internet of Things (IoT) has fueled the growth of the thermostat industry. Thermostats are essential in heating, ventilation, and air conditioning (HVAC) systems for temperature control and energy efficiency. As individuals and businesses become more aware of the environmental impact and energy costs associated with improper temperature control, there is a rising demand for energy-efficient and programmable thermostats.
The introduction of smart thermostats has transformed the market. These gadgets provide sophisticated features such as learning capabilities, smartphone app remote control, and connectivity with other smart home devices. Smart thermostats provide increased convenience by allowing users to remotely alter temperature settings and establish personalized schedules based on their preferences and daily habits. These elements help to save energy and create a more pleasant living environment.
The growing popularity of smart home ecosystems and voice-activated assistants like Amazon Alexa and Google Assistant has accelerated the proliferation of smart thermostats. Users may manage their thermostats using voice commands and easily add temperature control into their entire smart home automation by integrating with these platforms.
Furthermore, governments and regulatory agencies all over the world are enforcing severe energy efficiency requirements and rules for buildings. To guarantee energy-saving practises, these rules frequently necessitate the installation of programmable or smart thermostats. This reason has also helped to the growth of the thermostat market.
The market is fiercely competitive, with established competitors as well as new entrants launching unique thermostat solutions. Manufacturers are investing in research and development to enhance thermostat functionality, connection, and energy efficiency. Companies are also working to improve user interfaces and data analytics capabilities in order to give users with useful insights about energy consumption and savings.
Thermostats Market Segmentation
The thermostats market can be classified based on device, distribution channel, application, and geography. In terms of device, the market is divided into smart thermostat, mechanical thermostat, programmable thermostat, and others. Based on distribution channel, the market is split into Utility, Residential, Security, and HVAC. Low voltage, line voltage, and millivolt are some of the mode of operation segment. The application segment is split into residential, commercial, and industrial.
Global Thermostats Market Geographical Competition
North America has been a market leader in the thermostat industry, owing to the strong demand for smart home technology and the growing emphasis on energy efficiency. The thermostat market in the United States, in particular, is mature, with a large selection of devices available. Smart thermostat adoption has been considerable, aided by the existence of established providers and the growing popularity of home automation systems.
Europe is another big thermostat market, owing to an increasing emphasis on energy efficiency and ecological living. European nations have strict rules and policies in place to encourage energy-efficient architecture, which has resulted in the development of sophisticated thermostats. Smart thermostats have experienced widespread acceptance in countries such as Germany, the United Kingdom, and France, particularly in the residential sector.
Because of reasons such as urbanization, rising disposable income, and more awareness about energy saving, the Asia Pacific area is experiencing strong expansion in the thermostat industry. Countries such as China, Japan, and South Korea are driving market expansion in this area. Smart home technology use is expanding, which contributes to increased demand for smart thermostats. Furthermore, the rising construction industry and the demand for energy-efficient solutions in commercial buildings propel market expansion.
Global Thermostats Industry Segment Analysis
Market By Device
· Smart Thermostat
· Mechanical Thermostat
· Programmable Thermostat
· Others
Market By Distribution Channel
· Utility
· Residential
· Security
· HVAC
Market By Mode of Operation
· Low Voltage
· Line Voltage
· Milivolt
Market By Application
· Commercial
· Residential
· Industrial
Thermostats Market Leading Companies
The players profiled in the report are Alarm.com, Carrier Corporation, Computime, Danfoss, Energate, Emerson Electric Co., Johnson Controls, Inc., Legrand SA, Nest, Nortek Security & Control, LLC, Radio Thermostat Company of America, Schneider Electric, Trane, and Vulcanic Group.
Thermostats Market Regions
North America
· U.S.
· Canada
Europe
· U.K.
· Germany
· France
· Spain
· Rest of Europe
Latin America
· Brazil
· Mexico
· Rest of Latin America
Asia-Pacific
· China
· Japan
· India
· Australia
· South Korea
· Rest of Asia-Pacific
Middle East & Africa
· GCC
· South Africa
· Rest of Middle East & Africa