Variable Data Printing Market Growth Opportunities and Forecast till 2030
The Global Variable Data Printing Market Size was valued for USD 10.4 Billion in 2021 and is anticipated to reach USD 27.9 Billion by 2030 with a CAGR of 11.7% from 2022 to 2030.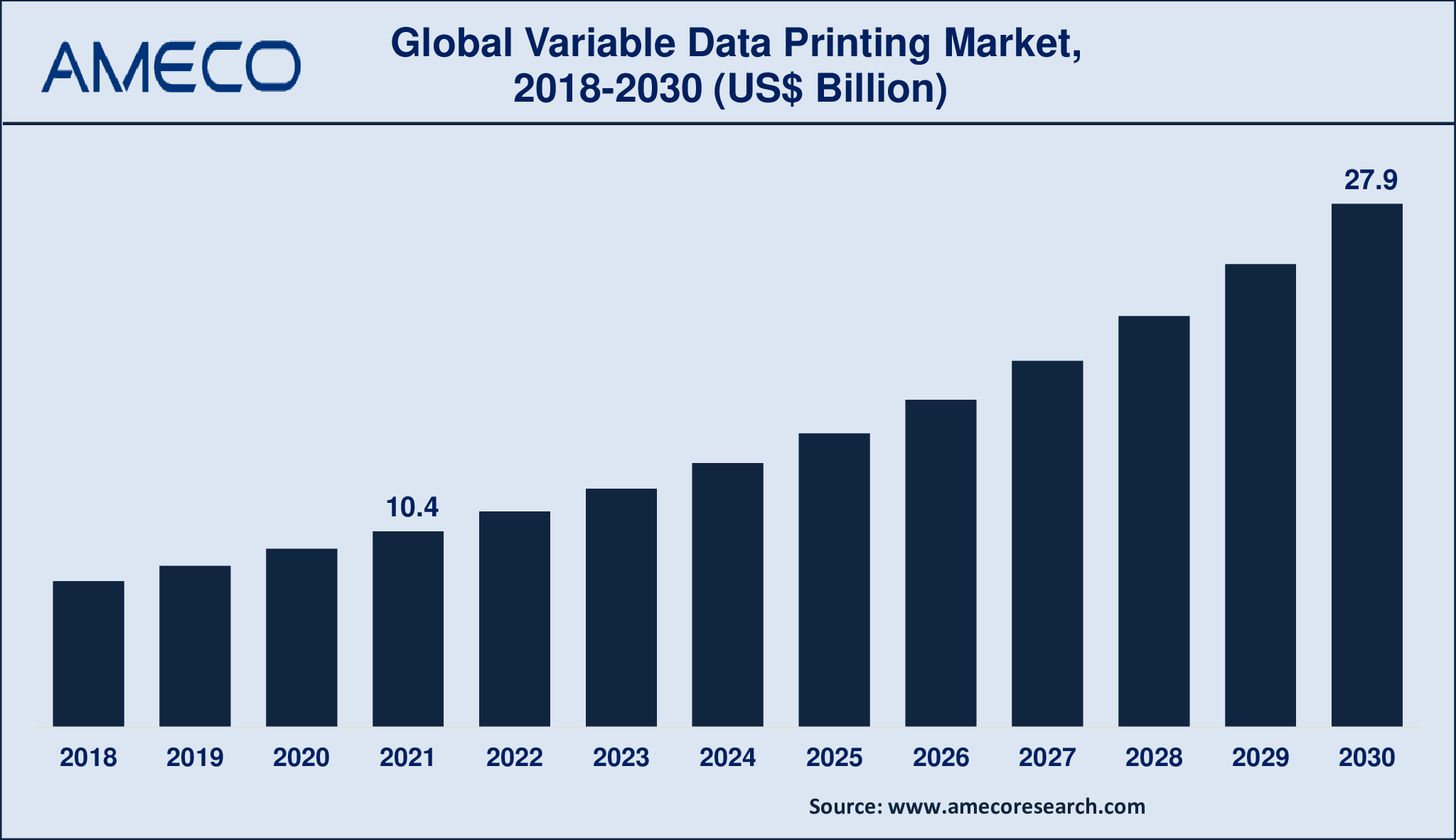 Variable Data Printing (VDP) is a new printing process that enables large-scale customization and personalization of printed goods. Unlike traditional printing technologies, which yield identical copies of a document, VDP allows for the incorporation of unique material, such as text, photos, and graphics, into each printed piece. This level of customization is accomplished via the use of digital printing technology and advanced software systems.
VDP, at its heart, combines an information database with a template design to generate unique printed outputs. This is especially useful for direct mail marketing, as marketers may customize communications to each recipient depending on their preferences, demographics, or purchase history. VDP may also be used to produce personalized statements, bills, and training materials in fields such as healthcare, finance, and education.
One of the most significant benefits of VDP is its potential to increase consumer engagement and response rates. Businesses may develop a better connection and evoke a more favorable response by presenting content that connects with particular recipients. Furthermore, because each item is manufactured on-demand, VDP delivers cost benefits by eliminating waste and lowering the requirement for pre-printed materials.
VDP implementation necessitates the use of digital printing equipment, specialized software, and a well-organized database containing recipient information. The programme reads the data and blends it with the design template effortlessly, guaranteeing that each printed component is correct and relevant. Variable data printing is likely to play an increasingly important part in current marketing tactics as technology advances, providing a strong way of communicating customized messages in a visually engaging and efficient manner.
Parameter

Variable Data Printing Market

Variable Data Printing Market Size in 2021

US$ 10.4 Billion

Variable Data Printing Market Forecast By 2030

US$ 27.9 Billion

Variable Data Printing Market CAGR During 2022 – 2030

11.7%

Variable Data Printing Market Analysis Period

2018 - 2030

Variable Data Printing Market Base Year

2021

Variable Data Printing Market Forecast Data

2022 - 2030

Segments Covered

By Label Type, By Composition, By Printing Technology, By End-Use, and By Region

Variable Data Printing Market Regional Scope

North America, Europe, Asia Pacific, Latin America, and Middle East & Africa

Key Companies Profiled

3M Company, Avery Dennison Corporation, Canon Inc., Cenveo, Inc., HP Inc., Mondi Plc, Quad/Graphics Inc., R.R. Donnelley & Sons Company

WS Packaging Group, Inc., and Xerox Corporation.

Report Coverage

Market Trends, Drivers, Restraints, Competitive Analysis, Player Profiling, Regulation Analysis
Variable Data Printing Market Dynamics
The Variable Data Printing (VDP) market is characterized by a dynamic environment influenced by a number of critical elements. The rising desire for personalized and targeted marketing techniques is one of the key driving drivers behind the market's rise. Businesses understand the need of interacting with their consumers on an individual level, and VDP enables them to do so by personalizing content to specific demographics, interests, and behaviors. This increased level of personalization has been shown to increase consumer engagement, resulting in greater response rates and increased brand loyalty.
Technological improvements have a significant impact on the VDP industry. The advancement of digital printing technology has made it possible to produce changeable data printed items in a more efficient and cost-effective manner. Digital printers can effortlessly integrate data from databases into the printing process, enabling for the rapid development of unique, customized outputs. This technology advancement has decreased entrance barriers, making VDP more accessible to enterprises of all sizes and sectors.
VDP's data-driven strategy fits nicely with the current trend towards data analytics and insights. Companies are using the plethora of consumer data at their disposal to build highly targeted advertisements that appeal to certain parts of their audience. This not only improves the efficacy of marketing initiatives, but also allows firms to fine-tune their tactics based on real-time feedback and performance analytics. As data analytics becomes more popular, the need for VDP is anticipated to rise in lockstep.
Environmental concerns are also having an impact on the VDP business. Sustainable practices are becoming increasingly popular as businesses and consumers become more concerned of their environmental impact. When compared to traditional printing processes, digital printing technology utilized in VDP produces less waste, making it a more ecologically responsible solution. This coincides with many firms' environmental aims and presents VDP as a responsible choice in the printing industry.
However, there are obstacles in the VDP industry as well. When working with personalized consumer information, maintaining data security and privacy is crucial. Companies must put in place strong data protection procedures to protect sensitive data from breaches or abuse. Furthermore, as VDP gets more popular, rivalry among VDP service provider's heats up. To differentiate themselves, businesses must provide not just high-quality printing but also creative solutions and excellent client experiences.
Finally, the Variable Data Printing market is dynamic and developing, driven by a convergence of technology breakthroughs, data-driven strategies, environmental concerns, and the rising need for personalized communication. As companies attempt to interact with their consumers in more meaningful ways, VDP offers a crucial option that is shaping the way marketing materials are developed and disseminated.
Variable Data Printing Market Segmentation
The variable data printing market is segmented by label type, composition, printing technology, end-use, and geography. The label type category is further subdivided into release liner labels, and linerless labels. Facestock and topcoat are the bifurcation of composition. Printing technology includes electrophotography, thermal transfer, direct thermal, and inkjet. Consumer durable, food & beverage, home & personal, pharmaceutical, retail sector and others (industrial lubricants and paints) are the segmentation of end-user segment. The region sector includes North America, Asia-Pacific, Europe, Latin America, the Middle East, and Africa.
Global Variable Data Printing Market Geographical Competition
North America is a key location for VDP adoption due to its sophisticated technology landscape and established marketing business. The United States and Canada were early users of digital printing technology, making them ideal for VDP expansion. The region's strong emphasis on data-driven marketing techniques, along with significant customer interaction, has boosted demand for personalized communication via VDP. Furthermore, the presence of multiple significant firms and varied industries has helped to the development of a strong market ecosystem.
The VDP market is also growing in Europe, with Germany, the United Kingdom, and France leading the way. The well-established print and packaging sector in Europe, as well as its cultural diversity, has fueled the adoption of VDP for a variety of applications, including direct mail, promotional materials, and transactional papers. Quality and customization are frequently prioritized by European organizations, which align nicely with the capabilities of VDP technology.
Asia-Pacific has emerged as a quickly developing area in the VDP market, owing to rising digital technology usage and a thriving e-commerce industry. China, Japan, and India are seeing an increase in demand for personalized marketing materials to appeal to their large and diversified client bases. With the growth of digital infrastructure and the widespread usage of smartphones, VDP has become a tempting channel for businesses to communicate with customers in the area.
Latin America and the Middle East/Africa are also seeing VDP expansion, but at a slower rate than other areas. These regions are distinguished by a combination of rising economies and varied degrees of technical progress. As consumer tastes develop and access to digital technology increases, the desire for personalized communication is anticipated to drive VDP adoption in these sectors as well.
Global Variable Data Printing Industry Segment Analysis
Market By Label Type
· Linerless Labels
· Release Liner Labels
Market By Composition
· Facestock
· Topcoat
· Others
Market By Printing Technology
· Electrophotography
· Direct Thermal
· Thermal Transfer
· Inkjet
Market By End-Use
· Consumer Durable
· Food & Beverage
· Home & Personal
· Pharmaceutical
· Retail Sector
· Others (Industrial Lubricants And Paints)
Variable Data Printing Market Leading Companies
The players profiled in the report are 3M Company, Avery Dennison Corporation, Canon Inc., Cenveo, Inc., HP Inc., Mondi Plc, Quad/Graphics Inc., R.R. Donnelley & Sons Company, WS Packaging Group, Inc., and Xerox Corporation.
Variable Data Printing Market Regions
North America
· U.S.
· Canada
Europe
· U.K.
· Germany
· France
· Spain
· Rest of Europe
Latin America
· Brazil
· Mexico
· Rest of Latin America
Asia-Pacific
· China
· Japan
· India
· Australia
· South Korea
· Rest of Asia-Pacific
Middle East & Africa
· GCC
· South Africa
· Rest of Middle East & Africa