Vehicle Analytics Market - Global Market Size, Industry Trends, Competitive Landscape, and Opportunities and Forecast 2022 - 2030
The Global Vehicle Analytics Market accounted for US$ 2,349 Mn in 2021 and is expected to reach US$ 16,151 Mn by 2030 with a considerable CAGR of 24.3%during the forecast timeframe of 2022 to 2030.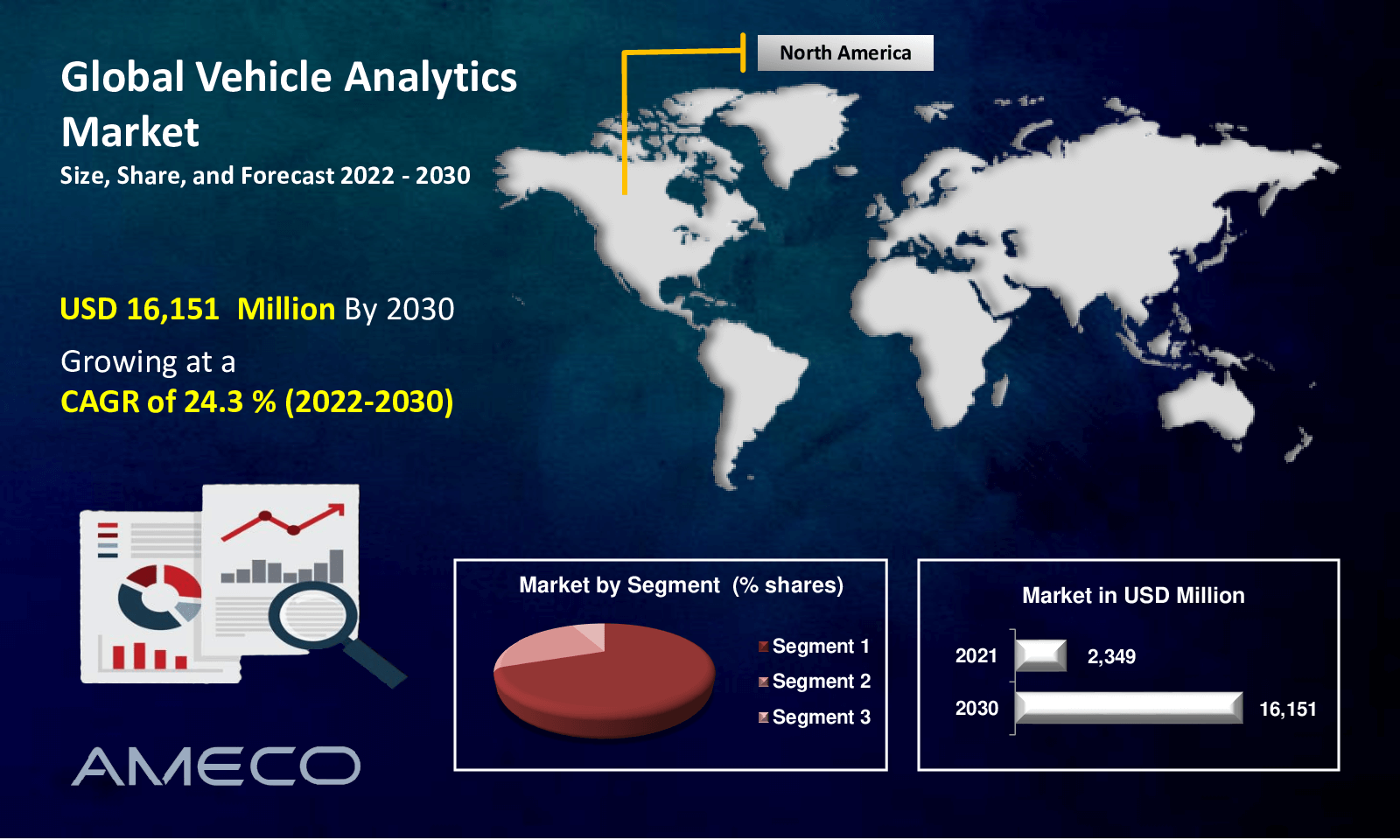 The digital revolution has become a critical driver in the development of the automotive sector, and it is expected to drive the global vehicle analytics market. In connected vehicles, at least 45-50 sensing devices are presently installed to collect more detailed data such as emissions, distance, speed, resource use, fuel usage, and driving behavior. With automobiles collecting massive amounts of data in fractions of a second, there has a greater time to establish exceptional customer interactions and operational planning, where vehicle analytics thrive. However, the information offered by such technologies enables automotive manufacturing players to examine relationships, do additional studies, and optimize use.
Vehicle analytics are devices installed on autos to aid in the gathering of information about automobiles. Vehicle analytics have a wide range of applications, from manufacturers to large-scale fleet management, because they give numerous benefits such as better safety, vehicle tracking, faster threat identification, and monitoring driving habits, among others.
Vehicle Analytics is the analysis of car behavior and attributes utilizing inputs from sensors mounted on control systems. It allows consumers to gain a greater command over the engine and the fleet as a whole by recognizing abnormal activity and identifying the vehicle's condition to avert problems. Automotive Analytics can also assist consumers in gaining information about the condition of their vehicles as well as their driving habits. Detailed quality analysis of vehicle performance and vehicle dynamics in real-time helps a wide range of industry stakeholders, including automakers, insurance, auto dealers, and vehicle analytics solutions are currently being advocated by a number of providers.
| | |
| --- | --- |
| Parameter | Vehicle Analytics Market |
| Vehicle Analytics Market Size in 2021 | US$ 2,349 Million |
| Vehicle Analytics Market Forecast By 2030 | US$ 16,151 Million |
| Vehicle Analytics Market CAGR During 2022 – 2030 | 24.3% |
| Vehicle Analytics Market Analysis Period | 2018 - 2030 |
| Vehicle Analytics Market Base Year | 2021 |
| Vehicle Analytics Market Forecast Data | 2022 - 2030 |
| Segments Covered | By Application, By Component, By Deployment Model, By End-User, and By Region |
| Vehicle Analytics Market Regional Scope | North America, Europe, Asia Pacific, Latin America, and Middle East & Africa |
| Key Companies Profiled | Acerta Analytics Solutions, Inc., Azuga, AMODO, Noregon, CloudMade, Microsoft, ARI Fleet Management Company, C-4 Analytics, LLC, Plotly, Pivotal Software, Inc., Procon Analytics, and AGNIK LLC. |
| Report Coverage | Market Trends, Drivers, Restraints, Competitive Analysis, Player Profiling, Regulation Analysis |
Vehicle Analytics Market Dynamics
Digitization will play a key role in the automobile sector in the coming years, giving substantial information regarding performance, mileage, pollutants, resource use, driving behavior, and energy consumption. This, along with growing car sales globally, is one of the key factors driving vehicle analytics market. Aside from that, increased traffic on city streets and sidewalks has resulted in a plethora of safety hazards, such as distracted pedestrians and growth in the number of motorcyclists. As a result, various governments throughout the world are promoting the use of vehicle analytics tools to assess actual data concerning traffic situations and road surfaces. Drivers can also use this tool to gain analysis of areas with bad road conditions and congestion, which create traffic delays. Furthermore, vehicle analytics informs the customer of the probable need for maintenance before the problem occurs. This also helps to reduce road accidents around the world caused by human error in vehicle maintenance and assistance. Aside from that, the market is being driven by the increased usage of these technologies to maintain aircraft, marine, and ground equipment operational while avoiding costly last-minute corrections.
Similarly, the vehicle industry has seen significant transformations in the last decade, and automobiles have been enhanced in many areas, making them more durable than before. This is impeding the increase of new car revenue, resulting in a decreased market potential for Vehicle Analytics solutions.
Market Insights
The global vehicle analytics market is segmented into five segments: application, component, deployment model, end-user, and geography. The application segment is further subdivided into predictive maintenance, infotainment, traffic management, dealer performance analysis, driver and user behavior analysis, safety and security management, warranty analytics, usage-based insurance, and road charging. According to research forecasts, predictive maintenance will have a major market share in the coming years. Higher sales and adoption of driverless vehicles are propelling the segment forward. Furthermore, a predictive maintenance system evaluates the systems and sends notifications when maintenance is needed, reducing the chance of excess or under maintenance.
The component segment is made up of software and services. The deployment model section describes on-premises and on-demand. The end-user category comprises original equipment manufacturers (OEMs), regulatory bodies, automotive dealers, service providers, fleet owners, and insurers.
Global Vehicle Analytics Market Geographical Competition
Throughout the forecast period, Europe is likely to contribute a significant part to the worldwide vehicle analytics market, with the United Kingdom and Germany accounting for the majority of the region's revenue. Furthermore, the presence of prominent industry participants, as well as the widespread adoption of automotive analytics techniques and premium electric vehicles in numerous nations across the region, is projected to boost market expansion. Furthermore, the availability of sufficient technology and telecommunications infrastructure is likely to promote market growth. Europe is also aided by a favorable economic framework and administrations that encourage technological advancements.
Global Vehicle Analytics Industry Segment Analysis
Vehicle Analytics Market By Application
· Predictive Maintenance
· Safety and Security Management
· Traffic Management
· Infotainment
· Dealer Performance Analysis
· Driver and User Behavior Analysis
· Usage-Based Insurance
· Warranty Analytics
· Road Charging
Vehicle Analytics Market By Component
· Software
· Services
Vehicle Analytics Market By Deployment Model
· On-Premises
· On-Demand
Vehicle Analytics Market By End-User
· Original Equipment Manufacturers (OEMs)
· Regulatory Bodies
· Automotive Dealers
· Service Providers
· Fleet Owners
· Insurers
Vehicle Analytics Market Leading Companies
This section of the study honors the market's top vendors Acerta Analytics Solutions, Inc., Azuga, AMODO, Noregon, CloudMade, Microsoft, ARI Fleet Management Company, C-4 Analytics, LLC, Plotly, Pivotal Software, Inc., Procon Analytics, and AGNIK LLC.are the key companies mentioned in the research.
Vehicle Analytics Market Regional Overview
North America
· U.S.
· Canada
Europe
· U.K.
· France
· Germany
· Spain
· Rest of Europe
Latin America
· Mexico
· Brazil
· Rest of Latin America
Asia-Pacific
· India
· China
· Japan
· Australia
· South Korea
· Rest of Asia-Pacific
Middle East & Africa
· South Africa
· GCC
· Rest of Middle East & Africa