Wi-Fi Boosters Market Growth Opportunities and Forecast till 2030
Category by-
ICT and Media
, No. of Pages - 250, Published By - Ameco Research
The Global Wi-Fi Boosters Market Size valued for USD 2.6 Billion in 2021 and is anticipated to reach USD 10.7 Billion by 2030 with a CAGR of 17% from 2022 to 2030.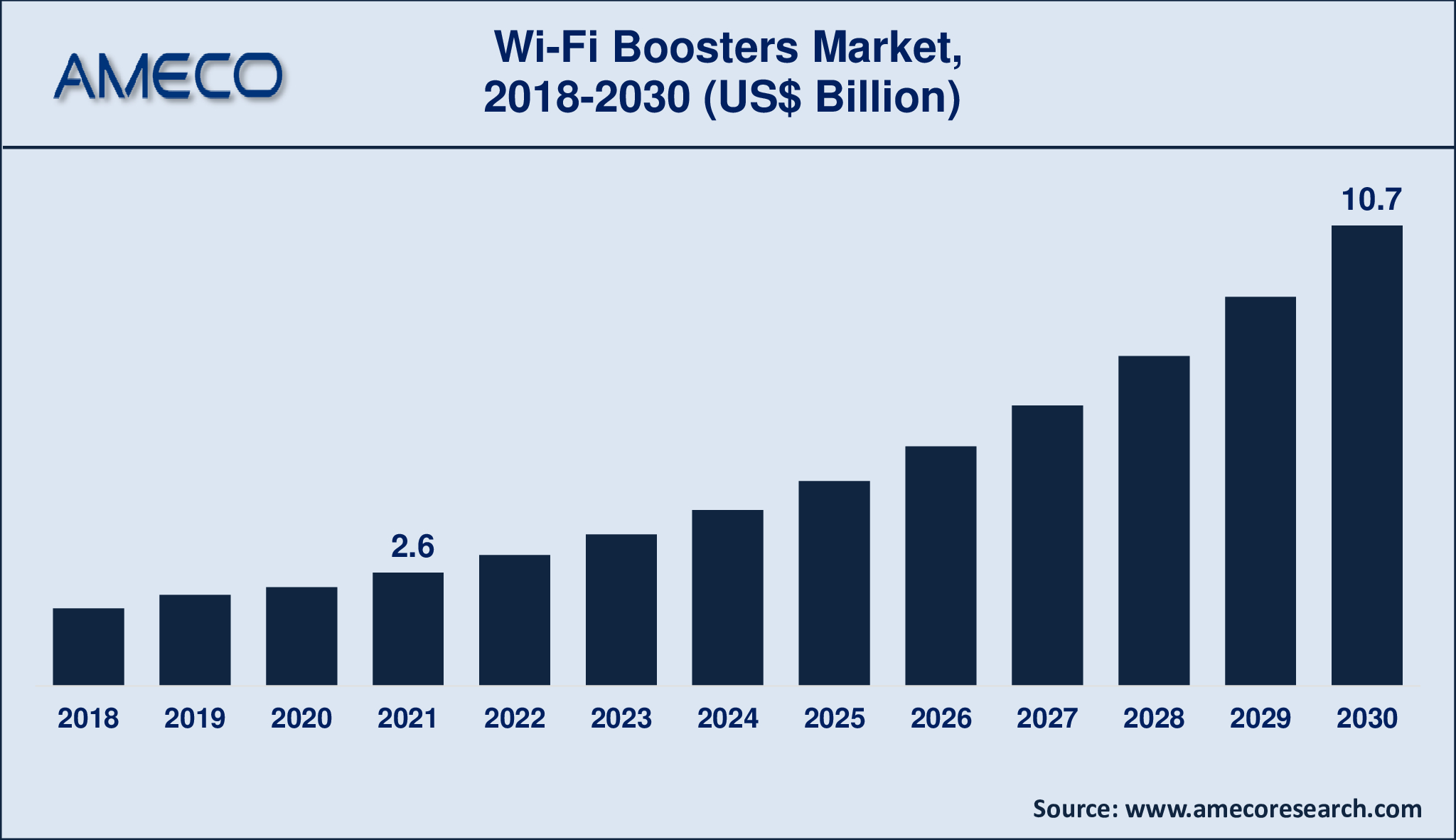 A Wi-Fi booster is a gadget that aids in increasing a wireless network's coverage area and power. Wi-Fi repeaters, range extenders, and signal boosters are other names for Wi-Fi boosters. They function by capturing the current Wi-Fi signal, boosting it, and then rebroadcasting it to expand the coverage area and make it stronger.
The Wi-Fi booster normally picks up the Enterprise signal from the router and is installed in an area with a poor or nonexistent Enterprise connection. The signal is then amplified and rebroadcast by the device, extending its range and improving coverage.
Wi-Fi signal boosters come in two varieties: standalone and built-in. Built-in boosters are integrated into items like routers and range extenders, whereas standalone boosters are independent devices that may be deployed anywhere in a home or workplace.
The Ethernet port on standalone Wi-Fi boosters is often used to connect the booster to the router or modem. The booster can then be configured to set up the network using an app or web interface after it is connected.
Devices like routers and range extenders frequently have built-in Wi-Fi boosters. The manufacturer has already installed and set up these boosters, and they operate automatically to increase Wi-Fi coverage.
For homes and businesses with numerous rooms, big areas, or multiple levels, where the Enterprise signal may be weaker in some locations, Wi-Fi boosters are the perfect option. These can contribute to faster internet, less buffering, and a more reliable connection for all networked devices.
| | |
| --- | --- |
| Parameter | Wi-Fi Boosters Market |
| Wi-Fi Boosters Market Size in 2021 | US$ 2.6 Billion |
| Wi-Fi Boosters Market Forecast By 2030 | US$ 10.7 Billion |
| Wi-Fi Boosters Market CAGR During 2022 – 2030 | 17% |
| Wi-Fi Boosters Market Analysis Period | 2018 - 2030 |
| Wi-Fi Boosters Market Base Year | 2021 |
| Wi-Fi Boosters Market Forecast Data | 2022 - 2030 |
| Segments Covered | By Component, By Type, By Application, and By Region |
| Wi-Fi Boosters Market Regional Scope | North America, Europe, Asia Pacific, Latin America, and Middle East & Africa |
| Key Companies Profiled | Alcatel-Lucent S.A. (France), Aruba Networks (U.S.), Cisco Systems, Inc. (U.S.), D-Link Corporation (Taiwan), Ericsson (Sweden), Juniper Networks (U.S.), Motorola Solutions, Inc. (U.S.), Netgear, Inc. (U.S.), Ruckus Enterprise, Inc. (U.S.), TP-Link (China) |
| Report Coverage | Market Trends, Drivers, Restraints, Competitive Analysis, Player Profiling, Regulation Analysis |
Wi-Fi Boosters Market Dynamics
Better and more dependable Enterprise connectivity is becoming more and more necessary as connected devices proliferate in homes and offices. The demand for Wi-Fi boosters is being fueled by the fact that they offer a quick and inexpensive solution to increase a Enterprise network's range and power. The market for Wi-Fi boosters is expanding as smart home technology and Internet of Things (IoT) devices become more widely used. Wi-Fi boosters can aid in supplying the steady and powerful Enterprise connection that these devices need.
The industry has expanded as a result of the ease with which consumers can now buy Wi-Fi boosters online thanks to the development of e-commerce. Sales are being boosted by the competitive pricing and discounts offered by online shops. New features and functionalities are continually being introduced to gadgets, which advances the Wi-Fi booster technology. Due to this, more recent, more sophisticated versions of Wi-Fi boosters are becoming more and more popular with consumers. With new firms entering the Wi-Fi booster industry and incumbent businesses expanding their product ranges, the market is getting more and more competitive. Consumers win because this competition encourages innovation and raises product quality.
Wi-Fi boosters, on the other hand, can be quite effective in expanding the range and strength of a Enterprise network, although their efficacy can be constrained in some circumstances. For instance, a Wi-Fi booster might not be able to make a meaningful difference if the Enterprise signal is already very weak. Since Wi-Fi boosters magnify the Enterprise signal already there, the quality of the signal is reliant on the original network's quality. It's possible that a Wi-Fi booster won't be able to considerably enhance the signal quality if the original network is unreliable or slow.
Other device interference: Appliances like cordless phones and microwaves can interfere with Wi-Fi transmissions. Because a Wi-Fi booster will enhance both the Wi-Fi signal and any interference in the area, this interference could reduce the booster's effectiveness. Cost: Wi-Fi boosters may be rather pricey, particularly for high-end ones with a variety of advanced capabilities. This can deter some customers from buying them, particularly those who are on a tight budget.
Wi-Fi Boosters Market Insight
The Wi-Fi Boosters market is divided into component, type, application, and geographic markets. Component segment is further sub-segmented into solution, and services. Based on type, the segment is categorized indoor Wi-Fi, and outdoor Wi-Fi. Application is categorized into residential, and enterprise. North America, Asia-Pacific, Europe, Latin America, and the Middle East and Africa comprise the region sector.
Global Wi-Fi Boosters Market Geographical Competition
North America is the biggest market for Wi-Fi boosters, with the United States accounting for the lion's share of the market. The region's rapid adoption of smart home technology, rising demand for wireless connectivity, and expanding e-commerce industry are driving market expansion.
Europe is also a significant market for Wi-Fi boosters, with Germany, France, and the United Kingdom being the largest contributors. The region's high internet penetration rate, rising smart home adoption, and rising demand for wireless connectivity are propelling market growth.
The Asia-Pacific region is expected to grow at the fastest rate in the Wi-Fi booster market, owing to rising disposable income and an expanding e-commerce industry. China, Japan, and India are the largest contributors to the market in the region..
Global Wi-Fi Boosters Industry Segment Analysis
Market By Component
· Solution
· Services
Market By Type
· In Ear
· Outdoor Wi-Fi
Market By Application
· Residential
· Enterprise
Wi-Fi Boosters Market Leading Companies
The players profiled in the report are Alcatel-Lucent S.A., Aruba Networks, Cisco Systems, Inc., D-Link Corporation, Ericsson, Juniper Networks, Motorola Solutions, Inc., Netgear, Inc., Ruckus Wireless, Inc., and TP-Link.
Wi-Fi Boosters Market Regions
North America
· U.S.
· Canada
Europe
· U.K.
· Germany
· France
· Spain
· Rest of Europe
Latin America
· Brazil
· Mexico
· Rest of Latin America
Asia-Pacific
· China
· Japan
· India
· Australia
· South Korea
· Rest of Asia-Pacific
Middle East & Africa
· GCC
· South Africa
· Rest of Middle East & Africa