Wound Management Market - Size, Industry Trends, Competitive Landscape, and Opportunities and Forecast 2022 - 2030
The Global Wound Management Market Size accounted for USD 20,061 Million in 2021 and is anticipated to reach USD 30,330 Million by 2030 with a CAGR of 4.7% from 2022 to 2030.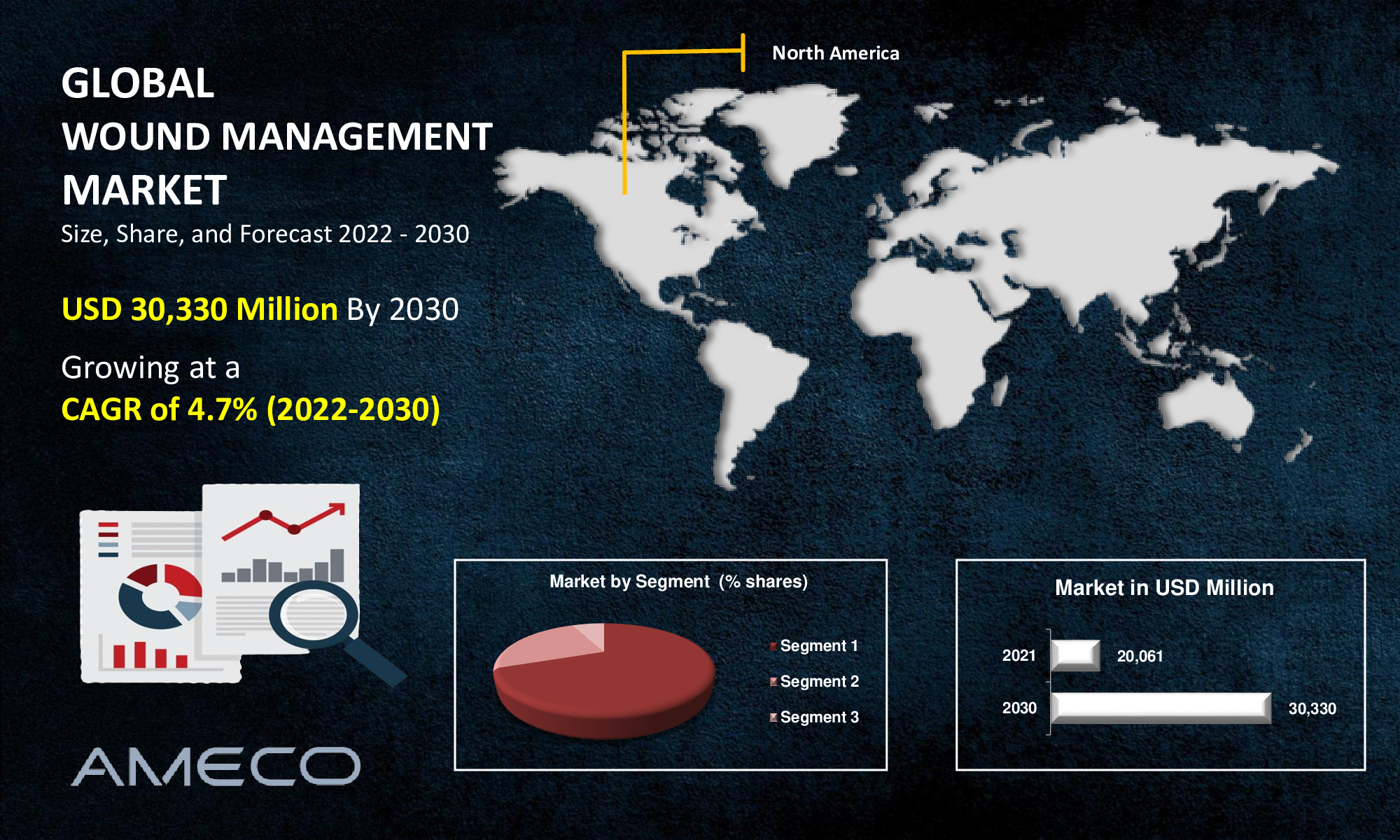 Cuts, rips, burns, breaks, and other types of living tissue damage are considered wounds. Frequently, wounds are categorized as being clean, contaminated, or infected. Clean wounds are those that are produced in a sterile environment, like surgical incisions. The difference between infected and contaminated wounds is determined by the quantity of bacteria present. If an animal has experienced trauma or is in shock, general wound care starts after the animal has been stabilized. First aid procedures like applying pressure to stop bleeding and simple bandaging are typically completed quickly.
| | |
| --- | --- |
| Parameter | Wound Management Market |
| Wound Management Market Size in 2021 | US$ 20,061 Million |
| Wound Management Market Forecast By 2030 | US$ 30,330 Million |
| Wound Management Market CAGR During 2022 – 2030 | 4.7% |
| Wound Management Market Analysis Period | 2018 - 2030 |
| Wound Management Market Base Year | 2021 |
| Wound Management Market Forecast Data | 2022 - 2030 |
| Segments Covered | By Wound Type, By Treatment, By End-User, and By Region |
| Regional Scope | North America, Europe, Asia Pacific, Latin America, and Middle East & Africa |
| Key Companies Profiled | Acelity L.P. Inc., Coloplast A/S, ConvaTec Group PLC, Integra Lifesciences Corporation, Johnson & Johnson Services, Inc., Mölnlycke Health Care, PAUL HARTMANN AG, and Smith & Nephew plc. |
| Report Coverage | Market Trends, Drivers, Restraints, Competitive Analysis, Player Profiling, Regulation Analysis |
Epidermis, dermis, and subcutaneous tissue make up skin. It performs a wide range of tasks, including defence, sensation, temperature regulation, secretion, excretion, immunity, and vitamin D synthesis. Inflammatory, proliferative, and remodelling phases can be used to categorise the wound healing process. Both internal and external factors can have an impact on the healing process' duration. Continual pressure on the wound (which impairs circulation), recurrent injuries, wound infection, or inadequate wound care is examples of external factors (e.g. misuse of antiseptics or dressing).
Market Dynamics
Increasing prevalence of long-term wounds due to the rising base of chronic disorders primarily drives the wound management market. The Mission Regional Medical Center estimates that 6.7 million people currently have chronic wounds, and over the next ten years, that number will increase at a rate of more than two percent. An ageing population, raising rates of illnesses and conditions like diabetes, obesity, and the long-lasting effects of radiation therapy all contribute to the rising incidence. Chronic wounds that go untreated can lower quality of life and even necessitate amputation of the affected limb. Chronic wounds cost the healthcare system more than $50 billion annually. In the US, there are more than 29 million diabetics (9.5% of the population), and each year, almost two million of them will get a diabetic foot ulcer or another non-healing wound. Advanced wound care aims to keep patients from needing amputations and to heal them more quickly and affordably.
Additionally, the rising elderly population is also expected to fuel the wound management market growth.
The study of ageing effects on wound healing becomes a priority subject due to the sharp rise in the elderly population over 65, the higher risk of age-related ailments, including chronic wounds, and the related medical and socioeconomic burdens.
A higher incidence of long-term comorbidities like cardiovascular disease and diabetes, decreased mobility, incontinence, low weight, cognitive impairment, and inadequate nutritional status are just a few aging-related changes that put older adults at risk for developing chronic wounds. According to the wound management industry analysis, these conditions lead to additional risk factors like acute illness exacerbation, countless medication use, dehydration, and hospitalization.
Market Insights
The three categories of the global wound management market are wound type, treatment, End-User, and region. The segmentation based on the wound type includes cell diabetic foot ulcers, venous leg ulcers, mechanical ventilators, pressure ulcers, surgical & traumatic wounds, burns, and other wounds. Based on treatment, the market is categorized into hyperbaric oxygen therapy, bioengineered skin substitutes, negative pressure wound therapy (NPWT), plastic surgical techniques, platelet-rich plasma (PRP) treatments, specialized dressings and therapies, stimulation of fibroblast cells with radiofrequency, transcutaneous oxygen testing, ultrasound for debridement, and vascular surgery. Furthermore, long-term care facilities, hospitals & clinics, clinics, and home care settings are among the End-User segments included in the segmentation.
Global Wound Management Market Geographical Competition
The North American, European, Latin American, Asian-Pacific, Middle Eastern, and African regions make up the five geographical segments of the global wound management market. In 2021, North America held the largest market share, and it is anticipated that it will continue to dominate during the forecast period. Due to population growth and an increase in the number of elderly people, it presents opportunities for key players in the advanced wound care market. Additionally, the advanced wound care market in this region is anticipated to grow as a result of the rise in healthcare spending and the development of guidelines.
On the other hand, Asia-Pacific region is likely to witness the fastest growth rate from 2022 to 2030 due to the rising prevalence of diabetes-related comorbidities, such as diabetic foot ulcers. Additionally, the growing interest of market players in expanding their operating networks in Asia Pacific's developing nations is anticipated to fuel this region's growth.
Global Wound Management Industry Segment Analysis
Market By Wound Type
· Surgical & Traumatic Wounds
· Venous Leg Ulcers
· Pressure Ulcers
· Diabetic Foot Ulcers
· Burns
· Other Wounds
Market By Treatment
· Hyperbaric Oxygen Therapy
· Bioengineered Skin Substitutes
· Negative Pressure Wound Therapy (NPWT)
· Plastic Surgical Techniques
· Platelet-Rich Plasma (PRP) Treatments
· Specialized Dressings And Therapies
· Stimulation Of Fibroblast Cells With Radiofrequency
· Transcutaneous Oxygen Testing
· Ultrasound For Debridement
· Vascular Surgery
Market By End-User
· Long-Term Care Facilities
· Hospitals & Clinics
· Home Care Settings
Wound Management Market Leading Companies
This section of the study honors the market's top vendors Acelity L.P. Inc., Coloplast A/S, ConvaTec Group PLC, Integra Lifesciences Corporation, Johnson & Johnson Services, Inc., Mölnlycke Health Care, PAUL HARTMANN AG, and Smith & Nephew plc.
Wound Management Market Regions
North America
· U.S.
· Canada
Europe
· U.K.
· Germany
· France
· Spain
· Rest of Europe
Latin America
· Brazil
· Mexico
· Rest of Latin America
Asia-Pacific
· China
· Japan
· India
· Australia
· South Korea
· Rest of Asia-Pacific
Middle East & Africa
· GCC
· South Africa
· Rest of Middle East & Africa